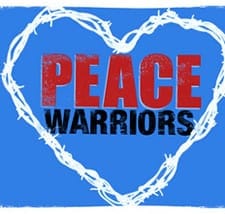 Danielle rates it:
Set from dark until morning, Peace Warriors seizes upon and shakes out the Lewis family, their closest friend and the guest they are hosting until each character confesses their political and personal passions and paramours.
The play and its characters set out at the beginning of the evening to have a pluralistic conversation among Jews about Israeli-Palestinian conflict. As the weight of these ideological debates gets messier, what comes to the forefront is not just politics, but personal infidelity. In this world, Scooter's (Mark Sanders) right leaning stance, punctuated with cynical zingers and continuously refreshed G & T's, makes him the weakest but most endearing of the group.
His daughter and their guest, an Israeli actress and peace activist (Natalia Emanuel and Vivienne Cleary) recognize his heart, but ultimately both side against him, remaining to the left with GW (Graham Stevens) the charismatic family friend and Darryl (Marisa Mickel), Scooter's wife. What makes this latter dynamic interesting to watch, is that GW uses his lead position at a prestigious institute to hold both the power and prowess in this play. And he wields his standing with deft ruthlessness. Each becomes in some sense his victim, but no one more so than Darryl, because she still "likes the guy."
This play, for all its intimacies and political relevance, falls short. For in the pursuit of power, these characters forget either their humanity or their decency. And perhaps that is Ben-Atar's point; however such a point comes at a cost to the production. By turn each of these characters showed themselves to be profoundly selfish or severely remiss. Their open and erudite viewpoints seem to prevent their remorse or even inner conflict. It makes for compelling thought, but not necessarily compelling theatre.
The performances themselves are all solid and well thought out, but none of the actors were able to transcend the mind of the script. An evening out for fodder and discourse, but not quite a night at the theatre.
Peace Warriors

Written by Doron Ben-Atar with Debbie Pollack
Directed by Michael Bahar
Produced by Eric Braverman and Christopher Tine
Reviewed by Danielle Martin