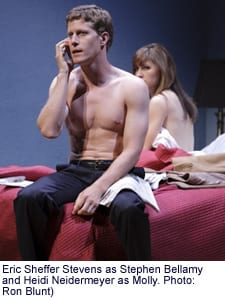 When a play about contemporary American politics begins with a tedious, implausible, largely pointless shaggy-dog story, you, gentle audience member, know you are in for a long afternoon. When the playwright (Beau Willimon) riddles that story with irrelevant digressions, and the actors (Eric Scheffer Stevens, Anne Marie Nest, Anthony Crane and T. J. Linnard) step on each others lines in delivering the dialogue, that's when you know your Metro train is stuck at Farragut North.
Farragut North is the story of how Stephen Bellamy (Stevens), the supremely gifted 25 year old press secretary to a presidential candidate, crashes and burns in the Iowa caucuses. Were this a classical tragedy, Stephen' fall would be the product of a fatal flaw in an otherwise noble and sympathetic character. But the Stephen Bellamy we see in this play is essentially an evil low life whose fall comes about because the other evil low lifes are smarter than he is.
It is tough to care about his dilemma, and playwright Willimon makes it even harder by hammering every point he makes into the ground with repitious dialogue.
The candidate who employes Stephen, and his mentor, campaign manager Paul Zora (Crane), appears to be enjoying a 9 point lead as the caucuses approach, but that is a snare and a delusion put together by the opponent's wily campaign manager (Anderson Matthews).  Stephen learns about this shattering development in a way which threatens his own career. The campaign in the balance, and his career hanging by a slender reed, Stephen does what anyone in his situation would do – he sleeps with a 19 year old intern (Heidi Niedermayer). Heartbreak, threats, and recriminations ensue, punctuated by between-scene collages of news screens and pounding rock riffs which could have been designed by a CNN producer, were he on crank. (The actual sound designer is David Remedios.)
The second act is a considerable improvement over the first, in the sense that it is more dramatic that the first act. (C-SPAN is more dramatic than the first act). But by then, the war is over, and we have lost.
Except for the marvellous Matthews, none of the actors are able to overcome the limitations of their characters as drawn by Willimon. Stevens manages to make Stephen seem like a hyperambitious creep, whose comeuppance is vaguely enjoyable. Niedermayer is charged with delivering the play's principal ration of wisdom, which she does effectively, but at the cost of appearing considerably older than 19. Crane is effective in scenes where he is obliged to blow his stack, but had line problems in the show I saw, at one point confusing Democrats with Republicans, and thus frustrating the efforts of the playwright, a veteran Democratic political operative, to take a slam at the other party. Nest and John Lescault – both good actors – are underutilized in small roles as reporters, where they exist to be frustrated and manipulated. Lenard does well in a slightly larger role.
The actors spend a fair portion of the play talking over each other. It is unclear whether this is due to Willimon, attempting to chanel David Mamet, or the actors missing their cues, but whatever it is, it doesn't work.
I could spend an entire review talking about the wonders of Anderson Matthews, who appears to have developed a patent on the character of the outrageous old reprobate who will do anything to get his way. This is the third play I've seen him in at CATF, and every time he appears on stage, the play seems to switch to a higher gear. His character will sweat an oleaginous corn ponecharm, and we immediately recognize that this is a man who knows sin, and has made it work for him.
Farragut North which is Hollywood-bound, still needs work, but Matthews is a piece of work, and worth the trip from DC to see him.
Farragut North
by Beau Willimon
directed by Ed Herendeen
produced by American Contemporary Theater Festival
reviews by Tim Treanor
Running time:  1:40 with 1 intermission