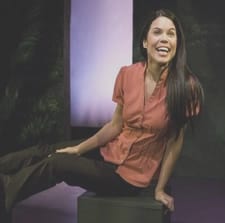 Marcia rates it:
Debra Ehrhardt grew up in Jamaica with the single minded plan to live in America, where, she believed, "if you dream it, you can achieve it." Her path to that end, which for most of her young life seemed completely impossible, has become her show. Jamaica Farewell, which she wrote and performs, takes us down that typically Jamaican (i.e., no straight lines) road she traveled, from her childhood escapades, through her inspired escape to Miami, Florida, via the unwitting help of a handsome CIA agent who falls in love with a seemingly innocent, beautiful, 17 year old Jamaican girl.
This one woman show, set on a small stage with only a podium on one side and two small benches across the center, is a fast paced 85 minute monologue that introduces us to a collection of curious characters who pass through Ms. Ehrhardt's young life. Her versatility in changing from one to the next, and back again to herself, never misses. We watch her father teach her how to defend herself with a 1-2 punch against a bully, we see the heartless woman at the exit visa desk who continues to deny her requests for an American Visa, and also her religious, soft spoken, mother who accepts her role as the wife of a drunken, gambling husband. These characters flow seamlessly back and forth, and leave us no question as to their identity.
Her final scenes, depicting her hair raising journey to the airport to meet her lover for the trip to Miami, contain my two favorite performances. First, in a bar where she searches for her father to tell him good-by, she meets a Jamaican man whose explanation of how to locate the bar where her father has gone, is pure "island time," with a its convoluted series of landmarks (where of course there are no signs) to show her the way. And finally, her heartbreaking farewell with her father, when she finds him nearly dead drunk, sitting on the floor of a ramshackle bar near a gambling table. His posture and words are so slurred we should be able to smell the rum on his breath, yet there is one shared moment of understanding, when he looks up at his daughter and confesses that he cannot promise her he will stop drinking; that moment is stone cold sober.
This finely tuned romp, that could only have been orchestrated by a 17-year old, is outrageous, funny, sometimes painfully honest, and thoroughly entertaining. Debra Ehrhardt's show has only 5 performances in DC; go out and see it, you will not be disappointed.
Jamaica Farewell

by Debra Ehrhardt
Directed by Francis Megahy
Produced by Meadowbrook Entertainment
Reviewed by Marcia Kirtland