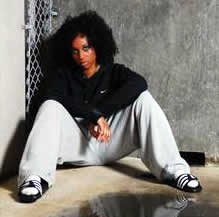 Miranda rates this:
This is what the Fringe should be about: emerging writers, fearless performers, and bold new work. (Not to mention a low-budget concept and a benevolent run-time.) The Girls Inside, now playing at the Bodega, elegantly ascends to the height of this festival's potential.
The play follows the stories of four teenage girls incarcerated in the Thomas J.S. Waxter Children's Center. Written and produced by emerging artist Leayne Freeman and directed by Anastasia Wilson, the show is a response to Freeman's own experiences working with young girls in the Laurel-based institution. The show could come across as heavy-handed were it merely a call for social justice. But it offers such a complex portrait of these girls' longings, fears, and hopes that it is as rich a character study as it is a social response.
With a run-time of just over half an hour, the show explodes with an exuberant intensity. It catapults through monologue, song, spoken word, and movement sequences, striking a delicate balance between humor and severity. The girls chase after questions about responsibility, motherhood, and belonging in an attempt to create a portrait of lives that they imagine many people have never considered.
With a four-woman ensemble of college students and recent grads, the actors invigorate their roles with grace and ferocity. Adena Goode, as Girl Number One, brings a story of loyalty for her neglectful mother with a heart-breaking persistence. Cradling an empty yellow baby blanket, Girl Number Two, played by Ayanna Hardy, reminds spectators that a mother's connection to her child transcends literacy, age, and circumstance. Jo Higbee, Girl Number Three, offers a glimpse into the stunted opportunities awaiting her release from prison and masterfully ridicules voices of authority with her upbeat sarcasm. And Zurin Villanueva places Girl Number Four at the heart of the show with her arresting singing voice and aggressive stage presence. Not a sound could be heard in the audience when she approached a long white piece of paper on the back wall of the stage (the only set piece) and hesitantly wrote the first word she had learned to spell – homicide.
Go see this show. Bring your friends. Support these performers as generously as they support each other and their production. And when you do, please bring along any unused toiletries for donation to local women's detention centers and group homes.
And then you'll know what the Fringe should feel like.
The Girls Inside
By Leayne Freeman
Directed by Anastasia Wilson
Produced by Leayne Freeman
Reviewed by Miranda Hall