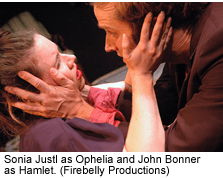 Director Michael Ryan Fernandez,  selected by Firebelly Productions for its 2009 Young Directors Project, is obviously a smart fella who has given serious thought to his craft. He gives us every reason to believe that he will be around for a long time. So I hope that thirty years from now, after having directed a major production here or in New York, he will be able to look back at this experience with amusement and say what was I thinking?
What was I thinking when I had the actors break out into applause after Hamlet (John Bonner) gives his "'Tis not alone my inky cloak, good mother" speech in the second scene? What was I thinking when I had Claudius (Steven J. Hoochuck) and Gertrude (Shelby Sours) pound down bottles of Corona when they meet Rosencrantz (Jon Jon Johnson) and Guidenstern (Matthew Friedman)? What was I thinking when I gave Guildenstern a terminal case of jock itch for his first meeting with Hamlet? Or when I had a Player King (Arturo Tolentino) with a Brooklyn accent? Or when I afflicted the ghost of Hamlet's father (Friedman) with what appeared to be a bad case of asthma? Or when I had Horatio (Sean Kinslow) manhandle the queen? Or when I put up that damn video?
O.K., let's start with the video, which Firebelly is touting as a significant element in this production. Video can be a wonderful tool to expand a story's scope, especially when that story is done, as here, in a very small venue. Christopher Gallu used video brilliantly in Catalyst's production of The Trial at the tiny Capital Hill Arts Workshop, in which characters on stage exchanged dialogue with characters projected onto the video screen. Paata Tsikurishvilli's adaptation of Animal Farm similarly used video in amusing and useful ways, at one point having a chase which begins onstage proceed through a cavernous barn via the use of video, and at another point using the same instrument to show the heartbreaking fate of the loyal horse Boxer.
But here, Fernandez mainly posts real-time pictures of various actors taken at angles other than directly facing the audience. Thus when Gertrude, for example, has her back to the audience, the video overhead shows her face; when Hamlet gives us his left profile; the video above shows his right. This is all showy, distracting, and unnecessary.
Occasionally the video will show us something offstage – Polonius (Charles St. Charles) hiding in the curtains, for example, or Ophelia (Sonia Justl) drowning herself. But this does not add much to the audience's store of information: we have just seen Polonius climb behind the curtains, and Gertrude is telling the story of Ophelia's drowning even as we witness it. Thus Fernandez fails to use the video to expand the story or enhance the fictive dream, and it becomes mere show-off technology.
The thing is that stripped of all its unnecessary innovation and other frou-frou, this is a sharp, sensible production of a very difficult play. I love, for example, how Horatio makes it clear at the end of the play that Claudius did not order Rosencrantz and Guildenstern's death – a point missed by most other productions. And Bonner's Hamlet is more than creditable – an angry, aggressive man who is combustible enough to suggest that his madness might be something more than playacting. Ophelia is similarly strong, although both she and Bonner tended to overwhelm the intimate Theatre on the Run space.
I also enjoyed Charley Mann as Laertes, and Friedman, who separated his two characters nicely. Andrew Pecoraro's fight choreography is superb – not only in the final duel between Hamlet and Laertes, but in their fistfight at Ophelia's grave as well. Stephen Frost has written some very cool music for the play, which starts as soon as the house opens. Noel Greer 's set is cunningly designed and rendered to take advantage of the small space. And the uncredited videography, while perhaps not well thought through, is technically very good.
There are some performances, though, that I think don't work. St. Charles' Polonius is a bit too mild to be a truly comic, or tragic, figure. Polonius is funny because he is a pompous moron with good intentions; where, as here, he is a milquetoast it is hard to care enough about him to laugh at his absurdities or sorrow at his death. (Fernandez also makes the colossal mistake of having it obvious that his children barely tolerate the presence of Polonius; that sort of disrespect was unthinkable in Shakespeare's time, or Hamlet's, or any time except our own). I could discern no sexual heat between Hoochuck and Sours as the newly-married King and Queen. They seemed more like business partners, which makes Hamlet's "In the rank sweat of an enseamed bed" speech less credible than it should be. Finally, as Horatio, Kinslow seems more like a nervous Aunt than a loyal friend. Although it is Horatio's part to cool off Hamlet's rashness, Kinslow's hand-ringing would certainly do nothing but annoy Hamlet, as it annoyed me.
Firebelly's Hamlet is a middling production of a great play, which suffers from innovation done for its own sake. Hamlet himself gives us the clue to how to put this, or any, play together: "suit the action to the word, the word to the action …the purpose of playing, whose end … is, to hold, as 'twere, the mirror up to nature; to show virtue her own feature, scorn her own image, and the very age and body of the time his form and pressure." The next time Fernandez puts on a difficult project – and I hope it will be soon – perhaps he will find Hamlet's advice useful.
Hamlet
By William Shakespeare
Directed by Michael Ryan Fernandez
Produced by Firebelly Productions
Reviewed by Tim Treanor
For Details, Directions and Tickets, click here.