Fall of the House of Usher, Fictitious The Musical, Captain Swishy's Yee Haw Jamboree, Titus X, Pepe! The Mail Order Monkey Musical, Life in Death, Magnum Opus, The Saints, Please Listen …., The Bea & The Bug ….., Diamond Dead (Continued) plus 2 Musical Scene Stealers: Jordan Klein and Cristen Hall
[Note:  Don't like to scroll? Click the above links to directly to that musical.]
What's it like to create a Fringe festival musical? Here are directors, book writers, composers, and lyricists from some of the shows I most admired, who take us on their journeys to the Capital Fringe Festival, and, for some, on to the New York Fringe Festival.
————-
The Fall of the House of Usher   (WINNER: Capital Fringe Best Musical Play)

Composer Mike Johnson and lyricist, book writer and director Brent Cirves:
Joel: Tell us about yourselves.
Mike: I just graduated from The College of William and Mary with a business/music double major. I wrote my first musical, Tragedy! (A Musical Comedy), over my first two years in college. I liked the experience so much that I decided to keep writing musicals as long as they are fun to write. As of now, they're still a lot of fun, so I'd like to renew that decision.
Brent: I am a teacher and director at a college prep. school in Virginia called Woodberry Forest School. I chair the fine arts department here. I'm going on my twentieth year at Woodberry. Back in 1990, my wife Laura and I thought we'd stay two, maybe three years. Two children and twenty years later, here we still are. My wife and children Alexandra (20 yrs. old) and Nola (17) are the first passion of my life. My writing doesn't like playing second fiddle to them at all, I should say. And my directing and my teaching are extremely jealous of all of the above. I aspire to publish novels as well as produce plays. I have about ten scripts ready for development work; I'm looking for an agent in New York to represent my plays as well as two novels. I have this backlog because I have been so busy being a seven-day-a-week boarding school teacher that I've had just about enough time to be a husband and father and write-but have spent very little time trying to develop my work professionally. But I just turned fifty, so I'm figuring it's time.
This is part of why I decided to submit a script to the D.C. Fringe Festival, and the same script (USHER) and another one (EXILES FROM THE SUN) to the N.Y. Fringe, and it's time to try to get my work out there. I didn't really expect that all three projects (both plays) would be accepted to both festivals…. The D.C. Fringe has been an excellent workshop experience to get ready for New York.  N.Y. is going to be intense, though, two plays in repertory in the same theater in the same time frame, sharing the same crew and one of the same actors (our Annabel). Apparently this is something of a first for Fringe NYC. It's going to be an adventure-already has been. Mike and I have loved every minute of it so far. What else? I was born in Hartford, Connecticut-a Connecticut Yankee. I was raised in a farming village in northern New Hampshire (a farm boy from New England). I studied at St. Johnsbury Academy in Vermont, the College of William and Mary, where I majored in English, Exeter University in England; and I got my masters in theater at New York University. I recently directed my fiftieth play at Woodberry Forest. Laura and I plan to stay for maybe two or three more years(!). Who knows? – they may bury us here.
Joel: When did you first meet Mike?
Brent: Mike was a student of mine at Woodberry Forest. I first met him as a freshman nine years ago, in 2000. He was a scrawny little thing with very white skin and very black hair, and loads of personal confidence. He signed up for all of my classes, including theater, play productions, English classes, and fencing (theatrical and competitive). I kept saying to him, "Aren't you sick of me, yet?" He keeps saying "No, not yet." He went on to study at my alma mater, William and Mary. As a sophomore there, he wrote a musical inspired by a discussion we had had in a Shakespeare elective I taught at Woodberry. He turned Shakespeare's TITUS ANDRONICUS into a musical called Tragedy – A Musical Comedy. (I believe I contributed the title). It was a very funny, edgy show and did well enough at the N.Y. Fringe. It was "Fringey" in a way that USHER is probably not. But, he did still have a thing or two to learn about writing musicals. Don't we all?
Joel:  Mike, when did you first decide to write a new score with Brent?
Mike: I was studying economics while abroad in China. Brent and I had been writing back and forth about plays that he was working on. I've kept in touch with Brent ever since I graduated from Woodberry Forest (for high school), where he was my advisor, acting coach, director, poetry teacher, etc…. For years I had been dropping hints that I wanted to write a show with him, and while I was in China, we finally had the conversation where we decided to go for it. He sent me "The Fall of the House of Usher" short story, and I fell in love with the idea of a musical about a composer who was dying of sensitivity to sound.
Joel: How many songs did you compose for the show, and how many remain for this production?
Mike: I composed around 22 complete songs for the show, and we're using 18 of those.
Joel: What came first, the lyrics or the music?
Brent: The lyrics, in most cases. Mike wanted it this way, so he could get an idea of the rhythms in play and the tone required. Of course, I wanted him to write the music first so I could get a sense of the needed verse-forms/scansion. Mike got his way, as he usually does! Several of the lyrics were ready-made, of course: Poe's poetry, revised.
Joel: Talk about the process of writing the show, and collaborating with Mike.
Brent: In a word, it's been a joy. Rarely does a person get to work with someone he literally taught. I didn't just teach Mike – the kid emptied me out. Every now and then it occurs to me (in less humble, self-delusional moments) that I played a role in creating the perfect collaborator, à la Dr. Frankenstein. We complement each other, and we finish each other's thoughts all the time. He's no longer my student, of course. He teaches me things routinely. We have become true brother-collaborators., or at least I think of him as a brother. He probably thinks of me as his grandfather.
After choosing to write a musical based on Poe's story (my idea, originally), we wrote emails back and forth from wherever we were – New England, Egypt (I had a sabbatical a while back during which I got to travel to the ruins of all the great theaters of ancient Egypt, Greece, and Italy), China (where Mike studied for half a year), Woodberry Forest, Williamsburg, etc.
After about six months of my telling Mike the story I wanted to write, with lots of input from him, we got together for an intense month last summer. For two weeks straight, seven days a week (my wife is very understanding!) I wrote the book in the mornings, Mike wrote music in the mornings, and we got together each day after lunch to go over what we had. It was immediately apparent to both of us that we had something – weren't quite sure what. Over the next couple of weeks, and then on throughout the year – we sent rewrites and music files back and forth for comment. This was a great way to collaborate ("how thoroughly modern"); I could listen to a sound file and write back to him, "I love the melody from seconds 20 to 35. But I'm not a fan of seconds 36 to 90. Can't you be more melodic, there? Think  "Memories". Or he'd write me back: "I don't think Roderick would say that – try this."
We had a rough draft of the show and about four songs ready after about a month of summer work. We went on to write/compose/rewrite over the course of the next year. We had a public reading of the script earlier this year, at William and Mary. It went very well, with lots of praise and useful criticism. We had a concert of the principle songs about four months ago. Again, this went well, and Mike used the music as his senior thesis. His professors were impressed. I might add that Mike's professors – and his music-major friends – were also helpful in the development of the music as well as my script.
We had a third collaborator, I should mention: Madeline Usher. She kept waking me up in the middle of the night with ideas. Laura was not happy.
Joel: How truthful is the book and lyrics to Poe's work?
Brent: Interesting question. First let me say that I revere Poe – he's one of my two favorite American authors from the 19th century (Twain being the other: twins, the happy twin and the twisted twin). That said, we were never interested in telling a spine-tingling tale of horror for the sake of tingling spines. We wanted to humanize the story so the audience would experience certain human realities that motivated the young Poe to go on and become Gothic Poe (I did a great deal of research into Poe's life story, by the way: just as fascinating as the tales themselves). We tried to be faithful to the story, but we found that we had to essentially create a complete back story to try to explain what happens in Poe's short story (and it is short).
Poe's tale is literally the last fifteen minutes of our show. What would possess a man to bury his sister alive? We spent our coinage on trying to figure that out. But we also tried to be faithful to Poe by not writing a "musical" in the strictest sense of the word. We decided early on to try to write a "play with music," or a "musical play", in which the music would be truly organic to the story – i.e. composed before our eyes by the characters, always for clear/realistic dramatic reasons. We depart from this a bit in moments like "Annabel Lee Reprise" at the end of Act I. But for the most part we wanted this to be a story with music, motivated/told/sung by musical prodigies. And this is true to Poe. Usher in Poe's story is an artist – a composer, among other things – who finds himself dying from over-sensitivity to sound. There's a wonderful irony in that. When it occurred to me to incorporate Poe's poem "Annabel Lee" into the story (a separate entity in his canon), we had a sort of perfect storm of ideas for a full-length show.
Joel: How did the show get to the Fringe?
Mike: From the very start we had the goal of submitting our show to the Fringe within the year. I had been in the New York Fringe in 2007, and enjoyed the experience so much that we decided to apply for both that festival and the Capital Fringe. When we were accepted to both festivals, we decided to give it our all and do both during the same summer.
Brent: In a very large Budget Rental truck. (Rim-shot.) Mike suggested we give the D.C. Fringe a try in case we didn't get into the N.Y. Fringe. Little did we know…. He was also the one who suggested I send my EXILES script in to N.Y. (He's a big fan of the play, and he's writing incidental music for it, using the USHER pit orchestra for recording.) Again, little did we know….
Joel: What about casting and rehearsals?

Mike: We chose our cast based on talent, of course, but we were also very happy to find that each and every person in the cast is so easy and fun to work with. We had a very intense three week rehearsal process in a place that was a two-hour commute for most of our actors, but they came in every morning with smiles on their faces and ideas for their characters.
Joel: Talk about the cast.
Brent: Where to begin? I've fallen in love with them all. I think they are all phenomenal people. We got very lucky with all of them. We had a total of six auditions in four locales: William and Mary first (Williamsburg), Charlottesville at Live Arts Theater, Barboursville at Four County Players Theater, and at Woodberry Forest, in my theater here. Amazingly, three out of four of our principals showed up at the first audition: the brave, fascinating Mary Myers (Madeline) and her professional-actress-sister Carolyn (Annabel, with her bell-like voice and great physical beauty), and the amazing C.J. Bergin (what a Roderick!).
After that long day of auditions in Williamsburg, Mike and I knew we had a show. I could go on and on bout these great people-isn't Mark Rascatti as William a charmer? And what about those magical servants? Suffice it to say that they all love the script and music, have really taken the characters to heart, and want to go all the way with the story to greatness, if they can. Add to that they are all very smart – and very nice people (I have no patience for pettiness and arrogance, which you often find in the theater) – and you have real potential for a successful "cooperative effort." I'm also very impressed with everyone in the orchestra. They are all terrific as well.
Joel: And your orchestra?

Mike: We have a string quartet, a piano, and a flute in addition to the guitar which is being played by one of the characters. The instrumentation developed naturally as the script was written – the piano, flute, and guitar represent different characters and the string quartet is the musical glue that brings them all together. The musicians themselves are all of such quality that I am still shocked we managed to find them. They inject a lot of their own personalities into the music, which makes the songs especially compelling.
Joel: How much of your original concept of the show remains in this production?
Mike: Our concept evolved so slowly and naturally that, even though this isn't true, I feel as though we always meant to write exactly this show. Regardless of what superficial things we changed, it was always a show about friendship and love, and the extents to which they both can go.
Joel: What is your favorite song in the show?
Mike: My favorite song has to be "Mysterium." To write this song, I had to put myself in the shoes of a man who actually thought he could end the world with his music. After writing every note, I asked myself if there was a more epic place to put the note. It took me roughly two months to finish this song, but I think it was a very worthwhile process. Your DCTS reviewer noted that a little girl started crying because of the song.
Brent: The easiest lyrics were for "Rat Ratiocination". I played hooky from church one Sunday morning and wrote it in about forty minutes cackling all the way through. "Nothing in the name of God!" I like the way this song sardonically sounds one of the big ideas of the play: the troubling tendency of mankind to "eat its babes." My favorite? I like "Nothing Beautiful is Simple." The lyrics are simple (in fact, I got knocked for this in a blog). But the whole point of the song is that under the surface of beauty is complexity, always – or you wouldn't have beauty. Ugliness is often right under the surface of beauty. E.g.: I saw the remains of ancient theaters, now ruined, during my sabbatical trip, as I said. And they were utterly beautiful, in large part because they were ruined. I saw the pyramids for the first time on my trip. Have you ever seen them? They are UGLY – great chunks of stone, all the polished marble casing long-since gone.
But step back a bit and look up one of the four spines, see how the clouds scud across the forced perspective of the ugly heap, marking time like a cosmic clock, and you find yourself in the presence of vast beauty and human meaning. That's what we wanted to embody in this song: the beauty of a dying leaf in the fall, right under the surface-two friends (Madeline and Annabel) making up after ugliness. Of course the real ugliness under the surface here is Annabel's impending death. The lyrics were meant to be a tad trite, the rhymes a bit strained – ironically so. The characters have only minutes to write this composition together, a cooperative effort, before time runs out.
Favorite scene in the show? I really like the second laboratory scene in Act II. I know it's long – and we plan to put a piece of music in it (Madeline playing the haunting armonica one more time, perhaps with some of our lyrics from "Love That Will Never Die."). It's long, but I love the big issues this scene attacks. I also like the "Annabel Lee" scene as an act ender – very Broadway, in a musical that we didn't intend to feel like Broadway. The scene surprises in this way – the intensity of this song, and the way it was performed. That puts this song in a very special place in my heart.
Joel: What was the most difficult song to write?
Mike: "The Ballad of Annabel Lee" went through about eighteen different drafts before I found a sound that I liked. We used most of the exact text from Poe's "Annabel Lee", and so I was constantly terrified that what I wrote could never stand up to the source material. Most people know this poem, so I knew that it would be judged harshly. I finally settled on using an old folk song ("Who is at my Window Weeping") as the underlying backbone of "The Ballad of Annabel Lee." Now I'm happy to say that, in my opinion, this is one of the most beautiful pieces in the whole show.
Brent: A song called "A Love That Will Never Die" – which we ended up cutting, of course. I still love the song and the lyric, and it survives as the haunting guitar piece that William plays at the very end of the show. We used it as the first song of the show when we opened in D.C. But it didn't seem right – too slow dramatically, somehow. A colleague of mine suggested using a proto-version of "Annabel Lee" instead, to open the show. I think this was the right choice – so we did this for our next performance. "
"A Love That Will Never Die" – which I'm now considering putting back into Act I (since YOUR abjuration to put more music into Act I!) was difficult in part because we wanted to tell the show in brief, using imagery from Poe's story, sounding the big themes of the play: love and loss and beauty, the twin emotions of elation and despair, brilliance and madness, etc., etc.
We wanted to do all of this in an opening song, and we set probably too high a challenge for ourselves. It was also difficult, by the way, because in the midst of writing it I was in New Hampshire, visiting my 90-year-old mom, who doesn't have internet service. So I finally forced myself to learn how to text on my cell phone (an activity that I have railed against with both of my daughters). So I texted the lyrics to Mike, and we went back and forth. He had a mind to pick at me over EVERY WORD. We had arguments over the song via texting. His opposable thumbs are more opposable than mine – he texts at about a hundred words a minute. I think I got up to about ten words per. Painful! And then we ended up cutting the song (for now, anyway).
Joel: What have you learned from the reviews and audience comments?
Mike: One of the best things that I learned was that people are enjoying the show! There are certainly places that we need to change things and tighten things, but the message seems to come across pretty well for most people. We've been altering things from performance to performance in order to see what works best, and we'll continue listening to our reviews and our audience comments for a long time. This show is still a work in progress, after all.
Brent: That the opening was/is slow. We still have work to do in Act I. Act II is coming along pretty well, I think. Of course the big thing I learned all over again – which I already knew, but had to learn again, like Purgatory – is that the audience is the best teacher. I tried really hard to write a great script on the first go-around. The theater humbles a playwright in this regard. Mike and I still have a lot to learn about this piece, I know.
Joel: What were the audiences' reactions to the show?
Brent: Very positive. We very seldom lost people at intermission, as you noted. People also haven't been afraid to tell us what they didn't like. I was pleased to hear your comments [that it could use more songs]. I have had other good people, by the way, tell me that the show is a bit "too music heavy." Mike and I both agree with you – we're going to be trimming dialogue and trying to fit more music in. I said to Mike last night: "I want to stuff music into every nook and cranny of this show – make not only the House but the show itself a temple for music."
To this end we're looking to revise some of the transition music, let it bleed more into the scenes, put in at least two more sung musical numbers, etc. But again, the audiences have been great. They should get combat pay for fighting the heat and ambient noise. One audience member said to me, though, that none of that really mattered. He never found himself "out of the play." Indeed, he said, he was very moved by it. Great to hear. We sold out four out of our five shows – and would have sold out the fifth if a group that was intending to come had made it in time. Oh, well. I think we fell about fifteen seats short from selling out all the way through. We were very grateful, by the way, for the early good review on your website. This really helped us.
Joel: What has your Fringe experience been like?
Brent: Terrific. We've really enjoyed working with the tech director, Zoia (I don't have her last name at my fingertips). She was very nice to us – showed us the space before they'd had a chance to develop it into a theater. There was huge potential for my being disappointed in it, given the decrepit nature of the building. I thought it had real potential for this piece, though: a crumbling house for a play about a crumbling house. I just wish the temperature in the room had been kinder to our audiences, and that there had been less ambient noise from the little theater overhead. But I'm not complaining (though I'm sure people upstairs did)…. We also really liked our venue director, Carmen, whose last name I also don't have handy. Last night we presented her with a little gift. She said, "I hope it's alcohol." It was. These folks have worked very hard in support of all of these shows.
Joel: What's next for you and the show?
Mike: This show is going to the New York International Fringe Festival in just a couple of weeks, so I won't be taking a break any time soon. I would love to see Usher go on to even more performances after these festivals, but regardless of what happens I will be looking forward to trying my hand at a different genre of music for whatever the next musical happens to be.
Brent: We are excited to work on the show some more – even as I start up rehearsals for EXILES FROM THE SUN. And we're looking forward to learning what we can in New York. After that, we're hoping against hope that the show will get picked up for further development and a professional production elsewhere. I will be more than happy to relinquish the directing reigns – to the right director/theater, that is. We just learned that Dramatists Play Service is sending a representative to see the show in N.Y. – so that's good news. And I have representatives coming from one of the premier literary/theatrical agencies in New York. We'll see what happens. If nothing happens, it still will have been a great pleasure. As William says, to paraphrase, "I'll be thankful for the pleasure or everyone's company, even if we're shown the door".
Related: Official website
DCTS Review of The Fall of the House of Usher
————-
Fictitious The Musical
Andrew Baughman, Artistic Director of Landless Theatre Company
Tom Hyndman, composer, lyricist and book writer
Joel: How did Fictitious The Musical land up at Landless?
Andrew: Working on Fictitious The Musical has been a blast, and one of our most successful collaborations with a local writer to date. I mean, Tom and I are both pretty laid back guys, and we were always able to negotiate creative issues without one of us throwing a fit and storming out the door! I have always felt that Fictitious The Musical was a little "bigger" than Landless. I hope that we have demonstrated the potential of the work on the Fringe scale, and that a bigger-budget producer will pick up the show for further development. I do have a few more collaborative projects I want to pitch to Tom, and I hope we'll continue to work together. Thank you for first suggesting Fictitious The Musical to Landless, Joel!
Joel:  Tom, what is Fictitious The Musical about?
Tom: It is the story of Hugh Diffindoffer a young immigrant from the country of "Nonexzistia". His journey to and then across America is observed , so we might see where his loyalties lie. Along his way he becomes , the number one Bodybuilder in the world, then the number one box office attraction in the world and finally he becomes, the number one leader of the free world, The President of the United States. His loyalties to his family and country are brought into question when his elder brother, Gunnar Diffindoffer, now the Premier of Nonexzistia, challenges the United States with a nuclear threat. Believe it or not ,it's a very upbeat show, even though it deals with such a heavy subplot. Kind of a Dr. Strangelove for a new generation. With elements of Candide, Evita and "The Terminator" all rolled into one. Our desire is to present a show that is a lot of fun.
Joel: Tell us about yourself and the history of the show.
Tom: Well, my background is that of a songwriter/performer. I'm an ASCAP ( American Society of Composers ,Artist and Publishers) writer. A few years ago, I was encouraged to attend the ASCAP/Disney Musical Theatre Workshops in New York, which are conducted by Stephen Schwartz. After returning back to the D.C. area from one of the workshops in New York, I had the opportunity to be on the grounds of the Kennedy-Shriver home , where Maria Shriver grew up. An event had just taken place where Maria and husband Arnold Schwarzenegger had just been there on a visit from California. As I wandered around the grounds, I started to think what a surreal experience it must have been for the young Arnold, years ago to have found himself there. An immigrant bodybuilder with such a heavy accent, now engaged to marry into the most well known political family in recent history. I thought ,Wow, what a wonderful "Cinderella" story we have here. I wrote a synopsis for the show and a few songs, and sent it into the Kennedy Center's "Page To Stage Festival" and a few months later , was ask to present the show there.
After that initial Stage Reading in 2007, we then held a ten song concert of "Songs from Fictitous" at "The Duplex" in New York City in 2008. And now we are back in Washington with a workshop production of the show at the Capital Fringe Festival.
Joel: Talk about the score.

Tom: Since we are covering over 40 years, I had the opportunity to score songs that draw from the pop/rock/R&B/Punk/standards and genres. Even in this shortened workshop version of the full show, we cover a lot of styles and decades of music. We also have a great band to pull it off with. Between the five of us in the pit, collectively we have all played in all these many types of bands and genres.
Joel: Tell us how the show landed up at the Fringe.
Tom: Well, I'll tell you Joel. It's one of those things you're almost half way into it before you realize you're into it. We've been anxious to get the show up to take a look at since it's initial reading at the Kennedy Center. I saw a production at Landless Theatre last spring and was impressed enough to approach them about doing the show for the Fringe. They had already been familiar with the script and the score. Our director, Melissa Baughman, was a real fan of Arnold Schwarzenegger – The Bodybuilder – and really liked the concept of the show. Once we found Harv Lester to play the lead and Gillian Shelly to play the other principle lead – we were ready. We knew we could put together a new show that would be a lot of fun for a broad audience. We also wanted to do it here in the Washington D.C. area. Given the political climate here and current events, it just seemed like the right time to mount the show for the Fringe.
Related:  DCTS Review of Fictitious the Musical
Official Website
—————
Captain Squishy's Yee Haw Jamboree
Director, co-composer and co-lyricist Chris Davenport.
Joel: Tell us about yourself and the show.
Chris: Well, last year I was eating some nuts (and really enjoying them – like ya do) and started singing to myself "I like nuts, I like nuts in my mouth." My friend Nick Greek overheard me and moments later suggested we write a show called I Like Nuts! (the musical) about a guy who likes nuts. We did, and had a great time, so this year we decided to do it all over again. We first came up with a ridiculous title, Captain Squishy's Yee Haw Jamboree, and then wrote a play that seemed to fit it. I hear Sondheim works the same way.
Joel: So how did you get the show to the Fringe?
Chris: The process of getting the show to Fringe was fairly unremarkable. We had auditions before the show was even finished and found some fantastic people. Combined with some fantastic people we already knew, we had a cast. Then there was the scramble to finish writing before we started rehearsals. As it turns out, it can take a long time to write even a stupid musical! Anyway, the first read was a bit nerve-wracking because it was the first time anyone else had read the script and we didn't want them all to quit if it was too dumb. Luckily, everyone stayed. They gave us some feedback and we made a few changes to the script before heading into rehearsals. Rehearsals went smoothly, although working around everyone's schedules was a challenge. We made some additional tweaks as we went along, and by the time Fringe came around, we had a show that was ready to perform!
——————
Titus X
Composer Shawn Northrip and Director Shirley Serotsky
Joel: Shirley – talk about the challenges of directing this show.
Shirley: When I joined the Titus team, it had already had something of a life, and most of the actors knew each other from Catholic University. That can be a challenge, joining an already established group, but I am not exaggerating when I say that first experience in 2003 changed my life. I was planning to leave DC when I got the job (and here I must give a shout out to Gregg Henry who first introduced Shawn and I, and is hands down one of the greatest mentor/helpers to emerging artists in this city; as well as being a great artist himself) and it was through Titus that I first found the collaborators and friends that made me want to call DC home. That first time around I was coming to the punk thing pretty brand new, I'd grown up listening to musical theater while Shawn grew up following the DC (and elsewhere) punk scene. We made a kind of strange team when you think about it. I found myself doing research both on Shakespeare's play and on punk music, watching videos of X and The Sex Pistols and Fugazi.
My job, as with much of this show, was just to nudge a little bit here and there, to make sure we were telling the story clearly, and to empower the actors to go all the way with the material. Shawn has a motto for all of the work we do to the effect of "If you're going to fall, fall hard", in other words, don't hold back, go all out, commit fully and if you f***k up, that's cool, and so much better than playing it safe. I agree whole-heartedly with that
The technical challenges of the show have always been about achieving a good balance with the sound so that audiences hear Shawn's fantastic lyrics and get the story, but also so that we allow the band to play at least close to authentic punk volume. And because of that we've kept the show all on hand held mics, obviously that presents some staging limitations, which can be both a challenge and an inspiration. Through the many inceptions of this show, Shawn and I have both realized that it works best when we find an in between of a fully staged show and a concert atmosphere. Anything too formal ruins the vibe, anything too sloppy and you don't get the story.
Joel: What about the cast?

Shirley: This group was a great mix of brand new (Emily and Beckett); folks we've worked with on other shows (Kevin, who played Mophead in LUNCH in 2006); actors who have done our concert versions of Titus and other shows with us (Cesar and Andrew); and members of the original crew (Anne Marie and Jason). If the actors in this show didn't like working with each other or didn't feel safe taking chances, we'd be in trouble. But they're all fantastic. Truly. As is the band. And the "crew". Alright, enough gushing.
Joel:  Shawn – tell us about yourself and your involvement in the show.
Shawn: My main involvement is writing the show. It is basically an intersection of the time I spent at NYU's Musical Theatre Writing Program, and the time I spent playing in a band called Crankcase.
This show's only Fringe history is rejection letters. Not here, but other Fringes have declined us. Our non-Fringe history includes: Page-to-Stage Festival, a workshop at Catholic University, the 23rd Annual Source New Play Festival, a production by Source Theatre Company, the New York Musical Festival, Chashama (a tiny little venue on 42nd Street), the Tank (an ever tinier little venue near Canal Street), and then two kick-ass concerts at the Black Cat.
Every production of this show is different from every other one. I rewrite bits and pieces every time to try to make it better, funnier, bloodier… I look at all of the productions as opportunities to improve on the script until such time as it finally gets the be-all productions I've been dreaming about: our own venue with air conditioning would be a nice start.
New to this production: little Beckett Martin getting disemboweled was new… and the audience loved it; the pothead scenes were all new; there were three new songs, including the newest version of Aaron's "CONFESSION," which is actually the FOURTH song to occupy that spot; OH, and good sound, which aside from the Black Cat, we've never had.
————
Pepe! The Mail Order Monkey Musical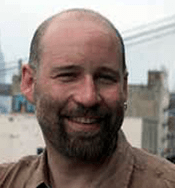 Composer Brian Wilbur Grundstrom:
Joel: Tell us about your composing career.
Brian: Pepe! is my first musical, but not my first time writing for voice, nor the orchestra, nor for theater. I have written several choral works, so the process of setting text to music was not new, but the traditional Broadway format requested by Jon was new. In writing concert choral works, I had more liberty to repeat and expand the text as required by the music. The Broadway format, however, I found to be much more rigid, and more about getting through the text. Not the lingering aria I wanted to write.
Joel: Talk about the process of writing the score.

Brian: Jon (Gann) may have requested a simple traditional Broadway format, but given my classical orchestral training and film work, there was no way that I was not going to have my [sophisticated if I may] voice work its way into the music. For example, rhythm was extremely important in "It's Here". Not written the standard 3/4 or 4/4, the compound meter (3+3+2+2/8) provided for that "extra" beat that made the song both sophisticated and catchy. This meter challenged the actors, but they rose to the occasion and the hard work paid off.
The structure, while limiting, however does provide a framework within which creativity can flourish. While Jon provided me with the structure – the A B and C parts, the text also required subtle variations, much like the flourishes on a Chopin Nocturne to provide interest while repeating the same material. Orchestration was also key to provide variation along with character development depending on who was singing the verse. For example, Chris got rock drums as part of his rebellious character. The father's lines were simplified to be more in character.
Given this emphasis on a pre-defined format, writing Pepe required a lot of manipulation of the fundamentals of music – melody, harmony and rhythm. Unlike my orchestral compositions, the more impressionist elements of texture and dynamics took a secondary role, providing variation in repeats as opposed to defining structure.
I was actually surprised how much I used my knowledge of music theory to help me solve the problems at hand. In fact, it was considerably more than my recent concert premiere of "American Reflections for Strings and Harp". In writing for orchestra, I orchestrate as I compose, and I have learned that I really can trust my ear to let me solve the issues at hand, and only analyze harmony as needed if a problem arises.
By contrast, writing for Pepe! started first with a piano score, and orchestrations were the last thing to be completed (and changed until the day before opening). During this process, parts of the musical had to be moved around and adapted to fit as necessary. Solving these issues required much more harmonic skill to get them to work appropriately. And add to that the obligatory "cheap modulation" to provide forward motion, as well the accommodation of the singers' vocal ranges. Finesse and sophistication of music theory is required to make these modulations work properly and not sound tacky.
Another example of the deliberate use of harmony is in "He's Gone", where I employed a deceptive cadence to create interest. (A deceptive cadence means resolving to sixth rather than the tonic. In C major, that would meaning resolving to an A minor chord rather than a C major chord. It is called deceptive because two the notes in the chords are the same – C and E. The G however is replaced by and A.)
Lastly, interaction with the singers helped shape the work. When Rick Hammerly came over to record his solo for the cast recording, we made some refinements. Without a conductor, it was important to build in musical cues so that the actors know when to come in. For Rick, this meant adding in a few bells at the start of phrases following a held note.
Co-lyricist and Book writer Jon Gann

Joel: How did you meet your co-lyricist Andrea King?

Jon: A funny story. I was standing in line at a film festival in Ashland Oregon in March and began speaking with the woman next to me in line. She asked about my next film project, and I informed her that I was writing a musical – and just completed the lyrics to the last song over breakfast. She asked to hear it, so I sang the song in the middle of the sidewalk. We exchanged information, and I thought nothing of it. Later that afternoon, she emailed me with revised lyrics to the song — and they were good! My lyrics were about advancing the plot, and hers were more poetic. I asked if she wanted to take a crack at revising the lyrics to the whole show, and she accepted. Over the next 3 weeks, I would receive an updated song every few days. I edited a few lines from here and mixed them with a few of mine to get the final set you heard last night. We are flying Andrea (King) in from Oregon for the last week of the show — she has never been to DC, and this is her first musical.
—————–
Life In Death: An Opera Electronica
Composer and librettist Gregg Martin
Joel: Tell about the process of composing Life In death:
Gregg: I conceived this opera with a number of ideas in mind. First I was composing a number of new works for electronica and other instruments or just electronica alone. In fact, the plays I was scoring for in the past few years, I was using all electronica because it makes things run smoothly night to night simply because the music does not change. I also like the use of this sound pallet because its colours are limitless. What ever I have in concept I can then create regardless of how off the wall they might be.
Another aspect of this opera that was important to me was size. I wanted a big sound, with a small cast that can be performed in a small space. This was done because large operas are hard, and expensive to mount, expecially if you are a relatively unknown composer. Life in Death can be done in almost any size theatre.
I chose to compose a new opera adapted from Edgar Allen Poe's short story "The Oval Portrait", because Poe has always intrigued me since I was young. Picking "The Oval Portrait" was because it was a great story, short (3 pages in length) and had a small cast.
It is the tale of a painter who is obsessed with his art and convinces his new bride to be his model. The painter works so compulsively that he neglects to notice that his bride is dying before his eyes. The text is compiled from poetry by Poe and from the short story itself. I chose to use Poe's text because it is so rich and speaks so clearly in a vocal form. I borrowed additional source material from Poe's own source – Ann Radcliffe's Gothic work, "The Mysteries of Udolpho" (1794). The original story is told by the narrator; however, here the narrator also plays the dual role of the bride's father. For the stage, I have also given the bride the name "Emily," for the main character in the Ann Radcliffe novel.
Joel: What has changed since the Page-To-Stage production?
Gregg: Now, what became most interesting was that Director Jay D. Brock, who was the second person to direct this show, changed the staging completely. After an early a reading of the work one night, Jay and dancer/choreographer, Katherine Frattini, talked about adding a more integral dance component. This helped tell the story in stronger way to the audience. The ballet section was always an important part in the opera but dancing was going to be only a part of that section, but both Jay's directing and Katherine's added dance brought the production to new heights that I could have never imagined.
—————
Magnum Opus
Joel:  Tell us about yourself getting Magnum Opus to the Fringe.

Jay: I am currently the artistic director of Opera Alterna as well as the recently formed Limelight Theatre in Rockville, which is dedicated to professional musical theatre. I have been working in DC theatre for three years now, and originally came from California where I was active as a director for eight years. I originally moved to the area to complete my MFA degree in directing at Catholic University, and since then I have decided to stay and make my career here in the metro area. Although my training and first love is in straight theatre, I have recently taken up quite an interest in musical works.
In the Fall of 2007 Sarah Philippa and I met and began discussing the nature of opera in the DC area, and realized that there was not any companies dedicated to newer and/or original works. We also realized that while the big opera companies in town were doing terrific work with classic operas, they were not attracting younger audiences. This spawned the idea to create an opera company that would work primarily in chamber opera, and would strive to produce material that was equally balanced in music and dramatic storytelling.
As you may know Catholic University is home to a rare "composition for the stage" program that specializes in training composers in stage works and incidental music. As a directing student in the school of drama, it was a match made in heaven to have an opportunity to collaborate with composers who would write original scoring for theatre productions. As the composers came to the end of their program they were required to write operas or musicals as a thesis project, and many of them asked me to direct their pieces. Michael's piece was scheduled to be performed at the University last February and because of our collaborative relationship, many Opera Alterna regulars were cast in the production. In fact Michael wrote many of the roles with the performers specific voices in mind, which was possible since many of them had previously sung for either Michael or myself. The opera was such a success at the University that Opera Alterna decided to produce it for the upcoming Fringe Festival.
Working with Michael has been a tremendous experience with both the University and Fringe productions of his opera. From my first reading of Magnum Opus I was amazed by his compositional skill and ability to write such a poetic libretto. In addition to his talents as a composer, he has also brought tremendous leadership to the production by acting as music director and conductor. As you know getting the opportunity to direct an original opera is a rare experience, and it has been a wonderful journey working alongside Michael for the entire process.
The cast in the Fringe production of Magnum Opus is the same as the University production with two exceptions: Eric Sillers as Schumann and Tricia Lepofsky as Polyhymnia. I worked previously with Eric Sillers on Carmen at Summer Opera Theatre Company and again in a production of Esther at the Benjamin T. Rome School of Music. Tricia Lepofsky is a well known area professional and her reputation preceded her as we were searching for a new Mezzo-Soprano to fill the part. We are extremely fortunate to work with the caliber of voices that we have cast in Magnum Opus, often time companies with limited resources cannot enlist such talented singers. The designs for the Fringe production were carried over from the University production and are again the result of artists who are well known in town and have worked for little to nothing to help us achieve our goals. I know that everyone in Fringe is working hard and squeezing blood from stones in terms of resources, but to put up a fully produced opera with orchestra in the Fringe festival is a quite a miraculous feat of ingenuity, dedication, and hard-work.
Composer Michael Oberhauser
Joel: Where did you get your training?
Michael: I'm a composer from Maumee, Ohio. I got my Bachelor of Music in Composition from Ohio Northern University and my Master of Music in Composition with a Stage Emphasis from the Catholic University of America. My goal in much of what I write is to find a balance between music that would be interesting to other musicians and still enjoyable to non-musicians, which can sometimes be very difficult.
Joel: tell us about composing Magnum Opus.
Michael: My goals were to set the text comfortably and in a way that helped tell the story, to make the music interesting, and to give each character a separate melodic character. Claire's vocal lines are similar to John's – they have the sweeping, longing melodies that at times even border on classic musical theater.The muses' music was intended to be a constant show-off: Melpomene has high, fast, and jumping lines, and Polyhymnia has lots of smooth scalar runs. Robert's music gets crazy as he gets crazy – it starts off more static, and gets more active up until the end. Schumann's music is very formulaic, and my goal was to make it sound like a German Lied much of the way through the opera. Also, Schumann's vocal lines are often accompanied by quotes from Robert Schumann's Liederkreis Op. 39, my favorite Schumann song cycle.
—————-
Dizzy Miss Lizzie's Roadside Revue Presents The Saints
Co-composer and co-lyricist, book writer and Director Debra Buonaccorsi, and Co-Composer and co-lyricist, and musical director Steve McWilliams:
Joel: You have two shows in the Fringe this year. Can you tells us what similarities and differences The Saints and The Oresteia have?
Debra and Steve: The Saints has some obvious similarities to last year's Oresteia. It is still written and performed with the same Dizzy Miss Lizzie aesthetic. It's still fun, off-color, irreverent, storytelling with rock and roll. It's got the same audience interaction and participation elements as well.
It is different in the sense that it is not based on an existing play. It is a totally original work based on the stories of the saints. It's is structured like the source material – in storytelling vignettes. More character driven. It definitely breaks with the structure of a traditional play and takes on more of a vaudevillian, presentational model.
As far as the score goes – there isn't a score. We are a rock band. We write songs. We are songwriters- not score writers in the sense of traditional musical theatre. Our songs would be more at home at the 9:30 Club than on a Broadway stage. The songs have a more unified sound that those in The Oresteia. They are more alt-country-esque. We were influenced by everything from Waylon Jennings and Willie Nelson to Neko Case and Ryan Adams. The saints were very complex people and we tried to convey the essence of each character through their songs – through their sound. We try to paint a picture or a musical landscape to give you a sense of who these people are.
Joel: Talk about collaborating together.
Debra and Steve: As a writing team, we have a unique way of working. The process is entirely collaborative. We are both equally involved in every note and every word that is written for our shows. Our cast is also very much a part of our creative process. In fact, One of our goals is to have company members who are involved in the development of all of our new work.
Joel: What's next for you?
Debra and Steve: We are working on a new piece. We don't want to give too much away about it- let's just say – it's different than what you've seen and heard before and we are very excited about it. We are also in the process of arranging a late winter/early spring production of both The Saints and Oresteia – back to back, with The Saints as a first act and Oresteia as the second. Details are still TBA. We will keep you posted. And sooner than that, we are performing selections from both shows at the Signature Theatre open house on August 8th.
——————
Please Listen A Musical Chaos (WINNER: Capital Fringe Best Musical)

Director Cory Ryan Frank
Joel: When did you first come into Please Listen A Musical Chaos?
Cory: I know Mark and Aaron from the University of Maryland (UMD) where I was a grad student in design. I was chatting with some people from UMD about wanting to produce a fringe show again this summer (I produced/directed Lebensraum by Israel Horovitz last summer) but I was looking for an original piece. I heard through the grapevine that Mark and Aaron had been wanting to write a new musical, so in September '08 we all sat down and chatted about doing a fringe show together. They had a basic idea to start with, as well as some music they had previously written. I loved what they had, knew they were both talented actors/musicians and decided it was the perfect fit for Fringe.
Joel: What was it about the show that made you want to direct it?
Cory: I've always been very interested in being a director but was nervous about being able to fill the shoes. After the great reviews and feedback I got from Lebensraum, I decided I wanted to give it another go. I wanted to direct this show specifically because it's such a fun script. I knew that because it was new, I would be able to both help Mark and Aaron develop the story as well as help them realize their writing with a final product on stage. This is my first time producing/directing a new work and I was very excited to take on the challenge. It presented a lot of learning opportunities for all of us.
Joel: What's the show about from your point of view?
Cory: This show's about how far the passion for your art will take you. Just as we took a chance on putting all of this time and energy into creating this show, Arlo and Donovan take a chance on kidnapping someone in hopes of forwarding their careers. It's also about love. Why waste the time we have hating and being intolerant when you can spend it giving and receiving love?
Joel: Talk about the journey from auditions to casting the show to its opening at The Fringe.
Cory: I knew that with so many shows being produced we needed to have auditions sooner rather than later. We were looking for actors who understood that in order to make this a reality we'd all have to be working towards telling the same story. It's a new musical so we were undergoing changes every day and they needed to be able to collaborate and really come on board as a team player. We opened up the auditions, hoping to find actors outside of Maryland to work with the many from UMD who we knew were going to be working on the project. When I read the script, I saw Matt Anderson in the part of Rick (the record executive) immediately. He came in and Mark and Aaron loved him as well. We were very lucky to have him on board as he has brought a lot to the show over the past few months.
There were definitely a lot of rocky moments in the process. As the producer, I was very worried about what the final product was going to be but as the director I was trying to focus on telling the story and have a good time with my cast. The script went through lots of changes before we went into rehearsal and initially, I was hoping to do a staged reading in the Spring and continue to develop the script from there. In the end, it wasn't a realistic goal given the short amount of time between deciding we wanted to do the show and when rehearsals were scheduled to begin for the festival. In the end, I'm certain the staged reading would have only informed more of what needed to be done to really tighten the show. I'm very happy with how far we've come despite not having that staged reading, and excited to see where it goes next
Joel: Talk about the audience's reaction.
Cory: I have been living with the script and the story for so many months, through many revisions and additions that I was really losing perspective on what was funny, what was working and what needed to be fixed. The first time I realized we were heading in the right direction was at the FRINGE preview performance. People were enjoying the show! They were laughing and I realized… "This show is funny!" When we got the standing ovation that night, I knew we were going to have an exciting ride through the festival.
I had no idea we'd sell-out as much as we have and receive such wonderful feedback. I was worried that people would look at this as another amateur venture with a bunch of college kids instead of a musical with real potential that has a future life. However, it's been quite the opposite. I've been overwhelmed by the positive feedback and encouragement by the FRINGE community. I know that the show is not perfect and that we have a lot of work to do but it's nice to look back at the end of this festival and see that the hours of rehearsal and money we've put into the show were worth it; not because we're selling tickets but because the audiences are enjoying themselves
Joel: So what worked and what didn't?

Cory: One thing that has always worked has been the improvisatory nature of the show. We've added many of the ad-libs that were created in the rehearsal process into the script itself. I also think the basic structure of the show works well and has a lot to be built upon. There are a few major things I think we need to work on as we move forward with the piece. We need to focus the story. Even some of our good reviews mention the fact that the plot is a bit inconsistent in story telling. We need to reign it in and get to the core of what the story is. One way I think we could do that is by making it more about the boy's story in the basement with the record executive and less about the world of the actual concept album. We also need to work on the stakes of the show. Where's the actual conflict and how can we build on it? The relationship of these two budding writers is what we're interested in so we need to strengthen that relationship and build upon the tension that's already there. I think some of the book scenes are too long and that the show could stand to have a few more songs to help tell the story. I'd also like to look at the end of the show. I've gotten a lot of mixed feedback on how the show ends and when it ends. I don't know the answer yet but I do know that we need a sharper cleaner ending. Mark, Aaron and I will probably spend a good deal of time talking about this when we begin rewrites.
Joel: Talk about the cast.
Cory: I've been thrilled with my cast. This was a tough show to put together because of how large the cast is. As with most FRINGE shows, it's a labor of love. We don't do it for the money. I'm very much aware of the sacrifices most of the cast are making for the show in terms of taking off from work and giving up their basic free time. They worked incredibly hard inside and out of rehearsals and have helped to make this as good as it can be. There have been a number of cast members who've worked tirelessly from start to finish. Chris Wilson, who plays a peasant and Robot, is always actively engaged with what's going on in a scene. Every time you look at him, he's subtly trying something hilarious and is throwing his energy to the other actors on stage. This is what keeps the show moving forward. He's incredibly talented and I know we'll be seeing a lot more of him soon. Judith Ingber brought so much to the role of Grace, both with her amazing voice and bubbly personality. We built a character around Kelly McGuigian who came to the auditions in a sequined French maids outfit. She actually created the monologue at the point in the show when she's trying to keep the boys from splitting up. She improvised the monologue one day in rehearsal and I said, "Keep it! I hope someone wrote that down." I also want to say, again, how much Matt Anderson has brought to this show. He's offered some fantastic solutions along the way and he will definitely be working with Open Drawer Theatre Company again in the future, hopefully as a director as well as a performer.
Joel: What's next for you and the show?
Cory: I'm currently working towards setting up my not-for-profit status for Open Drawer Theatre Company and finding the people who want to make it happen with me. As for the show…I think it has a bright future. We have a lot of work to do and, personally, I can't wait to meet with Mark and Aaron to get the ball rolling. Right now I'm looking at remounting it sometime next Spring or Summer. I'm looking into the NYC Fringe as well as NYMF (New York Music Theatre Festival) as possibilities. Many people have reached out to us and offered to help us move the show forward and find potential investors. We're very excited.
Co-Composers, lyricists and book writers Mark Halpern and Aaron Bliden
Joel: Tell us about yourselves.
Mark: At age nine, I began playing the trumpet and at age 14 I began playing the French Horn. I continued to learn new instruments such as the guitar, banjo, and bass. I began writing my own teenage love songs at age 15 and would like to think my music writing has become a little more sophisticated over the years. In high school, I had my first theatre experience when I became involved with its improvisational theatre group. I enjoyed being in the group but was more interested in math and science at the time. I entered the University of Maryland as an Aerospace Engineering major, but after my first year of studies I found that my passion for the sciences had disappeared. I missed the theatre and switched majors. I auditioned and got into my first "real" play Machinal as The Lover which was directed by Jerry Whiddon. I appeared in several other main-stage productions at UMD including The Green Bird, The Physicists, Filthy Rich, Between Trains, and The Illusion. I graduated this past May with my degree in Theatre Performance and most recently appeared in Fever/Dream at Woolly Mammoth Theatre as part of the ensemble.
Aaron: I've been interested in the arts for as long as I can remember. I've always been a singer and over time I picked up different instruments like piano, drums, and some various sideshow instruments like the ukulele and slide whistle, mostly by teaching myself. I had a few piano lessons over the years, and I did the whole concert band in high school deal playing percussion, but I always had an interest in songwriting. In late high school/early college, I had a band, so I got to start manifesting all of these ideas that had been sitting in the back of my brain for a while. Simultaneously, I've been doing theatre since middle school, and my brother, friends, and I liked to shoot a lot of short films too. I've been doing improv in college for four years now, which has a lot to do with my point of view and taste in theatre.
Joel: How did you both meet?
Mark: Aaron and I first met in October of 2006 through our mutual friends at the University of Maryland, James Gardiner, Peyton Brown, and Tyler Smith. On the night we met in collaboration with Peyton Brown we wrote the song "Robot Dream Suite" which is currently the second song in our musical. We enjoyed writing together and formed the band Little Justice. We continued to write music together and began writing songs for our friends' (mentioned above) web shorts at (Chicago based) Claymore Productions. After writing many songs, we thought it would be fun to combine our love for theatre and music. We began writing the musical as part of a class, but it never really materialized. (The initial idea was about an "Average Joe "character being hit by a car and waking up in Purgatory, which is actually a fantastical land).
Joel: What's the show about?
Mark: Please Listen: A Musical Chaos is about two young, desperate musicians (Arlo and Donovan) who kidnap a record executive and keep him in a cage in their basement apartment. They force him to listen to their concept album and the story of the album comes to life on stage. Robots land on Earth and accidentally destroy many of the homes, pastures, and life on the planet. The Robots want to be friends with the humans but the humans do not believe that Robots know the meaning of friendship or the meaning of love.
Aaron: The album comes to life on stage, and what ensues is a story of robots, peasants, love, sex, bears, and pie. In terms of what the show is about on a deeper level, I see it as a show about how the great ideas in your head don't manifest the way you want them to, and how it can lead to disappointment, frustration, and ultimately to a sense of desperation. We're trying to explore what would happen if a pair of aspiring musicians and storytellers took this to the extreme. This is all coated under a thick layer of ridiculous stock characters and the silly hats that everyone's been raving about.
Joel: Talk about the score and its musical styles.
Mark: The music in our show reflects the styles of music we love to listen to and play. Though many of the songs we write contain silly content, we are very serious about maintaining the integrity of each song.
Aaron: Mark and I have our own tastes, and we like a lot of the same things. Personally, I grew up with a lot of Motown, oldies, and classical music. Over time, I've developed a taste for almost anything. I love working in a lot of different genres, because I'm not the kind of person who likes or dislikes an entire genre rather than specific artists or songs. A list like this would probably be different depending on when I was asked this question, but I'll list a few. We're both fans of Sufjan Stevens, and of a band local to Baltimore but who (I think) come from Tennessee called J. Roddy Walston and the Business. Harry Nilsson is a personal favorite of mine, as are Thelonious Monk, Sly, and Leon Russell. Another obscure favorite is Dr. Hook and the Medicine Show, a band who played songs written by Shel Silverstein in the 70s. I also really enjoy Electric Light Orchestra in their prime, and The Roots. We just try to write songs that we don't see ourselves getting tired of, things that are always fun to play sing. I know my fair share of musical theatre too, and that knowledge probably slipped into the show in some ways (it is a musical after all). We didn't want our show to sound like a glossed-over musical, we just wanted people to have fun singing catchy, ridiculous songs.
Joel: Which came first, the melody or the lyrics?
Mark: In most cases I would say that the melody and the lyrics came about at the same time. Occasionally we would write the melody first and add the lyrics later. The order can sometimes be confusing because we are constantly tweaking our songs.
Aaron: We write songs in one package for the most part. An idea for a song will sometimes come from a melody either of us (or the both of us) have been tooling around with, or it can come from simply making up a song on the spot and working from there. I can honestly say that writing every song for this show has been a respectively unique experience.
Joel: When did Cory Frank come in as director. Talk about his contributions to the show.
Mark: Cory had heard through the grapevine that we were writing some sort of show and he was interested in producing something. We had hardly written a few pages of the show (which used to be a completely different story) when he approached us, but he seemed willing to work with a project that was basically starting from the scratch (we did, however, have about half the songs written, even if they were to be changed some). We ditched our old idea because we weren't enjoying it anymore, and we decided to take some of the subject matter from our pre-existing songs and mash them up – a king, a queen, and some robots, all with a frame: somebody to tell the story.
Why not base these storytellers loosely off ourselves and go from there? So we made it as ridiculous as would suit our tastes and proposed it to Cory. He was excited, as he had heard the music and dug it, so we started working away on a new script. We hadmeetings with him to show him new material, along with our dramaturg, Jason Schlafstein, to which he gave suggestions and good advice. He usually spoke plainly, simply, and knew what he liked and what he didn't like. Not to mention, he also came into the project with a strong design background and a knack for producing, fundraising, and advertising. He definitely got the ball rolling and kept it rolling, making sure that this production would materialize.
Joel: You also wrote the lyrics and the book. Tell me about the challenge of doing it al.
Mark: Writing the book and lyrics was challenging but it was incredibly fun for me to try my hand at writing a full-length work. I wrote several short plays at UMD with Aaron, James Gardiner, and Noah Langer, but never a full length piece. I also wrote many sketches for the sketch comedy group at Maryland, Sketchup, where I was the creative director in my final year.
Aaron: The book was much harder for us than the music, because we had never written a full-length piece before. A few years ago we had written a ten-minute play with Noah Langer (who plays "Prince" in Please Listen), but we only had 12 hours to write it, so there was no time for serious editing. In this case, we were writing a play and cutting things at the same time because we had to fit within a 75 minute time frame, so we were still crunched for editing time. We had a few months to write a full piece, but the new songs sort of just sprang up as little pieces of encouragement to keep going. Once rehearsals started, we were able to work the script on its feet, hear other people read it, and hear some initial reactions, which was sufficiently helpful in telling us where we needed to make cuts, and change things. The process has been quite hectic, but enjoyable above all.
Joel: Now that you have seen the show performed, will you consider having someone else come in and help with the book?
Mark: I feel like we would like feedback on the book, but not necessarily someone to come in and rewrite it.
Aaron: We've been getting constant feedback from some of the creative team, especially Cory and Jason. We're definitely protective of our material and who touches it, and if someone were to work on the script it would be under our supervision. I think in the end, we'd like to be the ones to say whether or not something is in the show, and Cory and Jason have been very supportive of that. On the other hand, I think we've been very open to new ideas. We cast the show the way we did because we wanted to work with people who would bring ideas to the table. We wanted to workshop with people who knew our material, could execute the material, and who could even add some very well-received details.
Joel: What was the most difficult scene and song to write?
Mark: The most difficult scenes to write in my opinion were the scenes with Winnie the maid. She was not in the original version of the script. However, I feel she has become essential to the story. I feel our most challenging song to write was Jail Cell because we had some initial trouble with the lyrics. We wanted the song to stand alone as a beautiful tune but at the same time it had to drive the plot. It is probably the song we spent the most time wracking our brains over.
Aaron: Our biggest area of concern was the dynamic between the musicians and the record executive. We stumbled accidentally on what to me is one of the strongest parts of the plot. Rick, the executive, was not supposed to play the bear at first, who was originally intended to be a separate character. Because we were given limits as to how many people could be in the production, we started thinking about how we could compress our cast size and still keep the story we wanted to tell. It seems so obvious now that Rick would be pushed into the story-within-the-story, but it just hadn't crossed our minds until we were cornered into making those decisions. I think the last song we wrote for the show was "Jail Cell," the ballad a little after the middle of the show. A lot of our songs' content didn't directly relate to what was happening on stage, and we wanted to write at least one or two songs with a little more character development without sacrificing our commitment to writing fun songs. We had a melody and some lyrics, but not all of the lyrics. It took a few days of serious brooding before we finally stopped trying and just wrote something. Again, we were forced to think of something because of a deadline, and it's not as if that something didn't turn out well. Some people have told me it's their favorite song in the show.
Joel: Where does the show go next? What are you doing next after the Fringe?
Mark: Now that the run is over we hope to rework the show and produce it again once we have made significant changes. Our goal in the next year is to get backing and support to take the show to the New York New Musical Theatre Festival.
Aaron: We've humored a few different options, but the first thing we want to do is tweak the script a bit. We don't know how much we're going to change it, but some things will definitely be changed. A few other festivals were on our list of possibilities, including the New York Musical Theatre Festival, but it's all up in the air right now. I think we have to assess the outcome of the show afterwards, talk with Cory, and really make sure we know what we're doing when we take the next step with this piece.
————-
The Bea & The Bug Writing Stories, Wowser Bowser!!
Creator and Executive Producer Gale Nemec
Joel:  What is the history of the show?
Gale: The Bea & The Bug! began when I was a child. My mother, Ruth E.B. Nemec, wrote a wonderful story with a delightful song and told it to us over and over again. The song and the story were captivating. My background is teaching, Public Relations, Producing for television and radio, acting and writing. I combined those skills and created The Bea & the Bug! which is loosely based on Mom's story. The show is a multimedia, interactive, high energy, musical which travels through time. It is literally for all ages and is educational, but that part is a secret.
We produced different versions between 1999 and 2002 at the Carter Barron Theatre, Children's National Medical Center the Chesapeake Arts Center;. From 2002 until 2009 the show went into hiatus. It was revived this year when we were accepted into the Capital Fringe Festival.
We performed the show at the Children's National Medical Center on June 30th, and at the Capital Fringe Festival throughout the month of July.
Joel: What is The Bea & the Bug! about?
Gale: It is a time travel show. It explores America's history and introduces people who made a difference in their lives, and the lives of others, due to the fact that they were simply perusing an interest.
The Bea & The Bug Extravaganza, Writing Stories ?? Wowser Bowser follows the character Morgan in her desire to write a story, about people who made America great, just because she thinks it's a fun thing to do. Her friend Trevor thinks it's a ridiculous idea and no fun at all. He calls out the BungleBugs, HoneyBea, BungleBug and DragonFly, so they can decide if the idea is a good one or not. Morgan works to prove Trevor wrong and convince the bugs by singing "I'm Going to Write a Book".
The story Morgan writes, includes several historical characters and musical numbers that introduce the audience to different musical styles. Tommy Jefferson, who does not want to do his home work writing assignment, is followed by "He Did Right" (rock). Nellie Bly, a 25 year old woman traveling around the world, alone, in the 1800's, sings "Fast Around The World" (Do Wop) and Benjamin Banneker who built a clock out of wood that lasted 40 years, raps the "Banneker Rap "(Rap). Waltz is also incorporated into the show.
The audience is encouraged to sing each number with the cast and band. The lyrics are projected on the Magic Buggy Board – a fabulous, animated power point presentation, and printed in the program. (The program is filled with educational games).
The Banneker Rap includes the cast drumming on buckets and taking the buckets into the audience to do the same. Volunteers in the audience dance to the music and encourage audience members to dance and sing along . . . and they do! Each song is filled with choreography that keeps the energy high and the show moving. The backdrop to the music and movement are colorful sets with HoneyBea and BungleBug outdoors.
Joel: Why and how did you get to the Capital Fringe Festival?
Gale: The seed was planted for The Capital Fringe Festival last year when I played a psychiatrist in the play Three Times a Lady. I realized that there were children's shows in the Fringe, and thought it could be a terrific way to reach kids and families and a lot of fun for The Bea & The Bug! So I applied, never expecting to get in – Heck! We are a kids show!! This was the highly successful, fast growing, adult, Capital Fringe Festival!
When I receive the e-mail stating we had been accepted, I just stared at the computer, rereading and thinking I was reading it wrong. (My guess is many producers do the same thing) When I got over the shock and thrill – it was time to go to work.
Joel: What does a producer do?
Gale: A producer is like a "Parent"… you are responsible for EVERYTHING. From hiring the Director, (Peggy Jones), Music Director, (James Bazen), Stage Manager, (Ed Houser), Volunteer Coordinator, (Kristen Chesson), Graphic Designer, (Heather Gathier), Choreographer, (Elizabeth Sielen), Costumer, (Elena Starke), and oh yes, the script, casting the actors and musicians, finding rehearsal space, publicity, programs, printing, lay out, sets & props, advertising, marketing, fundraising and more. The details are endless. A producer delegates, yet stands side by side and pitches in where needed to get a show up, rolling and on stage – i.e. produced.
All of these details resulted in combining a few of The Bea & Bug! past scripts to create our show, which was written by Duncan Hood, Matthew Johnson and Jim Lefter and turned out to be perfect. The songs were by Duncan Hood, Matthew Johnson and me. James Bazen created new arrangements for several of the songs and conducted a seven piece band which was on stage and a part of the show. It all worked out very well.
The show was also loaded with interaction between the actors, the band and the audience. From the beginning, audience members were on their feet singing "The Bungle Bug Theme" song. They stood and sat to make Mr. Banneker's clock work, and called out "IIIDDDEEEEAAA", to start the time machine going. They all joined in to sing our shows closer "You Can Make A Difference". Adults and kids left happy, singing and telling us they had learned things they never knew.
We heard numerous comments including., "Our three year old keeps singing the songs as does our 12 year old who says he is too old for the show. . . "
And a father told us, "I never thought to tell my kids that they could make up and write stories about people in history. I'm going to start doing that now . . ."
After every show adults told us how much they loved the show. You hear that from kids. But to hear it from adults, is the icing on the cake, and makes producing the show worth it.
Early on we received numerous requests to let kids in free. We talked to the Fringe and did what they suggested, and gave the majority of our comps away to low income families and kids. It was wonderful.
As the show progressed, I talked to people about purchasing and donating tickets for Low Income families and kids. Anonymous donors donated dozens of tickets. Talk about making your heart strings play! I wish you could have seen the amazement on the kids and families faces when they walked into the theatre, and then the joy when they left. It made every single planning-lack-of-sleep-moment worth it.
Joel: Talk about your Fringe experience.
Gale: Being part of the Capital Fringe Festival has been a lesson in organization and helping participating artists. Scott and Julie, Co-Founders, have come up with an incredible idea for Washington DC. With more than 100 plays in the festival, they, and their volunteers, almost made me feel like The Bea & The Bug! was the only play in the Festival. Their attention to detail and communication was outstanding. They created a Producers Handbook which answers every single question and covers details you need to know if you are a new or an experienced producer. It's invaluable, with deadlines, how to's, contacts, and so much more. They have also accessed a way for every producer to track ticket sales and add comps on line. For every question I had, I had the answers within 24 hours. This is my first Fringe festival experienced, and I have been spoiled.
The Capital Fringe brings our theatre community together in a huge way. Many people think DC is only about politics. Surprise! We have a very vibrant theatre community which, I have been told, is the third largest in the nation.
It's a blast to perform or produce a show and then run to see show that your friend is in and run into acquaintances on the street. I respect, admire and enjoy what this festival is doing for our community and the people in and around it. The diversity in the plays is not to be missed. I bought a pass so I could see more shows for less money.
———–
Diamond Dead (Continued …)
Andrew Baughman, Book writer of Diamond Dead The Musical
Joel: How did you find Diamond Dead?
Andrew: In 2004, the rights had fallen through at the last minute for another show, and Landless was left scrambling for a production to fill the slot in our season. I stumbled upon the interactive website diamonddead.com, designed to involve fans in the process of making a zombie movie that would combine music by Emmy winning UK Composer Richard Hartley (Rocky Horror, Alice in Wonderland) with direction by George A. Romero (Night of the Living Dead). The project was steeped in controversy, including a petition to ban the film over a scene involving a "Vision of Jesus" that at least one Christian Fundamentalist found offensive [incidentally, in the current stage play, that scene is relegated to about 20 seconds, though it serves an important purpose]. About five different screenplay drafts of Diamond Dead by writer/creator Brian Cooper were online for perusal by anyone who wanted to read and chime in on the project. It looked like a neat premise for a stage musical, and on a whim I sent an email to inquire about permission to conceive a stage play based on the various screenplays.
Almost immediately, I received an email from international film producer Andrew Gaty, who would become a mentor to this day. The film was in a holding pattern awaiting green light, and Gaty thought a stage production in the DC market might be a safe way to generate publicity and jump start the project. He gave me carte blanche to adapt and conceptualize a stage play. Brian's various screenplays were quite different, and the straight rock music not intended for musical theatre. The story centered around an unlikely romance between Aria de Winter and a nebbish club owner named Mattias. I liked the idea of creating an audience participation event or "happening," sort of in the style of Tony and Tina's Wedding, and so conceptualized a single concert event that is a prequel to the screenplay, set back in the turbulent times when Dr. Diabolicus and Aria were still trying to make their doomed relationship work. Richard Hartley also wrote us a new song for Glitter ("Fierce and Flawless"). We were marketing Diamond Dead to Rocky Horror fans at the time, and Richard wanted to write an anthem to thank the GLBT community for supporting Rocky Horror through the decades.
Joel: Did you feel the 2004 Fringe production of Diamond Dead was a success?
Andrew: I would not call our 2004 production a success. The Post called it "woozy and overwound" and the Times simply called it "a mess." The script was longer than it is now, involving more actors and characters, including the devious Russian band manager Rasputin (yes, same guy) and a friendly dominatrix named Veronica Vinyl. Multiple unrelated plot lines careened like a car accident. The biggest problem was that in order for this concept to work, the audience had to buy that they were in a rock concert and play the part, and the audiences just weren't ready to do that.
Joel: How is this production different?
Andrew: By 2008, Landless had changed quite a bit. We had acquired a resident director Melissa Cruz (soon to be Baughman) with a strong background in production. She was assembling and leading a design team that would take our company to the next level. It was Melissa's dream to direct Diamond Dead because she believed it was a one-of-a-kind musical, and one that could even appeal to club audiences that might otherwise hate musical theatre. Gaty allowed us to remount the production at the 2008 Capital Fringe Festival. I drafted a leaner script that rested more heavily on music than plot. Melissa dragged me to Iron Maiden concerts to study Bruce Dickinson, and made me listen to bands like Judas Priest and Cradle of Filth, turning this musical theatre boy into a credible metal frontman. She took the same approach with every actor and element of the production.
Joel: What has the audience reaction been this time?
Andrew: The Fringe Festival audiences proved to be exactly what the show needed, because they were looking for something different and ready to rock out and have a good time. At Fringe, there are no rules set by critics or community to define what makes "good" theatre. Anything goes. In spite of virtually no press coverage, we packed the house through word of mouth.
Joel: You'll be taking the show to the New York Fringe Festival. Tell us about that.
Andrew: Diamond Dead was next accepted as one of 200 shows chosen out of over 6000 applicants for this summer's New York Fringe Festival. Our current script only contains one major change. Last year, DCTS sent a reviewer (thank you, the only one!) who criticized the political satire as dated and kind of lame. It involved a generic bigoted southern preacher character from the screenplay and a lot of George W. Bush jabs. I really took those words to heart, and realized that like everything else in Diamond Dead, the political satire needed to have balls. I decided that each production would have a new "enemy" ripped directly from current headlines. This time includes a sexy gun-toting former Governor of Alaska, and a gay-hating former Miss California. I love the energy from the audience when these guys get eaten. Next time, who knows who will be for dinner?
Joel: Introduce us to the new cast.
Andrew: This year, the band is tight, we welcome the comic stylings of Gillian Shelly, and our most gifted company actress Karissa Swanigan takes over the lead role of Aria and lifts the whole show to a new level. We had two sellout shows with standing ovations and audiences calling for an encore, and managed to pull substantial audiences in to rock out during weekday rush hour performance times. We're really looking forward to taking this black sheep of musical theatre up to New York (Dixon Place, August 21-24) and seeing what happens next for Diamond Dead! Still no movie in the works, but the play is doing better than ever! Visit us online at deadrockproductions.com
—————-
Two Final Musical Scene Stealers:
Jordan Klein, as Orestes singing "Orestes' Song" in The Oresteia.
I have seen Jordan so many times at Toby's, and I have lost count how many times I have told my friends that they needed to give Jordan a lead role. Well, here at The Oresteia (and in The Saints), Jordan's many talents shine. He plays several instruments and sings and strums the heck out of "Orestes Song". You can feel Orestes' inner conflicts and his confusion, and you wanted to tell him to get the Hades away from his crazy mother.
Joel: Tell us about yourself:
Jordan: I am 21 years old and I am from Annapolis. I have been playing guitar since the age of nine and I started taking voice lessons shortly after that. Over the past few years I have been a regular actor at both Toby's Dinner Theater locations (Some credits include; Grease, Dreamgirls, Throughly Modern Millie, La Cage Aux Folles, and Oklahoma). I am currently working on acquiring my associates degree from Anne Arundel Community College and I plan to transfer to University of Maryland to study Philosophy. I also play in a local rock band with some friends called The Painter and The Canvas, and we are located in Baltimore and play shows often. I have a passion for making music of all kinds, I also play bass, drums, piano, harmonica, flute, and banjo. I got involved with Deb and Steve when I came to see The Oresteia last year at the Fringe Festival. I was completely taken in by the story and the acting, and had a blast. So when I heard that they were holding auditions this year I jumped on the opportunity. It is a surreal experience to be able to be on stage with a show that you have seen in the past and admire greatly. I feel extremely privileged to be a part of such a talented crew of people and I wouldn't trade it for anything.
Joel: Talk about Orestes, who you play in the show, and how you relate to him.
Jordan: Orestes is the son of the king of Mycenae, Agamemnon. He is a conflicted teenager who is forced to face enormous adult problems. Overall I relate to Orestes very intimately but there are several pieces of him that require a bit of stretching on my part.
He struggles with the fact that his mother sent him away to live in exile with strangers when he was eight years old. I have never lived in exile before but I am able to utilize some of my darker life experiences to get into the same mindset as Orestes. Throughout the show there are many of Orestes lines that speak of peace and harmony. I personally share many of the same thoughts as Orestes so it is easy for me to find more than enough motivation in Debra's writing.
Joel: Talk about your Scene Stealing song, "Orestes' Song".
Jordan: "Orestes; Song" is very late in the show, it is his escape from the reality of the devilish furies that are torturing him for killing his mother. I use the beginning of the song to convey his teenage angst along with his worldly complaints, but the song quickly transforms into one of a much deeper meaning. What is right? What is wrong? Who says? And on what authority? These are philosophical questions that have been pondered by every human being since the Greeks and will continue to be questioned far into the future. It is very easy for me to draw upon feelings of ambivalence about such subjects because I share them just as strongly as Orestes does.
Joel: What was your Fringe experience like?
Jordan: I had an amazing time each night I stepped onto the stage with the Dizzy Miss Lizzie cast. We are one big ensemble, feeding off of each other's performances and energy. Looking into the eyes of my fellow cast members during the final song of the show, and sharing our emotions, is a feeling that I have not felt in any other show.
————–
Cristen Hall, playing Morgan, singing, "I'm Going to Write a Book," at The Bea & The Bug, Writing Stories, Wowser Bowser!!
Right away 10 year-old Cristen Hall grabbed the audience in the palm of her hands and never let go. Cristen played a spunky kid named Morgan, who was going to teach the kids and adults in the audience why writing a book, using your imagination, having a good idea and learning about American history is so important. As she sang "I'm Going To Write A Book," all I could say was, "WOW! What a voice!"
Joel: Tell us about playing Morgan

Cristen: When I found out that I had been cast in The Bea & The Bug, I was excited and nervous at the same time, but I knew I was ready for the challenge. It was really important for me to do my very best. We rehearsed a lot, and I got to see what it is like to be in a professional play. This was so much fun!!! I learned to act, sing and dance all in one performance. I also learned technical things like never turning your back to the audience.
My family is very supportive, whether it's behind the scenes or cheering me on during the performances. They are great. I am grateful to producer Ms. Gale Nemec and director Ms. Peggy Jones for giving me the opportunity to appear in my first professional play. The things I learned here I will remember throughout my acting career. I had a wonderful cast who was friendly, patient and helpful. They are just…. ZIGININNY!! I would love to work with each one of them again, and I thank them for everything.