I'd been avoiding The Little Mermaid because ever since The Lion King I haven't been happy with the Disney approach to Broadway, except in its marketing methods. Beauty and the Beast, Tarzan, Aida to me seemed more suited to a World's Fair arena, or maybe an aquacade or something called Tarzan On Ice. As I did see all of the above, I felt it was only fair that I leave the Mermaid to the young girls and their Moms (and occasionally Dads).
But a young orchestrator-associate conductor with whom I'm beginning to work was conducting this particular matinee and I wanted to see him do that. Faith Prince had recently taken over the role of "Ursula The Queen of the Seas" and that interested me too, for Ms. Prince has star quality and hasn't had much luck lately with shows like A Catered Affair and the revival of Bells Are Ringing. So I plopped myself down in a good seat, 4th row center orchestra, between a hyperactive seven year old and her Mom on my left, and two tweens with a very plump Mom on my right. I had a clear view of my friend the conductor's head however, so I settled in for what I thought would be an excruciating two hours.
Lesson learned: Don't pre-judge anything. Theatre can surprise you. I hadn't even remembered that Alan Menken and the late Howard Ashman, two formidable talents, had written the excellent small score for the Disney cartoon film. I now noted that all of their work was included in this musical play, with over a dozen new songs by Menken, with lyrics by Glenn Slater. And the book was by Doug Wright, who'd won himself a Pulitzer and a dozen other prizes for his play I Am My Own Wife as well as fine notices for his work on the musical Grey Gardens and the play Quills.
The moment the curtain rose to reveal a sailing ship in full regalia, with a dozen crew members leaning on every available rope, I began to relax. They were singing a rousing tune from the film, "Fathoms Below", with some new lyrics, and though the show is well into its second year, they were giving us their all. This was stageworthy stuff, and staged with zip and style and technical know how. The score is not going to knock the classics out of the box, but it is more than serviceable, and for once this old guy who's always complaining about overamplification of sound, was a happy old guy, for though the principals wore those little dots on their foreheads indicating lots of electronic backup, the sound design of John Shivers did nothing to distort their voices so that lyrics go straight to the wings. This time the lyrics sailed out over the orchestra to us, where they belonged. Lovely. I actually began to enjoy myself.
I don't recommend examining the plot too much. Ursula, who is evil and very funny, has her mid-show triumphs in upsetting the realm of King Triton, the King of the Seas. She gets her comeuppance in a way I still don't understand, but who cares? The devices employed to electrify her tentacles, to unzip Ariel's (she's the little mermaid) tail (in mid-air!) and turn her into a tap dancing cutie who loves her new legs, are surprising and fun.
Chelsea Morgan Stock, whose name is taller than she is, is the perfect Ariel – pretty, with a sweet voice of no particular distinction – but she's appealing and that's really all we should ask of Ariel. I mean – deep, she's not.
And her Prince Eric is an equally cute Drew Seeley. Place the two of them atop a wedding cake, and they'd look perfectly at home. Spot on casting in both cases. Various character actors have a ball playing all the birds familiar to the kids in the audience, and it's kind of fun to see a bunch of penguins being choreographed. Robert Creighton drops in on Act II to delight us further as Chef Louis,  singing "Les Poissons" so well, he comes right back and sings it again, this time with his fellow chefs. It's one of Mr. Ashman's best lyrics  – and Creighton socks them to us.
It's been announced that The Little Mermaid will shed her tail for the last time in late August after some 650 swishes under the sea. I never thought I'd say it, but everyone on the way out (including me!) was bouncing along, and even the two or three boys who'd been roped into coming with their sisters didn't look unhappy. If you're in the mood for some good clean fun, a physically smashing production, with a star turn by Faith Prince, and an introduction to a comely juvenile and ingénue, get thee to the Lunt-Fontanne Theatre before the end of summer.
The Little Mermaid plays at the Lunt-Fontanne Theatre, 205 W 46th St in NYC. Last performance: Aug 30, 2009.
————–
You know how they say "good things come in small packages"?  Well, on the third floor of an office building on West 36th Street, which resembles "Broadway" about as much as does downtown Kalamazoo, there is a black box theatre. It's presently arranged with seats on two sides, so the audience on one side faces the other. Between them is a bare stage with, literally a lone table, and six chairs. Two of the chairs face each other, the other four dot the four corners of the platform. That's it. Not very promising. But this is theatre, and every now and then, "two planks and a passion" delivers magic.
Jon Marans, the playwright, has produced a number of plays, but he's best known for Old Wicked Songs which enjoyed a good run in 1996-97 off Broadway, and which still appears regularly on the regional circuit. He returns to New York with The Temperamentals in this stunning production under the auspices of Daryl Roth with the support of The Barrow Group.  It tells the little known story of Harry Hay and his lover Rudi Gernreich, who with three other friends, formed The Mattachine Society in 1950, with roots that went back even further to the late forties. This was the beginning of the fight for gay civil rights, and though the Society had internal struggles which forced Hay and Gernreich to defect after just one year, it was the one organization that brought attention to the oppression of homosexuals in America until all exploded at Stonewall in 1974, and the movement that followed wiped out the need for it.
What makes this production at the 70 seat theatre on 36th Street so stunning is the imagination that's gone into the writing, staging and performing of its remarkable 5 actor cast. Tom Beckett, Matthew Schneck and Sam Breslin Wright play three of the founding fathers of the Society, but they play lots of other peripheral characters as well. At the center of the piece, Thomas Jay Ryan as Harry Hay and Michael Urie as Rudi Gernreich bring us two beautifully formed characters whose clashes and conflicts make the stuff of drama come alive. Urie will be known to many of you as "Mark" on the series "Ugly Betty" and though the two characters are gay, they require totally different approaches by the man playing them. Gernreich is a Viennese (Urie supplies him with an authentic accent) who is talented, intelligent, temperamental, ambitious (he will later become a major figure in Hollywood clothing design, the designer of the one piece bathing suit and more).
When we meet him in this play he is 28, in love with Hay who is much more the conventional buttoned up closet case, whose disgust with the hidden life he must lead catapults him into the arena to fight for gay civil rights. Marans' method is to write a series of excellent short scenes which are well acted, neatly staged, and beautifully lit. The surprise for me was to see Michael Urie prove himself to be an attractive young leading character actor of range, capable of projecting an inner life into Gernreich, and to be introduced to Thomas Jay Ryan, who has an extensive background in film, TV, and on the regional circuit as well as off Broadway. He has a highly original take on Hay, and manages to project a square who now and then pokes fun at himself, now and then is capable of great rage. Jonathan Silverman has made even the expository scenes entertaining and I was so impressed with how nourishing his barebones physical production protected the material and helped keep everything focused.
This production's run has been extended, and I urge you to see it. If you can't, keep an eye out for The Temperamentals in your neck of the woods, for I'm certain it will join Old Wicked Songs as the children of Jon Marans who will take very good care of him in his old age.
The Temperamentals continues through August 23rd at the Barrow Group Arts Center, 312 West 36th Street, NYC.
———
On one of my rare weekends in the country I visited the Bay Street Theatre in Sag Harbor to catch a new play by Moira Buffini called Dinner. I was unfamiliar with the author. She's British and was nominated for an Olivier Award for best new comedy. I was intrigued by the excellent cast of New York actors, including Mercedes Ruehl, J. Smith-Cameron, Reed Birney and others who work all the time, and a young lady named Laura Campbell who's just out of Columbia University with an M.F.A. in acting. They didn't disappoint. The set was elegant; a dinner table, dressed to the nines with crystal wine glasses, fine china and an abundance of sterling silver. At the start an elegant, formally dressed waiter was putting finishing touches, pouring wine, adjusting place settings.
The hostess, played by Ms. Ruehl, entered, dressed formally, and began growling orders. She was giving the waiter a hard time, but once she was satisfied that all was in order, she kissed him! The ads have called Dinner a wicked comedy, and for the first half hour of this 90 minute one-acter, as the various guests assembled, it was wicked and funny. When a laborer dropped in to ask to use the phone because his truck had hit a post outside, he was invited to stay for dinner to compensate for one of the guests who wasn't coming. At this point, the play took on a different color and it got nasty – really nasty. An hour later it had jumped the tracks, gone haywire and hit us with a surprise ending that I cannot reveal for fear they'll come and get me.
David Esbjornson, who's been Artistic Director of the Seattle Rep Theatre, staged it beautifully, and the design by Troy Hourie made great use of a turntable which allowed us to see the dinner guests from four or five different angles, as it turned for each of the four scenes. All in all, I think the Olivier Committee must be hard up for good comedies, because this one left a very bitter taste. I can't think why this excellent cast chose to play it (and play it they did, to the hilt, complete with excellent British accents) unless it was just the thought of splashing about in the sea and having a Sag Harbor holiday.
I don't think Dinner will travel well, so don't hold your breaths about it arriving in your area, but if it does, be warned. There must be a back story to the selection of this for a summer theatre, and maybe there is a play in that story – but the best thing about the evening was the delightful dinner before, and the delicious ice cream after. And the weather was as fine as we'd hoped the play would be.
Dinner plays at the Bay Street Theatre on The Long Wharf in Sag Harbor, NY through August 2, 2009.
————
Summer is here, but the weather continues to indicate Spring. No complaints from me, and I hope you're enjoying it too.
————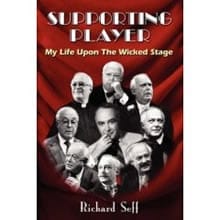 Richard Seff is author of Supporting Player: My Life Upon the Wicked Stage celebrating his lifetime on stage and behind the scenes, available through online booksellers, including Amazon.com.
Richard Seff chats with Joel Markowitz:
!