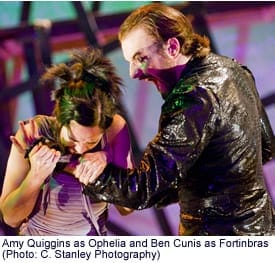 I suppose it was inevitable that someone would one day watch Hamlet's "To Be or Not to Be" speech and wonder – why not have both? And thus we now have Living Dead in Denmark – Qui Nguyen's epic story about Zombie Elsinore.
There's something rotten in the State of Denmark, boys and girls, and it isn't the cheese. Rather, it's the putrefying bodies of the undead, rising up to take control of Denmark away from King Fortinbras (Ben Cunis). But Fortinbras, clever lad that he is, has his own scheme, which involves reanimating the corpse of the Lady Ophelia (Amy Quiggins), to join reanimated corpses from other plays – specifically, Juliet (Megan Reichelt) and Lady Macbeth (Katie Atikinson) – as a trio of zombie-butt-kicking heroines allied with monster-slayer Horatio (Andres Tolero).
But the mysterious zombies, led by their dark Zombie Lord (Tony Bollock), have their own intershakespearean allies – specifically, the Faery Queen Titania (Adrienne Nelson) and her unstable minion, Puck (Sarah Taurchini); Macbeth's Three Weird Sisters (Blair Bowers, Danny Rivera, and Eddie Walsh) and the three-headed Caliban (same actors).
And the plot is: they whomp on each other. Under the direction of the fine fight choreographer Casey Kaleba, they fight each other, bite each other, throw each other around the room, poke each other, smoke each other, and send each other to their doom. Sometimes the undead are up and Fortinbras' folks are down; at other times Ophelia and her reanimated corpse buddies are on top – after a while it's a little difficult to tell which side is which. But no matter.
I don't mean to suggest that this play did not address serious questions. It will help you confront issues of politics (are we better off being led by the undead?), ontology (are we ourselves, unknowingly, undead?) and gourmet eating (what kind of wine goes best with brains?) However, it was mostly folks whomping on each other.
Zombie shows are not normally associated with thespian greatness.  Aside from Tom Cruise, I cannot think of a single notable zombie actor. However, I liked Scott McCormick, who was a center of gravity in several roles as the bodies were flying around, and Taurchini as a hip-hop Puck (the characters are liberated not only from their own mortality, but from Shakespearean English as well). Bullock's Zombie Lord is an amusing shape-shifter, who puts on some Sean Connery (an essential in all zombie stories) when it suits him.
With the exception of a couple of hilarious incidents toward the end of the play, Kaleba largely eschews special effects, allowing his actors to convey the story's information with their movements rather than, for example, actually having body parts come off on a regular basis. The technical, though, is first-rate. Robbie Hayes has put together a monster set, and the actors use it beautifully. I loved Debra Kim Sivigny's bright and colorful costumes, which reflect a prime Zombie rule: when you're among the living, dress to impress. And I would have to be a dead person myself not to appreciate Matt Nielson's wonderful sound design (he also wrote the music for some of Nguyen's songs). Neilson puts his mark on the show from the beginning, when as you settle in you hear a dripping which might be water and might be…you know, stuff. Zombie stuff.
I have to say that I was a little disappointed with the fight scenes, which seemed to me a bit slo-mo. This may have been due in part to my seating choice. I sat in the first row of Georgetown University's commodious Gonda Theater, and had I to do it again I would have sat in the middle, or further up. It may also have been due to the fact I saw the play on opening night; choreography almost inevitably gets better and tighter with the passage of time. In any event, I specifically exempt the magnificent Ben Cunis from this observation. It would not be possible for his movement to improve from what I saw on opening night. Cunis is rapidly becoming the area's go-to guy for characters who see plenty of action. The Synetic mainstay establishes his character with great economy of word and gesture and thereafter remains consistent and authentic, and he moves like a chimera. To see Cunis at work is to know the magic of theater.
So if you've ever watched the bodies pile up in a production of Hamlet and said to yourself, "hey, wouldn't it be cool if all those guys came back from the dead as zombies," this is undoubtedly the play for you. Even if you haven't, this is a fun way to spend a summer evening. Just leave your brains at home.
I mean that literally.
Zombies love brains.
Living Dead in Denmark
By Qui Nguyen
Inspired by characters created by Williams Shakespeare and, um, George Romero
2 hours, with one intermission
Directed by Casey Kaleba
Produced by Rorschach Theatre Company
Reviewed by Tim Treanor