A season-ending look at the musicals around town in three sections
Favorite Musicals, Favorite Musical Performances and Performer of the Year
(clicking each link will take you directly to that section)
by Joel Markowitz
As the past season closes, it's time for our 'favorites'  lists, so after going through three boxes of programs from dozens of musicals I saw this year in our local professional, community, and children's theatres, here's my list of favorite musicals, in alphabetical order. You'll get your chance to agree or disagree with my choices, and to tell me your favorite musicals, by leaving a comment.
Favorite Musicals of the 2008-2009 Season
Beauty and the Beast at Musical Theater Center and Children of Eden at Act Two Performing Arts.
Musical Theater Center and Act Two Performing Arts are training the future professional actors who we will see on our local stages. Each of these companies presented a musical production that contained so many scene stealing performances from their young cast members, that I have placed them here side-by-side.
In MTC's Beauty and the Beast, directed by Darnell Morris, it was refreshing to hear Casey Klein sing the role of Beast/Prince in a sweet tenor which I have never heard before, because this role is always sung by a booming baritone. Lital Firestone was a very peppy Belle, Eitan Mazia was perfect as the arrogant, scheming Gaston, and as his punching-bag assistant Lefou, Aviad Bernstein took all the punching, head-smacking and falling with a big smile – every time Aviad was on the stage, the audience was falling for him. There were also laugh-filled performances from Scene Stealer regular Zachary Conneen as Lumiere, and the other residents of the castle: Noah Kieserman, as Cogsworth, Elizabeth Rubbo, as Babette, Haley Ambamowitz as Madame de la Grande Bouche –The Wardrobe, Leora Goldbloom-Helzner,  as Mrs. Potts, and Noah Chiet, who played the little cup and saucer Chip. Everyone on the stage was just having a great time.
The highlights for me? Lital's heartbreaking rendition of "Home" and the assertive  "Change in Me", Leora Goldbloom-Helzner's gorgeous singing of "Beauty and The Beast", Zachary, Noah, Elizabeth, Haley, Leora and Noah hamming it up while singing, "Human Again", and dancing to Laurie Newton's joyful choreography, and Eitan Snyder, as D'Arque, joining the other Eitan and Aviad on the very creepy "Maison des Lunes. .
Hats off to Mary Brozina Wierick and her orchestra for playing the Alan Menken/Howard Ashman/Tim Rice score so beautifully. Check out Musical Theater Center's upcoming 2009-2010 season here.
—————
Great voices abounded in Act Two Performing Arts' lovely production of Stephen Schwartz's retelling of Children of Eden, the story of Cain and Abel and Noah and the flood. The show is filled with some of the composer's most beautiful songs, and the young actors and actresses in the cast sang each one of the songs with heartfelt emotion.
The orchestra, conducted by Keith Tittermary, comprised of the best young musicians from the DC area, filled The Olney Theater Center's Historic Stage with Stephen Schwartz 's lovely score. It was one of the best orchestras I had heard all year – anywhere. I especially loved Sarah Hamann and Linda Cote's beautiful cello and bass playing.
Lily Goldberg, who played Eve, Josh Kaufmann who played Japeth, and  Devin Wrigley, who played Yonah, made my Scene Stealers this year for Lily singing "Children of Eden", and Josh and Devin singing "With Whatever Time We Have". You can read about it here.
Congrats to director/choreographer Kevin Kuchar, who directed the 35 young actors in this production, and who produced so many great performances from his young cast. And to Scott Selman for the production's eye-popping design, sound, and lighting. If you haven't seen the genius of Scott Selman, take a look here:
Read some of my articles on Act Two and listen to my podcasts and interviews with some of Act Two's young stars here:
—————

A Christmas Carol at Toby's Baltimore.
It was the perfect show for the whole family to spend an afternoon or evening to celebrate the Christmas season. What made this adaptation of the Dickens story so special was the gorgeous score by Alan Menken and Lynn Ahrens, the wonderful cast lead by David Bosley-Reynolds "humbug" and beautifully sung performance of  Scrooge, and David James' heartwarming Bob Cratchit. But the two performances that I will always remember, that brought many a tear to everyone in the audience, were those of young actors John Morrision, who played Tiny Tim, and Zachary McKinney, who played the Young Scrooge. What a pleasure to watch John and Zachary go for the heart, and not for the schmaltz. Learn more about them here.
The highlights for me? Young Scrooge (Zachary McKinney) and Scrooge's young sister Fan (Shoshana Rose) singing "A Place Called Home", Andrew Horn schlepping his chains in "Link By Link", and David Bosley-Reynolds singing the powerful, "Will Tiny Tim Live?".
And, oh that glorious score played beautifully by an orchestra lead by conductor Cedric Lyles. To director Daniel McDonald, whose small and personal touches made this theatre experience so special to me – Thank You! At the end of the show, Dan had the young girl, who at the beginning of the show was treated so horribly by Scrooge (when she and her father begged Scrooge to allow them to "skip" a payment so they could bury their mother/wife) hold up a small mirror and have him look at the "new and improved" Scrooge. It was such a brilliant touch, and I found Dan and told him how that scene really moved me. Dan looked at me and yelled, "I knew you'd get it!" What I got was the spirit of the holiday season all around me.
————–
Follies at The Arlington Players.
You can only imagine the pressure Director/Choreographer Chrtistopher Dykton was under trying to cast, direct and choreograph a huge cast of over 60 actors and dancers in the 20th anniversary production of TAP's Follies. It's a tough show to put on. You need a large cast who can sing those difficult Sondheim lyrics and melodies. You need great designers. You need a way to make the audience understand all of book writer James Goldman's subplots. Fortunately, Christopher found that perfect cast, and a group of terrific musicians, conducted by Leah Kocsis, and musically directed by John-Michael d'Havilland. He received excellent work from costume designer Grant Kevin Lane, set designer Jared Davis, lighting designer Hal Crawford, hair designer Better Williams, sound designer Keith Bell, and make-up designer Avery Burns – whose colorful and stunning work – created a Follies that I will never forget.
The highlights for me? Jean Cantrell, as Sally, singing the very emotional "In Buddy's Eyes" and "Losing My Mind", Lynn Audrey Neal's extremely acerbic "Could I Leave You", Jimmy Payne "losing it" in "Live, Laugh, Love", and the older and younger Heidi Schiller (RoseAnn Ashby and Kathleen McCormick) harmonizing on "One More Kiss".
How did this all happen? Directors Jack Marshall and Chris Dykton tell you the story of the 1988 and 2009 TAP productions here.
————–

A Funny Thing Happened on the Way To The Forum at The Arlington Players.
You need "funny" people to make this show a success, and TAP's production of Forum was stuffed with a cast made in Rome heaven. Andy Izquierdo, a multiple WATCH AWARD winner, including this year's award for playing Gordon Schwinn in Kensington Arts Theatre's production of William Finn's A New Brain was the perfect Pseudolus,
Andy and his cast of "pantaloons and tunics, courtesans and eunuchs, funerals and chases, baritones and basses, panderers, philanderers, cupidity, timidity, mistakes, fakes, rhymes, crimes, tumblers, grumblers, bumblers, fumblers" started the afternoon's  lunacy with the frantic opening number "Comedy Tonight", and never slowed down even as the curtain finally came down. The amount of energy this cast showed was unbelievable. I was exhausted just watching them.
There were other gems in the cast: Ross Wolfarth, was adorable as Hero. Ian Grossman, as Hysterium, had the audience howling during his "I'm pretending to be a dead virgin" scenes, Bill Karukas was loveable as Senex –  the patriarch with a libido from Hades, as was Albert Coia, who won a WATCH AWARD for his performance as Erronius, milking his "one-joke" role to perfection. Only a veteran actor could pull that off so well.
The highlights for me? Of course "Comedy Tonight", where all the loonies are introduced, and "Everybody Ought to Have a Maid", when Andy and Bill were joined by  Ric Herrera, who played Marcus Lycus, "a buyer and seller of courtesans", and  "Lovely" sung by the "I don't get it!" Philia, innocently played to perfection by Kate Roehr.
Kudos to Musical Director Mark Deal and his orchestra, who played Stephen Sondheim's score so beautifully, to Barbara Esquibel for her gorgeous and colorful costumes, to Peter Finkle and Jared Davis for their clever set design, and to director Malcolm Edwards, who had to keep his cast of 21 on the move all the time, in this non-stop, enjoyable production. I talked about it in my column here.  It was gloriosus!
—————

Giant at Signature Theatre.
Yes, it was long – over 4 hours – and yes, it would have probably been better if they would have broken the show into 2 sessions, and yes, it was longer than the movie – but even though I was tired after sitting in the Max for 4 hours, I was thrilled that I had just witnessed something new and exciting, and had just heard a great new score by Michael John LaChiusa. I was also thrilled by director Jonathan's Butterell's innovative staging.
OK. I won't lie to you. I'm a big fan of Michael's. But, it wasn't just the score that I liked most.  It was the cast: Lewis Cleale as Bick, Judith Blazer as the fiery Luz, Betsy Morgan as Leslie, and John Dossett as Bawley.  Matt Rowe's sound design, and Japhy Weideman's lighting design were brilliant, and I loved the 14 piece orchestra, and enjoyed watching the bouncy Chris Fenwick conduct them with incredible energy.
What kept me coming back for more after the two intermissions was Katie Thompson as Vashti, and I'll tell you, I was disappointed that Michael didn't write more songs for her character, because she stole the show. Plain and simple.
The highlights for me? Judith Blazer's scorching "No Time for Surprises", Katie Thompson' powerful "He Wanted a Girl" that she sings with Lewis, John Dossett's act one finale showstopper, "Coyote/Look Back/Look Ahead", Betsy's sad "A Stranger", and the jazzy "Midnight Blues", sung by Katie, Betsy and Lori Wilner, who played Adarene.
I hope they record the show. I'd buy all 6 of the CDs.
———–

The Great American Trailer Park Musical at Kensington Arts Theatre:
This is the musical where I enjoyed myself the most, where I got to laugh at stupid jokes, ridiculous lyrics, and where I fell in love with White Trash and wasn't ashamed to admit it. And I fell in love all over again with the multi-talented Malinda Ellerman, who played the agoraphobic, crazy-out-of-her-mind, but lovable Jeannie Garstecki.
Many of the best young singers in the area were in this cast –Jaclyn Young, Katie McManus, Patrick McMahan, Jennifer Lambert, John Loughney, Mark Hidalgo, and Darnell Morris –many of them "scene-stealers" – all having a great time acting stupid.
And, most of all, the audience was going crazy and laughing themselves silly. Frankly, I didn't recognize these guys and gals, as they transformed themselves into a trailer community. Evan Hoffman, who directed KAT's WATCH Award winning production of Matt Conner's musical Nevermore, showed he could direct "funny" and get trashy, and squeezed every possible laugh he could from Betsy Kelso's zany book. Choreographer Cathy Oh energetic choreography added to the fun. Musical director Brian Victor and his tiny band provided some damn good guitar, bass, piano, and percussion playing.
The highlights for me? Jennifer's assertive, "The Buck Stops Here," Patrick and Malinda's sweet and mushy, "Owners of My Heart," John, Kat and Katie singing the insane, "Road Kill", and Malinda's show-stopping, heart-breaking "Panic", and everything in between. Dang! I loved this show!
—————-

Heidi at Imagination Stage.
Imagination Stage had a fantastic year, and I selected their production of Heidi because it not only kept the attention of the young theatergoers that packed the theatre the day I attended, it also held the attention of all the adults that attended, and that's a major accomplishment. From the eye-popping set by Milagros Ponce de Leon, to the colorful costumes by Kathleen Geldard, Heidi was a visual and musical treat.
Every kid and parent that walked into that theatre knew the story of Heidi, and Martha King de Silva's book was faithful to Johanna Spyrl's original novel. But it was the gorgeous and funny and, at times, sad score by local favorite Joan Cushing which thankfully captured the roller coaster of emotions that make up the story of Heidi.
The cast was perfection with Tara Giordano capturing Heidi's innocence and yearning and disappointments and joy, while Kate Guesman captured the frustrations, and toughness of wheelchair bound Clara. Both Tara and Kate sang Joan Cushing's score so beautifully. What a joy to see local veteran Terrence Currier on the stage as the grouchy but lovable Alp. Sandra Murphy was truly rotten as Frau Rottenmeier. Anne Marie Pinto and Doug Wilder were wonderful as the stern Aunt Detie and the kind and supportive Sebastian.
The highlights for me? Tara Giordano and Kate Guesman singing the beautiful "Everything", (read more about it here), Sandra singing the funny "Weeds", and Tara and Kate singing the lovely "With the Wind in My Hair".
Luckily for all of us, you can buy a CD of Joan's wonderful score at the Imagination Stage gift shop. Congrats to Imagination Stage for all you do to bring young theatre goers to the world of theatre.
—————
The Music Man at The Washington Savoyards.
Give director Michael Baron a classic Broadway musical, and Matthew Gardiner a group of exceptional dancers, and musical director N. Thomas Pederson an orchestra filled with great brass musicians, and you have pure magic! I fell in love with a musical I never really liked before, because of the genius of these three men, and the large cast filled with local veterans and young and up-and-coming local talent. I saw the show three times – the only musical I saw more than once this year – because of the joy of the performances, Matthew Gardiner's innovative choreography, and that wonderful Meredith Wilson pure Americana score.
The energy-filled performances of Stephen Schmidt, as that rascal of a salesman Harold Hill, and Sandy Bainum as the "I need a man" Marion The Librarian – were perfection. Scene Stealer Vishal Vaidya played Marcellus with his usual bubbly personality and overflowing energy, and it was fun watching Judy Simmons, one of my favorite cabaret artists, speaking in an Irish accent as Marion's mother.
The highlights for me? Jesse Palmer and Mark Chandler dancing in the "It's You Ballet". It was the most breathtaking and beautiful highlight of the musical theatre season for me. The joy on their faces when they were dancing together was infectious.
Other highlights: Stephen Schmidt strutting around the stage singing, "76 Trombones", Vishal Vaidya stopping the show with "Shipoopi", Sandy Bainum and the very confident young Rowyn Peel singing "Goodnight, My Someone" and Sandy's gorgeous rendition of "Til There Was You".
————-
Next To Normal at Arena Stage in Crystal City.
I saw it at Second Stage in NYC before it came to Arena Stage, and I knew with some tweaking, this powerful show could make a triumphant return to NYC, and look what happened! How fortunate we were here in the DC theatre community to be able to watch Next To Normal before it returned to Broadway's Booth Theatre, and how proud we were when the show won Tony Awards for Alice Ripley's amazing performance as Diana Goodman, and for Tom Kitt and Brian Yorkey's score and orchestrations!
I can't say enough about the other members of the brilliant cast of Next To Normal: J. Robert Spencer, Aaron Tveit, Jennifer Damiano, Adam Chanler-Berat and Louis Hobson, all great actors and singers, and some of the nicest people I have ever met in the theatre. It was an honor meeting you and spending time with you and watching your performances at Arena Stage , and now at The Booth Theatre.
A few weeks ago, I was in NYC and was walking past The Booth Theatre on a Sunday morning, and there was a huge line around the box office and all the way from Shubert Alley, wrapping around 44th Street. I stopped and asked the kids who were lined up what they were doing there. One of them said to me, "I am here to try to get a lottery ticket to see Next To Normal. Me and 10 of my friends are here too. I've seen it twice already. It changed my life, because I have been suffering from depression for 6 years, and the show speaks to me in positive ways. It has made me feel better about myself".
The highlights for me? Getting to sit down and record an interview with Alice Ripley in her dressing room before the show opened at Arena Stage, and having her sing, "The Costco Song".
I've listened to the cast CD everyday since it arrived in the mail 2 months ago, and I can't put it down. My favorites: Alice singing "I  Miss The Mountains" which still makes me weepy, Aaron Tveit's gorgeous voice on "I'm Alive", Adam and Jennifer singing the lovely "Perfect For You", J. Robert performing "He's Not Here", Jennifer, Adam, and Aaron harmonizing on "Superman and the Invisible Girl",  and Alice, J. Robert, and Jennifer singing "Song of Forgetting". What an amazing score, and what an emotional rollercoaster of a show. Thank you Molly Smith and Dr. Mark Shugoll for bringing the show to Arena Stage. It was the highlight of this year's theatre season for me.
———–
Passion at The Elden Street Players.
I'm a huge fan of Steven Sondheim's Passion. It's a show that people either love or hate.
Last Saturday, August 15th, The Ushers Theatre Going Social Group,  which I founded in 1990, ended its 19th season by attending, as we have for over a decade, the summer musical at The Elden Street Players. We have seen fantastic productions of Blood Brothers, Rocky Horror Picture Show, Gypsy, La Cage Aux Folles, and Pippin, to name a few. Yet I departed the small Industrial Strength Theatre, and felt that I had just seen one of the greatest productions I have ever seen locally.
And the reason I am sticking my neck out here is due to the astounding performance of the three leads – Heather Whitney, as Clara, Patrick McMahan, as Giorgio, and Evelyn Trester, playing the ill, manipulative, and creepy Fosca, each of whom gave a performance for the ages. Everyone in The Ushers  came up to me and told me that Evelyn's performance was one of the best performances they have ever seen. Heather, Patrick and Evelyn, were backed up by a talented ensemble – David Segal, Lance Adell, Michael Sherman, Sam Nystrom, Blakeman Brophy, David Boleyn, Michael Schaaf, Sharon Grant, and Susanna Todd, all bringing elegance and great harmonizing to their roles.
Conductor and pianist Elisa Rosman and her fabulous orchestra, would have made Stephen Sondheim proud. There was gorgeous French horn, trumpet, violin, cello, viola, clarinet, and oboe playing from this small orchestra, filling up the intimate theatre with Sondheim's beautiful score.
A lot of the credit goes to sound designer Stan Harris and his assistant Tony Aiello. You could hear a pin drop in the house, and the balance between the actors, singers and the orchestra was perfection. John Vasko's set design was simple and effective, and Franklin Coleman's soft lighting added emotion and beauty to the production.
When I hear that Gloria Dugan is directing a show, I run to see it. I named her production of Blood Brothers, my favorite musical of the year for the 2005-2006 season, so I was eager to see what magic she would perform with this 1994 Tony Award winning Best Musical.
What Gloria did with Passion was a miracle. The show that had always moved so slow for me, and bored me in spots, was now more emotional and more interesting. And Gloria made sure that no Sondheim lyric was ever lost. The performances she got out of this brilliant cast showed why she is considered one of the best directors of musicals in the area. I wish that someone would record this cast.
————–
Ragtime at The Kennedy Center.
The press materials I received before I watched the riveting production that played in The Eisenhower Theatre in April and May of this year, described Ragtime like this: "At the start of the 20th century, New York City was for many the land of opportunity. Through a poor Jewish immigrant selling wares on the street, a wealthy Victorian couple offering aid to a runaway, and a Harlem jazz pianist out for justice, that unique brand of American hope runs strong. Together, their stories celebrate the struggle between tradition and independence in pursuit of the American dream".
Well, I believe that Ragtime is the show America needs now to lift its spirits from the depths of recession, and no one is happier than me (except the cast and director) that the fabulous production of Ragtime has transferred to the Neil Simon Theatre on Broadway, with performances beginning on October 23rd, and opening officially on November 15th. Read the history of Ragtime here.
The cast of Ragtime, part of the Kennedy Center's Broadway: The Third Generation series, was lead by Broadway actors Ron Bohmer as Father, Quentin Earl Darrington as Coalhouse Walker Jr., Manoel Felciano as Tateh, Christiane Noll as Mother, Bobby Steggert as Younger Brother (read my interview with Christiane and Bobby Steggert here), Jennlee Shallow as Sarah, the adorable and great young actor Christopher Cox as The Little Boy, and Sarah Rosenthal as The Little Girl. Local actors Dan Manning played  Grandfather, Donna Migliaccio was a fierce Emma Goldman, and Tracy Lynn Olivera played the Irish accented Brigit. I am so happy that Donna is a member of the NYC cast, and I wish her much success in the Big Apple.
You can only imagine the arduous task Director and choreographer Marcia Milgrom Dodge faced maneuvering this huge cast up, down and around Derek McLane's huge set, while still trying to make the show intimate. The miracle of the Kennedy Center production is that Marcia pulled it off. How did she do it? The 3-tier set actually helped separate the three stories of Coalhouse and Sarah, Mother and Father, and Tateh and The Little Girl, so that the audience could not only follow the stories easily, but also feel the emotions of each story. And putting the show in the smaller Eisenhower Theatre instead of the cavernous Opera House was brilliant.
Using Santo Loquasto's original costume design and William David Brohn's original orchestrations, played by a 28 piece orchestra, conducted by James Moore, the production had the feel and look of the original mega-production, minus all the clutter. Donald Holder's lighting gave the show a lighter and simpler look.
The highlights for me? Listening to Stephen Flaherty's gorgeous music played by that huge orchestra, especially the opening number –"Ragtime", Christiane Noll singing, "Goodbye My Love" in her gorgeous soprano, and singing the powerful life-changing "Back to Before," Donna Migliaccio's set-shaking solos in "The Night That Goldman Spoke at Union Square", Manoel Feliciano's inspiring, "Gliding", and Christiane and Manoel singing, "Our Children" with a twinkle in their eyes. What a wonderful  moment! I hope NYC audiences love this production as much as we did here in DC.
—————-
WALMARTOPIA at Landless Theatre Company.
The Baughman brothers – Andrew and Matt, and Andrew's wife – Director Melissa Baughman– were on a mission, and went shopping for a great cast for their production of Catherine Cappellaro and Andrew Rohn's Off-Broadway musical hit WALMARTOPIA. They brought back  Helen Hayes Award nominee and Toby's regular Janine Gulisano-Sunday,  jazz singer extraordinaire Robin Rouse, and multi-talented musician and singer Jason Wilson, and then cast talented Brittany Williams in her Landless debut (who spent last year having a goofy time at Honk Kong Disneyland). They then sprinkled in Landless regulars Momo Nakamura, Courtney Tisch, Ernie Aschenbach, and Brian Turley, and created a zany, hysterical, silly, and thoroughly enjoyable off-the-Wall-mart theatre experience! I'm still shaking my head how they squeezed in all those actors, musicians, and Karissa Swanigan's energetic choreography. Karissa also played the roles of a Hooter's Girl, Daphne and Eugene.  Kudos also to musical director/pianist Charles Johnson, Casey Isanogle on percussion, Paul Pinkham on guitar, and Kara Villanelli on reeds, for their inspired playing, and to costume designer Peter Vargo, for contributing the outrageous colorful costumes.
The plot is too weird to write about here, so listen to this podcast with Andrew, Melissa, Janine, and Robin, who explain it better than I ever could.
The highlights for me? Robin and Brittany's gorgeous harmonies on "Baby Girl", the outrageous "March of the Executives", where the cloned Wal-Mart execs sing about the parking lots of the "gi-normous" company being larger than the combined square mileage of Cameroon and Switzerland", and Robin's performance of "What Kind of Mother",  where she is conflicted about confusing her life has become walking the company line, while condemning it at the same time, and trying to be a role model for her daughter Maia. It was a great time, and, I agree with Tim Treanor who wrote in his review for DCTS,
"It is to say that with Walmartopia, Landless has taken that irreverence and merged it with flawless professionalism to create an excellent version of a difficult and complicated show." It was great fun for the entire shopping community.
—————
You're a Good Man Charlie Brown at Adventure Theatre.
It was sheer happiness watching the Peanuts gang: Charlie Brown, Linus, Sally, Schroeder, and Snoopy being cheered by dozens of young children and their parents at Adventure Theatre. The extra cherry on top was watching Scene Stealers and local talented cast members, Kurt Boehm (Snoopy), Mark Chandler (Linus), Emily Levey (Lucy), Jobari Parker-Namdar (Schroeder), Andrew Sonntag (Charlie Brown), and Lauren Williams (Sally) having so much fun performing the show.
Director Michael Baron, working with Kate Arnold's energy-filled choreography, kept the show moving at a fast pace. Tim Jones' colorful set and Kendra Rai's bright colored costumes lit up the stage. Keith Tittermary and his teeny tiny band of three – himself, Ben Bokor and Gary Tillman – played Clark's Gesner's score with lots of bounce.
The highlights for me? Mark Chandler's thumb-sucking, "My Blanket and Me",  Lauren Williams explaining assertively, "My New Philosophy," Andrew suddenly riding high while performing "The Kite", Jobari's singing an homage to his favorite composer, "Beethoven Day", Kurt doing the most manic version of "SupperTime" I have ever seen, and, of course, the cast beaming with "Happiness".
What I loved the most was watching the cast after the show signing autographs and taking pictures and schmoozing with the kids. Watching the little ones' eyes light up and thanking the cast, which was still in costume, well, that's what happiness is all about.
Favorite Musical Performances of the 2008-2009 Season
(in alphabetical order)
Kurt Boehm as Snoopy . You're a Good Man Charlie Brown at Adventure Theatre.
I enjoyed being hounded by Kurt Boehm's high-flying dare-devil Snoopy, in Adventure Theatre's wonderful production of Charlie Brown. Kurt was dog-gone hysterical as the nose-up-in-the-air pet of Charlie Brown, and especially during his outrageous performance of "Suppertime". Watching him throwing a guilt fit at Charlie Brown for not feeding him his dinner sooner, you just wanted to starve that pooch. "There will be nothing left but the dried carcass of the former friend who used to run and play so happily with him. Nothing left, but the bleached puppy bones of…" AW!
With his ears and scarf flopping, Kurt ran and skated the Boston Marathon during that song, whistling and scatting, and "doo-doo-doing". All the while, the kids and parents in the house went nuts! And when adorable, pouting Andrew Sonntag's Charlie Brown asked Kurt, "Why can't you eat your meal quietly and calmly like any other dog?" Kurt's soft delivery of this line was drop-dead funny:" So what's wrong with making mealtime a joyous occasion?" It was truly a joyous occasion.
From Kurt: "I am very grateful for the recognition! Thank you Joel! Snoopy was a character that I loved playing, and happens to be one of my favorite iconic images from childhood. Charlie Brown was a wonderful experience with some of the nicest people in theatre. Lauren, Emily, Mark, Andrew, and Jabari ROCK!!!! I will admit I was a bit scared going for the "skater dog" image but I think it paid off in the end. The best part about playing the role was when my four year old nephew came to the show!! It made the whole experience worth while".
————-

Zachary Conneen as The Cowardly Lion in The Wizard of Oz and Lumiere in Beauty and the Beast at Musical Theater Center.
When Zachary wiggled his tail (which was attached to a string) and started to sing "If I Were King of the Forrrrrest", I never heard an audience laugh that loud. I'm not lion, it was outrageously hysterical. And, when Zachary sang "Be Our Guest" in his très bien French accent, as the wax-melting Lumiere, the audience was singing along, and let out a loud cheer when he finished. He's almost 11, and I can't wait to see what the amazing Zachary does next.
From Zachary: "I'm 10 years old and attend The Barnesville School in upper Montgomery County, MD. I've been performing in musicals and plays for a few years now, with my school drama program and area theater groups, but the Musical Theater Center is where I consider "home".
I really enjoyed playing both of these roles, especially because I could make them funny! I love being on stage, feeling the audience's reaction, and making them laugh. I have to give props to my fellow castmates in both shows too….they are all so talented, and I appreciate them playing the "straight" parts to support my comedy…it's definitely a team effort to make the timing work!
Playing the Cowardly Lion was a lot of fun. Being a big cry baby and fainting hard onto the stage floor a few times, were my favorite things. After being sick during the tech week before the show, and missing school all week because I lost my voice, I was happy that I was able to still perform. My hoarse voice and sniffles ended up just adding to the part, so it all worked out. I had a blast speaking (and singing!) with a French accent and flirting with the ladies for my part as Lumiere in Beauty and the Beast. Holding up those candlesticks during the entire show was a little hard, but worth the trouble.
Thanks for noticing me on this list of favorites, Joel. What an honor!"
————–

Felicia Curry as Eponine  . Les Misérables at Signature Theatre.
I have written more about Felicia Curry than anyone else, because very few actors work as hard as she does. Audiences saw that last year in Signature Theatre's Helen Hayes Award winning production of Les Misérables, where she played the older Eponine. Every performance, Felicia's powerful rendition of "On My Own" stopped the show. Those Signature attendees learned what we have known for a long time – that Felicia Curry is the Queen of Scene Stealers.
From Felicia: "Thank you again for including me in with these amazing group of actors. Playing Eponine was the most rewarding and most difficult experience of my acting career. Every person – the actors, the orchestra and the technical team always gave 120%. We were all committed to give our best performance every time we walked on the stage. That's what made it so rewarding. The difficult part was that people in the audience were so affected by the show. I could see them sobbing. There were many times when I wanted to get up and say, "It's OK!" Of course, I'd like to thank Eric (Schaeffer), because I don't think I would have been able to play this role anywhere else. I am thankful to the Signature audiences for embracing what I brought to the role. Thank you Joel for your support!
————–
Malinda Ellerman as Jeannie Garstecki . The Great American Trailer Park Musical at Kensington Arts Theatre.
Malinda never ceases to amaze me with her glorious voice and acting, and as Jeannie, she proved once again that she is one of the most talented actresses/singer we have in our area, and she plays "kooky" better than anyone I know. I will never forget Malinda's show-stopping, heart-breaking, manic performance of "Panic". I felt like standing up and yelling, "Get that lady an Ativan, or three, please!" But  I let Malinda do all the freaking out for us. It was awesome!
From Malinda: "I absolutely loved playing Jeannie, one of my favorite characters I have ever played, and I would do the show again in a heartbeat.  Every show of Trailer Park was a rollercoaster ride, as she/I took the journey from terrified agoraphobic to kinda-sorta empowered wife and mother. I love playing rollercoaster roles! It is a great feeling to receive such positive feedback from this performance, and I am also honored to be named along with such good company on this list of Markowitz Favorites!  Thank you!"
—————

Manoel Felciano as Tateh . Ragtime, at The Kennedy Center.
I was thrilled when I heard that Manoel was chosen to play Tateh in the Kennedy Center production of Ragtime. I knew that vocally he would sing the heck out of his songs, and that he would bring so much heart to the role of Tateh. I saw him do the same in the 2005 revival of Sweeney Todd, where he played Tobias. It did not surprise me when his performance received raves from all the critics here. Manoel's performance was so moving. It's sad that NYC theatergoers will not be experiencing his wonderful Tateh when the show opens there. We were all so very fortunate to see him in The Eisenhower, and I will never forget the way he performed "Gliding" and "Our Children" (with Christiane Noll). Those are memories that will never fade away.
From Manoel: "Ragtime was one of the best experiences I've had in theater. It was the perfect show to be doing in DC with our new president just down the road. Playing Tateh taught me an enormous amount about the lengths parents will go to protect their children and what it must have been like to come literally from another world, with nothing, and create "a success" not only financially, but in helping to redefine both America and our concept of what a family can be".
Watch this interview with Manoel talking about his role as Tateh.
———–
Andy Izquierdo as Pseudolus  .  A Funny Thing Happened on the Way to the Forum at The Arlington Players.
He's now relocated to the Big Apple, but Andy Izquerdo left in a blaze of glory, winning   another WATCH Award for his performance as Gordon Schwinn in KAT'S production of A New Brain, and here Andy is honored for his uproarious turn as the soon-to-be-freed slave Pseudolus in TAP's hysterium production of Forum. I've never heard anyone before this production sing Sondheim's funny score with such beauty, like the velvety-voiced Andy did. And, I've never really seen him play a funny character –  to my surprise, he was really funny! (I know the show's book is funny, but I've seen some pretty unfunny productions and unfunny actors attempting – and I am using that word kindly – to play Pseudolus).
I'll miss Andy's presence on our local stages, but I'm sure we'll see him on some stages in NYC. It's been "lovely" seeing you perform for many years in our area. I wish you much success in your new home.
From Andy: "I rarely say I would do a show – let alone a role – again. But the part of Pseudolus really is a gift. It's basically a license to have no-holds barred fun for 2 hours. Psuedolus is silly, outrageous, and over-the-top. He is only bound by the person who's performing him, and that is such a treat.
I remember seeing Forum in 2004 – and absolutely hating it! I even remember saying, "Well, I can check that show off my to-do list!"  But this is the type of show that really clicks with the right director and cast – and I was so fortunate to work with Malcolm Edwards and that amazing cast! Malcolm really gets comedy – his sense of rhythm and timing is impeccable and he really got us to work as a unit. The experience of doing Forum at TAP was truly special. Playing Pseudolus is the most fun I've had on stage – and if you asked me to do it every weekend for a decade, I wouldn't hesitate".
——————

John Loughney as Whizzer . Falsettos at The Elden Street Players.
John is an intense performer, and his performance of the dying Whizzer was so real that I almost called a mortician to pick up the body after he sang, "You Gotta Die Sometime." For this demanding performance, he was wrung through the wringer of emotions – having to be funny, and angry, and lovable, and frustrated, and arrogant, and dying. It was an emotional  performance, and John made it all work effortlessly. John talks about "You Gotta Dies Sometime" and his performance here.
From John: "Joel, This is awesome – thank you so much! It's an honor to not only be on this list with some great friends, but also with many actors whose work I thoroughly admire and respect. Congrats to all.
Whizzer was one of those characters I never wanted to 'put to sleep'. He is a young playboy with a rather free spirit, who disguises his struggles with love and relationships behind sarcasm and game playing. His ultimate struggle comes when he is struck with a horrible, life-threatening disease, which the audience knows is AIDS. As an actor, I'm always looking for a role different from the last one I performed, that stretches me to a new limit. Whizzer was certainly one of these roles. His story was inspiring and admirable, and I can only hope I did it justice. I owe a great 'thank you' to my tight-knit family – the cast, production staff and crew, for the laughs, tears, guidance, and fabulous costumes".
————-
Katie McManus as Lizzie .  110 In The Shade at Kensington Arts Theatre.
Katie McManus just keeps getting better and better, and her multi-layered performance as Lizzie was so moving. What a powerfully gorgeous voice Katie has. When she sang, "Love Don't Turn Away", we dreamed along with her, and when she performed "Old Maid" she broke our hearts. And now, Katie is the "raining" WATCH Award winner for her powerful and heartfelt performance as Lizzie, a well deserved honor.
From Katie: "What an honor to be named among such extraordinary talent (and a lot of friends, too). Thank you so much for always being so supportive of the local community theater scene. There are fantastic performances in excellent productions in the metro area, and you are always there!
Playing Lizzie in 110 in the Shade was heartbreaking, challenging, terrifying, therapeutic, and gratifying. Thanks to outstanding support and guidance from my beloved director Michael Kharfen, I was able to find so much of myself in Lizzie: her vulnerabilities, her independence and, ultimately, her strength. And I am only as good as those around me, so the entire cast deserves recognition for always being committed and earnest in every scene. I never once felt that Lizzie (or any member of the cast) wasn't experiencing the story that was written, and that's all that should matter: the character and her (or his) story. Huge thanks go out to the 110 in the Shade staff and crew, and to the Kensington Arts Theatre. Thank you all!"
————–
Sophie Mezebish as The Wicked Witch of the West . The Wizard of Oz and Lily, in Annie at The Musical Theater Center.
This 12 year old bundle of energy scared the living daylights out of me when she played the green Wicked Witch at MTC.
I thought her devilish laugh would destroy my eardrums. Every time she opened her mouth and swung that broomstick, I cracked up and shuddered. When I saw her this past Sunday as the scheming Lily in her blonde wig and red long dress, I cracked up again. Sophie is a pistol, and knew this year how to steal a show – twice. Now, that's great talent and chutzpah!
From Sophie: "Thanks so much for giving me this wonderful honor.  I am 12 years old going into 7th grade at Farquhar Middle School. I am flattered that you would choose me. The Wizard of Oz was my very first performance on a large stage with an audience and I would to thank Darnell Morris for giving me such a exciting role to play. I really had fun getting in touch with my evil side and becoming the witch with green makeup. My sister would say I've had a lot of practice being mean.
It was also enjoyable to play the role of Lily St Regis, the bad guy's floozy girl friend in Annie. I would to thank director Dan McDonald for casting me in this role. Working with this great cast and its incredible energy really made becoming Lily easy. The younger cast members were always asking me to say my lines, and that really inspired me when they laughed at a joke. Thank you so much Joel for recognizing me. This is beyond amazing! I hope to be able to continue to perform".
————

Jase Parker as The Lord Chancellor . Iolanthe at The Washington Savoyards.
I've always been envious of those performers who can rattle off those Gilbert and Sullivan tongue-twisting pitter-patters, and no one did that better than Jase Parker when he performed "Love, Unrequited, Robs Me of My Rest" at The Washington Savoyards' production of Iolanthe. This was not only a difficult song to sing, but Jase had to perform a lot of physically demanding moves while performing it. Jase is like a human Gumby, and has a beautiful voice. Jase is a pretty funny guy, and he made the audience chuckle when he sang "The Law is the True Embodiment", and "When I went to the Bar As a Very Young Man". Bravo Lord Chancellor!
From Jase: "Wow! Thank you so much! I consider it a great honor to be a part of this list with all these talented people!
This was probably one of the best theatrical experiences of my life as a performer to date. Being my first lead in a show, it was very exciting, yet also extremely daunting. I wasn't sure if I would be able to pull it off. But with a great deal of support and belief from the wonderful cast, crew, colleagues, friends, family, and – once in performance – the audiences and critics, I had nothing but absolute fun performing that role. I just hope that I may continue to entertain the masses for years and years to come".
————-

Alice Ripley as Diana Goodman .  Next To Normal at Arena Stage in Crystal City.
Her powerful performance as Diana Goodman, a housewife battling manic depression, while trying to keep her family from falling apart, earned her raves from all the local and NYC critics when it opened here at arena Stage and on Broadway at the Booth Theatre. All of you who have seen the show know how Alice's performance is a tour de force, and that's why she won the Tony in June for her riveting performance.
I want to thank Alice Ripley for her interview and for coming out after each performance and spending so much time talking to her fans. Watching Alice hugging them (many of these fans are young) and encouraging them that they need to be strong, and telling them they can overcome their battle with depression, is why I admire Alice so much.  I've never seen and actor so devoted and so kind to her fans. Bless you Alice! Congrats on winning that well-deserved Tony!
From Alice: "I am pretty much living in Diana's skin right now, so I see everyday life much the same way she does. Diana's always looking for a way out of whatever room she's occupying. As she considers the possibility of greater intimacy with her teenage daughter, she thinks "what can I do to change the expected result here and how can I use that change as a way to get closer to those I 'love'?" Even without a teenage daughter in my life, I ask myself that question nearly every day".
————-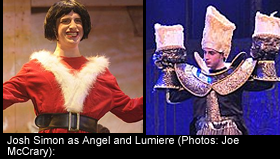 Josh Simon as Lumiere in Beauty and the Beast and Angel in Rent: School Edition at Winston Churchill High School.
Josh Simon stole two productions this year at Churchill High School, where he played Lumiere in a lavish production of the Disney classic, and Angel in a production of Rent: School Edition. In both performances, dressed with candlesticks and Angel's famous red Santa-like outfit, Josh utilized his many gifts – he's a fantastic singer, dancer, and comedian. He showed his athletic skills, gliding across the stage, dancing, and jumping on steel tables. He's a kosher ham, and performs with great energy, heart and dedication. He looked great in candlesticks and a dress. What I hear from his castmates is that Josh is a blast to be around. This young actor has the potential to become a musical theatre star. I can't wait to see him perform again..
From Josh: "Thank you for this great honor. I see Lumiere as an over-the-top performer, almost like the Emcee from Cabaret. He wants to entertain and humor and present an overall positive outlook. I consider myself an over-the-top showman kind of guy as well.
Angel, Lumiere, and I all try to remain positive and see the humor in things. Angel also strives for what her heart desires, and I think I do the same thing. I wish sometimes that I was as comfortable as Angel is — letting herself be so unique and out there. Angel and Lumiere are nothing alike, and I love it! Playing two radically different characters as an urban, bohemian Drag-Queen and a sarcastic, womanizing Frenchman-turned-candlestick is the kind of experience that I live for as an actor".
————

Evelyn Trester as Fosca . Passion at The Elden Street Players.
Before I walked into the Elden Street Players' production of Passion on August 15th, I didn't know who Evelyn Trester was, but after watching her mesmerizing and vocally astounding performance as the sickly, obsessive Fosca, I will never forget who she is, and I will never forget what I saw on that balmy summer night at The Industrial Light Theatre.
When Evelyn sang "Loving You" in her gorgeous vibrato, it was spine tinglingly beautiful. Evelyn made you believe how frail Fosca was with a slight shake of her hands, the coldness in her eyes and face, and her slow gait across the stage. I can't even find the words here to tell you how fabulous her voice was. All I can do is hope that any casting or musical director who is reading this will call Evelyn and audition her, so you can see and hear what I and the appreciative audience at Elden Street Players on August 15th – were fortunate enough to experience this tour-de-force.
La vostra prestazione come Fosca era divina.
From Evelyn: "Thank you so much for including me on this list of great performers. Passion with Elden Street Players is my first community theatre experience in the area as an adult. I was raised locally, and was onstage at Lake Braddock in middle/high school as well as with KMT in Annandale, went to Pepperdine University for my undergraduate degree in vocal performance, before obtaining my Graduate Performance Diploma in voice from Peabody Conservatory. At the end of my degree, I burned out on the prospect of life in the opera world, and finally admitted to my first love of musical theatre – I did Man Of La Mancha with Glendale Centre Theatre in Glendale, CA, and followed that with a long string of cruise ship auditions.
I thought I had given up on performing again when I moved back home to Fairfax and began my MBA at George Mason University, but when I opened up the Washington Post and saw the audition call for Passion, I couldn't think of any excuses to keep me from giving it a shot. I'm very glad I took the plunge! Performing in this show has been like breathing again.
This particular strange chamber piece of a musical became my favorite because when I first saw it almost thirteen years ago. I loved someone for a very long time, and remained on the periphery of their life in a vague semblance of friendship, holding out hope for far longer than I should that they would one day be affected by what I tried to give. Playing Fosca was a great way to release a lot of the tension of what was obviously unacceptable to express personally across that history: the desperation, the physicality, the utter abandon to one's emotional thrall. Literal "primal scream therapy". Restricted as we are by social niceties and our own fear of how we present ourselves to and are observed by the world, we often don't get a chance to let go to the extent that Fosca does. Her greatest strength is that she has absolutely nothing to lose  –  and the chance to embody that, and feel that sort of power – has been a tremendous gift".
SPECIAL KUDOS TO:
Katie Thompson as Vashti . Giant at Signature Theatre.
You've got to be great to steal a 4 hour show, and that's what Katie Thompson did playing the spirited Vashti in the mega-spectacle Giant. Katie's powerful vocals  on "He Wanted a Girl" and "Midnight Blues" that she sang with Betsy Morgan, and Lori Wilner,  gave Giant a lift when it started slowing to a gallop. I wish Michael John LaChiusa would write some more songs for Katie's character, and I just have a feeling he just might after reading the raves Katie received for her spitfire performance of the tough – but kind and caring – Vashti.  
———-

The Ensemble of Les Miserables at Signature Theatre.
They deservedly won this year's Helen Hayes Award for Outstanding Ensemble for their exceptional teamwork in Signature Theatre's Best Resident Musical winning adaptation of Les Miserables. This ensemble, comprised of many young, local actors was the heart and soul of this production. I know there were many physical demands and risks moving around the set, and the members of the ensemble were troopers, performing their roles brilliantly. Their magnificent voices blended together so well, and the wonderful score of Les Miserables never sounded better.
Congrats to Eleasha Gamble, Channez McQuay, Amy McWilliams, Hannah Willman, Weslie Woodley, and to the rest of the exceptional cast who joined the ensemble at times during the performance.
Merci pour vos merveilleuses performances. C'était un Les Miserables pour se souvenir.
———–
The Musical Theatre Performer of the Year
She had a very busy year singing, acting, and choreographing off-the-wall shows for The Landless Theatre Company.
In August 2008, she was a soloist at Kensington Arts Theatre's Annual Gala hosted by Brad Oscar and Diego Prieto. In October and November, she choreographed and played Dancing Girl in President Harding is a Rock Star, and sang her heart out performing the role of Aria De Winter in Diamond Dead Halloween with Landless at The Warehouse Theatre, and  played Chelsea Clinton in Landless Theatre's Hillary the Musical.
In April 2009, she choreographed and played Daphne, Eugene, and Hooters Waitress in Walmartopia: A Musical on a Mission, played Ms. Fism and Heather in The Flying Spaghetti Monster Holiday Pageant, and played Yumi in Kaiju in Landless Theatre's late night Japanese style game show.
In June and July 2009, she choreographed Spooky Dog and the Teenage Gang Mysteries, and played Little Dead Riding Hood in a reading of Little Dead Riding Hood, produced by Charlie Fink. She also choreographed and played several roles in Fictitious the Musical with Landless for the Capital Fringe Festival, as well as reprising her role of  Aria De Winter in Diamond Dead…continued.
This month, she is traveling to the Big Apple with Landless Theatre to again perform the role of Aria De Winter in Diamond Dead at the NYC Fringe.
In Fall 2009, she will be choreographing Landless's Fall show Evil Dead The Musical, and will be singing and dancing with Charlie Fink's band called Super Bon Bon on Sept 12th .
For her outstanding year filled with memorable performances, great singing, lots of humor, and her innovative choreography, this year's Musical Theatre Performer of the Year is Karissa Swanigan. Congrats Karissa!
Related:
Favorite New Plays Debuted This Year by Steven McKnight
Best Plays and Performances by Tim Treanor
Don't forget to vote for the Audience Choice Awards