Laramie Project Returns with Free Reading of New Epilogue by Arena Stage at Lincoln Theatre on October 12th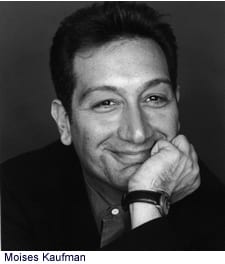 An epilogue to the Tectonic Theatre Project's  The Laramie Project will be unveiled on October 12th with simultaneous live readings in over 100 cities worldwide, including Washington, D.C., accompanied by virtual telecasts with Tectonic artistic director Moisés Kaufman.
In September 2008, on the 10th Anniversary of Matthew Shepard's death, members of the Tectonic Theater Project returned to Laramie, Wyoming.  When Tectonic was there for the first time in 1998, it was just five weeks after Shepard, a gay University of Wyoming student, was brutally beaten to death.  What came of the 200 interviews conducted by Tectonic was The Laramie Project, a play that examined how the community of Laramie dealt with Shepard's murder.  The Laramie Project was later developed into a movie for HBO and has become one of the most produced plays in America today.
From the 2008 visit, Kaufman and other members of Tectonic wrote The Laramie Project: Ten Years Later, An Epilogue.  This installment will focus on the "long term effects of the murder of Matthew Shepard on the town of Laramie" as well as explore "how the town has changed and how the murder continues to reverberate in the community," according to the Lincoln Center for Performing Arts website.  The epilogue will include new interviews with Shepard's mother, Judy Shepard, and one of Matthew's murderers, Aaron McKinney.
New York's  Lincoln Center will hold Tectonic's reading of the play on October 12th, and the play will also be read by local casts simultaneously in 100 locations throughout the United States, Canada, Great Britain, Spain, Hong Kong, and Australia.  Each live reading will feature an introduction by Kaufman via telecast from New York, and a question and answer session following the reading with questions submitted through Twitter.
The DC area event will be hosted by Arena Stage. Casting should be announced next week on Arena's Web site. Originally scheduled to take place at Arena's Crystal City theater,  Arena has moved the performance to the Lincoln Theatre, as patrons snapped up the free tickets and the house sold out. The event is free to the public and will take place on Monday, October 12th at 8 pm at the Lincoln Theatre, 1215 U Street, NW, Washington, DC 2009.  Tickets are still available but are going fast.  Anyone who is interested in attending should contact Arena Stage at 202 488-3300.