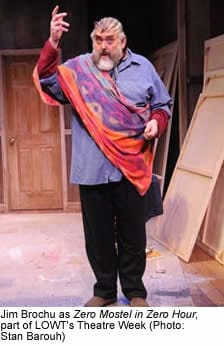 The League of Washington Theaters, a nonprofit association of DC-based theatres, will hold its first annual Theatre Week Promotion from September 12th to 20th, according to a League press release.  The Theatre Week Promotion will mark the beginning of the 2009-2010 theatre season for League members and will offer a variety of free and discount special events to "encourage active, casual and new theatre patrons to see the wide array of theatre offered by more than 70 area theatres."
"Theatre Week marks the start of the season with numerous opportunities for people to visit a theatre they love or one they've not been to before, as well as for us to reach out to those all important new theatre patrons and introduce them to the rich diversity of work on our stages," League President David Snider was quoted as saying on the press release.
Theatre Week kicks off on the 12th with League participation in the Arts on Foot Festival in Penn Quarter.  According to its website, Arts on Foot is "Washington DC's premier outdoor arts festival," and will include an art market, hands-on activities, restaurant samplings, organic cooking demonstrations, and two entertainment stages.  League members Ford's Theatre, Washington Shakespeare Theatre Company, Washington Stage Guild, and Woolly Mammoth Theatre Company will be present at the Theatre Downtown booth with activities and ticket raffles.  The League will also have its own booth with information on member theatres and chances to win theatre gift bags.
There will also be a number of other offerings from League members on the 12th.   Pay-What-You-Can performances will take place at Round House Theatre, Studio Theatre, and Washington Shakespeare Company; the Kennedy Center will hold its Open House Arts Festival and Stage & Street Spectacular; and Ford's Theatre will be open for visits from 9 am to 5 pm with final entry at 4:30 pm.
Discounted tickets to Black Pearl (Ford's Theatre), Eclipsed (Woolly Mammoth), Moonlight (Studio Theatre), The Picture of Dorian Gray (Round House Theatre), The Quality of Life (Arena Stage) and Zero Hour (Theater J) and free events continue through September 20th.  Visit The League of Washington Theatres for a full listing of offerings, times, and activities.