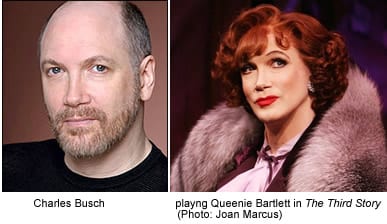 I've been a fan of Charles Busch since I first read his hysterical Vampire Lesbians of Sodom many, many, many vampires ago. I have schlepped to NYC many times to see Charles perform in and out of gorgeous dresses and makeup. He's done it all – director, screenwriter, novelist, performer, and drag legend. We are so fortunate that he will be here next Friday to open Ganymede Arts' 3rd Annual GBLT Fall Arts Festival. So head over to Miss Pixie's Backroom, and see Charles and Julie Halston's extravaganza.
It's the wee hours of the morning, and Charles and I are awake,  writing this interview via email.
Joel: How did you land up opening the Gala?
Charles: Jeffery Johnson from Ganymede came to my play The Third Story last winter, and asked me to do the gala. It's really as simple as that. I guess it helped that he's a very attractive fella. Does that make me sound terribly shallow? Also, Washington , DC has played an important part in my career. When I was just starting out as a solo performer in the late seventies, I hadn't gotten too much encouragement. I was visiting a friend in DC who gave a party where I performed. Bart Whiteman from the Source Theatre happened to be there, and on the spot asked me to do an engagement at his theatre. I returned several months later. It was the first time I had done a full two act evening of my work, and it surprised us all by getting rave reviews in all the papers – the first good reviews I had received up till then. The theatre only seated forty, but we were sold out every night. It was so thrilling, and it really gave me the confidence to pursue the path I was on.
Joel: Julie Halston will be joining you. What will we see at your performance?
Charles: I'm not sure it will be a performance. It's more of a way of getting to know Julie and me. Jeffery will be interviewing us, and Julie and I will tell, in our most entertaining style, how we met, began working together, our long collaboration, the ups and downs in our friendship. More than Will and Grace, I'd say we're Lucy and Viv.
Along the way, we'll be showing film clips and performing scenes from some of my plays such as Vampire Lesbians of Sodom and Red Scare on Sunset. You'll see us in action and as ourselves. I'm very excited to be doing it.
Joel: For my readers who don't know Julie Halston, tell us who she is.

Charles: I've been working with Julie since 1984. I've written over ten roles for her, including the co-starring role in Vampire Lesbians of Sodom. At the risk of sounding very pretentious, I suppose I should call her my muse. She's a bigger than life dame, but also very smart and very wise. If she were born earlier, she would have been working at Warner Bros in the 1930's as a wisecracking blonde. As it is, she usually plays my blonde wisecracking sidekick. On her own, she's done roles on "Sex and the City" and "The Class" and has appeared on Broadway in Hairspray and Gypsy. She's also been successful performing her own comedy act. She was a founding member of my theatre company, Theatre-in-Limbo, and as far as I'm concerned, I don't ever want to act in a play without her ever again. Lately, we've been recreating our old roles in revivals of our past shows like The Lady in Question. But in February, we'll be at last doing something brand new, thank God – a play of mine called The Divine Sister, which is an homage to just about every movie about nuns that Hollywood ever put out. I sure hope we can manage to look glamorous in a habit.
Joel: I really enjoyed the film "A Very Serious Person". It's advertised as, "Charles Busch as you've never seen him". What new side of Charles Busch did we see in the film?
Charles: Well, never my left side. It doesn't photograph that well. Hmmm. I'm so glad you enjoyed "A Very Serious Person". It's the only feature film I've directed, and I learned so much doing it. It won an award at the Tribeca Film Festival, and we had such hopes for it, but it ended up going straight to video. And perhaps that's where it belongs. It looks best on the small screen, and it's a very intimate little movie. I was dying to play a very low key, realistic role where I could have the experience of doing a kind of minimalist, very subtle movie acting that I so admire. I hope I pulled it off. It wasn't easy erasing thirty years of stylized performance style. I played a very remote, chilly male nurse who develops a friendship with the gay twelve year old grandson of one of his patients. Julie played a warm hearted beautician in the town who befriends us.
Joel: Tell me some things about Charles Busch that only your friends know.
Charles: I don't think there is much that my friends know that anyone who really knows my work wouldn't figure out. As stylized as my movies are, such as Die Mommie Die, they really are emotionally very autobiographical and revealing. You just have to look carefully. The ladies I play are very much influenced by my love for the women in my life, as well as my favorite actresses from Hollywood's golden age.
Joel: What is the state of  drag performers today?
Charles: I suppose artists benefit from everyone who comes before them. I certainly benefited from the ground breaking efforts of Charles Ludlam and Charles Pierce. So I hope that younger performers can benefit from my efforts. I suppose it's not quite so bold anymore for a young man to pursue a career playing female roles. Honestly, I'm not so up on the current scene. I hope things are easier for drag performers today. It really wasn't so hard for me. I was taken pretty seriously from the beginning. I'm very grateful.
Joel: Are there any young or new drag performers that impress you?
Charles: I don't go to clubs, so I wouldn't know who is interesting from that world. The most recent female impersonators I admire have been around quite a while such as Varla Jean Merman.
Joel: You performed a benefit  on March 23rd at Town Hall of the infamous James Kirkwood show, Legends, with John Epperson, better known as Lypsinka. The show is being performed at Studio Theatre in DC, beginning June 16th, 2010 with John Epperson repeating his role. What was it about Legends that made you put on a dress or two or three?
Charles: I had read all about the notorious original production. When John asked me to do the play with him as a one night benefit, I didn't really want to do it, but also didn't want anyone else to do it. I'm glad I did it. It was a great night, and we raised a lot of money for a wonderful charity, Friends in Deed.
Joel: Have you ever appeared with a co-star that made the relationship of Carol Channing and Mary Martin on the road in Legends look tame?
Charles: Well, John and I have had sort of a fun, playful rivalry. But we really are friends. He's a very smart, astute guy. A few years ago, we recorded a commentary track for a DVD release of "Whatever Happened to Baby Jane" and I was so impressed by his truly brainy and insightful analysis of that film. We have great movie nights where he'll bring over to my place some fabulous, obscure old movie, and we'll watch it together, usually with our friend, Steven Brinberg, who is a very talented Barbra Streisand impersonator. After a few drinks, our dialogue watching the movie is remarkably similar to the first scene in The Women. Nobody is off limits.
Joel: Will you be rejoining John at Studio Theatre in Legends next June, or do you know if John playing will be playing both roles?
Charles: John could play both roles, and I wouldn't be surprised if he did. And I think it would be great. Unfortunately, I won't be with him. I've got a slew of very exciting things coming up and I've gotta stay focused on them. I'm not only a glamorous stage star (he says tongue planted firmly in cheek), but also a drab playwright and it ain't easy juggling the two.
Joel: You have written plays and musicals and had a big success on Broadway with The Tale of the Allergist's Wife. What show did you feel would be a hit, but wasn't, and which show became a hit that you never thought would?
Charles: Well, I certainly hoped that the musical Taboo would be a big fat hit, and it was kind of a big fat flop. If that show had been a hit and run for years, I'd be on easy street. It was a very painful experience, and I tend to put it down a lot, but over the years a number of very smart people like Stephen Sondheim and Tony Kushner have said they really liked it, so maybe I shouldn't be such a pill about it.
Let's see, a play of mine that succeeded and surprised me? Well, the play that gave me a career was Vampire Lesbians of Sodom in 1985, and I consider the success of that little show an absolute miracle! We were performing it in a bizarre after hours club/art gallery/crack den far in the East Village. Then we raised the money ourselves to move the play Off-Broadway. We only had enough cash to play for one night, but we got a rave review in the Times and the play ran five years. And it made my dream come true, which was to earn my living in the theatre.
Joel: You mentioned Red Scare on Sunset. It's my favorite of all of your plays (so far). Tel our readers about it.

Charles: I think Red Scare might be my best play. It got very mixed reviews. Some critics objected that I was satirizing the extreme right and the extreme left, and saying how both extremes had surprisingly similar ideas about denying personal freedoms, particularly in their mutual contempt for gay people. I'd love to do that play again. When it was included in an anthology of my plays, I did a rewrite of the ending, and I'm dying to know if it will work.
Joel: You are appearing at Miss Pixies Backroom. Doesn't that sound like a great title for a future Charles Busch play? What do you think you would wear if you played Miss Pixie?
Charles: I love that name. It sounds perfect for Julie and me. I guess anyone playing Miss Pixie would have to wear toreador pants and a pair of great 1940's wedgie shoes.
Joel: If you could play any role in any show, which role would you want to play, and why?
Charles: Well, I'm beginning to believe I may never have a chance to play Peter Pan. I'll go anywhere to play it. Of course, it would probably seem more like Greer Garson playing Peter Pan. But what's wrong with that?
Joel: You continue to have a very successful career. What advice would you offer young actors, who are considering theatre or the performance arts as their career?
Charles: Don't take anyone's advice. Only you can know what's really right for you. One piece of advice would be, perform anywhere, no place is too tacky. Do something fabulous, and people will find you!
Joel: What's next for Charles Busch?
Charles: I'm answering these questions at 4 AM! I've never out grown my childhood rebellion of not wanting to go to bed.
I guess you meant work. I've got a bunch of things up my sleeve including my hopes to make a film of Vampire Lesbians of Sodom. I've gotta strike while the iron is hot. Everyone is vampire crazy these days.
Joel: Why should our readers come see you and Julie Halston next Friday, September 18th at the opening Gala of the 3rd Annual GBLT Fall Arts Festival?
Charles: Because I haven't performed in DC since 1983, and it's high time I was back. And Julie and I can't wait to tell our stories, and show our film clips, and do our scenes for you. We're chomping at the bit!
Joel: Thanks for staying up with me to do this wonderful interview.
The 3rd Annual GLBT Fall Arts Festival run from September 18 – 27.  For more details visit Ganymede Arts.

For a look at Charles' work and career, go to his website.