The tiny Mint Theatre, on the 3rd floor of an office building on West 43rd Street, has done it again. Under the secure and firm hand of Jonathan Bank, it once again satisfies its mandate of bringing back to life buried treasures from the past, particularly those plays written from 1850-1950. Usually I recognize the author, if not the play. A.A. Milne, D.H. Lawrence, Scott Fitzgerald, Ernest Hemingway, Dawn Powell, Maureen Dallas Watkins and so many more have been splendidly revived by this dedicated theatre, but I'd not heard of Lennox Robinson, a fine Irish playwright (1886-1958) nor of his play Is Life Worth Living? It was produced in the USA in 1933, and Variety, the Show Business bible, wrote of it: "Legit repertory troupe comes to a small village in Ireland and, after a week or so of Ibsen, Chekhov and Strindberg the town is off its nut." Under the direction of Mr. Bank, this twelve character comedy is set in the small Seaview Hotel in the town of Inish. The fun begins when the town elders decide to improve the tone of the place. They bring in a troupe of players who are committed exclusively to "psychological and introspective drama."
The hotel is run by John and Annie Twohig with great help from the housekeeper Helena and from Michael the "boots" (general handyman). The action covers two weeks in July during which a company of touring actors from the Abbey Theatre check in for their run in a repertoire of The Power of Darkness, The Dance of Death, A Doll's House and An Enemy of the People. Pretty heady stuff for  a seaside resort in July. No one expects an audience to show up, but word gets around quickly that these plays have some meat on them and for most of the run, the houses are packed. It doesn't hurt that steady rain arrives with the actors, and the neighboring resort town, which had been doing smash business at a Pavillion with summer swimmers and campers, is suddenly arranging busloads of clients overland to spend the rainy nights and matinees with the actors who've come to Inish to change their lives.
And lives are indeed changed, as these complex plays reveal and unravel many of the unspoken sadnesses of the locals. The play, once in three acts, now adapted to two, has everyone falling in love with everyone suitable by final curtain, which may be why Mr. Robinson called his play "An Exaggeration." His comedy cleverly makes the argument for two points of view: one, that we must have our illusions in  order to survive, even to have a shot at happiness; the other that exposure to the truth can only set you free.
What's most impressive about the Mint is the quality of the acting it manages to deliver each time out. You'd think that these twelve actors were themselves part of a repertory company, for they play together as though they'd been doing it for years. The Mint does not have a resident company so it's starting from scratch with each new production. Mr. Bank only directs occasionally, but he's hit the mark with this one, keeping it moving and flowing gracefully inside a cozy and inviting sitting room that provides vivid sunshine and rain when it's needed. It's an ensemble company, but each actor is in synch with the others, and the result is a very satisfying, stimulating, even provocative entertainment.  It officially opens on September 14th, and will be running at the Mint  until October 11th..
Hector de la Mare, the leading actor of the troupe, says to one of the locals: "Alas, plays of this kind draw very small audiences and make very little money." She  responds: "So why do you go in for them, if it's not a rude question?" and Hector says: "Because they may revolutionize some poor person's soul." Whether or not the souls of Inish require revolution is the question this comedy poses, and the answer just might surprise you! This is now, as it was in 1933, a cheerful comedy for gloomy times.
Is Life Worth Living plays through Oct 11th at the Mint Theatre, 311 West 43rd St, 3rd Flr, NYC.
———–
Dames at Sea –
Between 1968 and 1970, this little musical spoof managed to spin out many hundreds of  performances in two off/Broadway theatres and introduced us to new talents, the most enduring of which has been Bernadette Peters who played "Ruby" (think Keeler) in it.  A modest show with not a lot on its mind, it mocked the Dick Powell – Keeler musicals at Warner Brothers and the same vintage Eleanor Powell vehicles at MGM, all of which tapped their way into our depression heavy hearts, thus lightening the load for a zippy two hours. The 1970s weren't as bleak, but there's always something in this angry world to get upset about, and the antidote to depression is certainly an attractive cast or even just Bernadette Peters as a spunky youngster from Utah arriving at a broken down theatre out-of-town where a musical called Dames at Sea is just about to open. She meets a boyish song writing  sailor named Dick, and with help from the rest of the cast, manages to get into the chorus of the show – on the very night it's set to open.
But that very evening, the theatre is knocked flat on its face by a wrecking ball (don't ask) and Dames at Sea is ready to go, but is homeless. Dick remembers that his Captain has a secret with which he can blackmail him, so he gets permission to have the show open on the deck of the battleship. Of course there's a leading lady named Mona Kent, and wouldn't you know she has a major bout of seasickness at the final rehearsal, so guess who has to go on for her? When Ruby is  asked if she's heard the music, knows the choreography and the lines, if she's even read the script,  she answers – "No. But I'll try". It's shades of 42nd Street and all the other 30s musicals at Warners, shades of Broadway Melody of 1936 and the rest of the MGM spectaculars that made winners of all Eleanor Powell's dozen films there.
The Bay Street Theatre in Sag Harbor is the perfect setting for this show. It's even got a harbor; maybe not a battleship, but lots of yachts, schooners, and ferries in the vicinity. At the performance I caught, it also had a house full of seniors who smiled, laughed, and applauded all through the night. It helps to have a first rate cast, and Bay Street does a fine job in that department. All unknown to me, though experienced, Kristen Martin is the sort of singer/dancer/actress who, in the golden age of Hollywood, would have  been scooped up before closing night and shipped west to one of the major studios. She'd probably have landed at 20th Century Fox where Betty Grable was queen through  most of the 1940s, with June Haver and Vivian Blaine and eventually Marilyn Monroe waiting in the wings. But there would have been room for Ms. Martin who, if nothing else, could be kept on the lot to make certain Grable and the others behaved themselves. Xavier Cano, her vis-à-vis at Sag Harbor, as "Dick", would probably have been shipped west too. He's a little fellow, not quite the force of Gene Kelly or even the very tall Dan Dailey or the very talented Donald O'Connor or the #1 Ace Fred Astaire, but still very useful to have around to play the Bob Fosse, Johnny Downs, Carleton Carpenter roles should any one of them be unavailable. For the rest, I suspect they'd all have their long careers in musical theatre on Broadway, for Laurie Wells is certainly a road company Ethel Merman, Joyce Chittick is a pert little Helen Gallagher/Lisa Kirk combo, and Stuart Marland  is one of those utility men who can do just about everything, and in this production gets to play the flouncy stage manager Hennessey as well as the macho man Captain of the battleship. No one seemed to notice one good actor was playing two juicy roles. Patrick Wetzel (in the James Dunn role) completes this sextet of fine performers playing the musical's seven roles.
The book and lyrics  by George Haimsohn and Robin Miller, with music by Jim Wise, is hardly memorable, but as pastiche, it's not unlike the best of the Forbidden Broadway material. Rod Roderick has kept it all moving smoothly, and Shea Sullivan has everyone tapping away all night long, which suits this material. Lest you think me a total pushover, I have to complain once again about the ridiculous little microphones strapped to everyone's  back. They don't help illusion, to see a battery pack stuck in the midst of Mr. Marland's coccyx, to see the little snaky wire slithering down Ms. Martin's neck into her lumbar regions, to watch Mr. Cano's tiny nose obscured by the telephone operator contraption attached to his head. And why? A cast of 6, an orchestra of 3, a theatre of 300 seats, singers with big, well trained voices.  All it accomplishes is add vinegar  to the ladies' upper registers, and make lyrics a lot harder to laugh at when they are accompanied by distortion. So I must give bad marks to Tony Melfa, the sound designer, or in this one instance, to director Rod Roderick, who as commander-in-chief had the obligation to say: "Tony, relax. Don't you know that less is more?"
Dames at Sea closed Sept 6th.
___________________________________________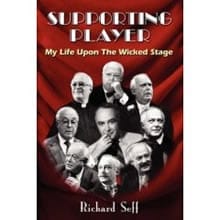 Richard Seff is author of Supporting Player: My Life Upon the Wicked Stage celebrating his lifetime on stage and behind the scenes, available through online booksellers, including Amazon.com.
Richard Seff chats with Joel Markowitz: