Traditionally, the Washington Stage Guild doing a successful production of Shaw is as close to a sure bet as the local theatre scene offers. Happily, the company's latest production of two one-acts collectively titled Strange Bedfellows continues their winning streak.
The Washington Stage Guild has combined Press Cuttings, a play that imagines a violent battle over women's suffrage, with Augustus Does His Bit, a skewering of a bureaucrat during wartime. While these plays may be considered both lesser-known and lesser Shaw, the combination is an inspired pairing of two complementary works. Roughly a century old, both demonstrate the foolishness of government leadership in time of conflict with lessons for the current day.
Press Cuttings is the first and more entertaining of the plays. General Mitchener (John Lescault) and Prime Minister Balsquith (Alan Wade) are under siege by protesters seeking women's suffrage. While the bombastic General's favored approach is to impose an increasingly harsh martial law and to "shoot them down," the more craven Prime Minister regretfully concludes that public opinion might not stand for that approach. A counteroffensive is led by two leaders of the Anti-Suffragette League, Ms. Banger (Laura Giannarelli) and Lady Corinthia Fanshawe (Helen Hedman). Rounding out the play are two representatives of the working class, a much put-upon Orderly (Vincent Clark) and a cleaning woman who is a voice of common sense, Mrs. Farrell (Lynn Steinmetz).
While Press Cuttings revolves around women's rights, the play also provides a platform for Shaw's clever critiques of politics, the military, class distinctions, gender differences, marriage, and international affairs. The cast gives the work a vigorous staging, with Lescault's brisk and officious general and Giannarelli's bellicose female fighter providing the most fun. Toward the end, the plot turns and the attitude switches are a little fast and convenient, but serve the satire well.
I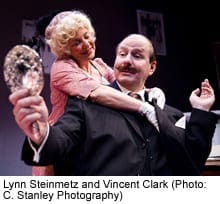 n contrast, Augustus Does His Bit is more of a one-horse joke involving a self-important bureaucrat named Lord Augustus Highcastle (Vincent Clark) who is outwitted by a Lady (Lynn Steinmetz). Livening up the play is an inept Clerk (Alan Wade) who is more concerned with drinking and money than serving the Lord in his efforts to recruit more soldiers for the Great War. It's a slower and more obvious work, but has its charms nonetheless.
Washington Stage Guild's Artistic Director Bill Largess does a fine job directing both plays. The company has fully mastered the art of making the Shavian wit sound simultaneously logical and ridiculous. The droll dialogue keeps the audience smiling when not laughing out loud.
At times, the characters seem so outrageous it can be hard to believe that they were based upon real life people with similarities so strong that Press Cuttings was actually banned by the British theatre censor. Then again, a survey of some of this generation's leaders makes Shaw's figures plausible indeed.
With Strange Bedfellows, the Washington Stage Guild makes a triumphant return to fully staged productions. An added treat is a short reading of works by and about Shaw by Laura Giannarelli between the two works.
Strange Bedfellows: Press Cuttings and Augustus Does His Bit
By George Bernard Shaw
Directed by Bill Largess
Presented by Washington Stage Guild
Reviewed by Steven McKnight
Click here for Details, Directions and Tickets.