Upon finding his seat, a young man at Monday's reading of The Laramie Project: 10 Years Later, an Epilogue was already holding off tears. The house lights in the Lincoln Theatre had yet to dim, and much of the programming was still a mystery. But I watched him try to relax, visibly shaken, and felt my breath come heavy in turn. This follow-up to Tectonic Theater Project's 2000 watershed dramatic work The Laramie Project was finished mere hours before its public incarnation, but its audiences clearly sensed the significance of such a far-reaching new piece of civic theater.
Arena Stage hosted the DC reading alongside more than 100 other venues in 50 states and in 14 countries. For one evening, hundreds of thousands of people came together to pay tribute to the late Matthew Shepard who, at 21 years old, was robbed, burned, beaten, tied up, and left for dead in the small town of Laramie, Wyoming in October 1998. The Laramie Project followed the trial and conviction of Aaron McKinney and Russell Henderson, employing on-site research, interviews, and a journalistic devotion to real emotional responses.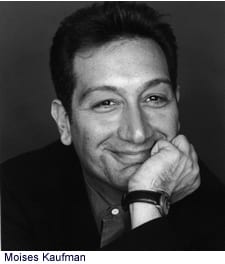 Moisés Kaufman and his co-authors (Leigh Fondakowski, Greg Pierotti, Andy Paris, and Stephen Belber, also members of the Tectonic Theater Project) appeared by simulcast from New York City before the readings began. Kaufman spoke briefly about his group's interest in discovering how the passing of ten years affects our shared understanding of one of America's most infamous and influential hate-crimes.
Kaufman mentioned his New York cultural roots. "I live on 88th Street," he said. "If there's a murder that happens three blocks down, I think, oh, there was a murder. But that's the extent of my relationship to it. In a town of 27,000 people, this murder has such resonance and such power, and it affected everybody so profoundly and so personally."
Tectonic Theater Project returned to Laramie, he explained, to explore whether the loss of Matthew was translating into lasting change. As with the first Laramie Project, the company members conducted interviews with Laramie residents, as well as with students and faculty at the University of Wyoming. These exchanges were often difficult and emotionally raw. "There was one degree of separation between the people of Laramie and either Matthew Shepard or the two people that murdered him," Kaufman said.
Also present at the New York simulcast was Judy Shepard, Matthew's mother and an emerging national advocate for federal hate-crime legislation. She was welcomed to the stage with sustained and enthusiastic applause.
"I can't tell you how much I have appreciated the work that the Tectonic Theater Project has done to keep Matt's story alive," Mrs. Shepard said. "I firmly believe that the production of this play, and the effect it has on its participants and its audiences, have changed the world more than they realize."
She added, "I don't think that Laramie is any further behind or further ahead than the rest of the nation, or even the world, but they absolutely have a different perspective on what has happened."
Like its previous chapter, The Laramie Project: 10 Years Later is a piece of media that provides more questions than answers. It doesn't claim to tell "the whole truth" – anger is directed, in Act One, at the ABC news program '20/20′ for taking such a stance in a 2004 special feature – but rather it makes a continued promise to not forget how multi-layered and personal the story remains, even after gaining international attention.
Those who see the epilogue may be pleased, in fact, to find that the interviewees are asking as many questions as the interviewers, and their troubles are as deep and as rhetorically powerful as ever. At moments the company has trouble getting over their cityslicker image – one attempt at chatting with a silent cowboy in a parking lot is woefully amusing – but most who are approached don't mind saying a few words.
The company of interviewers, already deferential, are continually surprised by what they find. The fence to which Matthew was tied has since been deconstructed, as tourism to the spot was interfering with local business. The Fireside Bar, where Matthew met his killers, has been sold and renamed. Many residents continue, rightly, to be suspicious of visitors who come to town with agendas. Others, like two University of Wyoming students who are stopped in the street by a company member, have been at UW for two years and have never heard of Matthew Shepard in any detail. The question of whether "change" has come to Laramie is, inevitably, not so simple.
Onstage, this often means a group of actors must play multiple roles. Special credit must be given to the gifted and astute group assembled for Arena Stage's reading: Drew Eshelman, Tim Getman, Helen Hedman, Annette O'Toole, Erika Rose, Michael Russotto, Stephen Schnetzer, and Kimberly Schral all impress as they adopt the voices on both ends of the conversation.
Some small portions of interviewees' responses in The Laramie Project: 10 Years Later:
"My gut reaction is that Laramie is a better place."
"But how do you measure change? That's the thing I'm stuck with."
"I know what really happened. I talked to people, and I know what really happened."
"Shame is a funny thing. When you have this kind of thing happen in your town, you have to stand up and say, yeah, we screwed up."
"Why does it take a young man like Matt getting killed for me to start losing my ignorance?"
"In life, the man was so small. But his legacy… it's huge."
"I don't think that we're all that different. I think this could have happened in dozens or hundreds of places."
"We're long past this. We're trying to put this behind us and keep going."
"Most of the people here… We don't forget. I don't forget."
It is a blessing that so many in and around Laramie are still willing to engage Tectonic in the kind of complex questions that are sure to involve the artists further.
Tectonic Theater Project also conducted new interviews with Aaron McKinney and Russell Henderson. The two men are now in their thirties, currently in prison in Virginia. They see each other every day. Henderson says they are "cordial" with each other, and McKinney agrees. Even so, a number of fascinating character differences stand in sharp relief as the two men are interviewed. These complicated, compelling talks have to be read or, ideally, seen to be truly experienced.
Tectonic shows open-mindedness in collecting material for a sequel piece. In doing so, Kaufman and his fellow artists acknowledge the increased scale of this project, and the urgent need for continued international dialogue about human cruelty, tolerance, understanding, and equal rights. The sheer number of simultaneous readings on Monday evening amplifies the time-honored notion of theater as community and public forum – a fading ritual of bravely voicing thoughts and then listening together to the echoing space.
On Monday, those in attendance ranged from young children to elderly couples and everyone in-between, notably an enormous showing of young people in their teens and 20s. The performers received a long standing ovation at show's end, and much of the audience stayed for a low-key but stimulating talkback with director Anita Maynard-Losh, dramaturg Amrita Mangus, and line producer Travis Ballenger. The talkback was hosted by Arena's Associate Artistic Director David Dower.
Many talkback questions about the creative process of The Laramie Project: 10 Years Later are best answered by Moisés Kaufman and by Tectonic Theater Project. Kaufman and his group received questions live via Twitter during the evening, and the dialogue continues online through Arena Stage's Sub/Text program and on their blog at blog.arenastage.org.
The Laramie Project: Ten Years Later
Part of the Arena Stage Downstairs series
Reading directed by Anita Maynard-Losh
Covered by Hunter Styles