I blush to admit that I knew little about Charlayne Woodard before I caught a preview of her one-woman play The Night Watcher. Ms. Woodard has written several solo plays, starting with Pretty Fire, which the Manhattan Theatre Club presented several seasons back. Other works, many of them multiple prize winners, have been seen in Los Angeles and Seattle, and they include Neat, In Real Life and Flight. She's appeared Off- Broadway in David Adjmi's Stunning, In the Blood by Susan-Lori Parks for which she received an Obie Award, and in other plays by Lynn Nottage and Athol Fugard. It's a very rich body of work, though she is probably best known for her work in recurring roles on Law and Order: SUV and ER. I don't follow those two series, so I've missed most of Ms. Woodard's work, and now I'm very sorry about that.
For in The Night Watcher, currently in a limited run courtesy of Primary Stages at 59 East 59th Street, she is gracing the stage with an accomplished work in which she reveals much of her very rich life as advisor, confidant and sage to the many young people who call her "Auntie". Married but childless, she shows us the remarkable ways in which a woman can offer sustenance and comfort to any number of young people in ways that profoundly affect their lives. Her anecdotes illuminating this thesis are carefully chosen, brilliantly performed, and range from hilarious to extraordinarily moving.
When imaginations are afloat of the caliber of Ms. Woodard and Carrie Fisher, I begin to soften my stand against one-person plays. I'm always afraid I'll be stuck watching an actor sit in a chair for 90 minutes and preach to me. Even the incandescent Vanessa Redgrave doing just that with Joan Didion's The Year of Magical Thinking failed to keep me from squirming, and I thought with that marvelous material and Ms. Redgrave's never failing talent, it must be the fault of the form. Though I'd much enjoyed Robert Morse in Tru and Mary Louise Wilson in Full Gallop, I was still apprehensive about another "lecture".
I may be an old codger, but I'm happy to learn that I can still recant. I've discovered that if the writer (especially when he/she is also the actor) can fill the evening with other characters, all impeccably trotted out in their full dimension, when they are placed in a set that conjures up the world in which they have lived out their stories, I can be hooked as completely as though I were watching a stage full of live actors performing an epic.
There's not a moment in the two-act The Night Watcher that isn't good theatre, and the resounding cheers that greeted its conclusion is proof positive that this sort of thing can work magically. I'm certain that it's the current economy that's forcing theatres to commission or import plays with a cast of one, and I hope it's not the end of the larger canvasses that we've enjoyed through the years, but to coin a phrase, "necessity is the mother of invention", so I guess the fabulous invalid they call theatre will survive until the financial times improve, and not everyone will be dramatizing their lives in monologue form. Until then, hooray for Charlayne Woodard, Daniel Sullivan her director for what I assume to be editorial help, and the rest of the creative staff who have put together a joyous and enriching evening in theatre.
The Night Watcher continues through October 31st at 59E59 Theatres, 59 East 59th St, NYC.
————–
Completing my weekend at the theatre, I caught the Sunday matinee of a new play about which I knew little in advance. It's called Vigil, it's at the small DR2 theatre on East 15th Street, and it's another winner. It gives employment opportunity this time to TWO actors, and it boasts the classy production of most plays carrying Daryl Roth's name as producer above the title. It's also fortunate in its casting, for it gives roles to Malcolm Gets and Helen Stenborg, both of whom have delighted us in the past (he in Amour, A New Brain, Encore's The Boys from Syracuse, and The Apple Tree, and she – over the decades in dozens of plays, most memorably in Wit, The Fifth of July, and Waiting in the Wings).
Their vehicle this time out is a quirky little play, one which takes several short opening scenes in which you have to adjust. "Kemp" (Mr. Gets' role) is a non-stop talker, and it would appear he is visiting his Aunt who had written him to come at once as she fears she is dying. The old lady is indeed bedridden, and as he pours out his resentment at his having had to drop everything to attend to her, we alternate between revulsion at his total concern with himself – and attraction to his great humor and his ability to entertain us, as he unravels his disastrous early life. The bedridden lady seems intrigued by him too, and her reactions to his shocking revelations are as eloquent as the dialogue she doesn't have – might have been. It's not until the first act curtain that we realize she's not unable to speak, for she can, she does. Curtain.
Act Two is the more moving of the two, and there are at least two surprises that let us know that the playwright Morris Panych is in full control of his characters and his play. Mr. Panych is one of Canada's best kept secrets. North of the border he is a most celebrated playwright, and yet he is not well known in these parts. His plays The Ends of the Earth and Girl in the Goldfish Bowl, [the MetroStage production in Alexandria won the DCTS Audience Choice Award] and his other works have been mounted in Asia, Australia, the U.S., and New Zealand. His newest work The Trespassers premiered at the Stratford Festival this summer. Vigil works so well because it manages to make its protagonist, a self-admitted neurotic on the verge of psychosis, a man of many parts, wounded almost beyond repair, and little by little his relationship with the old lady deepens and as it does it includes us. We care about these two, and the final revelations that end the play bring us total satisfaction. Though at times it smacks of Night Must Fall and other thrillers involving young ne'er do wells out to kill susceptible older women, its dark comic tone and its underlying loneliness – make it a rich stew of a play.
Mr. Gets, best known as a musical comedy leading man, brings great personal charm and a light heart to the role of Kemp, very necessary qualities to complete the picture of this superficially devilish character. Ms. Stenborg, frail but lovely, spends most of the evening reacting with her luminous eyes and lovely smile, and she manages to convey more with both than most actors can with pages of dialogue. She is playing a woman whose loneliness is the cancer that is killing her, and the tenderness she offers Kemp is his redemption. The plot is pure melodrama, but the characters that populate it have resonance and validity. All in all, I recommend a visit to the DR2 Theatre, and if you prefer matinees, there are three of them weekly, unusual in the Off-Broadway world.
Vigil runs through Nov 29th at the D.R.2 Theatre, 103 E 15th St.
—————
To complete my week, I visited the Samuel J. Friedman Theatre on Broadway (sorry, it will always be the Biltmore to me, for that's what it was called in 1938, when I saw my first Broadway play there.) The Manhattan Theatre Club now owns it, and this October offering is a new production of the George S. Kaufman-Edna Ferber hit of the 1927-28 season. You know the one – The Royal Family – a fictional accounting of the merry lives of the Barrymores – John, Ethel, Lionel and assorted parents, children, grandchildren, servants, managers, and several not so small animals. This clan, as envisioned by the master playwrights Kaufman and Ferber, remain merry through the good times and the bad. Nothing can stop them, nothing can keep them from thriving so long as they remain faithful to their calling, to their intergenerational passion for live theatre. Lots of people try to deter them – the cops, a couple of 'civilians' who want to marry them out of the profession, and the vicissitudes of life, but in the end, their bond is a strong one, and it will endure and prevail.
This is a rich plum cake of a play – none of your 90 minute one act wonders with a cast of 3 from this product of Broadway's adolescence. In three acts, in two and half hours, a winter's stew of a plot keeps the momentum going as we move from a rainy weekend to a day one year later. Beginning with the kind of devoted servants that are only found in vintage Broadway comedies to tell us where we are and what's been happening before the curtain rose, continuing through our ogling of the incredible townhouse living room, foyer, staircase that shelter three generations of the Cavendish family (Grandma Fanny, Daughter Julie, Brother Tony, Granddaughter Gwen, and the constantly visiting Brother and Sister in Law Herbert and Kitty Dean). The telephone is another character (one wonders how playwrights in that era would have managed had it not been invented) and before the play really gets going, it tells us that this is one busy household, that Mr. Tony is in California, that Miss Julie is currently in a hit play, that the press is out to find Mr. Tony, that Grandma is "between engagements" but planning a long tour in the months ahead. Flowers arrive for Miss Julia so we know she's got a beau. Within a matter of minutes we've met 9 or 10 characters and we know this is not going to be a "kitchen sink drama" or a play about an "angry young man". No, they are years away, so we can sit back and marvel at the dexterity of the writers, the comedic gift of the topnotch cast and Doug Hughes' (the director) sure hand at controlling the chaos and getting the laughs.
Underneath the flippancy and the merry mirth, room is saved for the points of view of the others, the 'civilians', those who find the Cavendish behavior child-like and ultimately irritable. In an accurately written scene, Gilbert Marshall (in a remarkably adroit performance by Larry Pine) makes his pitch to convince his inamorata Julia to leave the theatre, marry him and live on his estate in Bolivia where she'll "be served by 14 loyal servants, and the nearest neighbors are only 30 miles away." Julia rejects him, but in the third act she reconsiders, and is about to join him when – but here's where the plot takes a twist and it's hilarious and totally accurate. Grandma's plan to take on a national tour runs into some stumbling blocks too, and young Gwen's marriage to her civilian gent, which is going so very well, complete with healthy happy baby boy, is in for some surprises as well. And so are you.
Jan Maxwell as Julia, the delicious Rosemary Harris as Fanny, the dewy fresh Kelli Barrett (making her Broadway debut) as Gwen, the agile and funny John Glover and Ana Gasteyer as Herbert and Kitty Dean the in-laws, Reg Rogers as Tony, each and every one spot on and ready to tackle this pre-Actors' Studio theatrical flair and style, which this play demands. Wonderful Tony Roberts had a mishap in the early previews, suffering a seizure that has kept him from the early run, but one can only hope that he'll recover sufficiently to return soon. Not that his understudy is inadequate – hardly that; Anthony Newfield is up to the task and quite fine, especially in his final scene as the manager who's looked after all of the Cavendish careers for 35 years. It's just that an actor of Roberts' track record and excellence deserves the opportunity to have some fun for a change, and "Oscar Wolfe" is a pivotal role. I'm certain Roberts would bring star quality to it. But this is an ensemble piece, and it's a welcome addition to the early season of one and two-handers that have gotten us off to a most promising, if spartan start. Looking ahead to what's already been announced, it appears we're going to have a varied season; new comedies, tragedies and musicals, revivals of comedies, tragedies and musicals, a number of one person plays, and a few indescribable combinations of all of the above. Keep a weather eye out, save your pennies, and plan on several visits to the shopping center called Broadway and Off/Broadway.
________________________________________________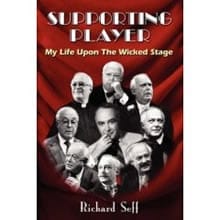 Richard Seff is author of Supporting Player: My Life Upon the Wicked Stage celebrating his lifetime on stage and behind the scenes, available through online booksellers, including Amazon.com.
Richard Seff chats with Joel Markowitz: