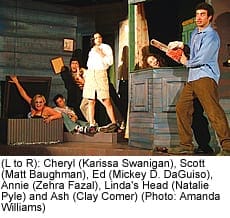 So how was your night? Here's a quick synopsis of mine: I was transported to a haunted cabin in the woods, where I was leered at by demons, subjected to countless cheesy puns, doused in gallons of fake blood, and repeatedly hit in the face by fake intestines. In other words, I saw Evil Dead The Musical. This raucous musical comedy has come to haunt the DC Arts Center just in time for Halloween. The outrageously bloody, profane spectacle definitely isn't for kids or the weak of heart. However, if you're up to it, Evil Dead offers roughly two hours of great songs, sidesplitting slapstick, with gory special effects to spare.
The show is based on the events of Sam Raimi's cult hit Evil Dead trilogy. In this trio of campy horror films, college student and "S Mart" employee "Ash" fights a host of demons inadvertently brought to earth with an ancient book of the dead known as "The Necronomicon". Due to budget constraints, as well as Raimi's tongue-in-cheek humor, the films embrace a campy, home made aesthetic, which has made them a favorite among fans of the horror genre. Freshly liberated from the silver screen, Evil Dead's hammy action transfers very well to the DCAC space. The actors repeatedly break the fourth wall and mess with the audience in a number of creative ways. The musical numbers also clue in the audience that the show does not take itself too seriously, boasting titles such as "Ode to An Accidental Stabbing", "Blew That B**** Away", "All the Men in My Life Keep Getting Killed by Candarian Demons", and my favorite song of the show, "What the F*** Was That?".
As "Ash", Clay Comer delivers a commendably faithful rendition of Bruce Campbell's character from the films, right down to the permanently arched eyebrow. When not fighting off demons or comically losing his mind, he uses his pleasing baritone to bring an emotional counterpoint to the blood soaked mayhem with the tender "House Wares Employee" and the remorseful "I'm Not A Killer". Matt Baughman shocks and delights as foul-mouthed frat boy "Scott", frequently stealing the scene with his profane, frustrated rants. Andrew Lloyd Baughman also brings roars of laughter with his portrayal of "Jake", the country boy with an outrageously inflated ego. In "Good Old Reliable Jake", he all but proclaims himself the Second Coming, extolling his own dubious virtues with lines like "Who was the last man to walk on the moon, and who won the forth Oscar for directing Platoon?" Of course, "It's good old reliable Jake." Natalie Pyle, Zehra Fazal, and Mickey Daniel Daguiso also bring strong vocal and dramatic performances to the stage, each responding in their own entertaining way as evil slowly envelops the cabin.
As Ash's good-hearted sister "Cheryl", Karissa Swanigan delivers my favorite performance, showcasing impressive emotional range and comedic talent as she slowly succumbs to the horror in the woods. After singing a hauntingly beautiful rendition of the lament "They Won't Let Us Leave", Swanigan gradually morphs from the vulnerable conscience of the group into a spitting, sneering fiend. In "Look Who's Evil Now" and "Join Us", she delivers genuinely shocking performances, swinging back and forth wildly between charismatic tempter and animalistic tormentor. She also delivers an unending series of bad puns, keeping the audience laughing and groaning through their teeth whenever she's onstage.
The sets and special effects are a character unto themselves. Due to the extremely limited space of the DC Arts Center, it's clear that scenic designer Jared Davis had to painstakingly plan in order to maximize both the actors' mobility and the versatility of the set. His dedication has paid off in a set that gives the actors a fleshed out entryway, living room, and kitchen while leaving enough space for group dance numbers, all within the boundaries of the tiny stage. With the help of Carey Rausch's spooky lighting, the scene oscillates back and forth between the cabin interior and the dark, menacing woods with nary a set change. FX Designer Steven Grainger's talking books, crawling hands, ghoulish makeup, and buckets of blood help to speed along the cabin's transition from peaceful hideaway to nightmarish abattoir. In the small confines of the theater, I felt like I was part of an interactive horror movie, cringing at each demon attack and laughing with my two friends, both "Evil Dead" fans, as we dodged the fake blood and swinging intestines.
Evil Dead does have a few issues that keep it from perfection. The actors occasionally lose the music in the middle of their songs, particularly during duets, resulting in several measures spent struggling to catch up with the beat. The dancing suffers from this same issue, as well as forgotten steps. During group numbers, when any actor lost the beat in the tight quarters, they would bounce awkwardly off their neighbor. Karissa Swanigan's choreography is actually quite good and fun to watch when the performers are on their game, but unfortunately there's not much room for error on such a tiny dance floor.
The gore is also a double-edged sword, delighting many in the audience but also alienating some playgoers that weren't too thrilled to have their nice clothes stained bright red.
If you can see past these few nagging details, there's a great show here. You don't need to know the movies to enjoy the gory comedy, but it helps in order to understand the mythology and appreciate key lines lifted from the films. Whether you're with a few good friends or by yourself, bring a poncho and a sense of humor, and you'll have a bloody good time.
Evil Dead The Musical
By George Reinblatt
Directed by Melissa Baughman
Produced by Landless Theater Company
Reviewed by Ben Demers
Related:
Joel Markowitz talks with Evil's creative team to find out how they do it.