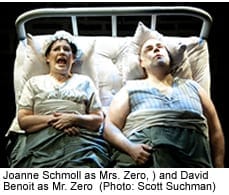 Adding Machine is less a musical than a high mass of low events; a spiraling nightmare set to a gorgeous, angelic score. It is a story of ordinary people, who are never idealized and at the same time never the subject of condescension, getting what is coming to them. After it is over, you will want to think about the sweet and magisterial music and the superb performances, because the story will give you chills.
Here is that story, in brief: Mr. Zero (David Benoit) works in what we used to call a counting-house. His job is to write down the numbers his desk-mate Daisy (Kristen Jeppeson) calls to him, and thereafter to add them up. It seems inconceivable to us in a day in which we use a calculator for the most trivial sums, but Mr. Zero's job – and the job of scores of thousands of men like him – was to add up numbers in his head. It was a task both supremely monotonous and unforgivingly exacting; a single error might have massive consequences, and lead to his firing.
Mr. Zero is no Saint Zip. He is deaf to the pleas and shrieks of his wife (Joanne Schmoll), who wants nothing more than to keep up with the other numbers. (She holds a dinner party for the Ones and Twos, and idealizes her conversations with Mrs. Twelve and Mrs. Eight, who share her forlorn love of wholesomeness). He is blind to the affection of Daisy, the highlight of whose miserable life is the company picnic where Mr. Zero put his arm somewhere in the proximity of her shoulder. He is a misogynist who is all twisted up in bitterness and rage, some of it directed across racial lines; and when his boss (Dan Via) tells him that after twenty-five years he's being replaced by an adding machine ("so simple a high school girl could operate it"), he kills him.
Like the more famous Spring Awakening, Adding Machine is a musical score overlaid on an ancient non-musical – in this case, a 1923 anti-capitalist melodrama by Elmer Rice. Unlike Spring Awakening, however, in Adding Machine, Joshua Schmidt's music and Schmidt's and Jason Loewith's libretto fit themselves seamlessly in Rice's original framework, enriching and elevating it. The whole production, thus, appears to be a single tone poem, from the opening scene (Mrs. Zero, lying next to her husband on a vertical bed, spitting out her complaints of the day) to the conclusion (the clockwork machinery of eternity).
The rest of the story proceeds under the same umbrella of inevitability as Zero's obsolescence and rage-filled response. He is tried and sentenced to death, and in the afterlife remains the same Cretanous boor he always was, even when gifted with the offer of Daisy's love.  It helps to understand that 1923 marked the coming-together of two strains of American determinism – our heritage of Calvinism, which holds that we are irredeemably depraved and can survive spiritually only with the arbitrary grace of God, and the more recent economic determinism, which holds that we are prisoners of our social and economic backgrounds and cannot, as a group, rise above them. To Rice, heaven and earth are creatures of a machine, and in canny homage to that concept, this production (Loewith directs) moves with a celestial clockwork precision.
Cleverness, though, and intellectual integrity cannot alone make a production beautiful. That responsibility falls on this superb cast, and in particular the stellar Benoit. I do not know if Rice had someone like Benoit in mind when he originally dreamed Mr. Zero up, but if he didn't, he should have. Though Mr. Zero is no hero, Benoit (who with his nose-tackle physique and pugnacious attitude recalls James Gandolfini) gives him a certain raffish charm, and it is sufficient to allow us to feel the bottoms drop out of our stomachs when his fate becomes clear.
But this is one of those rare plays which every element is so fully developed, and so well fitted to every other element, that to focus on one success is to distort the picture. What about Stephen Gregory Smith's hilarious turn as Shrdlu, an insufferable mama's boy who finally turned the knife on dear old controlling mater, and as a result shares death row with Zero? Or Jepperson's sweet, sad Daisy, who looks as though she stepped from the ensemble of Hello, Dolly! to Hell? Or the wonderful rendering of the fabulous score (Joe Peck, Katie Nigsch, Thomas Adrian Simpson and Channez McQuay joins the rest of the cast in some astonishing choral singing; Christopher Youstra is the musical director)? Or the first-rate musicians (conductor Alex Tang and Mary Sugar are brilliant on keyboards, and Mark Carson is a fine percussionist) playing offstage?  Or the set (Debra Booth) and lighting design (Michael Lincoln), which turns Studio's tiny fourth floor space into heaven and earth? Or Loewith's spot-on directing? Or – and this may be the most important of all – Loewith and Smith's decision to turn Rice's little melodrama into something rich, reflective, and full of the ambiguousness of life?
Or – maybe none of these things. Adding Machine is better than the sum of its parts, a pleasure in innumerable pieces. And though it leads us inevitably to despair, despair has never been so fun to watch, or so beautiful to hear.
Adding Machine: A Musical – TOP PICK!

Adapted by Joshua Schmidt and Jason Loewith from a play by Elmer Rice
Music by Joshua Schmidt . Libretto by Joshua Schmidt and Jason Loewith
Directed by Jason Loewith
Musical Direction by Christopher Youstra
Reviewed by Tim Treanor
For Details, Directions and Tickets, click here.