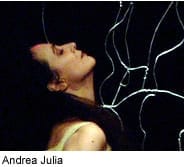 Whether Andrea Julia is fluttering a fan, talking to a doll, or writhing in agony with a wire sculpture, this chameleon-like, Argentine actress embodies Federico Garcia Lorca, the great Spanish playwright, and the voices of his characters in a tour-de-force performance in Fan of a Single Woman (Abanico de Soltera).
The staging is stark. A trunk, stuffed with costumes, and stacked with suitcases and a hat box is set center stage. From overhead, dangling wire sculptures replicate Lorca's grotesque drawings, as mysterious as the playwright's plays. Against this backdrop, Julia (accent on the last syllable), costumed in a sheath of beige lace, re-enacts a collage of his most famous female roles in a dramatic monologue, written by the actress for herself. "I knew it all," Julia intones, like an overture to a musical composition, as she launches into her carefully crafted, stream-of-consciousness. What Julia does to make this poetic theater so gut wrenching and compelling is in the use of body movement that transcends mime.
It's 1934, two years before his death when Lorca has returned from South America to Granada, the most traditional of Spain's cities. There in his house, Huerta de San Vicente, in Granada, no one pays attention to the impending Civil War. But now and then during her soliloquy, Julia reminds us of the impending violence by raising a walking stick like a rifle; and we hear the rat-a-tat cadence of the firing squad that ended Lorca's life in 1936. It's spine chilling.
But it is in Dona Rosita, the Spinster, one of the lesser known plays, that becomes Julia's prevailing inspiration. In this play, written in 1935, the jilted but brimming-with-life Rosita is left with the overwhelming fear of becoming an old maid. For everyone else, time is passing; but for Rosita, seated on her balcony watching her friends marry, life remains static. Spinsterhood is the ultimate, shameful trap in Granada. To help us envision Rosita as the "mutable rose," Julia rhapsodizes about "The rose that opens in the morning…glows as red as blood/The dew won't touch it/afraid of being hurt…."    until it succumbs to the "blanket of darkness/and its petals fold and fall…." This is a metaphor for Rosita's life. And accompanied by flamenco guitar filtered through the overhead, Julia pantomimes with roses as props and expressive gestures the aging of the rose.
Julia builds the intensity by borrowing the poet's imagery of exalted reality. But in his great tragedies, Lorca spoke for all women at the brink, oppressed and abused by Spanish society, Julia tells us. While Dona Rosita whose fiancé never returns from South America, represents the jilted woman; the barren woman Yerma, (from the play Yerma) so yearns for a child, she murders her husband. And Bernarda, the tyrannical mother from The House of Bernarda Alba, excessively obsessed with class duty and honor, destroys her five daughters' chances for happiness. Trapped by circumstance, all these women have left is dignity. And ultimately by doffing a flowing white veil, Julia for a fleeting moment becomes the runaway Bride from Blood Wedding, who ditches her bridegroom in an arranged marriage. In this way, the solo voice of Julia, the monologist, becomes all of Lorca's characters. "Your voice is mixed with my thoughts," she says.
Julia makes her richly layered text soar with Lorca's passion for life. She reminds us, for example that Lorca is the poet of dreams, by saying Lorca "uses the language of flowers." As a gifted child, Lorca acted out his illusions with puppets (the explanation for Julia's conversing with a doll) to entertain his cousins and playmates to elevate them out of reality. The tiny prop of a piano reminds us of the impact of music on Lorca's life. For Fan of a Single Woman is structured like a musical composition based on a theme with variation. The repeated, "I knew it all along," is a haunting motif that suggests the remembrance of life as it could have been, the existential sense of the tragic passing of time and Death. The phrase opens and closes the play, and threads the pieces together.
Directed by Horacio Medrano, production values are supportive. Pools of shadow and spotlight work to reinforce Julia's text. Props are effective and symbolic, such as the use of a replica of Salvador Dali's melted clock (from his painting The Persistance of Memory ) that falls from the stage trunk, an almost comic touch. But when red light floods the stage for the re-enactment of the assassination, the effect is terrifying.
Over all, a deeply moving tribute to Garcia Lorca in 55 minutes of exquisite theater, ultimately exhilarating.
So far, the excellent quality bodes well for the rest of this Twelfth International Festival of Hispanic Theater. Next week, from Uruguay, the Grupo del Sur, Walking in Light (Zapatos Andaluces), featuring Susana Anselmi; followed by the Dominican Republic's production of Our Lady of the Clouds (Nuestra Senora de las Nubes) by Aristides Vargas, the playwright who wrote The Aging of the Plum (La Edad de la Ciruela), which was produced at the GALA Theatre at the Tivoli in 2008. After that, from Venezuela, Dr. Sex (Dra. Sexo), a free adaptation of Let's Have Sex in Peace (Tengamos el Sexo en Paz), topped off by The Eggshell (La Cascara del Huevo), from Cordoba, Argentina. Check www.TeatrodelaLuna.org web site for dates.
Fan of a Single Woman (Abanico de Soltera)
Written and enacted by Andrea Julia
Produced by Grupo TeaTeatro, Buenos Aires, Argentina,
For the Teatro De La Luna's 12th International Festival of Hispanic Theater
Reviewed by Rosalind Lacy