Think of Barrio Grrrl!, the charming new children's musical making its world premiere at the Kennedy Center, as the little sister to Broadway's In the Heights,since it comes from the same creative team that wrote the Tony Award® winning musical. Quiara Alegría Hudes once again sets this story in a lower class row house neighborhood (this one is in North Philadelphia) and Bill Sherman's music uses Latin rhythms to achieve a mostly upbeat vibe.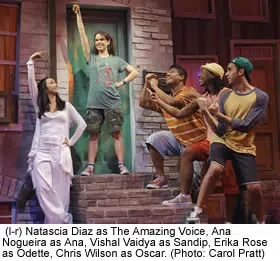 The story revolves around nine-year-old Ana Ortiz (Ana Nogueira), a spunky young girl who imagines herself as having the heroic alter-ego Barrio Grrrl. Her mission involves helping her friends while trying not to think overly much about her own problems. Ana longs for her absent mother (Salma Qarnain), a soldier off serving in Iraq. Meanwhile, she lives with her grandfather (Diego Prieto) in tight economic circumstances.
Ana has other friends in the neighborhood, including a certified imaginary friend known as The Amazing Voice (Natascia Diaz). The Amazing Voice helps keep Ana's spirits up by encouraging her flights of fancy. The story includes some delightful fantasy sequences along with flashbacks that tell Ana's story in a lively manner. Ultimately, The Amazing Voice helps Ana make a crucial decision that demonstrates Ana is growing up.
Ana Nogueira gives a terrific performance as Ana. She is full of spirit and has a stirring voice. It seems logical that she is the leader of the neighborhood kids— Odette (Erika Rose), Oscar (Chris Wilson), and Sandip (Vishal Vaidya). Most of the show involves the adventures of this engaging quartet with director Peter Flynn and choreographer Devanand Janki skillfully orchestrating their movements through lively adventures and more low-key moments.
The charismatic Natascia Diaz (Spider Woman in Signature's Kiss of the Spider Woman and Monica in Rooms at MetroStage, which won her a Helen Hayes Award), turns in another outstanding performance as The Amazing Voice. She shines as brightly as her sequined white outfit, inspiring Ana with childish joy and helping her face life's challenges.
The musical works best when portraying the adventures of childhood and the relationships of the characters. The more serious aspects of the story are a little too relentless, including the mostly downbeat portrayal of the tired and ailing Grandfather and a rather uncomfortable plot contrivance that soldiers are apparently only allowed to call home from overseas once a year.
The Broadway-level cast is something the parents will appreciate while their children simple get carried away by the delightful music. Be warned that the opening title song is a particularly insidious "earworm" that will leave "Barrio, barrio, barrio, barrio GRRRL!" ringing in your brain for hours afterwards.
Note: Although Barrio Grrrl! is promoted as suited for children nine years old and up, numerous younger charges appeared to enjoy it as well.
Barrio Grrrl!
Book and lyrics by Quiara Alegría Hudes . Music by Bill Sherman
Directed by Peter Flynn
Choreographed by Devanand Janki
Music Direction by J. Oconer Navarro
Presented by The Kennedy Center at The Family Theatre
Reviewed by Steven McKnight
Click here for Details, Directions and Tickets.
BARRIO GRRRL!
Celia Wren . The Post