Superior Donuts would seem to be playwright Tracy Letts' Ah, Wilderness! After showing us the seamy side of the human condition in Bug, Killer Joe and August: Osage County, he's dug back into the happy (or, as in O'Neill's case, fictional) side of his past life to turn up this sweet play about a donut shop in Chicago's Uptown neighborhood. Superior Donuts, the shop, is owned and managed by Arthur Przybyszewski (the daring of this street hero is proclaimed by his name; anyone retaining that moniker is  brave and looking for trouble).  Arthur is a neighborhood favorite; the cops love him, his neighbor Max Tarasov loves him but wants to buy his shop so he can expand his own, a homeless lady named Lady Boyle loves him enough to allow him to slip her a free coffee and donut every day, even the lady cop has her wistful eye on him.  So when the play opens just after the shop's been robbed and vandalized, all of the above rush to Arthur's side to help.  These characters bring things to a boil with the help of  Franco Wicks, a young black lad whom Arthur hires, against his own better judgment, to encourage the original sales patter with which Franco convinces Arthur they can become rich without selling even one inch of their respective sweet souls. Mr. Letts has his way with the comic lines, but he's always subtexting them with substantial pathos, and we do get to care for his people for more than their quirky ways of putting things.  Even the smallest role, Lady Boyle, in the very capable hands of Broadway debutante (at 70!) Jane Alderman, is written and played with many colors. As a master craftsman, the writer builds even a peripheral character like Lady, so that we become more and more involved with her as the evening moves along. It turns out her character has  the biggest stake in the play's conclusion; therefore the resolution of even her plot line involves and moves us. Even without a back story (and the play isn't big on back stories), we care. And Ms.Alderman makes original choices to give Lady complex shadings.
Suggestion:  Someone, when next mounting Anna Christie, don't bother to look for an actress to play Marthy Owen.  She's here in New York City, spending the winter at the Music Box on Broadway.
Michael McKean,  one of theatre's rock solid, dependable performers, handles  this central star role with all the considerable resources at his most experienced command. He's played everything from Pinter's The Homecoming onstage to Spinal Tap and Best In Show and A Mighty Wind on film, in rich supporting roles. Here he gets a star vehicle, and plays it as a star with everything but the billing. I assume that's because this is a transfer from the ensemble theatre of Steppenwolf in Chicago, where it's all for one and one for all, even down to the handholding all-together curtain calls. But billed or not, Michael McKean is a star. He may choose to return to the supporting player category for, as Eileen Heckart once remarked, "you get much better parts that way", but even she had to accept above the title billing in the final years of her glorious career. Next time out, don't be surprised if it says "Michael McKean in .."
Jon Michael Hill on the other hand is doing the unthinkable. He's giving us a star turn in his very first  Broadway appearance. He's been a Steppenwolf ensemble member since 2007, has done his share of good work in the regionals including the Alliance and Seattle Rep. But he's new to us on the Main Stem, and he zooms past lots of his contemporaries with a highly original take on Franco Wicks who brings fresh air and a new attitude to the slowly decaying Superior Donuts shop.  I smell a Derwent Award in his future (given each season for best debut performances).   He and Mr. McKean are the best Broadway sparring partners since Walter Matthau and Art Carney as the two who made up The Odd Couple in their early outings. Who knows?  Arthur and Franco, after years touring America, could well end up in sitcom syndication on some cable or network station, bringing their cockeyed charm  and varying viewpoints right into our very living rooms. All I can say about that is your living rooms will be brightened should  that occur.
With no big-name Hollywood stars, Donuts is running successfully but at nowhere near capacity, so if a nourishing fun comedy is your cup of tea, by all means include it in your next visit to Broadway. If A Steady Rain is sold out, walk right across the street (45th Street) and pick up seats for Donuts at the Music Box Theatre..  You can always see Daniel Craig and Hugh Jackman in a good movie, and have a treat for yourself by skipping their less-than-well-received choice of vehicle.
Superior Donuts plays at the Music Box Theatre, 239 W 46th St, NYC.
————
After Miss Julie brings another color to our season. It's a new version by Patrick Marber of Strindberg's Miss Julie. Mr. Marber has sent us from Britain his plays Dealer's Choice and Closer, both of which cut close to the bones of its complicated characters. He's good, this Marber, and he's done a fine job in moving Miss Julie and her chauffeur John from turn of the century Sweden to 1945 Britain, just as the Labour Party was taking over, and the class system was undergoing drastic change.
In his tale of the upper class young lady who has eyes for her father's chauffeur, Miss Julie is a very ripe young lady who can mean only trouble when she comes to  the lower floor of her family's mansion. Here she is in the kitchen where John the Chauffeur and his soon-to-be bride Christine are busy doing chores when she sashays in for a visit. As played by Sienna Miller, I was intrigued from the start. Ms. Miller has had very mixed reviews in this role, but I found her cool, controlled, confused, convincing. Her Joan Crawford shoulder pads, her Lana Turner legs tapering to  high 1940s ankle-strapped shoes – well, we know in an instant that the chauffeur is in trouble. Marin Ireland, as his intended, is far more astute than he about where this is all leading, and though Christine is the least present of the three characters, Ms. Ireland gives her dimension and makes that presence felt. Johnny Lee Miller as John has the strength, the muscle, the cockney charm that can do proper battle with Ms. Miller's Miss Julie. So we have another 90 minute wonder of a play to give us the kind of charge that was delivered in previous seasons by The Homecoming, Closer, The Pillowman and Speed the Plow.
This would seem to be the era in which playwrights on both sides of the Atlantic are attracted to three and four character dramas dealing with overheated partners, clutching and clawing at each other as they continue the never ending battle of the sexes.  In the late last century, this was accomplished in 3 acts, with several subplots and in some cases several sets and supporting characters. Now it's wham, bam, thank you ma'am right to the point playwrighting, caused no doubt by the currently tight economy. Out of necessity, a new form of theatre is emerging, one that takes us back to basics. The tech revolution has contributed too – theatergoers now demand speed —  any more  than 90 minutes and they feel the gnawing pain that's fed by separation from their iphones and ipods  Speed-The-Plow becomes Speed the Plot, and Miss Julie becomes the postscript After Miss Julie. There's nothing wrong with that – I just thought I'd point out to you that this Roundabout production under the taut direction of Mark Brokaw is a prime example of 21st century theatre. It struck me as amusing that on the page facing the title After Miss Julie in the Playbill there was an ad for the current revival of Kaufman and Ferber's 1928 hit The Royal Family, a rich plumcake of a play in three acts, with a cast of 17 and a running time of 2 ½ hours. As America is getting plumper by the year, it would seem we're spending more time stuffing ourselves with food, and far less time ingesting theatre.
After Miss Julie plays at the American Airlines Theatre, 229 W 42nd Street, NYC.
————
A couple of side items. Last year at this time I acted for one night in Craig Lucas' Prelude to a Kiss at the Irvington Town Hall in Irvington, New York. It was a fundraising benefit for this delightful old theatre in that charming Hudson River town just above Hasting-on-Hudson. The town hosts many a New York theatre artist, including producer/director Ed Sherin, his wife Jane Alexander, the gifted couple Maddie Corman and Jace Alexander, John McDonald and many others.
This year the event was a musical revue, Sophisticated Fun, and I tell you about it only because I can't remember a more enjoyable evening that conjured up a Norman Rockwell cover on the old Saturday Evening Post. A packed house of devotees who all seemed to know and like each other, received the antics of Marni Nixon, Corman and Alexander, Cris Groenendaal, who's played The Phantom over 800 times on Broadway and on tour, Terry Klausner ,who played Evita dozens of times on Broadway when Patty LuPone was out.
There was a dinner party before the show for about 20 of us, there was another pre-theatre gathering in a historic building with a magnificent library, there was a post-theatre gathering at the theatre for the entire audience. Cagle McDonald,  who was in charge of everything, achieved the impossible by having it all come off without a hitch. The Town Hall's "Clocktower Players" put all the town's children and teenagers to work during the year, in all sorts of productions that give them a start, a first crack at performing in public. A documentary accompanied the show, a film that revealed these kids playing all the parts in Bye Bye Birdie, Grease, Annie and more. Later there was a star turn by Nicholas Barasch, who recently played the young Kiddo in the Broadway revival of West Side Story. He sang "Somewhere" from that show with the stage presence of a star and the unchanged voice of an angel, backed by an ensemble of what looked like 30 youngsters. I only tell you all this because I was so delighted to realize that there are small town outlets for a new generation of theatre artists, and hope for the future filled the night air.  Should you ever find yourself in or near Irvington, New York, treat yourself to a visit to the Town Hall Theatre Foundation. The theatre  is modeled after Ford's Theatre in Washington. It was built in 1902 and was for years the vibrant hub of village cultural life. By mid-century, when balls, tea dances and minstrel shows had lost ground to mass entertainments, the site was suffering the effects of disuse and was finally, in 1960, condemned to darkness.
This neglected jewel was recovered in 1977 when the Foundation was formed in partnership with the Village of Irvington. It has a marvelous Children's Theatre Program. In 1992 adult talent was added to the mix. Under Artistic Director Cagle McDonald's leadership, it launched the Clocktower Players resident company and now the theatre projects encompass and nurture troupes for all ages, and draw participants from throughout the river towns and beyond.  It is a proud role model for other towns around the nation. It's worth visiting, and emulating. It's a privilege for me to be able to make you aware of it, for in these difficult days of fiscal restraint, it cheered me to know this sort of thing is going on. When did you last feel you were at a small town social?  If it's been a while, motor on up to Irvington, and refresh yourself, as I did.
————————-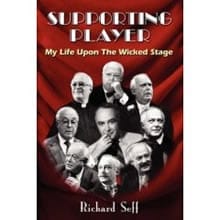 Richard Seff is author of Supporting Player: My Life Upon the Wicked Stage celebrating his lifetime on stage and behind the scenes, available through online booksellers, including Amazon.com.
Richard Seff chats with Joel Markowitz: