As you all know, I run around a lot and see many shows, and sometimes when I see something unique and wonderful, I like to share it with my readers, so here we go!
Galactica, Walter and Arielle Gottlieb and attending Philadelphia's Barrymore Awards
Jeffrey Johnson on playing Special Agent Galactica:
(Click on each link above to go directly to that interview)
Who knew – with a description like  "Old Pink Hair is back with her boys for another magical evening of lip sync like you have not seen", what Jeffrey Johnson had in  story for us in Special Agent Galactica in Pink and Lowdown at the 3rd Annual Ganymede Arts Festival? On Sept 19th, I made my way through Miss Pixie's, a furniture store filled with tables, chairs, chest of drawers, rugs, artwork, pottery, lamps, and other tchotchkes,  and headed for the back room performance space.
What I saw in the 110 minute show included 18 songs and/or skits that were lip-synched to perfection, a lot of arm waving, hair straightening, some pre-recorded bantering in the middle of and between many of these songs that were also lip synched to hilarious results. There was a Dolly Parton medley performed at different speeds, (remember those 33 and 78 rpm records we older people grew up on?), an insanely fast "Old MacDonald Had a Farm" recorded by Nikki Yanofsky, an Anna Russell comedy skit, a little Duke Ellington -"It Don't Mean a Thing (If it Ain't Got That Swing)" and even an over-the-top supreme rendition of Diana Ross' "Remember Me". And mixed into these manic selections were calmer interpretations of Broadway divas Linda Eder's "I Want More," and Audra McDonald's "See What I Want to See". Think out of control roller-coaster ride!
I was not only impressed by the dead-on lip synching performances of Jeffrey Johnson's Special Agent Galactica, and his thigh and tush wiggling, dripping and schvitzing Galactica's Boys: Jedd Breckenridge (Dangerous Jade), Benjamin Horen (Will Blowman), and Danny Tippett (Rusty Sparks). Every song had its own new outfit and costumes, choreography, lighting, projections, and sound design that rivaled many of our local well-financed theatres.
While my head was still spinning, I had to ask Jeffrey Johnson to help me figure out what I saw on that stage.
Joel: Who is Galactica?
Jeffrey: Galactica is a blank slate really. She molds to the needs of each number. For the first ten years that I studied and performed in theatre, it was in musical theatre, and was known as the "song and dance guy". I have a strong base in singing and dancing as well as choreography and music theory, and Galactica is a character that allows me to pull from that background, as well as using my abilities as a writer and director to put together a thought out, well-crafted concert.
Joel: So, why choose lip synching instead of singing in your own well-trained voice?
Jeffrey: Well first off there are so many styles to cover: Big Band, Jazz, Country, Rock and Roll, Blues, Opera…etc. Even the best trained voice isn't suitable to each and every genre. And I hardly have the best trained voice – so you see where that puts me…LOL. And there are a few layers to lip syncing that I find fascinating. I mean it's another level of "façade" that has to be executed in a way that one watching can find believable. Just like getting on stage and saying "tonight I am playing Curly in Oklahoma and you're going to go along on the journey and buy into it." Now layer the fact that as I am performing for you not only am I attempting to take you on a journey of sorts in a theatrical sense, but I am also adding another challenge by deliberately playing music that I am obviously not singing and still giving you enough to let go and believe in the moment. It's a challenge I really like giving myself.
Joel: How would you describe the Galactica experience?
Jeffrey: Well I think, first off, people see the word "drag" and immediately form an opinion or draw conclusions. That's understandable and also unfortunate. What I do is not 'drag' in the sense that one thinks of it today. It is just as much theatre as any play/musical going on in this city. But one would have to venture out to see a Galactica show to get an understanding of HOW she is totally different. A Galactica show has elements of cabaret, performance art, musical review, vaudeville, concert and theatre – all rolled into one evening that flows from beginning to end.
In approaching a song or monologue, there is so much more involved than just learning how to lip sync it. I first approach it as a script – the script being the recorded performance, and then listen to the way the artist interpreted the material when they recorded it. There is so much story (script) in the way they use their breath, enunciate words, articulate sounds, stress words or phrases…that's what I look to bring to life using Galactica as the blank slate. It's not an impersonation of the artist, but connecting with the source material on an emotional level, and bringing that interpretation to life. It's also about setting moods (or tones). One moment she can croon out a sultry Keeley Smith number, move into an Anna Russell comedy vignette, and then come back with a rocking Stevie Nicks moment. I also weave together original dialogue that I write (chit chat with the audience if you will) that is pre-recorded, and lip-synced as well. Everything in the show from beginning to end – songs, monologues, banter with the audience – the entire show is totally lip-synced.
Joel: What does a Drag Queen do, that is different than what we saw you do in this show?
Jeffrey: That's a good question. My answer would be that a Drag Queen (as we tend to define it today) is working for tips in a club or bar. That's their living. They tend to lean toward the extreme/outrageous side of presentation in make up, costume, song choice in order to compete with the other Drag Queens working that night, as well as the club music and alcohol. It's their job and their life both inside the bar and outside the bar.
I would say that Galactica is a drag-based performance art piece if I had to give it any type of definition. Though "performance art" to me always conjures up the image of nude bodies, a bare light bulb, "outer-limits" poetry being read to a drum beat…and somebody is mad…
I don't want to fool anyone when I perform. I don't come out with big fake breasts and exaggerated makeup and hair for days. I am not there to work for tips. But even more so, what I think sets what I do off into a different genre – is in the way I approach the material, and what I strive to achieve. Like I said, I approach each song, and thus Galactica, from an acting standpoint. I break each song down into beats just like a play. I am there to tell a story with each song, to invoke emotion and connection from the audience. There is a huge difference in the material I choose as well. I doubt that you would hear La Wally or Anna Russell coming from a club queen. Nor would you see one scat singing while her back up boys are synch-playing a trombone, trumpet, and saxophone…
Joel: I'll agree with you Jeffrey on that one!
Jeffrey: And let me say for the record – that I don't look down upon the Drag Queen world. It's just a different medium that happens to share some of the same basics. They work hard, and I admire their strength in being who they are. I respect that. I'm not here to tread on their territory. And I feel they understand that. Every time I do perform at clubs – I am treated with respect and made to feel welcome by the "House" Queens. I think they sense what I do is different, and thus they feel no need to get "territorial on my ass."
Joel: How large was the record/tape/CD collection that you hunted through to select the songs for this show, and what kinds of songs were you looking for?
Jeffrey: Well, the final show comes to about 19 selections – that include the guys' numbers as well. I do go through about 70+ songs before I work it down to the 19 that make it. I was lucky to have been exposed to many types of music since I was a kid. And in high school and college, all my friends had enviable record (yes – I am dating myself!) collections that just expanded my knowledge. Now, with things like iTunes, all you have to do it spend some time on it searching song titles, and you have 50 different artists who have recorded a song…so that helps as well in finding new versions of favorites.
I selected the songs (and for the Festival show it took me almost the complete year to get the set complete) based on various needs. The songs all needed to tell some kind of story – emotionally – or else there is nothing really for me to connect to. From there, choosing the right songs – and the right order – breaks down into many different factors depending on what the show needs: the fun element, the dramatic element, the big production number, comedy, how it works with other songs around it and within the set list as a whole, is it a solo piece or a group number…etc.
Joel: What do you look for when you are casting a Galactica Boy?
Jeffrey: I usually try to look for musical theatre performers as the backups, because they can move/dance fairly well, and pick up choreography quickly. They also know how to sing. Since the guys lip sync too in the show I find it better to use actors who know how to sing so they can understand how to sync realistically. Singing is more that just moving your lips. It requires the entire body to create and sustain notes. Thus, lip-syncing requires the same knowledge and ability to pull it of.
Joel: Introduce us to the multi-talented and adorable Galactica's Boys. Where did you find them, why did you choose them, and have you worked with them before?
Jeffrey: I had worked with Jedd Breckenridge before. In fact he is my only returning Backup Boy. Others move away or are working on other projects. Jedd is great because he knows what to expect, and he comes to the first rehearsal memorized and ready to go. (I actually type out a script of the whole show with all the parts and lyrics as well as dialogue, etc., so the guys have something to reference if they have questions when memorizing their parts.) Benjamin Horen is fabulous, and I do hope he will join forces with Galactica again. Danny Tippet as well. Both of them picked up on choreography very quickly. I've known Daniel for years, but this was one of the first times we were able to work together, and I am actually glad it was doing a Galactica show. Benjamin actually replaced someone who was going to be in the show and at the last minute, before rehearsals started, had to drop out. Because of that, we only had 9 rehearsals to get this show together, and the musical theatre training these guys had, plus their willingness to try something different and have a blast doing it paid off. These were three talented guys and I was VERY lucky to have been able to have them! Galactica really does rely on her guys. They do support her along and give her a lot of energy to play off of – because an hour and a half of non-stop performing (in 4 inch heels) gets a little tiring, and they are there to push me through the moments when I need a little energy boost. And it is just more fun to share the experience with people!
Joel: Take us through the process of transforming Jeffrey Johnson into Special Agent Galactica.
Jeffrey: It usually takes me about an hour (once shaved and all) to get into makeup and costumes. I purposefully do not do the typical over the top drag make up. Other than doing a base application that would cover my beard and such, the make up that I do is really what a woman would do for the stage. I am not out to fool anybody, and I want to be able to use my face to its full expression. I also like the fact that at times the illusion is broken and you look at her and say – "oh, yeah – that's a guy" – and then get lost in it or caught up all over again.
Joel: Where else can we see you perform Special Agent Galactica during the rest of the year?
Jeffrey: Well you can always catch clips from past shows on Galactica's Facebook page . I do a couple of solo appearances a year without the guys – New Year's Eve being one of them. She also appears throughout the year at Pride and at various clubs around town (usually TOWN) to promote whatever Ganymede Arts is doing at the time. I usually do one big theatrical show a year (the Festival show) which allows me to have the back-up boys who function as back up singers/dancers as the various songs dictate. They also allow me a few breaks for costume changes, and they supply variety for the audience. Those are my favorite shows to do. I have a blast doing Galactica; it's truly the most liberating performance experience I have ever had, and thus it is truly a blast to be able to share that experience with the guys and create something that is ours. Something original.
Joel: What's next for Ganymede Arts?
Jeffrey: I will be appearing as Edie Beale at Joe's Pub on December 29th at 7:30pm, which is cool because that is when the real Edie Beale did her Reno Sweeney event. Plus, we get to share the evening with Sandra Bernhard. How cool is that?
Other than that, we are assessing our next move. With the economy the way it has been, and the fact that we survive for the most part on donations, we have been hit hard. Our Festival, which brought in Charles Busch, (who you interviewed for DC Theatre Scene) Julie Halston, and Catie Curtis, was a success, but not a big enough to be a "pot of gold". Ticket sales can't ever really give you that – no matter how successful the art is.
So at this point, we will announce a show when we know we can do it. That is a little discouraging, given our critical track record with such hits as Boston Marriage, Les Liaisons Dangereuses, Rocky Horror Show, and After the Garden. We want to get back to being able to produce like that again, but we also want to be able to do it responsibly as well. We do have a couple projects up our sleeve, and we intend to continue to fund-raise for them. But until the stress of the economy begins to ease, and our donors return to donating, we are fine taking things slowly. We want to stay around for a long time, and if it means a season or two of riding it out, then so be it. We do good work, and we'd rather the art be funded correctly, than to sacrifice the quality just for the sake of putting on a show. If folks would like to help and donate to us or sign up for our newsletter, they can do so on our website.
—————–
Father and daughter Gottlieb make all the right moves in Chess:
They were standouts in Stroyka Theatre's production of the musical Chess, so I was curious to know more about Walter and Arielle Gottlieb.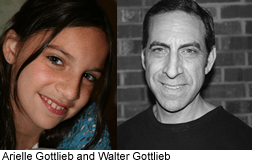 Joel: Tell us about yourselves.
Walter: I've been an actor and singer since age 12. I got my feet wet as a teenager at the Jewish Community Center of Greater Washington's summer theater program, where I played Hyman in The Education of Hyman Kaplan and Tevye in Fiddler on the Roof.  I couldn't grow facial hair at that age, so I had the fake beard and moustache attached with spirit gum. I loved the role, but I loathed that beard and moustache. So itchy!  I also studied acting at the JCC. I graduated from N.Y.U.'s school of Film and Television in 1983, and became a TV/video producer and independent filmmaker. But, after hours, I pursued acting. I hooked up with Capitol Hill Arts Workshop (C.H.A.W.) in my twenties and played Lt. Cable in South Pacific, Sid in The Pajama Game, and Older Patrick in Mame.  I did stints at Dominion Stage and Little Theater of Alexandria, too, including a role as Inspector Barnes in Bells Are Ringing. I took a 15-year hiatus from acting while my kids were young. Roman Gusso and Stroyka Theater gave me – and my whole family – a shot at returning to the theater in Empty Stage and Chess, for which I am eternally grateful.
[ft_amazon ibn="B000MX7YQS" align="right"]
I was able to combine my filmmaking career with my love of musical theater when I produced a documentary about a great, but under-celebrated American songwriter: Heart & Soul: The Life and Music of Frank Loesser," which debuted on PBS in 2006.
(Watch a video trailer for it here.)
Arielle: I'm 10 years old. I'm in fifth grade at Highland View Elementary School in Silver Spring. I've attended a lot of acting and musical theater camps at Round House and MTC (Musical Theater Center), including improv and stage combat. I took jazz and tap at Musical Theater Center (MTC). I also write and direct my own plays at school.
Joel: Talk about the characters you played in Chess.
Walter: I played Molokov, a KGB agent assigned to babysit the Russian Chess Champ.  Molokov is basically the villain in this musical. I'd never played the bad guy before, having always had the 1st or 2nd romantic lead, or a benevolent character role, but our director, Roman Gusso, thought I could pull it off, and I guess he was right. I found out that playing the bad guy is actually as much, if not more fun than playing the good guy.  Playing a KGB agent was a challenge. I started off with no Russian accent, but got some help from our Russian émigré director, and imitated any Russian speakers I could find.  I also studied the KGB agent character Chaiko in White Nights, the 80's film where Mikhail Baryshnikov plays a Russian defector. Read up on the KGB, too.  It turns out the KGB actually put a lot of effort into influencing the outcome of chess matches!
Arielle: I played the role of Young Florence, the heroine's younger self. She lived in Hungary in 1956, and lost her father during the uprisings. I had a lot of fun playing her, even though it was a sad story. It was a really good experience for me.
Joel: How do you relate to the character you play?
Walter: In real life, I don't send people to the Gulag and I try not to manipulate people's personal lives for the good of the Soviet motherland. However, I am a bit of a control freak, and tried to leverage that in playing Molokov. He may be on the opposing side of the Iron Curtain and he may have nefarious motives, but he's also a guy trying to do his job and steadily losing control. After the Russian chess champ defects to the West at the end of Act I, everything unravels for Molokov, and he has a hell of a time putting it back together in Act II, though he eventually succeeds. I can identify with that loss of control, and the struggle to deal with it.
Arielle: I think I'm very different from Young Florence, considering I'm not a refugee.  But even though I haven't had those kinds of experiences, I can believe in my mind that I have, and that helps. I feel really bad for this character, and feel that nobody should have to go through that (leaving her homeland, losing her dad, etc.).
Joel: Have you ever worked together on the stage?
Walter: Arielle and I worked together in Stroyka's Empty Stage last Spring. I've also volunteered backstage at Musical Theater Center (MTC) when Arielle and one of my other daughters, Leora, appeared there. I cast Arielle in a web series comedy I'm producing and directing entitled, The Videomakers.
She plays a 9-year old intern at a television production company.  I'm not just saying this because I'm her Dad, but Arielle is a delight to work with because she brings so much energy, enthusiasm, and natural ability to her roles. She's also a pistol, on stage and off.
Arielle: Yes, I have worked with my dad on stage, except that whenever we're in a show together we're never in the same scenes. Our director somehow manages to prevent that.  We're not sure why. We work together on my dad's web series, where I play Jessica, the intern, and my dad directs. But even then, we're not in any scenes together!
Joel: What was the most difficult scene to perform in Chess?
Walter: Without a doubt – it was the scene featuring the musical number "Quartet," where Molokov, Florence, the Arbiter, and Anatoly sing in four-part counterpoint. Over the summer, it seemed like that number would never come together. But it finally clicked, and was very satisfying to perform, though I got the vibe from the house that the audience didn't quite know what to make of it. We got polite but unenthusiastic applause compared to some of our other numbers, and I'm thinking, "Come on, we worked our asses off for that number!" Go figure.
Arielle: Definitely the last scene, where Florence and Young Florence are singing the Hungarian national anthem. It was difficult because there was a note I had to belt for 12 beats. One night, I was getting dehydrated because I was a wearing a hat and coat and scarf in the middle of September. I got on stage and Florence was holding me tight and I felt like I was going to faint during that long note. Next time I drank more water.
Joel: What other role(s) would you love to play?
Walter: Nathan Detroit in Guys & Dolls because I'm Jewish and I'm too old to play Sky, and because I love the song, "Sue Me." Emile DeBecque in South Pacific because, now that I'm more of a baritone, it seems like it'd be a lot of fun. Besides, I once sang "Some Enchanted Evening" at Don't Tell Mamma in New York after I had a few drinks in me, and it was a blast. Mark Cohen in Rent, if they ever do a mid-life version.  Anyone in Urinetown, except Ms. Pennywise
Arielle: I would like to play the role of Galinda in Wicked, the role of Golda in Fiddler on the Roof, Lena in Singing in the Rain because I want to say, "And I can't staaand him," in the way she talks. Oh yeah, and Penny Pingleton in Hairspray because she's such a fun character, and she's kind of clueless and funny at the same time.
Joel: What would you say to other parents and/or children who are considering performing together in shows, or considering becoming actors?
Walter: Performing with your kids is a great experience, not to be missed. It's a healthy, constructive family bonding opportunity if you're lucky enough to be able to do it.  In  Stroyka's Empty Stage, the entire family was in it – all three daughters and my wife, Becky Granatstein (who was also in Chess). We're lucky that Stroyka is the kind of theater company that encourages families to get involved.
Arielle: I think it's a great idea, as long as you still give yourself free time to be a kid, because if you overwork yourself, it's not going to be any fun anymore.
—————–
A red carpet night at Philadelphia's Barrymore Awards: chats with winners Katie, Dan, and Forrest

Lorraine Treanor and I attended the Philadelphia's theatre awards, called The Barrymore Awards, (named after the legendary acting family- Ethel, John and Lionel) on October 5th at The Walnut Street Theatre.
We were thrilled when two time Helen Hayes Award winner Kate Eastwood Norris won for her riveting performance as Eleanor/Adult Esme in the Wilma Theatre production of Rock 'n' Roll.  "When they called my name, I was filled with fear that I would trip in my girlie shoes and happiness that I won! Rock 'n' Roll was one of the finest plays I have ever been a part of, every aspect of it – cast, crew, staff, author and director, plus the city, the theatre community, my housing, all signs pointed to YES and I thank all of them for their greatness and am proud to have met the challenge. Blanka Ziska especially, a brilliant director and fascinating passionate woman, she set a standard that I was craving and that the play demanded and I am forever grateful to her. I have to also at least verbally kneel before my  ridiculously talented and generous leading men – David Chandler and Barnaby Carpenter. A tremendous and unforgettable experience all around. And of course I thank my husband Cody for his love and for expecting no less from me. Rock On Philly! Thanks Joel for another chance to articulate what I could not manage in my acceptance speech that night!"
The thrills kept coming for Lorraine and me when Avenue X, our favorite show from our June 19th Philly theatre weekend,  won awards for its stars Forrest McClendon and Michael Philip O'Brien, and for its fabulous musical direction from Dan Kazemi. Dan, as many of you will remember, was the accompanist at MetroStage's original production of The Musical of Musicals (The Musical)! two years ago, which earned him a Helen Hayes Award nomination.
Here's what Daniel had to say about that night: "I've got to say the energy in the room was really charged the night of the Barrymores, especially in the center of the orchestra section, where the 11th Hour Theatre Company team filled two excited rows. Before my award was announced, I felt more jittery about giving a speech than I did about whether I was going to win or not.  I felt strangely at ease when I saw the presenters – Charlotte Ford, who I had worked with in college and Dito, who has done Philly Rocks with 11th Hour. So, then I won!  My mom cried.  I concentrated on floating up onto the stage and expressed my appreciation for the recognition I received.
A recap and a reiteration: Id like to thank my collaborators Jenn Rose and Megan O'Brien for creating an atmosphere that fosters the creation of new edgy contemporary work, and also the wonderful cast for delivering the beautiful score each night, my friends and family for whom I am forever grateful, and Mike O'Brien for taking a chance on a youngster way back when. The only thing I forgot was to thank Mark Valenzuela for his clear and clever sound design, which provided excellent environmental sounds that also functioned as a secret pitch-pipe for this all this a cappella musical".
Forrest McClendon has performed in Washington – yet – but we hope he will find his way here. We both loved his performance as Roscoe in Avenue X, so we went crazy when he won his Barrymore : "Thanks so much for your support. It was such a great year for me, working with two of Philadelphia's hottest small companies – 11th Hour and Lantern – and winning a Barrymore was totally unexpected. These companies are a vital part of the lifeblood of Philly and I am deeply grateful to Megan and Michael O'Brien for producing shows like Avenue X".
Read more about the Theatre Alliance  Barrymore Awards here.