I fell in love with Adding Machine: A Musical in 2007, when I saw the Off-Broadway production at The Minetta Lane Theatre. As I write this,  I am about to see Studio Theatre's production for the third time in 10 days, and am taking Jim and Red, my friends from Toronto. They are theatre crazies like me, and I wasn't going to let them return home without seeing Studio Theatre's fine production.
I asked co-composer Jason Loewith and actors David Benoit and Stephen Gregory Smith, to share their thoughts about directing, and starring as Mr. Zero and Shrdlu.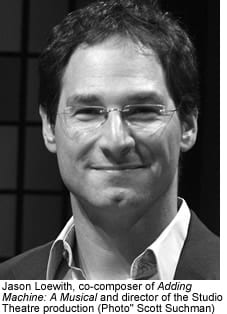 Director Jason Loewith
Joel: What was there about Elmer Rice's story that inspired you and Joshua Schmidt to adapt it as a musical?
Jason: Adding Machine was the result of a 12-year artistic crush, which began when I first heard Street Scene, the Kurt Weill/Elmer Rice/Langston Hughes musical-opera, back in about 1994.  Street Scene felt like a brilliant melding of serious music, serious theatre, and the musical-theatre form… so I started reading Rice's plays. When I opened Adding Machine – with its first scene being Mrs. Zero's four-page harangue against her husband – I started hearing Mozart's "Queen of the Night" aria from The Magic Flute. And that's when I thought Adding Machine needed to, wanted to, be musicalized.  I looked for a composer for many years, but it wasn't until I met Josh [Schmidt] in 2004, that I finally felt I'd found a creative partner for the job. He and I went to work in 2004, did a workshop in 2006, and premiered the piece in 2007.
Joel: In what ways did you and Josh want to change its message?
Jason: Rice's original play – written in response to deteriorating labor conditions for the average American worker in the 20s – clearly has a "message": that capitalism is a dehumanizing machine which strips the worker of his soul. Josh and I felt, 80 years on, that such a stark message wouldn't be interesting to contemporary audiences. We felt – and feel – that an individual has responsibility for his or her destiny. And while life in the workforce can indeed be a dehumanizing machine, Americans in the 21st century have a choice. Mr. Zero, as we reconceived him, "chose the machine" repeatedly throughout his many lives. That's why we fashioned the dramaturgy of the play around three tests that Mr. Zero fails – when he's fired, just before his execution, and in the Elysian Fields.
Joel: When did you receive the call that Studio Theatre wanted to mount a production?
Jason: I don't remember when – it was an evening in the spring, I think? I was making brisket, that I do remember.
Joel: This is the first time you've directed Adding Machine. Was there anything that you had not seen in the previous productions that you wanted to see in this one?
Jason: The previous productions, directed by David Cromer, were really miraculous, and frankly I wanted to preserve as much of his artistry as possible! But I think we – Josh, David and I – all felt that the transitions from world to world never quite worked. So my hope in the production was to smooth out those transitions and make the show rocket from the real world to the Elysian Fields to the machine without a breath.
Joel: Joshua Schmidt's score is so unique. How would you describe it?
Jason: It's a deliriously wild ride from dissonance to heartbreaking melody, with multiple influences that add up to much more than the sum of its parts.
Joel: What was the hardest scene to direct, and what is your favorite scene in the show?
Jason: A parent doesn't have favorites J and each scene was its own challenge.  I think that managing the multiple tonal changes in the jail scene was probably the hardest.
Joel: What was it about David Benoit that made you cast him as Mr. Zero, Joanne Schmoll as Mrs. Zero, and Stephen Gregory Smith as Shrdlu?
Jason: They were perfect for the roles!
Joel: What was music director Chris Youstra's contribution to this production?

Jason: Chris is a marvel. He took such a difficult score – a difficult score to play, and a more difficult score to teach – and made it feel easy for everyone. He's not only exceptionally talented, but passionate about the piece. That's been a theme common to all the productions thus far – there is a sense of passion about the piece, fear of its demands and pride in tackling them.
Joel: Why did you decide to put the fantastic orchestra of 3 – Alex Tang (conductor and Keyboard #1), Mary Sugar (Keyboard #2) and Mark Carson (Percussion) in another room and not on stage?
Jason: The orchestra was offstage in Chicago and New York, so putting them offstage (where they were for Fucking A, the only other show I'd seen in that space prior to directing there) seemed a natural choice. Also, with such an intimate space, one has to be very careful about controlling the audience experience.
Joel: When did you first realize that you wanted to make theatre your career?
Jason: I've always been interested in theatre, but realized I wanted to make a career out of it after my first directing gig in college – Stoppard's Dogg's Hamlet, Cahoot's Macbeth. I fell in love with the collaborative nature of the beast: collaboration between artists on a project, and the collaboration between artists and audience.
Joel: Tell us about some of the work you're doing as Executive Director of the National New Play Network.
Jason: Let me send you to Arena's New Play blog. I just did a long interview with them about my work at NNPN. You can read it here:
Joel: You've recently moved from Chicago to Washington. How would you compare the theatre scenes and audiences in those two cities?
Jason: Both scenes are incredibly dynamic, with a variety of opportunities for theatre-loving audiences that's essential to good cultural environment. I don't really know Washington's scene well enough yet to comment more, but I've been excited about what I've learned so far.
Joel: What advice would you give young playwrights, directors, and actors who are considering making theatre their career?
Jason: I'd advise anyone considering a theatre career to follow their passion and get their hands dirty pursuing it. Passion for the art form is the best reason to pursue it.
Joel: What do you want audiences to take with them when they leave Studio Theatre after watching Adding Machine: A Musical?
Jason: I want them to take a flyer so they can recommend the show to their friends!
——————
David Benoit (Mr. Zero)
Joel: From Mr. Zero's point of view, what is Adding Machine: A Musical about?
David: From Zero's point of view, Adding Machine is a series of tests that he always fails, or rather, from his perspective, fails him. Ultimately he would like to be left alone so he can have peace. That peace is the mind-numbing task of adding figures. In the end, he must make a choice to go back to the world of living. His choice is made not as a result of bettering himself, but of finally thinking of someone other than himself. His love of Daisy forces his return, and with any luck, his improvement as a human being.
Joel: How do you relate to Mr. Zero? Any David Benoit in your performance?
David: The differences between us are great, but I do understand him. He worked all his life. He felt he did his job well and never received his reward for doing so. The frustration and heartbreak of a lifetime of being passed over caused him to make an irrational decision. In making this decision he felt he finally had the courage to do SOMETHING. Sadly, the consequences of that decision were dire. I think Zero's feelings are universal, particularly in the millions of workers who make this country thrive.
My father drove a bus for 40 years of his life. No glory, just did his job, and did it very well. I think of him when I do this show. It helps me humanize what could be dismissed as an angry, racist dolt of a human being.
Joel: Talk about "Zero's Confession", which just blew me away!
David: "Zero's Confession" is an eight and one half minute rant and basically a nervous breakdown set to music. The musical difficulty and emotional journey required are pretty taxing. The theatre space is small and we are basically on the audience's lap, so I feel a personal responsibility to be as honest as possible with this moment so the audience can understand this person. You have to dig deep and put it all out there for them, so hopefully, they can empathize. It can be exhausting. On paper, Zero is a heinous person. Hopefully this moment sheds a different light on the character and can, at very least, help the audience understand him.
Joel: What's it like working with Joanne Schmoll, who plays Mrs. Zero, Kristin Jepperson, who plays Daisy, and Stephen Gregory Smith, who plays Shrdlu. Was there chemistry between you and them from the beginning of rehearsals?
David: I think all three are terrific. The relationship Joanne and I have onstage is anything but loving, but we share a moment in the prison scene where a small, simple connection happens between our two characters. I love that moment. Kristen and I share a similar moment in the Elysian Fields. I look into her tear-filled eyes and she is truly heartbreaking. Stephen and I share so many interests, both personally and professionally. He is so talented and twisted. His performance is equally twisted…I absolutely feel a kinship with him both on and offstage. As far as the chemistry with all three, I'll let the audience decide, but I feel it.
Joel: It seemed to me that when Mr. Zero was eating his last meal of ham and eggs in his prison cell, it was the first time in the play that he was relaxed and happy. What was the thinking behind that?
David: He is no longer confined…confined by his unhappy marriage, his unhappy work environment, his unhappy life. Ironically, he is sitting in a 3×3 prison cell, and at that moment could not feel freer. He is a simple man enjoying his last moments of his new simple life, and simple last meal: ham and eggs.
Joel: What was the best advice Jason told you about playing Mr. Zero?
David: It's not necessarily advice but he gave a gift that few directors give, he gave freedom – freedom without judgment, the freedom to try anything, to discuss anything, to make mistakes. A lot of directors fancy themselves that way, he IS that way. I felt safe with him. He has been involved with two highly successful productions of the show and certainly knew what he wanted, but let us (me) find it. He is extremely generous that way. He is also a very funny man. I've enjoyed working with him tremendously.
Joel: In this production, the musicians are in another room. Does that present you with any additional challenges and, if so, how did you overcome them?
David: You really have to listen. There is no ambient bass or percussion to feel. It all comes through the speakers. The music is so difficult you could get off with the band really easily if not fully concentrating.
Joel: Where did you get your theatre training, and tell us about some of the show you have been in.
David: I attended the Boston Conservatory as a musical theatre major and directing minor. Shortly after graduation, I got my equity card and stayed in Boston for four years working in regional theatres and in resident companies of Forbidden Broadway and Forever Plaid. Those last two shows were my key through the gate of New York theatre. Being a young character man, I knew that work in NYC would be scarce for me, so I vowed I wouldn't move there until I had a job. Four years after graduation, I was offered Forbidden Broadway's 10th Anniversary Edition, and made the move. Shortly after that I moved over to the Triad and did Forever Plaid until it closed. My 20's basically consisted of doing those 2 shows in NY and all over the country. While doing Forbidden Broadway (six years later in Boston) I received a call from my agent about a job opening in Les Misérables. The 10th anniversary production had just opened and the role of the Bishop was available. I had a callback on Friday and I started rehearsals three days later. After six years of the Broadway and National tour of Les Miz, I had a short and enjoyable run in Dance of the Vampires, the tour of All Shook Up, and most recently completed a three year stint with the Broadway production and National tour of Avenue Q.
Joel: How has your Studio Theatre experience been?
David: I am completely impressed with what Joy has created on the corner of 14th and P -a city block of theatres with the sole intention of creating art. Unbelievable! The staff is wonderful and the experience has been one I will never forget. I am proud of what we have created, and certainly grateful for the experience.
Joel: What do you want audiences to take with them when they leave the theatre?
David: Everyone matters. Despite being a cog in the grand machine of life, EVERY individual contributes something and makes that machine work efficiently. Make something of that time.
————-
Stephen Gregory Smith (Shrdlu)
Joel:  Tell us about Adding Machine: A Musical about from Shrdlu's point of view?
Stephen: Well, Shrdlu is a little bit removed from the rest of the story, but just kind of finds a friend in Mr. Zero on his way to the afterlife. I think that his purpose in the story is to illustrate another example of investing your entire life into one thing (for Shrdlu, it is religion; for Mr. Zero, it is his unhappy marriage and job) only to find out that it was a pointless endeavor. Shrdlu lived a very sheltered and caged life under the heel of his mother and religion, and in the end finds that every principal that he believed in is not true, and finds freedom in sexual ecstasy versus religious ecstasy. He comes unhinged in the afterlife in a very unexpected way.
Joel: How do you relate to the character of Shrdlu?
Stephen: I think that any gay man can connect with Shrdlu from the perspective of repression alone. The more you suppress a desire, the more that desire bubbles right beneath the surface, just itching to come out. So that was my initial connection to the character that I keyed into. The mother-murdering/religious zealot turned sexual compulsive stuff is none of me, I'm thankful to say. That's all him. Now none of this is to say that Shrdlu is gay, necessarily. I think that after he discovers sex, it could be with absolutely anything at all; a man, a woman, a shoe, a rock…anything.
Joel: What is the most difficult challenge for you playing this character?
Stephen: I think that the most difficult thing is that I have three scenes to make his arc clear. I have to make sure that I am portraying exactly where he is on his journey in each scene, and there is plenty that has happened to him off stage in between. Also, with a crazy like him, it is easy to go to a campy place or a cartoonish place, so I am constantly aware of keeping him absolutely honest. Even when he is cracking apart, the honesty of what he believes is the key to understanding him.
Joel: Shrdlu is a man of fervent religious convictions. Did you model your portrayal on any person from fiction or real life?
Stephen: Well, I would be lying if I didn't say I thought of many of the interviews that I have seen with many a religious fanatic over the past year on television. Whether discussing marriage equality or Barack Obama, there is a fire in their eyes that shows you that they absolutely believe every word that they are saying. All of this played around in my mind while putting him together.
Joel: What was there about Mr. Zero that made Shrdlu want to talk to him? Or was he just looking to talk?
Stephen: Again, it could have been anyone. I think that he tells anyone who will listen to his story, because he craves confession. He craves the self-flagellation of repeating his horrible story, because he feels that he deserves the pain and embarrassment that it brings him. Now, I do think that Mr. Zero was probably nicer to him than most of the other prisoners on Death Row, which is why he still seeks him in the afterlife, to confess again.
Joel: What is it that Shrdlu feels when he discovers in the afterlife that "they don't care" whether he's been good or evil? Is it panic, or something else?
Stephen: I think that after he finds out that everything he has repressed himself with through 30 years of church and being totally abstinent is not true, he becomes unhinged. I think that in many ways it makes him totally lose his mind. The discovery of sexuality takes over as new programming, while the old stuff has been totally tossed out the window.
Joel: What is your favorite scene in the show?
Stephen: I love watching David, as Mr. Zero, do "Zero's Confession". I think that it is an absolute powerhouse performance of an incredible song. I love all of my scenes with David, but am partial to the jail scene, as I get to interact with him the most there.
Joel: What's the best advice Jason gave you about playing Shrdlu?
Stephen: Jason was full of nothing but the best of advice the entire process. I think my favorite note was one day when we were both still trying to figure out what Shrdlu was going to be doing during "The Flinch" – the final scene in The Elysian Fields. I was sitting on a rock behind Zero and Daisy, singing about "Dancing, drinking, kissing, grunting, bursting, busting, surging, swelling FREEDOM"…and I was already toying with the idea of rubbing against the rock that I was sitting on, but when Jason came up to me and whispered, "I think that as you are doing that, you should be watching Daisy and Zero as they kiss…". Bingo. It all made sense and fell into place after that. We had already worked a mild foot fetish into Shrdlu, and why not throw in some voyeurism as well? It was another chance to be passively sexual, which entirely makes sense for the character.
Joel: You've been a staple in our theatre community for years. When did you first arrive in the DC area, and what are some of your favorite roles that you've performed on our local stages?
Stephen: I came here after attending Shenandoah University in Winchester, VA. I studied as a Musical Theatre major, but did not finish the program. I had secured a job at the now closed Burn Brae Dinner Theatre, and decided that making money as a working actor was more important to me at that time than accruing more debt for further training – a decision that I still regret, and do not advise any current theatre majors to copy. I started out working at Burn Brae, then got my first professional job at Signature Theatre playing Yonkers in 2000's Gypsy. I also did several shows at Toby's Dinner Theatre, but started getting more and more work at Signature, and from there I have had the pleasure of working at almost all of our Regional houses. Favorite roles that I have played…hmmm…the one I am doing now is high on the list. Billy in One Red Flower, Jack in Into the Woods and Jimmy in 110 in the Shade at Signature Theatre are high on the list, as is Jon in tick, tick…BOOM! at Metro Stage. I think my favorite role that I have had a crack at was this past summer's staged workshop production of Adam Gwon and Joe Meno's The Boy Detective Fails at Signature Theatre. Billy Argo was such an interesting character to live in, and during the three week process I totally fell in love with him. I still hope that I get to spend more time with him in the future
Joel: What's next for you after Adding Machine: A Musical?
Stephen: Absolutely nothing as of now. Sometimes it just works out that way, and this seems to be one of those seasons for me. So nothing on the horizon after we close.
Joel: What do you want audiences to take with them when they leave the theatre ?
Stephen: I think that when I read the script for the first time, it made me totally re-evaluate my life. It makes you take stock in yourself, and makes you examine your own life. I asked myself after reading it, "Am I a Mr. Zero in any aspect of my life? If so, how can I break that cycle?" I hope that after people leave the show and think about their own circumstances, that they break a cycle and change something in their life for the better. I had a woman say to me after opening night that seeing the show totally changed her life, and how she thought about her own life.  I think that it can have a positive effect towards motivating you to step your own life up a bit.
Adding Machine: A Musical must close this Sunday, November 15th.  Click here for Details, Directions and Tickets.
Related:
DCTS has made Adding Machine: A Musical a Top Pick.  Here's the review.