Theresa Rebeck is one of the new generation of playwrights fortunate enough to have acceptance in most of the New York L.O.R.T. theatres; her Mauritius found a home at the Manhattan Theatre Club, several plays including The Water's Edge landed at Second Stage, three of them including The Butterfuly Collection were put on by Playwrights' Horizons. Omnium Gatherum of which she was co-author, was done commercially at the Variety Arts Theatre (both play and theatre are now defunct). She's written two novels as well. Clearly, this lady is a writer.
Her new play is The Understudy and I do believe the appendage "promising" need no longer be applied to Ms. Rebeck and her work. She's fulfilled her promise; she's arrived. This backstage poke into the minds and hearts of two actors and a stage manager who are hard at work rehearsing the 'put-in' of a new understudy to one of the play's stars, is incisive, hilarious, surprising and satisfying. As played by Mark-Paul Gosselaar as the half baked hunky star of popular film trash, Justin Kirk as his very bright understudy who has star quality of his own, and Tony winning Julie White as the hysterical stage manager who's trying to get her two actors and an offstage stoned assistant through a runthrough that never quite happens.  The play Ms. Rebeck has come up with as the play within her play, is an adaptation of a Kafka tale that would seem to combine realism, expressionism, theatre-of-the-absurd, special effects, poetic naturalism, with a pinch of burlesque and a dash of satire.
What attracted Mr. Gosselaars' Jake to this particular play (clearly one motive was his need to prove to the public he could speak more eloquently than "Get into the truck!", which his understudy Harry claims is pretty much all he had to say in the movie that made him a star) is of no concern to Ms.Rebeck, nor should it be to us either. To further thicken her thin plot, she reveals that Harry and the Stage Manager Roxanne had been an item in an earlier time, and he's the last actor in town she'd have liked to see cast as understudy on a show she's stage managing.
But these three disparate people are stuck together for the 90 minutes it takes to tell this story, and we are the beneficiaries of their entanglements, confrontations and revelations.
Mr. Gosselaar is new to me (he's currently starring in the TNT hit drama Raising the Bar, but I haven't seen it.) Though less eccentric than his co-players, he's grounded and real as an actor who's just trying to ply his trade and stretch as much as possible.  Justin Kirk is still fighting weekly with Mary Louise Parker on Showtime's Weeds,  but he's also made his mark in Love! Valour! Compassison! and Old Wicked Songs as well as Mike Nichols' tv version of Tony Kushner's Angels in America. He's been tested, and he's passed with flying colors. He is an original, and to be cherished.  Ms. White knocked one out of the park two seasons ago in Douglas Carter Beane's The Little Dog Laughed off and on Broadway and was rewarded with the Tony Award and lots more for her efforts. Another original. She can get more mileage out of a funny line (or even one that's not so funny) than anyone on the current scene. Put them all together and you've got yourself a winner. Scott Ellis helped with his direction —  I suspect all he had to do with this talented trio was occasionally whisper, "Tone it down a bit. Less is more, you know."  The point is – his actors listened, and the results are delightful.
The Understudy continues thrugh Jan 17th at the Laura Pels Theater, 111 West 46th Street, Manhattan; (212) 719-1300. 
————
Eugene O'Neill was a young man when his The Emperor Jones began a five month run in New York in 1920, creating quite a stir with Charles Gilpin in the title role. Paul Robeson made a name for himself in a short revival run in 1925, and in the film version that followed in 1933.  Gilpin returned to the role in two short runs in 1926-27. It hasn't been seen in New York since.
The Irish Repertory Theatre has brought it back in a fine production under the direction of Ciaran O'Reilly. Mounted with music, masks, mist, choreography and a stunning performance in the title role by John Douglas Thompson, the play has been a hit for the IRT, and its run has been extended. It's a 70 minute howl of a play, dealing with the dark demons that many face as they inescapably run to their own deaths. O'Neill, haunted by the frightening ghosts in his own family, was riddled with guilt from the start. Aware that his own birth left his mother drug-addicted, that his brother was an alcoholic, that his father was a penny pinching artist who sold his soul for financial success, it's easy to conjecture that he would have been mad had he not had the theatre and the power of his pen with which  to relieve himself.
Jones begins with Brutus Jones enthroned as Emperor of a Caribbean island. He'd arrived there under mysterious circumstances, but we soon learn from Henry Smithers, the white cockney trader who runs the island under Jones' command, that Brutus had escaped from a Harlem murder he'd committed when he discovered someone using loaded dice in a crap game. When landing on the island, the natives had tried to kill him, but their shots misfired, and he was able to convince them he was killable only with a silver bullet, which to them made him godlike. For two years he's plundered and hidden his loot on Martinique, a nearby island. When Smithers tells him that his staff has deserted him, that they are moving into the mountains to prepare a revolution against him, he panics and invokes his "plan  B", which is to escape to the sea with a boat to take him to Martinique.  But first he must cross the jungle, and the rest of  the play has him running through the hot night, facing ghosts from his past, nightmares that torment, and finally his enemies who capture and shoot him.
O'Neill has said about his theme that "I have an innate feeling of exultance about tragedy, which comes from a great reverence for the Greek feeling for tragedy. The tragedy of Man is perhaps the most significant thing about him. What I am after is to get an audience to leave the theatre with an exultant feeling, from seeing somebody on the stage facing life, fighting against the eternal odds, not conquering, but perhaps inevitably being conquered."  Well!  That certainly happens to Brutus Jones.
If you don't subscribe to O'Neill's theory that we are all doomed and must ultimately come to the realization that we fail, then come to this play only to appreciate the scenic and lighting effects, the power of Mr. Thompson's performance, the effectiveness of the jungle drums and the dances that accompany them. I'm happy to have been exposed to this play which reveals more about O'Neill than about Brutus Jones. But it's not one to which I hope one day to return.
The Emperor Jones continues thru Dec 6th at the Irish Repertory, 132 West 22nd Street, NYC. (212) 727-2737.
———–
A short eulogy is in order for Neil Simon's Brighton Beach Memoirs for the unthinkable has happened. The revival of this great hit of 1983-86, considered one of Simon's most mature plays, and the planned revival of his other hit from the trilogy of his youth, the 1987-88 Broadway Bound folded its tent after just 8 performances in a run of just one week. The second play, planned to play in repertoire with the first, is not going to open at all. It was shut down in rehearsal. This must be a devastating blow to Mr. Simon, who was for 3 decades Broadway's most popular and prolific playwright.
I saw this production during one of its final previews, and it owed apologies to no one. Under David Cromer's (Our Town) careful direction and co-casting with Mr.Simon, the play, set in a September of the late 1930s was beautifully realized and without losing Simon's characteristic laughs, it gained poignancy by probing a bit more deeply. Certainly there was character in the writing all the time, and this production emitted a warm glowing light.
Laurie Metcalf and Jessica Hecht certainly captured the Brooklyn accents and attitudes of the period, and Noah Robbins, making his Broadway debut, was remarkably grounded and hilarious at the same time. Dennis Boutsikaris and a couple of youngsters rounded out the fine cast. The really sad part is that this serves as a clear signal that Broadway and its offspring Off Broadway have  changed dramatically in recent years. Plays can only prosper now with movie star names in them, or they must be new and startling, or protected by regional subscription.  Jude Law can fill a Broadway theatre, so can Daniel Craig and Hugh Jackman, so can Jeff Daniels and James Gandolfini plus two recognizable actresses, new musicals like Billy Elliot and In The Heights can find audiences looking for new material well executed, even without star names.  But revivals of straight plays would seem to be doomed. Even the "successful ones" need all the help they can get  — Jeremy Pivens did more to give box office life to last season's Speed-The-Plow than did Broadway vet Raul Esparza. Sienna Miller adds ticket sales to After Miss Julie, it's taken Catherine Zeta-Jones combined with Angela Lansbury to finally get Sondheim's A Little Night Music back to Broadway. But The Vigil, with fine reviews and a cast of two, is struggling even with a very low overhead. Tracy Letts' Superior Donuts, a light comedy which earned excellent notices, is holding its head up without a box office star, but is playing to far less than capacity.  Clearly,, the only way this fine Simon play could have lasted was if Julia Roberts or Meryl Streep or Emma Thompson had agreed to play Mrs. Jerome, and that is very very sad.  In the golden age, long gone, plays like Arsenic and old Lace, Tobacco Road, My Sister Eileen, Junior Miss, Janie, Harvey, Kiss and Tell, What a Life!, Deep are the Roots, musical revivals like The Merry Widow and No,No Nanette all enjoyed long and prosperous runs with lesser names or no names at all.
The problem here is that these two Simon comedies are not old enough to be considered classics from the past.  When they reach the age that Morning's at Seven and The Royal Family and You Can't Take It With You were when they returned to Broadway, they will be hailed again. Few of us may be around to witness it, but I'll wager they will show up in 20 or 30 years and be re-discovered.  At 82, I would expect Mr. Simon won't be available to enjoy that, but at least his heirs will bless him for the  fortune that will undoubtedly pour in when distance lends enchantment to these two fine plays and to his once revered name and box office power.
Brighton Beach Memoirs has closed. As of this writing, you could still view video clips from the production here.
————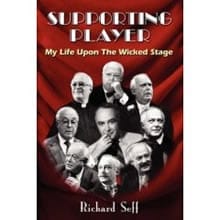 Richard Seff is author of Supporting Player: My Life Upon the Wicked Stage celebrating his lifetime on stage and behind the scenes, available through online booksellers, including Amazon.com.
Richard Seff chats with Joel Markowitz: