Nightingale with Lynn Redgrave and Finian's Rainbow
I'm going to a tiny town in Alabama called Florence for most of this coming week, so, with the exception of a column which you'll see tomorrow,  my next collection of comments and reviews will be a couple of weeks away.  There's a university in Florence, and a series of events have been arranged to celebrate the publication of a bio of Claude Rains called An Actor's Voice by David Skal.  I made my Broadway debut with the great man in Darkness at Noon and now I've been asked to read the Rains role 59 years later in a 60 minute version  of the Sidney Kingsley play. It's going to be very odd reading the scene in which I, as a teenager, betrayed his character nightly for over 500 performances on Broadway and on tour, now playing the recipient of the betrayal rather than its perpetrator. But we'll be signing books, Mr. Skal and I – he with his, and me with my Supporting Player, so I have to leave you for a while to look after one of my kids.  If anything interesting happens down there (other than that it's my first trip ever to Alabama) I'll keep you posted.  Meanwhile plan if you can to come north to catch Finian's Rainbow at the St. James Theatre.  See below for why.  And happy Thanksgiving to one and all.
—————
Lynn Redgrave, in her maturity, has the sort of face one can stare at for minutes and never grow bored, for it is capable of the most astonishing range when conveying thought and emotion. In Nightingale, the  80 minute monologue in which she's put down recollections of her maternal grandmother  Beatrice Kempson, a woman she hardly knew, she invites us on her exploratory journey to better know the woman.   In researching Kempson's life, and the memories Redgrave  had of her  when she was a child, she's managed to ferret out enough information to paint a vivid portrait of a Victorian matriarch of distinctive character and contradiction that made her memorable. In the course of her probe, she meanders into thoughts of Mrs. Kempson's siblings, of her own mother, the actress Rachel Kempson, both as a single actress of prominence and as Lady Redgrave during her long marriage to Michael Redgrave in her role as mother to Lynn and her siblings Vanessa and Corin.  She can touch us as well by brief reference to the recent death of her niece Natasha Richardson, the "bright light" of the family.
Some of her tales are amusing, some are moving, all are entertaining and all contribute to a total characterization of a woman forever frozen in her time.  Redgrave has been through an unhappy marriage that ended in divorce,  breast cancer and other ailments in her personal life that have left her looking remarkably radiant but evidently unable to stand through an 80 minute recital and she's more comfortable with a script on a table before her. But so what?  Clearly, she knows her material well, and she's even put the turning of a page of the script into a comment on whatever she's saying at the moment. I can't remember enjoying her work more onstage, so if an actress in her prime revealing much about herself and her kith and kin interests you, visit the Manhattan Theatre Club's Stage I in New York's City Center for a rewarding visit with a sparkling star.
Presented by the Manhattan Theater Club at City Center, Stage I, 131 West 55th Street, NYC. thru Dec 13.  Call (212) 581-1212.
————–
Oh joy!  Oh rapture! Spring has come to New York 5 months early, or at least so it seemed at the November 14th matinee this week of Finian's Rainbow at the St. James Theatre. It played last spring at Encore! for its proscribed 5 performances, then scrambled about for an angel to move it to Broadway for a run. It took until October but now the usual 25 or so producers (actually there are only 17) have put together the financing, and how lucky can we get? For this revival sparkles, shimmers and shines from the opening chords of its overture. Before I hear howls of protests from the odd naysayer, I will admit that the physical production looks like it was put together from odds and ends at a garage sale. A few trees left over from Into the Woods, a staircase made of grass that must have been an experiment that failed, what looks like a painted sky from any one of several musicals that closed out of town.
But in every other way, Finian's Rainbow has been staged and choreographed by Warren Carlyle with love and imagination. John Lee Beatty, the set's designer, who's proven himself many dozen times over the years, would seem to have been out of town when this one was put together. Or maybe there was just no money available to him. And wouldn't you know – the musical is set at "the meetin' place" in seven of its nine scenes, so we get to spend lots of time with  its sad leafless trees and strange grass staircase by final curtain.
But everything else – the lighting, the costumes (not much there required but designer Toni-Leslie James gives us an eyeful when the idle poor become the idle rich.,) and eureka!, the sound design (more on this later) all contribute to the best of support for a cast that's absolutely first rate from top to bottom. Kate Baldwin and Cheyenne Jackson are the most perfect romantic leads in a musical since – I think forever. Other ladies have the right to complain that it's not fair that Ms. Baldwin not only looks like ice cream, but her voice is clear and true, her body lithe and airborne when she dances, and her acting chops are in keeping with her other virtues. Cheyenne Jackson also has no right to be so handsome, musically blessed with a timbre that handles love songs and rousers with equal ease. He's not a dancer, but he sure looks like he's having fun when gives dancing a shot. Together they make you wish they'd become the Lunts of Musical Theatre.
But there's more. Jim Norton, top billed, is a revelation as the title character. His pixieish smile is the perfect front for the rest of his personality. He dances (I think it's called a jig) with great confidence and precision, he sings better than any septuagenarian character actor has a right to, and he takes center stage no matter where he happens to be standing. But no ham he, I paid particular notice when he was merely a bystander, and he knows how to listen as well. If they ever film Going My Way again, if they cast Mr. Norton, he's guaranteed an Oscar and they are guaranteed a hit.  But this season, he's the deserving darlin' of Broadway.
Right behind him is Christopher Fitzgerald who was one of the several acting high spots of the not so hot musical version of Mel Brooks' Young Frankenstein two seasons ago. His "Igor" in that was great fun. This time he is playing "Og", the leprechaun who fights becoming human because as he does so  he grows throughout  the evening and his pants become shorter and shorter. No fool he, he doesn't want to get arrested. Fitzgerald is what I  call a 'clean comic' actor. I mean in terms of his style of playing. He knows just how to put a button on a line reading or a physical action. In this show, he's called upon to do a bit of magic (chickens appear out of nowhere, flowers pop up all over the place, strange objects come rolling out of ears) and he pulls all that off with the aplomb and control of the best of the pros.  He can wrap himself around a song as well, and "Something Sort of Grandish" and "When I'm Not Near the Girl I Love" are delivered to us in ways that will set the standard for future productions.
It's almost an insult that we come to the authors last. For although the book by Fred Saidy and and Yip Harburg is pure fantasy, it's the sort of fantasy that takes you away from what's going on outside (even more now than it did in 1947 when it was first exposed to the public). And there are some zingers in it too, giving these left leaning writers a chance to have their say. The impossibly prejudiced southern Senator Hawkins is asked if he's ever read the Constitution, his reply: "No, I've never read it. I've been too busy defending it" is a lulu. There are others, so let's not knock the book, which is so easy to do, and which has been done a lot over the years, including this time out. But no I say, this is the sort of satire that in the twenties and thirties, when musical comedy was meant to entertain,  won Pulitzer Prizes (see Of Thee I Sing with its singing and dancing Supreme Court justices) and accommodates the magical music of Burton Lane and Yip Harburg. Remember melody? Well, give a listen to "Old Devil Moon" and "If This Isn't Love" as crooned, belted and show stopped by Cheyenne Jackson and Kate Baldwin.  Even the comedy numbers have tunes that help the lyrics.  I know what it's called. It's called "craft", even "art" and that's why I began my notice by welcoming an early spring. That's how it felt – refreshing and rejuvenating, as will any lovely afternoon in April or May.
I leave Scott Lehrer for last, because you know how annoying I've been this past year complaining about the over-amplification of almost every musical including the ones I really enjoyed. But whenever the sound design is done right I always seem to find the name "Scott Lehrer" as Sound Designer on the Playbill's title page. So my sincere thanks to this genius for delivering to us the orchestra and the cast with crystal clear sound and not a shrill upper register or an unintelligible choral number in the lot. Hooray and hallelujah, Broadway is Broadway again in the same theatre that housed Oklahoma!, Hello Dolly!, The Producers, The King and I. I wish Finian's Rainbow the kind of long and prosperous  run that these giants of musical theatre enjoyed.
Finian's Rainbow is at the St. James Theatre, 246 W 44th St, NYC. Call 800 432-7250. 
————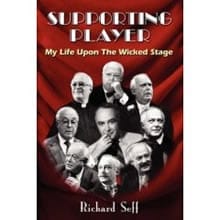 Richard Seff is author of Supporting Player: My Life Upon the Wicked Stage celebrating his lifetime on stage and behind the scenes, available through online booksellers, including Amazon.com.
Richard Seff chats with Joel Markowitz: