There is so much going on as the season gets rolling that I could be at the theatre eight times a week and still not be able to cover everything of interest. The L.O.R.T. (League of Regional Theatres) group in New York brings us at least 30-40 new plays, musicals and revivals each season. The Manhattan Theatre Club, Roundabout, Playwrights Horizons, Atlantic Theatre Company, the Vineyard, 2nd Stage, the Mint, the Pearl, Primary Stages, Encores! and many more continue to function (if not flourish) with the help of contributors, ticket buyers and endowments. The commercial Off-Broadway and Broadway producers bring us a dozen or two other attractions, but they can range from the never-ending Phantom of the Opera to Neil Simon's Brighton Beach Memoirs, which came and went in the course of one week in November. I don't know what all this means.
Certainly a large crop of playwrights have found homes in the regionals, so that most everything they write is exposed to us. For example, there is Sarah Ruhl, whose plays The Clean House, Dead Man's Cell Phone, Passion Play and others have premiered at Lincoln Center, Woolly Mammoth Theatre Company in DC, the Goodman in Chicago, Playwrights Horizons, and elsewhere.
Her new work, In the Next Room (or the vibrator play) has found stage space at the Lyceum on Broadway as part of Lincoln Center's fall-winter season. But that's the end of the good part.
Though Ms. Ruhl is exploring the sexual awakening of Victorian women (and now and then a man or two) via the invention of the vibrator (thanks to Thomas Edison and his newly available electricity), she has combined fact with fiction to offer us a misfiring comical play that leaves us more startled than informed or entertained. Ms. Ruhl's protagonist is one Dr. Givings who seems to enjoy serving his female (and occasional male) patients with a strong dose of the vibrator to calm their "hysteria", which is the diagnosis given for their mood swings, their inability to sleep, their lethargy and general malaise. Dr. Givings is played with gravitas by the always reliable Michael Cerveris, here given a mane of splendid brown hair, fitted to perfection by Broadway's master wigmaker Paul Huntley. Mr. Cerveris is resplendent.
Ms. Ruhl has given him a charming, bubbly bride, and she is played as an animated Maria von Trapp by the adorable Laura Benanti, most recently the Gypsy Rose Lee of last season's Gypsy. Ms. Benanti is steadily climbing the ladder to genuine stardom. At a ridiculously young age ( I believe she was 19) she understudied Rebecca Luker in the last Broadway revival of The Sound of Music and when Ms. Luker left the cast, Benanti filled the star role to everyone's delight and satisfaction. Her subsequent appearances in Gypsy, The Wedding Singer, Wonderful Town, A Little Night Music, other musicals and a play or two give every indication that this lovely beauty with the crystal clear light soprano voice is here to stay. It seemed to me though that under Les Waters' inconsistent direction,  she decided to play Mrs. Givings as though she was in a Silly Symphony cartoon. Broad gestures, eye popping reactions, double takes, the whole works – she does not seem to be in the same play as her husband, the good Doctor.  Only in the play's final moments, with her discovery of self, does she match Mr. Cerveris' more realistic approach to characterization, and in the midst of a Disneyesque fantasy garden with snow trimmed trees, celestial music, a starlit sky and falling snow, do the two of them blend in a perfect Jeanette and Nelson (that's MacDonald and Eddy for you younger readers)  finale as the curtain slowly falls.
Thomas Jay Ryan as the husband of another of the Dr.'s patients, Chandler Williams as a male patient who submits to the vibrator by leaving us no doubt as to his response, and the rest of the seven person cast keep things moving. In the Next Room is subtitled "The Vibrator Play" though it needn't have been. One viewing makes it clear that's what it is – a play about a Doctor who is obsessed with one thought – turn on the juice, and slam-bam-thank-you-ma'am, daily doses and you're cured. Next!
In the Next Room (or the vibrator play) continues thru Jan 10th at the Lyceum Theater, 149 West 45th Street, NYC. Call  (212) 239-6200.
———–
I've often written about the theatrical gems I've found in the most unlikely places – "theatres" which are no more than black boxes buried beneath the rubble of a ruin in Alphabet City, a room in an office building somewhere on the third floor, reached by a slow moving elevator that holds 4 at a time, a long forgotten playhouse so far west in Manhattan that if you took a wrong step you'd find yourself in the Hudson River.  But now and then, in a sparkling theatre complex like the one called New World Stages on West 50th Street just a block from the bustle of Broadway itself, I came a cropper with a well meaning mistake.
Alas, such is the case with Love Child , a two man romp written and performed by Daniel Jenkins and Robert Stanton. To get to the good part first, these two gents are engaging and talented comics. Robert Stanton in particular, has the kind of rubber legs on which the late Ray Bolger and Gil Lamb built careers, a tall goofy body which he twists and turns from butch football heroes to sassy Hispanic sex kittens and the talent with which to spew forth all sorts of dialects, attitudes, sound effects, most of which are delicious.
His co-star Daniel Jenkins is adept and works himself to a frenzy. But for the most part, the words they've written try so hard to be wild and woolly, their bodies which they throw about the stage with totally reckless abandon frantically seeking laughs fall far short of their goal so there are ominous silences from the house during long stretches of this 85 minute one-acter. Every now and then a well deserved howl of laughter shoots up from the house (keep your eye on a greasy spot onstage for many of them), but they are oases in a very dry desert of an afternoon's playing time.
What's it all about? Hard to tell, but I think the plot had something to do with  Daniel  (playing "Joel", an actor)  telling us we're about to see him in a play called Ion which is a free adaptation of a "long lost play of Euripides."  He takes us backstage with him to visit the four or five other actors and actresses in the cast, all of whom are played by Jenkins and Stanton. But wait, there's more. Joel's agent Ethel and her sister Kay are in the first row of the theatre and Kay is the sort of audience member who is every actor's nightmare. She munches on carrots, chokes, coughs, shouts her opinions directly to the actors onstage. Mr. Jenkins' approach to playing Kay is to shriek and scream and most of us found her more ear-shattering than side-splitting. I  can't share the plot with you, for I couldn't begin to follow it.
On the way home, on an MTA bus, a couple who'd been at the same performance felt they needed to explain to me how they'd chosen Love Child from all the various offerings about town.  "We'd heard that 2 actors play dozens of roles, so we thought it would be funny like The 39 Steps which we loved. But it wasn't," was their comment. I second that.
However, I tell you that in a previous limited run at 59 East 59th Street Theatre, under the auspices of Primary Stages, this two-character, no-scenery event had some excellent notices, based on which I can only assume that Martin Hummel' the producer' decided to move it to Stage 5 at New World. Messrs. Jenkins and Stanton have found work individually in the past in Mary Poppins, Big River, The Coast of Utopia and more. They've worked together too, and it was in one such engagement that they both noted "Alice" and "Kay" types out front, and decided to put them in a play. Learning and remembering the rush of dialogue the two pour forth is an achievement in itself. But I'm sorry to report I (and from the lack of laughter most of us) found it much ado about not much.
Love Child continues through Jan 3rd at New World Stages, 340 W 50th St, NYC.
————–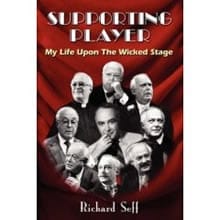 Richard Seff is author of Supporting Player: My Life Upon the Wicked Stage celebrating his lifetime on stage and behind the scenes, available through online booksellers, including Amazon.com.
Richard Seff chats with Joel Markowitz: