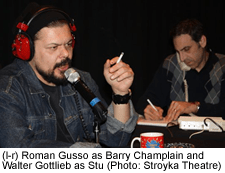 Over twenty years ago, Eric Bogosian rose to fame as both playwright and actor with the theatrical and film productions of Talk Radio.  The prospect of a new production raises two questions.  Is the script still timely and is a local actor up to the demanding challenge of playing the outrageous talk show host Barry Champlain?  Happily, the answer to both questions, in the Stroyka Theatre production,  is a definitive YES.
Barry Champlain (Roman Gusso) is the acerbic, often abusive host of a nightly talk show in Cleveland.  He gives cynical rants and takes calls from an odd ball assortment of callers (described as "nut jobs and psychos" along with the lonely and the desperate), who he cuts off whenever they bore or disgust him.  While chain-smoking and drinking whiskey from a coffee mug, he insults his callers  –  "narrow-minded bigot" or a "spineless, cowardly little baby"  – which his audience loves.
Barry's show is on the verge of national syndication, which only eggs him on to greater heights of danger on the tight wire of political incorrectness.  No one can control him, not his awed long-time producer Stu (Walter Gottlieb), Dan the Station Manager (Ed Silverstein), or his occasional girlfriend Linda (Kelly Manion).
Gusso gives a bravura, take-no-prisoners performance as the tormented Barry, portraying both the man's ego and self-loathing, and his compassion and malice – an inquisitor and a provocateur to his callers.
Background about Barry's life and character are supplied by the other radio station employees.  In general, they are a bland bunch, the actors unable to supply a strong subtext consistent with the feelings revealed through their  monologues.  Admittedly, these parts are woefully underwritten, which is understandable, given the play's genesis as a performance piece for Bogosion to play Barry.
The real entertainment comes from Barry's interaction with his numerous callers, whose voices are supplied by a talented off-stage quintet (Kiva Fecteau, Christina Marie Frank, Denys Petrov, Jack Wassell, and Gavin Whitt).  A welcome jolt of comedic energy comes from Denys Petrov as Kent, the stoner teenager whom Barry invites on as a guest.
Director Jennifer L. Gusso does a fine job of overseeing the technical demands of the show and coordinating the on-stage action with the off-stage vocal actors.   Some of the play's momentum is lost, though, by the decision to perform it with an intermission.
It is surprising how well the script has held up over time.  Even when the topics are a little dated (like Barry's mocking of  Reagan's "morning in America"), Bogosian's collection of disparate and forlorn callers paints a dark picture of society.
The heart of the play is Barry's psychological battle with himself.  Roman Gusso is absolutely riveting when giving Barry's final monologue revealing how much he needs the talk show.  Those last five minutes alone are worth trying to catch this show on this, its closing weekend.
Talk Radio
By Eric Bogosian
Directed by Jennifer L. Gusso
Produced by Stroyka Theatre
Reviewed by Steven McKnight
Talk Radio runs thru Feb 21, 2010.
For Details, Directions and Tickets, click here.