Shakespeare Theatre unveiled its plans for the 2010-2011 season, beginning with the announcement that the rarely produced Leonard Bernstein musical adaptation of the Voltaire classic, Candide, will become the first musical staged in Sidney Harman Hall, and will be done as a co-production with Chicago's Goodman Theatre under the directorial helm of Mary Zimmerman (Argonautia) (Nov 30 – Jan 2).

Shakespeare Theatre's Artistic Director, Michael Kahn, will direct All's Well That Ends Well (Sept 7 – Oct 24 in the Lansburgh).  Rebecca Bayla Taichman (Twelfth Night, Taming of the Shrew), directs the first ST production of Cymbeline (Jan 18 – Mar 6 in the Lansburgh). Next at Sidney Harman Hall, Patrick Page will play Shylock in The Merchant of Venice, directed by David Muse (Henry V) (Mar 18 – Apr 12). The history plays continue, this time with Enrico IV Luigi Pirandello's version of Henry IV, adapted by Tom Stoppard with Patrick Page playing Enrico (May 17 – July 3, Lansburgh). The season ends at Sidney Harman Hall Oscar Wilde's An Ideal Husband directed by Keith Baxter (Lady Windemere's Fan). (June 21 – July 24).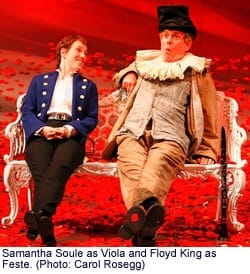 The popular Free For All which marks the opening of  every Shakespeare season, returns with a revival of ST's 2008 Twelfth Night, and, for the second year, will be presented at Sidney Harman Hall.
(Photo is from that 2008 production)