I am refreshed! Dan Moses Schrier and Gareth Owen may not be familiar names to you (they were not to me), but they are my new heroes. For they prove conclusively that musical theatre sound need not be forced upon an unsuspecting audience, and  that excellent design can greatly enhance without the slightest distortion or other diminution of quality. There isn't a lyric (and these lyrics are something special) in this lovely revival of A Little Night Music, Stephen Sondheim's masterpiece, that isn't crystal clear, filled with nuance. It was such a joy to hear laughter over a phrase, even over a word all through the bountiful evening. So a hearty thank you to sound designers Schrier and Owen.
The score is filled with delights, all of them waltzes! Imagine the nerve of its creator, to tackle an Ingmar Bergman film (Smiles of a Summer Night) with the help of librettist Hugh Wheeler and Hal Prince (the director of the original 1973 production) and to choose to write a dozen waltzes to musicalize it. From the first words of "Now" to the last ones of "The Miller's Son" we are in the presence of a composer who makes the new generation seem, for the most part, feeble. Listen to the best of the lot, the lyrics to Next to Normal and In The Heights, even Grey Gardens and face the facts. Sondheim stands alone, even among his peers, those from his own generation. And his work is not merely cerebral; it's funny and lyrical and profound on occasion. Actors revel in the roles he offers, so it's no wonder that the 20 or so producers it took to mount the show (outnumbering the actors who play it!) have been able to assemble a cast that dazzles. Starting with top billed Catherine Zeta-Jones, the film star proves her theatrical roots were deep and strong, for  though her voice is modest, her presence is enormous. She has the grace of a dancer, the charm of a coquette, the beauty of a film star, and best of all, she has a sense of humor. Younger and less wilted than the delightful Glynis Johns who created the role, she brings a more hoydenish, raffish quality to it, but it's equally fitting. And when it comes to her big number, "Send In The Clowns", she has the good sense to give resonance to each line, to each word; as a result she makes it entirely her own, and it's magical.
Her co-star Angela Lansbury's performance should be required viewing for any young actress. The lady, at 84, is in full command of herself, her co-players, and whenever she's on it, the stage is hers. The authors must have hoped for this effect, because her every appearance allows her to sit (she's wheelchair bound in the role) center stage and sock it to us. The others probably begged to be excused, for no one would have noticed them. Lansbury has the energy, the voice, the simple ability to make every syllable count, and boy does she know how to get a laugh on an exit.  The third star, less known to us on this side of  the Atlantic, is Alexander Hanson, who played his role "Frederick" in the London Chocolate Factory production two seasons ago, and we must be grateful he agreed  to play it again for us here in New York. He's the best "Frederick" I've seen and Len Cariou (in the original production) was no slouch. But Hanson has the looks, the voice, the ability to play the book scenes with equal alacrity and grace. His section of "Send In The Clowns" is as eloquent as is Ms. Zeta-Jones'.
For the rest, all excellent.  Young Hunter Ryan Herdlicka (now there's a name to light up a marquee!) here making his Broadway debut, is the perfect "Henrik", the ardent teenager who finally lands the love of his life (who happens to be his step-mother). Ramona Mallory, the recipient of his ardor, is delicious – saucy, provocative, adolescent, hysterical and ready for romance. Leigh Ann Larkin as "Petra" the all knowing maidservant, does more with the "The Miller's Son" than did D'Jamin Bartlett who was smashing in the role in 1972.  If ever a young artist knows how to "take the stage" it is Ms. Larkin.
The production is skimpy, and on occasion almost amateur. Actors play a scene in the garden, then must exit so other actors can enter and play their scene in the same spot. Walls keep turning, which keeps the servants busy, and the general visual effect is very summer stock.  As David Farley designed both scenery and costumes, and the costumes are fine, he must have taken his budget for both, and spent it all on the clothes. The scenery is the only element however that doesn't match all the other others in this splendid revival which hits a home run on book, music, lyrics, sound and performance. If you love musical theatre at its very best, be sure you see this one.
A Little Night Music is at the Walter Kerr Theatre, 219 W 48th St, NYC.
————
I'll be brief about the Encores! staged reading of Fanny for it has concluded its scheduled 6 performance run at City Center. Harold Rome, its composer-lyricist is under appreciated, and this is his most ravishing score. S.N.Behrman and Joshua Logan collaborated on a script that neatly embraces most of the good parts of the Marcel Pagnol film trilogy Marius, Fanny, César, and a young Mark Bruni, Encore's associate director making his debut in full command on this one, did  a fine job in staging. As the young lovers Fanny and Marius, Elena Shaddow and James Snyder are beautiful vocally and physically. As Marius' father Cesar and the recently widowed Panisse, vets George Hearn and Fred Applegate are the same. The always welcome Priscilla Lopez, on leave from In The Heights, fills the less demanding shoes of Honorine, Fanny's mother, with more than she's used to. The best sound designer in town, Scott Lehrer comes through once again with artistry, and this richly melodious score has never sounded better. Under the baton of  Rob Berman, the Encores! Orchestra played Harold Rome's varied and melodic score exquisitely. And with 31 instrumentalists giving it their considerable all, it was such a pleasure to have Broadway back as a class act. Fanny is rarely revived. One would hope that she would follow Finians's Rainbow and Chicago to Broadway, but in these perilous  financial times, that's not likely.
Fanny has closed.
————–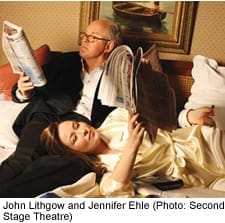 Douglas Carter Beane has given us many evenings of mirth these past 10 years. The Little Dog Laughed, As Bees In Honey Drown, the play and screenplay of Advice from a Caterpillar, the hilarious book to his adaptation of the film Xanadu, which is currently on tour.  All these and many more, so it was with great anticipation I sat me down to see his latest, a two character comedy called Mr. and Mrs. Fitch, which Scott Ellis directed for the 2nd Stage Theatre off Broadway.  It stars John Lithgow and Jennifer Ehle, both of whom have hit home runs in seasons past – he all the way back to The Changing Room through M.Butterfly, Sweet Smell of Succcess, Dirty Rotten Scoundrels and so many more. And Ms. Ehle recently delighted us in The Coast of Utopia, Design for Living, The Real Thing and a host of tv and feature films.   But when the Titanic sinks, it takes just about everyone with it, and in my opinion all of the above had to hit the lifeboats and will probably return home shaken, but alive.
For unlike Mr. Beane's other efforts, this time out he's trying so hard to become Oscar Wilde, Noel Coward and William Wycherly all rolled into one. I kept hoping someone would just once in the two acts say something simple like "My foot hurts, darling, Would you rub it?" But no, each and every line was convoluted and clever, the problem being that the words came from Mr. Beane, not from his characters, who spoke exactly alike. Scott Ellis caught the same fever, and the two stars rattled along at an alarming pace, never taking time even to listen to one another. One wanted to shout, "Stop! Feel something, or at least pretend to feel something. You're babbling, and you're not talking like anyone I've ever heard talk." In an effort to keep things lively, both actors took to shouting a good deal.   No, this time out, Douglas Beane managed to create two irritating characters babbling much ado about nothing.
It seems Mr. Lithgow's "Mr. Fitch," a gossip columnist who'd rather be doing something more important, mentioned the presence of a celebrity at a posh party he'd just attended; unfortunately said celebrity had gone to his reward the day before, and Mr. Fitch's editor is hopping mad. To try to get out of hot water, he and Mrs. Fitch (who seems  to be his collaborator or at least his muse) create a character of their own and that whole scheme falls apart but somehow, as can happen only in a Beane comic vehicle, I do believe the Fitches triumphed in the end.
Second Stage has given us so many lovely premieres and new interpretations of  America's best contemporary theatre, including Edward Albee's Tiny Alice, the musical 25th Annual Putnam County Spelling Bee, This Is Our Youth, Stephen Sondheim's Saturday Night and Next to Normal, last season's Tony Winner for Best Musical. So I'm ready to chalk this up as a well intentioned slip. Beane is entitled to a production, but this Fitch couple adds no feather to his well feathered cap.
Mr, and Mrs. Fitch plays thru April 4th at Second Stage Theatre, 305 W. 43rd St, NYC.