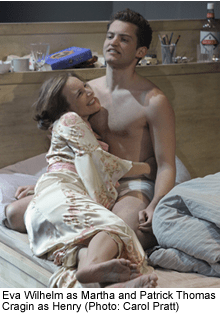 Oh, those English boarding school girls—they are such scamps, hazing a hapless 13-year-old student (Angela Welchbrodt) in an S&M ritual that involves a torture hood, restraints and a too-liberal dose of Mummy's Valium, and in their off-hours tramping around and boozing it up with their peers.
The privileged kidlets are Pollyannas compared to the adults in Polly Stenham's gob-busting play That Face, premiering at Studio Theatre's 2ndStage under the razor-sharp direction of Rahaleh Nassri.
The back story of this 2007 British play is as striking as the work itself. Miss Stenham wrote That Face at the tender age of 19, and while the play is youthful—all extremes headlined in black-and-white—the playwright shows a skillful command of dialogue and dramatic tension, since you don't know until the very end which characters are the most screwed up and which ones will probably muddle through and survive.
Echoes of Edward Albee and Tennessee Williams resound throughout That Face, but the explosive mixture of stark humor and casual dysfunction is the playwright's own. The mother Martha (Eva Wilhelm)—perhaps a tongue-in-cheek reference to Mr. Albee's boozy harridan in "Who's Afraid of Virginia Woolf"—is Blanche Du Bois poshed up on Sloane Street with a little bit of the haughty lush Patsy from "Absolutely Fabulous" thrown in for good measure.
The negligee-clad Martha spends her days in bed—swigging vodka (a really cheap brand, would someone supposedly that refined stoop that low?) and popping pills and oh yes, indulging in a creepily touchy-feely and manipulative relationship with her teenage son Henry (Patrick Tomas Cragin). He has appointed himself her caretaker, but it is soon apparent the confused Henry is way out of his league with the crafty, diva-like dysfunction of Martha.
Their Oedipal idyll is interrupted by a strained family reunion.  Martha's daughter Mia (Dana Levanovsky) is tossed out of boarding school for the violent hazing incident mentioned above and the absentee father Hugh (Will Cooke) has to fly in from Hong Kong and fling some money around to set things right.
When Hugh walks into the Martha's flat to find his wife on a major bender and his son standing on her bed in a girl's frock and pearls, you know it is not going to be a cozy gathering of the clan. Shocking as this scene is, Miss Stenham goes beyond provocation to devise a visceral game of cat-and-mouse to see who ultimately holds the power in the family.
Studio's production of That Face features muscular acting from the troupe, in particular Miss Wilhelm's spectacularly messy and controlling Martha, who shows traces of the droll wit and insight of her former self, and Mr. Cragin's blistering portrait of the unfinished Henry. Zehra Fazal has a salient turn as the alpha female at Mia's school.
That Face isn't pretty, but is instead a startling look into rich, ruined children forced to raise their monstrous parents.
That Face
by Polly Stenham
directed by Rahaleh Nassri
produced by Studio Theatre 2ndStage
reviewed by Jayne Blanchard
That Face is scheduled to close March 14, 2010.
For details, directions and tickets, click here.