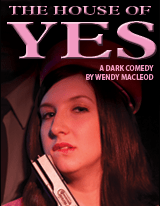 Looking for a legal acid trip? Come see The House of Yes, blowing through Frederick, MD for one more week. Presented with no intermission, the 90 minute production clipped along with nary a pause, featuring pithy dialogue and a twisted plot. The talented cast explored the strangely intimate ties that bind the estranged, and how an outsider can become deeply entangled in the mess.
The action revolves around the wealthy Pascal family in the 1980s, living across the street from one of the Kennedy's many mansions. Blasé mommy, daughter Jackie-O, and eccentric son Anthony are all eagerly awaiting the prodigal son Marty's arrival for Thanksgiving dinner. Unbeknownst to Jackie-O (recently home from a stint in the mental hospital), her dear twin brother is bringing home a fiancee, Lesly…and that doesn't make anyone happy. Everyone knows that Marty belongs to Jackie, don't they? Don't they?
Mrs. Pascal is played with marvelous aplomb by Karen Paone. Every word from her martini-laden mouth is laced with droll disdain. She has a gift for deadpan delivery and every entrance is made with comedic purpose. She also has the most memorable and nonsensical lines in the play…"Raise? People raise cattle. Children just happen", and "If you go there, it becomes here."
Jackie-O (Amber Dawn Levow) makes a strangely fetching, mad heroine. Her obsession with JFK's assassination is a key plot point, and Levow is a study in contrasts as an uptight, spoiled WASP and a seductive and sly sex kitten. Of course, the object of her desire is her own brother, which makes for a slightly repulsive story, but it's certainly entertaining.
Matt Baughman's Marty is ridiculously likeable in spite of the circumstances, with natural demeanor and body language reminiscent of a live wire. It's perfect for his character…Marty is someone trying urgently to escape his sordid past and live a normal life, always charged with energy, humor, and a hint of desperation. Baughman is dryly witty at first, gently nuanced as the conflicts come into play, and later compellingly bare as he clings to a shred of normalcy.
Anthony (Will Emory) is the youngest of the Pascals, handsome but slightly goofy, always left out of the exceedingly close twinship of his siblings. He's different from the others…not indifferent or in his cups like mom, criminally insane like sister or conflicted like Marty. He's not lusting after anyone except his brother's fiancee, and he does it with single-minded, awkward devotion. Emory is effectively charming as well as disturbing in this role.
Rebecca Goldstein as giggling, hapless fiancee Lesly has some nice moments in her private exchanges with Jackie-O, Anthony, and Marty, but fades into the background when in a group.
All of the performers worked tremendously well together, building plausible familial relationships in a relatively short amount of time. Director Gene Fouche does a wonderful job creating pretty tableaus with her actors. There's constant motion, sexual situation without gratuitous vulgarity, and excellent pace.
The space is unique and inviting, with a great little black box theatre on the lower level. On the night I was there, only twenty people were in attendance, which was both a good and a bad thing. Bad because the play, while not everyone's cup of tea, was very well executed and terrifically acted, and good because only half the seats in the house were acceptable. It's a small space with an unfortunately placed pillar in the center of the audience space. Even the best blocking couldn't change the poor sight lines from various places in the back, and this was some darned good blocking.
The skewed, multi-dimensional set (Ira Domser) showcased two living areas and was admirably done with richly hued walls, and elaborately painted floors to resemble hardwood and rugs. James McGarvey gave just enough care to the set dressing to make it feel like a genuine, moneyed, slightly off kilter home. Beautiful sound (Kevin Lloyd) and lighting (Jenifer Dobbins) design enhanced the authenticity of the too close for comfort atmosphere. Ashley Hall's costumes were apt and fun, especially Lesly's "Dynasty" knock off when she dresses for dinner.
The walls were constantly bathed in a wistful lowlight amidst the sounds of the hammering rain and howling wind from the hurricane converging on McLean, Virginia. Even the pre-show "trance" music indicates what you're in for, a sojourn to the twilight zone. There was a concerted effort to skewer depth perception and prepare the audience for the bizarre tale about to unfold, and it was noticed and appreciated.
It's a dark, delightfully creepy little play that will greatly appeal to the avant-garde theatregoer looking for something delicious.
The House of Yes
by Wendy Macleod
directed by Gene Fouche
produced by MET (Maryland Ensemble Theatre)
reviewed by McCall Noelle Doyle
The House of Yes runs through March 6, 2010 at the Maryland Ensemble Theatre, 31 W. Patrick St, Frederick, MD.  Click here for directions.