Believe it or not, I have a friend who had never seen Phantom of the Opera at the Majestic on Broadway or anywhere else, for that matter. So, as I hadn't seen it in 20 years, I accompanied him on a recent Thursday evening.
I'm sure you've seen it, or for whatever reason have vowed not to – ever – but I can't resist reporting that I was stunned at the remarkable condition it's in as it enters its – get this – 23rd consecutive year.
With all due and proper respect for the gifted Michael Crawford, Sarah Brightman and Steve Barton who created the three central roles, the current trio playing them now is absolutely first rate. John Cudia, Jennifer Hope Wills and Ryan Silverman playing the Phantom, Christine Daaé and Raoul are absolutely sensational.
Just as  remarkable is the quality of the work of the rest of the company, which includes  the unique George Lee Andrews, STILL playing Monsieur Andre, the co-manager of the opera company around which this tale unfolds.
The multi-Tony Award winning director Hal Prince is known to visit regularly and it shows. I talked briefly with Andrews after the show, and he, the consummate professional, still thoroughly enjoys his job and that joy clearly shines throughout the evening. His bio tells us that he is now in the Guinness Book of Records as the longest running actor ever in a Broadway show. That in itself is an achievement of some magnitude. Perhaps even more startling is that his performance is alive and fresh.
The Majestic was closed for a week some months ago so the sound system could be re-rigged, and it was such a pleasure to hear Andrew Lloyd Webber's luscious non-stop score and Charles Hart's appropriately operetta-ish lyrics delivered with clarity and, when needed, nuance and subtlety. A grateful Thursday night audience roared its approval, and it looks like the tag "Now and Forever" must now be taken from another Lloyd-Webber musical (Cats, which ran a mere 18 years) and passed on to its younger sibling, this marvelous Phantom.
For those of you who like to equivocate about what to see on your next venture to Broadway, hesitate no longer – pick up seats at the Majestic. You're in for a major theatergoing treat.
The Phantom of the Opera plays at the Majestic Theatre, 247 W 44th St, NYC.
————-
I've known John Kander and Fred Ebb since before they knew each other. When I introduced Ebb to Kander's work at a Wednesday matinée of A Family Affair (written with James and William Goldman) back in March of 1962, Ebb's only produced work, Morning Sun (written with Paul Klein), had not yet opened. When it did, in 1963  at the Phoenix Theatre, it failed. I represented Kander and Ebb individually and as a team as agent during that twenty year slice of my life. Tommy Valando was their publisher, and it was in his office that they finally met face to face. Their decision to work together came about because the collaborators on their first projects had moved on, Klein to the world of business, the Goldman brothers to major careers as novelists, playwrights, librettists and screen writers (i.e. Butch Cassidy and the Sundance Kid, The Lion in Winter, Marathon Man, Follies). Kander and Ebb's first collaboration was on an original musical book by Richard Morris called Golden Gate. It was never produced. But its score was so solid, it attracted producer Hal Prince enough to offer them his next project, which was Flora, the Red Menace. It failed, but Prince had faith in them and the day that Flora opened, he had them assigned to what would turn out to be Cabaret, which was a smash hit, and finally, after 10 years of struggle, their landmark collaboration was launched  It's now sixty six years since that first opening night, and their final collaboration opened March 11th at the Vineyard Theatre off/Broadway.
Fred Ebb passed away in 2004, and left behind four completed, or almost completed musical theatre pieces. One, Over and Over, based on Thornton Wilder's The Skin of our Teeth, has played stock and regional productions,[Signature Theatre produced it in 1999] but has yet to find a New York management. Curtains enjoyed a year's run on Broadway after a successful tryout at the Ahmanson in Los Angeles. The Visit was well received at the Goodman in Chicago, and at Signature Theatre in Washington, both starring Chita Rivera. John McMartin co-starred in Chicago, George Hearn played the role in D.C.  It has yet to be seen in New York.
The final collaboration of this remarkable team of song writers is The Scottsboro Boys, written with a book by  David Thompson and input from director/choreographer Susan Stroman. It's now playing in New York and is a fitting conclusion to a lifetime of high quality work ranging from the looney tune showbiz life of Curtains through the merry makings of the septuagenarians in 70, Girls, 70 to the unrequited love story in The Happy Time. Their range was stupendous, continuing with the flavors of Bauhaus Germany in the pre-Hitler Cabaret, the mountains of Greece in Zorba , the smell of greasepaint in The Act and on and on.  Steel Pier took us to Atlantic City during the dance marathon years of the 1930s to Chicago, set in the dingier side of the 1920s in that toddlin' town, to an Argentine prison where two disparate characters learn much from each other while sharing a cell.
Clearly, this team could take most any material and make an interesting musical of it. What's most remarkable about them is their fierce loyalty to each other, and as rare, the continuing quality of their writing, whether erring now and then on choosing suitable source material or turning unlikely material into magic by their imagination and their boundless talents.  In their generation, the most prominent colleagues like Jerry Bock and Sheldon Harnick separated years ago, Jerry Herman withdrew because he felt musical theatre had evolved into something he no longer enjoyed. Sadly, he felt his time had come and gone. Harold Rome and Maury Yeston were heard from only sporadically.  Jones and Schmidt are hardly heard from, Jerry Ross and Richard Adler were separated by the death of Ross. Even Meredith Willson stopped writing long before he died. The generation of titans that preceded them, men like Richard Rodgers, Alan J. Lerner, Jule Styne, even Cole Porter and Noel Coward may have stayed too long at the fair. For though they continued to write for theatre until they could no longer hold a pen, they all seemed tired and written out toward the end. Rex, Two by Two, I Remember Mama, Lolita, Dance a Little Closer,  Silk Stockings, Sail Away, The Red Shoes are not the best examples of the work of these masters.
Scottsboro finds Kander and Ebb at the top of their form, successfully trying to turn one of the ugliest incidents in American history into entertainment. Nine young black men, one as young as 13, riding a freight train en route to Memphis in search of work, are stopped  in Alabama and  falsely accused of rape by two white women. Their story is here presented in the form of a minstrel show, complete with interlocutor (played with great charm and gusto by John Cullum) and end men "Mr. Bones" (Colman Domingo strong and scary) and "Mr. Tambo" (Forrest McClendon – burlesque comic funny, and scary) and a company of players who double and triple. Brandon Victor Dixon plays "Haywood Patterson", one of the accused, and one of the most moving.  His "You Can't Do Me" is an anthem of great power and Dixon makes it his entry into the big time. He is powerful. Kander's tunes range from cakewalk to comic riffs to folk ballads to militant show tunes. The contrast between theme and execution is what makes theatre spine-tingling, and musicals can hit us in ways that plays never can. The Scottsboro Boys joins Chicago and Cabaret as a trio of masterworks that will live on to entertain future generations while they bring to life some prime examples of man's inhumanity to man.  I hope this musical finds the audience its predecessors did, for anyone interested in musical theatre must see this last hurrah from the gifted pens of this most cherished team.
The Scottsboro Boys, playing thru April 18, 2010 at The Vinyard Theatre, has completely sold out its run.
————
Jon Marans' play The Temperamentals is back in New York, now at the New World Stages complex of off Broadway theatres on West 50th Street. It boasts the same perfect ensemble cast headed by Thomas Jay Ryan and Michael Urie as Harry Hay and Rudi Gernreisch, with only one replacement – Arnie Burton, late of The 39 Steps replacing the excellent Tom Beckett as Chuck Rowland and others. This story of the founding of the Mattachine Society, the first militant gay organization fighting for gay rights, is an interesting one and Jon Marans has brought it to vivid life in his freeform two act play set in the early 1950s at various locations around Los Angeles.
I recommended it highly in my July 29th posting in this column, so I won't go on at length about it here, but if you missed that, treat yourself to a rich evening of interesting characters living in a time when only rare birds had the courage of their convictions, and acted on them. I thought then and do now that Jonathan Silverstein had staged the play well, and though it's played in the most skeletal of settings, he's managed to keep the focus on all the nuance in the playing and the writing. Michael Urie shows how good he is – for there are elements of his "Mark" (from the series "Ugly Betty") in "Gernreish" but they are very different gents in many ways, and he's been resourceful in finding and presenting those differences with clarity.  Burton, the new man in the cast, is equally adept at playing one of the camp followers as well as the famous director Vincente Minnelli. Again, two very different characters and if it weren't for Mr. Burton's distinctive and very sharp nose, one might easily think two actors were playing them. After his great success last season playing some two dozen characters in The 39 Steps, if anyone is thinking of putting together a repertory company, I'd start with Burton. You might not need to hire anyone else.
The Temperamentals plays at Stage 5 of New World Stages, 340 W 50th St, NYC.
————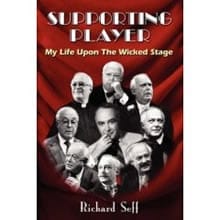 Richard Seff is author of Supporting Player: My Life Upon the Wicked Stage celebrating his lifetime on stage and behind the scenes, available through online booksellers, including Amazon.com.
Richard Seff chats with Joel Markowitz: