It's spring and Dame Edna Everage came back to Broadway carrying Michael Feinstein along with her, in a revue called All About Me. The two are an odd couple.
He – small, trim, attractive,  splendidly singing the best of the American Song Book which takes him from the 1930s to somewhere in the early 70s; she – plump, lavender wigged, eyelashes to here, baubles bangles and beads to there, croaking home-made songs and some of the pop things that have appeared right up to today. Her tongue is wicked and spares no one – he is gentle and huggable, with a powerful set of pipes and an unerring sense of rhythm that makes him a pleasure to listen to. They are sort of better off on their own than they are together, but under the pretext that they have no use for each other, they manage by final curtain to accommodate each other's very different styles of entertainment, and when they throw Edna's gladioli out into the orchestra and up to the boxes, the house is on its feet having had  a fine old time.
Feinstein begins the evening in the grand tradition of the old variety shows on tv. Think Andy Williams, Perry Como, Dean Martin, Sinatra himself – then add the particular musicality that Feinstein brings to each song– and he's got us in the palm of his hands as he belts out "Strike Up The Band" and a fistful of other standards from the golden age. From time to time he accompanies himself on the huge white grand piano, now and then he allows the orchestra, under Rob Bowman's baton, to support him with panache.  Eventually the Dame herself arrives in full regalia to apologize for being late, and thanking him for keeping the curtain up until she showed up.  When he refuses to leave, she has her two henchmen (who double as a dancing duet) literally carry him off, lock him in a closet, and when he escapes, lock him up again. Then the Dame takes over, and for half an hour she works the audience to a frazzle, getting huge laughs at the expense of two ladies in the third row (different victims at each performance). You have to be there to see how much mileage this incredible character (and her creator Barry Humphries who is buried somewhere inside her) get out of simple words like "New Jersey?" and "Your house is a home?" and "It's red brick?"
All About Me is presented in one act lasting ninety minutes. Its only problems lie somewhere past the middle and before the final moments, when an attempt is made to turn two soloists into a duet. The highlight of this twenty-minute section is a show stopping number by Kander and Ebb called "And the World  Goes Round" and it's performed not by one of the gifted stars, but by Jodi Capless, who plays their Stage Manager. She's supposed to be filling in while the stars change clothes for the finale, but one can't help noticing that the bright spot of the second half of the show belongs to a supporting player (a very good one too; Ms. Capless is equally affective in handling the stars in a section of the book). I'm quibbling a bit because Ms. Capless makes a smashing fill-in, but I don't mean she steals the whole show. It speaks well of  Dame Edna and Mr. Feinstein that they allow her number to remain, and they do indeed pick up the pieces when they return with the very funny and heartwarming "The Gladdy Song" which sends us out in a rare and festive mood.  Not for kiddies (some of the humor is not kindly and might warp an impressionable young mind) but a melodious and funny variety show to help us forget the ridiculous world outside for 90 minutes, of which about 75 are the tops in town.
All About Me closed March 29, 2010. 
————-
It's doom and gloom over at the Mitzi Newhouse underneath the Beaumont Theatre at Lincoln Center. An import from the United Kingdom, first from Australia, then from London's Almeida Theatre, Andrew Bovell's play is When the Rain Stops Falling. Most appropriately I saw it at a matinee during the 4 day nor'easter that kept New York inundated with rain and wind and monstrous black clouds. Even more astonishing was that the final line of the play is "The rain has stopped falling,"  spoken at just about the time we were leaving the theatre to find our own rain had ceased.
Covering eighty years, four generations of two families, this play manages to keep the audience at a distance despite the eloquence of its language and the beauty of its performances. It begins in 2023 as Michael Siberry ("Gabriel York") is discovered living in isolation on the southern shore of Australia, awaiting the arrival of his son Andrew whom he has not seen since the boy was seven, at which time York abandoned his family.  The play bounces about, taking us to 1959, where the story begins, into other decades to let us know, by stripping away layers, what secrets and demons are finding homes with these two very unhappy families.
To be truthful, I never did quite figure things out properly. The son coming to visit Gabriel York at the play's climax is called Andrew Price and a small collection of us were still arguing as we retrieved our winter coats from the lockers that Lincoln Center provided, arguing about how he got to be "Price" when his father, the one who'd abandoned him when he was seven, was called "York". I'm certain it's in the play, but  after two hours with no intermission, we just couldn't' come to agreement on that. Please note that the play covers 80 years with two families and it's not a story told chronologically, so I had a devil of a time figuring out where and when we were until a scene was half over. Coupling all this with one family that features abandonment and alcoholism and another in which a young Gabrielle loses both her parents, and you have a very depressing experience ahead of you. There are lots of coincidences and recurring phrases and bits of dialogue. I was so busy trying to figure out who was related to who that frankly I lost interest in following their plot lines.
Yet to my surprise I found myself moved in the coda to the play, when all the characters gather at the dining table to tie things up as bits of memorabilia are withdrawn from an old sack and given to the young Andrew Price so that he may keep his family alive in the years to come.  That is, if he can do better than I at piecing the pieces together.  Remember, it's been raining for 80 years, and during that time the world has come perilously closer and closer to natural disaster and self destruction. I think Mr. Bovell has little hope for a third act rescue, but perhaps the young Andrew Price can find a way to begin to turn things around.
David Cromer, who dealt beautifully last year as director of the successful Our Town revival, has cast some old favorites such as Mary Beth Hurt (as  the older Elizabeth Law) and Victoria Clark (as the older Gabrielle York) and six other actors who were new to me, all of whom play with conviction and truth. But I don't think an audience that is as puzzled as was my little group should be left unraveling the tangled web of a plot at play's end. The Laws and the Yorks, entangled with each other through the decades, left me out in the rain, and it did not stop falling till the play's final moment. Not soon enough.
When the Rain Stops Falling continues at the  Lincoln Center Mitzi E. Newhouse, 150 W 65th St, NYC.  
————-
MCC Theatre Company has brought us The Pride, a new play by young playwright Alexi Kaye Campbell. First seen in November 2008 at the Royal Court in London, we now have our own production, this one directed by Joe Mantello, but with a British cast featuring Hugh Dancy and Ben Whishaw, two up and coming actors who've made their marks already. Dancy attracted attention on Broadway last season in Journey's End; Whishaw's career advanced with his work as John Keats in the film Bright Star. They are supported here by Andrea Riseborough and Adam James, both active in London theatre and film.
The Pride is Alexi Campbell's first play and it's finely wrought. It lists "Philip, Sylvia and Oliver" as three distinctly different characters played by the same three actors in two different time settings (1958 and 2008),  in concurrently running plots involving two London men who love each other and the woman: Sylvia, the wife of a staggeringly repressed Philip and the other is the girlfriend who is there to ease Oliver through his despair when Philip leaves him for a time. Campbell compares the agony of mid-20th century game playing as opposed to the agony of the much freer current climate, suggesting that in both periods, in all periods, facing oneself, liking oneself, making 'gay pride' more than a slogan, is  the only hope for a chance at happiness. The option of freedom has been offered; it's not taken up by all by any means. The mid-fifties sequences are more moving somehow, perhaps because so much of what happens there is subtextual and the scenes where probing must be done in an artful and circuitous manner engage us more than the 'in your face' ways of  our current time.
But Whishaw, Dancy and Riseborough play them all superbly and are well supported by Adam James who drops in now and then when needed to play other characters.  The Pride is in the commodious Lucille Lortel theatre on Christopher Street in Greenwich Village, a fitting home for this adventurous play about pre and post Stonewall attitudes toward same sex partnerships.
Everyone in this play (these plays) is complex, unpredictable and human. In other words, ripe to become people in a play.  And their playwright has captured them, and  these actors bring them to vivid life, for our enjoyment.
The Pride closed March 28, 2010.
—————-
I somehow avoided T.S.Eliot's The Cocktail Party during its entire 405 performance run on Broadway in 1950  and again during its brief run in repertory at the APA  Phoenix in 1968. Both productions featured starry casts, the first with Alec Guinness, Cathleen Nesbitt and Irene Worth, the second with Brian Bedford, Nancy Walker and Frances Sternhagen. The play had won the Nobel Prize for Literature and was the carriage trade play of the 1950 season. But something told me it would irritate me, so I stayed away. Now it's popped up again, in a rare revival at The Actors Company Theatre (TACT) and I decided to give it a shot because my introduction to this company earlier this season with The Late Christopher Bean was so memorable. That earlier play by Sidney Howard was so brilliantly cast and staged it came to life as though it were newborn.
The actors this time out certainly did not let us down. An amazing almost all-American cast topped by Simon Jones (the one Brit), Cynthia Harris and Jack Koenig played this quintessentially British play as though they were born to it. Eliot's play begins well enough – a group of very chic people are assembled in the home of Edward Chamberlayne chatting away about this and that  in the presence of an uninvited guest whose name is not revealed to us. Chamberlayne's wife Lavinia is absent, supposedly visiting her sick aunt, which is convenient as Edward is having an affair with one of his guests, Celia Coplestone. When all the guests have left, the uninvited guest, knowing that Lavinia is not visiting her aunt at all, but has fled the marriage, offers Edward advice. In the second act he turns out to be Sir Henry Harcourt-Reilly (do not these characters begin to sound like folks in a spoof on "Saturday Night Live"?), a psychiatrist whose methods are not quite kosher.
Bless the actors for plowing ahead as though the play had great relevance, wisdom and importance. Jack Koenig and Lauren English (well named!) very nearly catch us up with the tremendous force of their performances even though we are never certain whether they are arguing about love, philosophy, religion or other abstracts. The play had people bamboozled at Henry Miller's Theatre when first produced in New York. It's difficult to imagine Sir Alec Guinness and his fellow players  managing to spout this beautifully worded but vacuous play  over a year's run, and indeed they did not have to. All of them fled (perhaps by demand of Actors' Equity which allowed them only a token visit, or perhaps because almost three hours of thinly disguised huffing and puffing is tough to do eight times a week) and were replaced by a B-list group of stars willing to take on their chores. Of this production, some of us tried to decipher the play as we wended our weary ways home but all we could come up with was that it was talkative and tedious. I've just learned that the run at the tiny Beckett Theatre on 42nd Street, where it is playing, has been extended another week as it seems to be drawing the curious, myself included, to see whether this time out the Emperor is actually wearing new clothes. But alas and alack, I still see him naked as a grape and offer you fair warning that this production is strictly for the curious.
The Cocktail Party is playing through April 17, 2010 at the Beckett Theatre, 410 W 42nd St, NYC. 
—————–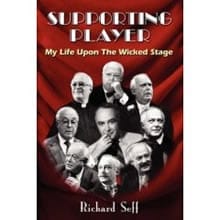 Richard Seff is author of Supporting Player: My Life Upon the Wicked Stage celebrating his lifetime on stage and behind the scenes, available through online booksellers, including Amazon.com.
Richard Seff chats with Joel Markowitz: