In June 2009, I reported that Next Fall, a play by Geoffrey Nauffts, had arrived in town and was playing a limited run  Off-Broadway courtesy of the Naked Angels company, of which Nauffts is now artistic director. But no nepotism here.  This lovely play deserved production and it went so well last summer it was picked up by Elton John and his partner David Furnish, who wanted  to transfer it,
to expose it to a larger audience. So here it is, now ensconced at the comfortable Helen Hayes Theatre, Broadway's smallest venue (just under 600 seats). Sheryl Kaller the director has wisely left the play alone in its transfer, retaining the same first rate cast of experienced but non-star actors to breathe exciting life into it. Messrs. John and Furnish have assembled a dozen or more colleagues to put together the pennies necessary to mount and promote the play, and I'd like to fling my hat in the air to welcome this beautifully wrought first play by a writer who'd been known to us only as an actor for the past quarter century.
On second viewing, the writing is what's most astonishing about the piece. For in scene after scene, Nauffts gives us all viewpoints, makes no judgments, tackles the meat and viscera hiding beneath the skin and bones of the material. A tale of two lovers – both men, one Christian and one atheist – and those closest to them both, it unravels slowly as it works its way backwards from a hospital scene in which one of them is in intensive care after an auto crash that has left him in a coma. We meet his parents, his best friend, his lover and the woman who is a close friend to them both. Filled with the laughter that can come from the mixing of disparate viewpoints, the play also brings tears several times as long hidden truths are unburied and exposed to us. "Next Fall" refers to the coming autumn when Luke (the Christian young man) had planned to come out to his homophobic father, but one of Nauffts' theories is that those plans should never be made, for they gang aft agley.
Next Fall is another of this season's major achievements. Patrick Breen and Patrick Heusinger as the lovers, Connie Ray and Cotter Smith as the parents, Maddie Corman as the girl friend, Sean Dugan as the ex-lover are so perfectly at home in their characters' skins that  I wouldn't want to see anyone else play them. But in this case, the play's the thing, and I'm certain it will work whenever it's fortunate enough to find actors of the current caliber to present it.  I hope it's around until next fall, and beyond.
Next Fall continues at the Helen Hayes Theater, 240 West 44th St, NYC.
————–
Now comes Come Fly Away at the Marquis on Broadway. The curtain rises on a big band in a fancy night club (that's what they used to call cabarets) for Twyla Tharp's dance musical, set to 37 Frank Sinatra singles, all re-mastered and in vibrant condition.  As the overture blares, customers arrive at the club in ones and twos, sashaying down a grand staircase, looking for action. There's something in the air – something like "fasten your seat belts, it's going to be a groovy night."  And groovy it turns out to be – not "cool" or "hot", or "totally awesome"; no, this show is set in the forties, fifties, sixties, in there somewhere when Frank Sinatra was the sine qua non, the Chairman of the Board, and something as perfect as Come Fly Away was as groovy as groovy could  be.  For the next two hours we are treated to Ms. Tharp's vision of these 37 Sinatra favorites, using a troupe of 8 classical dancers and an ensemble. The musical material is rich and varied, stemming from Broadway, Hollywood and the pop field when lyrics were allowed to be intelligent, touching and funny, when melody was not dismissed as boring.
The original orchestrations by ten of the best, including Nelson Riddle, Gordon Jenkins and Quincy Jones, have been added to or re-arranged by Don Sebesky and Dave Pierce so they can best serve the astonishing balletic talents of Matthew Stockwell Dibble, Holley  Farmer, Laura Mead, Charlie Neshyba-Hodges, Rika Okamoto, Karine Plantadit, Keith Roberts and John Selya. They must all be mentioned, for they each have moments that are breathtaking as they whirl and twirl, telling a simple tale of romantic encounters amongst the eight of them during one jam packed night on the town.
A couple of highlights would have to include the pairing of the nimble, twinkletoed Charlie Neshyba-Hodges with the pert and adorable Laura Mead as they float through "Let's Fall In Love", "You Make Me Feel So Young", "My Funny Valentine" and several more with additional partners.  Then there are Keith Roberts and Karine Plantadit first igniting with "Summer Wind", "Fly Me to the Moon", later exploding with all the force of a cyclone in a battle of the sexes set to "That's Life." It's fierce, and its stunning conclusion was greeted by roars of approval. Plantadit and Roberts take stage wherever they are – in the light, in the shadows; it's impossible not to stick with them as they  slither hither and yon in this long night of courtship. John Selya and Holley Farmer are another attention-getting duo, as they start easy with "I've Got a Crush on You", "Witchcraft" and "Teach Me Tonight". Selya matches perfectly Sinatra's melancholy mood on "September of My Years", a song I didn't know, but which owes a debt of gratitude to "September Song" and is equally haunting. Matthew Stockwell Dibble and Rika Okamoto are the final pair  who deliver with "Learning the Blues", "Pick Yourself Up," "Wave" and others.  I could go on and on because there isn't a number among the 37 that hasn't got you hooked, even vaguely involved in the small attempt at a "book" (also by Ms. Tharp) which lightly follows the evening's adventures of these four couples. Suffice it to say that by evening's end everyone is reasonably happy onstage, and everyone out front  is euphoric. Well, there was a dance critic in the NY Times who hated everything, but listen, that's what makes horse racing. I think you'll join the crowd on this one and have a thoroughly fine time.
One small note of caution: A different set of principals plays the matinées (when you see the show,  you'll agree that no one could do 8 shows a week of this vigorous work). I'm certain the second cast is first rate, but I must mention that I can only report on those I saw in the first company. But if matinées are your thing, give the other troupe a shot. I'm planning to go back and have a gander at them myself.
Come Fly Away plays at the Marquis Theatre, 46th Street between Broadway and 8th, NYC.
————–
In the years when I was growing up around Broadway, press agentry wasn't quite so fancy, and outside a theatre you might see a sign that simply said "A Laff Riot! "  That's all you needed to know, and I think I'll resurrect it to describe the madness that goes on onstage at the Music Box where Lend me a Tenor, by Washington DC-based playwright Ken Ludwig, has settled in for what I hope will be a very long run. New York and the world needs it right now, as a counter-terrorist weapon.
Under Stanley Tucci's firm hand and sure eye for comedy, this first time Broadway director has delivered a zippy farce with all the proper doors onstage slamming, sometimes simultaneously. Young Justin Bartha, new to me but known to those of you who've seen The Hangover, starts things off as the goofy assistant to the Cleveland Opera Guild's director, slightly hysterical from the beginning as he's lost a tenor. The guest star, Tito Morelli, big name opera star, did not appear at the train station as planned, and is nowhere to be found. It's only a matter of hours before the curtain is to rise on the gala benefit performance of Otello and until he's found, the director, the assistant, the director's daughter who happens to be the girl friend of the assistant, the Chairlady of the Opera Guild's Board, the leading lady who's to play opposite the tenor as Desdemona, even the bellboy in the hotel who's dying to meet him because the kid is an opera nut – all of them are in and out until the singer is found, lost again, and found once more.
I'm a big fan of this play, enjoyed it enormously when it first played Broadway in 1984 with Philip Bosco scoring as the director and Victor Garber playing Max his assistant with great skill. It was a huge hit then, and I suspect it will be again. It's set in a Cleveland hotel suite in 1934, which means it has nothing to do with today, and though the plot is complicated and occasionally manipulated by the playwright (Ken Ludwig) it's played with such comic skill that I bought every twist and turn, and laughed out loud till the final curtain. And beyond, for the curtain call is as ingenious as is the rest of the evening .
It's fun to watch Tony Shalhoub leave "Monk" behind, and turn into "Saunders", the apoplectic managing director, to see and hear Anthony LaPaglia leave A View From the Bridge (one of his recent dramatic triumphs) and inhabit the mad Italian Morelli, complete with cashmere coat flung over his shoulder, a wild accent, a tempestuous temperament, and even enough of a tenor voice to make us believe (in a farce) he could carry an opera. Justin Bartha makes "Max" a lovable nerd with an even better voice, and it's only fitting he wins his girl, the airhead "Maggie"  by final curtain. Jan Maxwell as Morelli's wife "Maria" is a hilarious force from her first line to her last.  The role is small but it's well placed, and she's back for the final scene to play a very big part in the play's climax. Jay Klaitz  is wackily over the top as the Bellboy with the passion for grand opera and grander gestures. Jennifer Laura Thompson (please, ladies, we have so many three-named actresses these days, it's not good for the green world. You're using too much electricity lighting up marquees) plays "Diana", the opera's leading lady, deliciously. She has one big scene with Morelli in which every line has double meaning, and she's perfection in spitting each one out to the balcony with comic timing that is so very right for this 1930s setting. Broadway used to be filled with these plays, and the actors who knew how to play them. I don't know where this cast learned how to play this genre, because they don't write 'em like that any more, but they studied well, and it's all there for us to enjoy.
I don't mean to be ungallant, but Brooke Adams as the Opera Guild's Chairlady is lovely to look at but could not turn her beautiful self into the ditzy Helen Hokinson club lady she's meant to be. It needed a true character actress and Adams is still a dazzling mature leading lady. In private life she is Mrs. Shalhoub, so perhaps that's why Mr. Tucci decided to try to turn her into a Marion Lorne (I'm sure you don't remember her, but she was the definitive ditz in the Mr. Peepers series all those eons ago). Mary Boland, Josephine Hull, Vera Vague, Binnie Barnes, more recently Georgia Engel and Marylouise Burke, that's what "Julia" needed. But hey, it's great that the Shalhoubs get to work and play together, and Ms. Adams tries real hard and looks absolutely glorious in her silver gown, the one that gets her one of the biggest laughs of the night.
Forget your troubles, c'mon get happy. Be sure to catch Lend me a Tenor, the perfect spring tonic.
Lend Me a Tenor plays at the Music Box Theatre, 239 W 45th Street, NYC. 
————-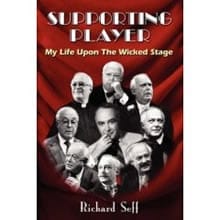 Richard Seff is author of Supporting Player: My Life Upon the Wicked Stage celebrating his lifetime on stage and behind the scenes, available through online booksellers, including Amazon.com.
Richard Seff chats with Joel Markowitz: