This miracle musical from the pens of Jerry Herman and Harvey Fierstein, based on a French play by Jean Poiret, first landed on our shores in 1983 with a cast headed by George Hearn and Gene Barry. It returns now in a revival which was conceived and born in England at the Menier Chocolate Factory which may soon have to rename itself  the Menier Musical Factory. Though it is only a 200 seat off/West End venue, its pared down versions of American classics like this one and Sondheim's A Little Night Music and Sunday in the Park with George continue to re-imagine our mature spectacles, trim them down to size, and make them even more effective as diminutives than their larger parent shows.
So this time, under the directorial hand of  Terry Johnson and the choreographic ministrations of Lynne Page (both new to me), we have only 6 or 7 "Cagelles" prancing about, Georges and Albin who run the show are now living in a modest flat above the theatre, and the Club itself, in which Albin's "Zaza" stars nightly, is no competition for the Latin Quarters and Copacabanas  in the days when a nightclub was a nightclub and not a cabaret. And this La Cage is playing not in its original Broadway theatre, the very large Palace, but in a much more intimate theatre known mostly for presenting straight plays and tiny musicals, the Longacre.  The result?  Less is more!  Never has this musical had the emotional impact it has now, as it focuses in on the characters into whose inner thoughts we now get to peer.
A British actor of renown, Douglas Hodge, is now playing Albin, and he is to that character what Patty LuPone was to another iconic figure, Madame Rose in Gypsy. George Hearn, who created the role, and Gary Beach who played it in a recent revival, were marvelous. They sang its anthem "I Am What I Am" with great power and brought the first act curtain down with a roar of approval from the crowd. Mr. Hodge plays it with nuance, he tears into each phrase of its lyric with insight and chills our blood with the power of his interpretation, and the roar is twice as loud.   Kelsey Grammer as his partner Georges is so comfortable in Georges' skin, we relax with him the moment he shows up at the top of the show. His delivery of the simple ballad that defines their relationship, a haunting tune with eloquent lyrics called "Song of the Sand" elicits the same kind of response as does Albin's anthem. His lecture to his son in "Look Over There" is eloquence itself.  Both of these accomplished actors find new twists and turns in Fierstein's book, and when it's all over, there isn't a dry eye in the house.  I checked out even some of the macho curmudgeons who must have been dragged to the show by their wives, and all one heard on the way up the aisle after the show was "Wow!" (or variations thereof).
Proving once again there are no small parts, I bring to your attention the work of Fred Applegate and Veanne Cox, both of whom have had larger roles in other shows. They play TWO roles each, the dockside bistro owners and the very uptight parents of the young lady who's about to wed Georges' son, and when they slide into their sections of  the second act rouser, "The Best of Times", they are hilarious and most contributive to the overall glow of the evening. The sound design of Jonathan Deans allows us to hear this glorious score in all its glory, implemented so that every lyric is crystal clear, but never distorted.
The London-based Menier Chocolate Factory is soon going to offer a new musical, one directed by our own Hal Prince. This little theatre shames us, for it is doing the work we should be doing to revive our fading reputation as the country to beat for achievement in this thing called "musical theatre" which we invented, and at which we excelled during the golden age. Thank you Mr. Hodge for bringing us your incredible "Albin", thank you Mr. Grammer for reaching for and this time grabbing  the brass ring after we treated your Macbeth so harshly. Thank you Mr. Johnson, who's been knockin' 'em out of the park in London for years but keeping himself from us until now.
I don't know how they fit this company of 23 talented people into the dressing rooms of the Longacre but I'll bet they're having a fine time back there, crowded or not. I hope they continue to have that fine time for  a long time to come.
————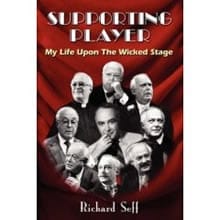 Richard Seff is author of Supporting Player: My Life Upon the Wicked Stage celebrating his lifetime on stage and behind the scenes, available through online booksellers, including Amazon.com.
Richard Seff chats with Joel Markowitz: