Stephen Sondheim's body of work is so vast, so varied, it's only fitting that the tributes and galas and retrospectives should be sprouting up all over the place now that he's entered his eighties and taken us along with him. Though there hasn't been a new work (except for Road Show, née Bounce which hasn't quite made up its mind what it is yet) since Assassins six years ago, there have been some stunning revivals which make his work seem new all over again.
And now three stars from different eras have joined four youngsters to present an evening of some 35 songs from 20 Sondheim musicals via a Roundabout production at Studio 54 titled Sondheim on Sondheim. And lucky us, we are the beneficiaries, for it's a splendid evening of just plain singing. It was conceived and directed by long time Sondheim collaborator James Lapine; it's a little short on staging – performers sort of stroll about and I think choreography would have helped a little here and there. But I suspect it was part of the conception to do this as simply a concert, and as the words and music are so delicious, who knows? Dancing might even have detracted rather than embellished.
The legendary octogenarian Barbara Cook returned to the stage for this. She's been concertizing for years so this is no stretch for her, but her magnificent, unsullied voice remains clear, clean and the best friend a lyricist ever had. Her eloquent renderings of "Loving You", "In Buddy's Eyes", "I Read" and "Happiness" bring tears followed by cheers from the adoring crowd. The always attractive and decent and honest Tom Wopat brings great dignity and strength to Sweeney Todd's "Epiphany" and "The Best Thing that Ever Has Happened". And both of them can still deliver the laughs when given the material as they are from time to time throughout the show.  The gorgeous Vanessa Williams, so mean on Ugly Betty these past four seasons, reminds us that there's little she can't do, little she can't express, and that certainly includes tenderness, compassion and hotcha, none of which she gets to do as Wilhelmina Slater on the TV series. Here she is simple and understated and very welcome. She is one really cool lady.
The supporting cast of five are every bit as top notch as those above the title. Leslie Kritzer, Norm Lewis, Euan Morton, Erin Mackey and Matthew Scott, all of whom have shown real potential star power in previous outings on and off Broadway, take the stage again and again with showstopping talent. Euan Morton who was so effective as "Boy George" in Taboo, is the boy-next-door gone mad in a brilliant take on "Franklin Shepard, Inc."  Norm Lewis tore the roof off with "Being Alive", Leslie Krutzer took stage again and again with her very original persona and powerful belting voice, Erin Mackey added sugar and spice and Matthew Scott made his mark even by merely reacting to Euan Morton's devastating "Franklin Shepard, Inc."  All five contributed mightily to the ensemble numbers as well, so we had us a stirring "Sunday", "Company" and "Comedy Tonight" using the whole company.
Another major contributor to the happy proceedings is Sondheim himself, up there on the big screen chatting away to us between, and sometimes during numbers, filling us in on the background of some songs, dishing us some of the backstage dirt, revealing secrets of his own life without the slightest touch of self consciousness. You really feel he's a member of the cast. The show is light on scenery, but very cleverly manipulated panels by Beowulf Boritt helped make it all seem lavish enough. I'd have liked another costume or two. The hot Ms. Williams spent the afternoon in a series of what looked like business suits (except for "Ah, But Underneath" from Follies in which she flashed her well formed legs) but Ms. Cook (who at 84 cannot be expected to do much tap dancing) wore a sort of pants suit with the replacement of a scarf for a piece of jewelry making her entire costume statement.  Tom Wopat at least changed his jacket once in a while.  But this show was clearly on a very tight budget.  "Putting it together", to borrow another Sondheim title, it all added up to a rousing evening of first rate theatre because the material and the performances were stunningly, thrillingly there – putting most of the current crop of new musicals in their proper places, way down on the "B" list. This one was MGM "A" all the way even though Adrian was clearly on holiday.
Sondheim on Sondheim continues through June 13, 2010 at Studio 43, 254 W 54tyh St, NYC.
————
A very brief comment on Anyone Can Whistle, a 1964 offering of Stephen Sondheim and Arthur Laurents, that was concertized by Encores! for just 6 performances through April 12.  This musical which ran only a week on Broadway in its initial outing, is a giant mistake of a concept. Mr. Sondheim was at the talkback after the Encores! matinee, and he admitted they'd made a big missstep in not clarifying that the "cookies" in the show were not insane, but merely "different" from average people, which was much on his and Arthur Laurents' minds when that was being written about a lot in straight plays of the time, but not in musicals. But it's still a silly story and a small uneven score. It's not his best score, but his worst is better than most, and it's got several humdingers in it.
Here it was performed by 3 hot stars and a first rate ensemble. Donna Murphy was a total knockout (as always) in sky high heels and a white satin pants suit that Dietrich would have killed for. She had two showstoppers in Act One alone. Sutton Foster was terrific in the less colorful role of leading lady, but whammed it home with "Anyone Can Whistle" and did a very funny French double (with red wig and original accent) in  "Come Play Weez Me." Raül Esparza can do no wrong for me – in comedy, tragedy, classics, musicals. He showed the most delightful sense of silliness in this one, very Kevin Klineish. Sondheim himself said he'd never known he was such an accomplished light comical actor. And the voice!  We loved watching the performers perform, it was fun having Sondheim present at the talkback, but the show even in retrospect did not show either author at the top of his game. Still – that Encores! audience (including me) had a fine old time. Wish you'd been there.
See you soon again with another musical revival, this one Sean Hayes taking on the Jerry Ohrbach role in Promises,Promises, this time co-starring with Kristin Chenoweth who agreed to take the role after it was built by the addition of several songs from authors Burt Bacharach and Hal David's trunk.
————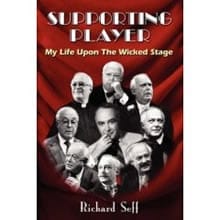 Richard Seff is author of Supporting Player: My Life Upon the Wicked Stage celebrating his lifetime on stage and behind the scenes, available through online booksellers, including Amazon.com.
Richard Seff chats with Joel Markowitz: