After a disappointing season of new musicals, capped by the recent arrival of The Addams Family, we turn now to another revival of the hits of the past, this time with Promises, Promises out of  Burt Bacharach, Hal David and Neil Simon in 1968.  It's not exactly a classic, but it's a fine adaptation of the Billy Wilder film "The Apartment", and it brought Bacharach and David to Broadway for the first (and last) time. There was one jukebox musical using their material but this is their only original score. We are told that Bacharach was never happy with it, and preferred the sounds of his music as they emerged from the throats of Dionne Warwick and others on records. But the show was a big hit, chalked up 1281 performances before calling it quits in 1972, so a team of about 40 producers decided it would be a safe bet to return it to Times Square in the hope that it would create interest all over the land. Broadway Across America is its lead producer, and that means wherever you are, you can count on seeing this production (undoubtedly with another excellent cast) in or near your home town one of these days.
I'd say those in command made the right decision. They've certainly lavished the production with the best of everything. Rob Ashford has staged it with great skill, and from the opening moment on, it's filled with imaginative and lively direction and choreography. Scott and Bruce Pask and Donald Holder have designed sets, costumes and lighting that give it great style and wit. And it gives a star role to an actor primarily known to us for his long run on the TV series "Will and Grace", Sean Hayes. Had he been around thirty or forty years earlier he'd have had a shot at leading roles in The Music  Man, How to Succeed in Business, Hello Dolly!, Damn Yankees (a role he played in a recent Encores! concert version), Bye Bye Birdie and Pal Joey just to mention a few. He's appealing, he can sing and dance as well as Gene Kelly and the others who got there first, he's a fine comic actor and he's got "that thing" that makes an audience empathize even when he's playing the manipulatable, ambitious, indecisive, insecure little nerd that is "C.C. Baxter" as we first meet him as the curtain rises. As his girl dumps him for another, one hears an audible groan from the house. We want him to win her, and when he does, he is fulfilled and we are content. It's Sean Hayes' Chuck Baxter we root for, and in his own way he's just as perfect as was Jerry Orbach who created the role in the original production.
His vis-a-vis  ('Fran Kubelik') is played by another young star, Broadway's Kristin Chenoweth, who's been winning kudos ever since she played a small role in Steel Pier, working her way up through revivals of Charley Brown and The Apple Tree until she hit a great role of her own in Wicked which earned her top billing. She's covered the waterfront since, hopping back and forth from TV land to the Concert stage to the book circuit plugging her NYTimes best seller "A Little Bit Wicked." To accommodate her, the authors have added a number or two from the Bacharach-David trunk. It's nice to hear "Say A Little Prayer For Me" even if it makes little sense shoehorned into the book as it is. But Chenoweth manages (as did Shirley MacLaine in the movie) to engage us and make us care for her character, who is depressed, foolish, cynical and controllable, not your more typical leading lady, Annie Oakley, Dolly Levi Gallagher, Annie Warbucks, Nellie Forbush and their like.
Tony Goldwyn is another bright spot in the cast, always welcome. This fine actor/singer is the devil incarnate this time out, as "J.D.Sheldrake" boss to both Fran and Chuck, manipulator of both. Don't worry, he gets his due in the end, though if you care about plot, don't tell anyone I told you.
The score has its gems, songs like "I'll Never Fall In Love Again" and "Promises, Promises" but the rest is serviceable and likeable. The charm and talent of this cast elevates it to creamy perfection. Katie Finneran as a lady with an owl feather boa and a dress cut up to here, has but two scenes and one song, and she and Sean Hayes bring down the house with "A Fact Can Be a Beautiful Thing" much as Jerry Ohrbach and Marion Mercer did 42 years ago (I know; I was there). The always delightful Dick Latessa (Tony Winner for his work as Harvey Fierstein's husband in Hairspray) has Dr. Dreyfuss, Baxter's next door neighbor, under his control and he lands every laugh this guy has, mostly courtesy of Neil Simon who put the one-liners in his mouth. His one song, a duet with Chuck called "A Young Pretty Girl Like You" is  so charmingly staged and performed he's got us buying everything he sings long before Chenoweth as "Fran", almost ready for the Grim Reaper, does. The same goes for Brooks Ashmanskas, getting to be a sparkplug for show after show, most recently for Enter Laughing in which star Victor  Garber allowed him to spin, twirl, leap, jump, spit, sing and tap dance during their scenes together. Prior to that, he'd lit up Martin Short's Fame Becomes Me in which he had lots of his own comic material as well as covering Short himself in the lead role. His turn in the recent revival of The Ritz was sidesplitting – he was all the Keystone Cops in one as he raced around that show's bath house setting in nothing but a towel.  And as "Mr. Goldstone" and "the Stage Manager" in Gypsy  (with Bernadette Peters) he proved once and for all there are no small actors, only small roles. While Ms. Peters belted "Mr.Goldstone", Ashmanskas reacted visually, and turned the number into a totally awesome duet. I could go on and on, for the entire cast is having itself a ball, and taking us with it.
So major credit goes to Rob Ashford who was in full charge of both directing and choreographing. The one big dance number, the one that established Michael Bennett as choreographer and helped dancer Donna McKechnie in the original production, wowed 'em as well at my performance, as staged by Mr.Ashford.  The number ("Turkey Lurkey Time") has nothing to do with the story, but it's a crowd pleaser and those "kids in the chorus" have to get a kick out of the long lasting roar of appreciation that greeted their final steps.
In case you haven't figured it out, I loved this Promises, Promises and heartily recommend it to you. It'll be around a while, I suspect, so you don't have to rush, but be sure to see this cast if you can.
————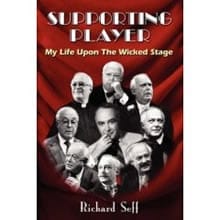 Richard Seff is author of Supporting Player: My Life Upon the Wicked Stage celebrating his lifetime on stage and behind the scenes, available through online booksellers, including Amazon.com.
Richard Seff chats with Joel Markowitz: