Well, it certainly isn't the movie of the same title, the one that starred Charlie Chaplin and Jackie Coogan way back when. No, it's one of a plethora of plays and musicals with gay themes  that have landed on New York stages  this season, many of them excellent, all of them timely and relevant. That includes Next Fall, The Temperamentals, La Cage Aux Folles, Yank! and yes, the granddaddy of them all The Boys in the Band. Each were set in different decades of the last fifty years, but none dealt with a very current aspect of gay life – the adoption of a child by a gay couple.
This small and finely wrought musical, The Kid, does just that.  Its authors Michael Zam (book), Jack Lechner (lyrics) and Andy Monroe (music) all new to me, have been honored with various awards given for achievement in musical theatre. Clearly the awards were well deserved, for this charming two act piece offers intelligent and offbeat lyrics, music that contains melody, mirth and emotional color, and a book that doesn't duck the more difficult scenes.  Any musical that can delight you with a ballad called "Gore Vidal", with a plaintive song sung by a homeless waif, a song called "Spare Changin'," with a charming ballad called "I Knew" sung by a grown gay son's mother, with a homeless young man's cry for a change in his life, a song called "Behind The Wheel" – these are all songs dealing most artfully with subjects that in lesser hands would  have been conventional and unsurprising.
The Kid tells the tale of Dan and Terry, two happily bonded men who want desperately to make a family by adopting a child. It takes them two acts and two and a half hours of theatre time to achieve it, for there are many pitfalls along the way, all of them presented to us via a solid book and some two dozen songs that create character and story richly enough to involve us, to cause us to root for the two men. It includes the mother of one of them, the young woman (Melissa) who will be the surrogate mother, her boyfriend (Bacchus) who disappeared the moment he learned she was pregnant, and various friends and professionals who help them fulfill their dream. I found twists and unexpected turns in the book, which I won't go into for it's fun to discover them on your own. But I can tell you that in Christopher Sieber, this production at the small Acorn Theatre on Theatre Row is blessed with a leading man, one of the two who want that child, who is here giving a major star turn. He's found all the humor, insecurity, and conflict in "Dan", the product of a lovely mother but a very distant father who left him with lots of problems. His relationship with his partner "Terry", is clearly defined, complex but loving. Lucas Steele is fine as the other half in  this ménage à deux, managing to show  much humor through much of the story, but  real strength when, for a moment, the success of their venture is derailed.
Add to the mix the delightful Jill Eikenberry as Dan's mother, who, with only two or three scenes and one song, manages to brighten the stage every time she shows up. She brings refreshment, sort of like a low fat strawberry ice cream cone on a hot summer day. The lady can get a laugh by poking her head into a room and merely saying "Hello." You get the feeling that as long as Mom is in Dan's life, nothing's going to harm him. It's nice to see a mother and son who truly love each other, particularly in a play with a gay son. Poor Mom usually gets it good and one of this play's many original takes on the familiar is this portrait of the two of them.
Scott Elliott of The New Group has staged it all well, using the boys' home in Seattle as a basic setting, allowing cast members to move furniture around to create other settings. It works well enough, though an attempt to turn their living room into a gay disco doesn't quite come off with merely the addition of a red velvet rope. And Ken Travis' sound design, while not overly intrusive, is totally unnecessary in this pleasant 200 seat theatre that's no larger than some living rooms. It's ok most of the evening, but distorts voices on the ensemble numbers, thus losing lyrics and inviting tinniness, doing a disservice to the fine voices of the supporting players. Under the musical direction of Boko Suzuki, the balances are good, and the orchestra supports the singers beautifully, although less successfully in those ensemble numbers where the voices  are overamplified.
But I quibble. The Kid is a welcome addition to the short list of new musicals of the season and encouraging to note that its three authors all emerged from the BMI Lehman Engel  musical theatre workshop.
–  The Kid is playing thru May 29, 2010 at The Acorn Theatre, 410 W 42nd St, NYC.
———–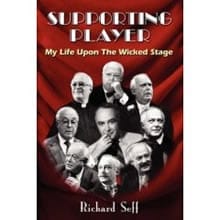 Richard Seff is author of Supporting Player: My Life Upon the Wicked Stage celebrating his lifetime on stage and behind the scenes, available through online booksellers, including Amazon.com.
Richard Seff chats with Joel Markowitz: