Adam Rapp is an Obie award winning playwright and director, and he would appear to freelance, for his plays have been done at A.R.T., the Rattlestick Players, The Bush in London, at Playwrights' Horizons and the Flea. I've heard good things about his work, most recently about Red Light Winter, a Steppenwolf production that Scott Rudin produced at the Barrow Street Theatre in New York. [Seen in DC at Studio Theatre in 2006].
That one was a finalist for the Pulitzer Prize, and  he's published seven novels for young adults including The Buffalo Tree which was struck from the curriculum at Muhlenberg High School in Reading, Pennsylvania in 2005.  He's won many prizes and he's planning a workshop production of his new play, Welcome Home Dean Charbonneau at Seattle Rep.  All of which makes it clear he was the man to write The Metal Children which concerns itself with a playwright (Tobin Falmouth as played by Billy Crudup) whose novel The Metal Children has been banned from a high school in a small community in the "American heartland."
I don't know how much of the material in his play is fictional, how much has been added to or deleted from his own experience with the banning of his own book. What's emerged from his pen is an absorbing but erratic play, filled with principal characters – Falmouth, his agent Bruno Binetti, the manager of the motel (Edith Dundee) in which he lives while defending his book, her niece (Vera Dundee), a teenage student who, inspired by his novel, asks him to impregnate her. Otto Hurley the president of the school board, and other minor characters who are peripheral to his tale round out his cast, and because it's large, four of the actors double and triple in the smaller roles.
The first act of two is more amusing than incisive. We have to be introduced to everyone, and the opening scene between a distraught Tobin and his passionately devoted agent Bruno  is expository but funny in the tradition of the master of comic exaggeration of truth Neil Simon.
Billy Crudup and David Greenspan bring fresh attacks to these potentially conventional characters,  and our curiosity is aroused. When we (and Tobin Falmouth) learn of the arbitrary action taken by the school board, the stakes grow higher and the action tighter.
The second act begins with the hearing at the high school, and the various points of view are presented in straightforward monologues from a right wing teen age girl whose ears are closed to reason, to an equally unbendable liberal who feels any form of censorship is tantamount to tragedy. Each viewpoint is clear; Mr. Rapp allows each to press her case. When Tobin Falmouth is asked to defend his book, he is so destroyed by the events that immediately preceded the hearing (he'd been viciously attacked and beaten by one of the Porky Pig Boys who represent the rightwing zealots), that all he can do is mumble about the origins of his novel, and he makes it clear that he wasn't trying to politicize or preach; based on what was going on in his life at the time, his wife's defection from their marriage, the great depression his book's banning had caused, his own confusion about his future, the writing of the novel was just  "something I had to do".
It's probably an accurate description of Rapp's attitude at the time, but it does leave an audience frustrated and disappointed at its inconclusiveness. When Falmouth later learns that his one night stand with the teenager at his motel led to a pregnancy and ultimately to the birth of his son, he is still unable to commit to the young woman and the child. She has taken up residency in a home for other spirited activists and makes no demands on him. She leaves with the child, and he is left alone on stage, more confused andunresolved than ever.
I was able to accept Rapp's ending – but it certainly diminished the impact of the play. Falmouth has indeed had a psychological journey throughout the play's 2 ½ hour running time; he is far less hostile, adolescent, lost at the conclusion of the play, and Rapp's point may be that we must live with the early wrong choices we make; sometimes it's too late to do anything about them except accept them.  Billy Crudup does much to make Tobin appealing and understandable, Phoebe Strole does almost as well inhabiting Vera Dundee, his young victim.
It's a good cast all round, and the production looks and sounds just right all through. But it's not a play that will linger long with me.  I think the material was too close to the playwright's own life, and the writing of the play may have helped him deal with his own inner turmoil; it just doesn't do for us what it might have done for him.
The Metal Children runs thru June 13, 2010 at the Vineyard Theatre, 108 East 15th St, NYC.
————-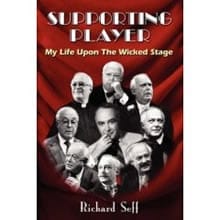 Richard Seff is author of Supporting Player: My Life Upon the Wicked Stage celebrating his lifetime on stage and behind the scenes, available through online booksellers, including Amazon.com.
Richard Seff chats with Joel Markowitz: