The Brits have done it again.  Out of the Donmar Warehouse in London, a consortium of ten producers have brought to Broadway the import Red, a new play dealing with the working habits, the philosophy, the character of artist Mark Rothko as channeled through actor Alfred Molina, and his exchanges with his apprentice Ken as played by young British actor Eddie Redmayne.
As Molina is dazzling in the central role, it's astonishing that Redmayne is able to hold his own and score point for point with him, as the docile, gentle, adoring Ken – who, when provoked sufficiently by the domineering, controlling, solipsistic Rothko, gives as good as he gets in a blistering monologue that has no effect whatever on his consistently stubborn adversary. It sure makes for good theatre though, both in the delivery of the diatribe and in its reception. You haven't seen such a clash by night since Mary Stuart had it out with Elizabeth I, since Martha and George fought literally to the death (of their son) in Who's Afraid of Virginia Woolf?.
Before and after the explosion, Logan has managed in his 90 minute one-acter to give us a vivid picture of the controversial and highly opinionated Rothko, working at feverish pitch on a series of murals to be hung in the Four Seasons Restaurant by order of the owners of the Seagram Building on Park Avenue in New York. During the play, Rothko sounds off about almost everything from name changing for immigrants to ways of handling absent fathers and mothers to disdain for corporate control over artists. He seems to have forgotten that he's accepted a commission from one of those corporations, and is to be paid $30,000 (a huge sum in 1949-51, the time setting of the play) for four murals, the completion of which occupies the two years that the play's span includes. Exposure to young Ken, his tireless assistant, who does most of the dirty work in Rothko's very dirty windowless studio, affects him deeply though he is loathe to show it.
The play would seem to have three endings, but each time Logan turns another corner he reveals another aspect of his two characters, and the final moments of the play are hauntingly beautiful.  The two actors really expose the nuts and bolts of the mechanics of applying paint to canvas (lots of paint to a very large canvas). Picture the two of them preparing a canvas for completion by applying red paint at a feverish pitch. There is so much under the actual act of paint spreading that tension mounts and the completion of the job brings a spontaneous round of applause.  They used to say something was as dull "as watching paint dry."  Watching paint dry in Red is anything but dull; it's totally fulfilling.
Alfred Molina, who's brought his gifts to many and varied characters – characters as different as Tevya in Fiddler on the Roof, a Hollywood spinmeister in Speed -The-Plow, a man who has no gift for evaluating art (in Art) and now Rothko. His attack in this one is seemingly simple, for Molina's chosen style is completely naturalistic. His material offers him very wide range and he carries us with him on his entire journey. Eddie Redmayne plays most of the evening as an intimidated youth, efficient but unobtrusive, almost obsequious. This makes his aria late in the play twice as effective, for it comes from such an unlikely source. The two actors work as one, and in the "preparation of the canvas" scene they actually appear to be choreographed, so gracefully do they circle and bend to each other. These are performances to be treasured, savored, and if possible, seen more than once.  They are both truly memorable.
Mr. Molina has already won the Best Performance of the Season award from the Drama League. I'd say he has a fine chance to duplicate that achievement on the Tony Award show June 13th. I'll be tuned in, and hope you will be too.
John Logan's Red plays thru June 27, 2010 at the John Golden Theatre, 252 W. 45th St, NYC.
————-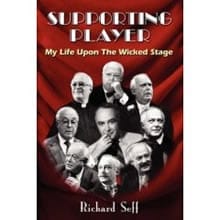 Richard Seff is author of Supporting Player: My Life Upon the Wicked Stage celebrating his lifetime on stage and behind the scenes, available through online booksellers, including Amazon.com.
Richard Seff chats with Joel Markowitz: