I'm sorry to say I neglected this Roundabout revival of Tennessee Williams' first success earlier, because it is closing in several days, and you should know about it.  It opened in very late April  at the off Broadway Laura Pels Theatre and its notices were smashing. Now I add my small voice to those glowing reviews.
In 1943, the play first arrived as one of those low profile dramas which moved into the unpopular Playhouse Theatre (old, musty, on the east side of Broadway, which is the far less traveled side), sporting a cast of minor names plus the faded luminous one of Laurette Taylor. But she had not appeared in many seasons, and was thought to be 'washed up'. Williams, of course was new, and the leading man, Eddie Dowling was doubling as director. Julie Hayden, who'd had occasional minor successes before, and Anthony Ross rounded out the non-stellar cast. Expectations were low, the advance sale was minimal even though the tryout in Chicago had elicited raves from its most prominent critic, Claudia Cassidy.  There were no emails or twitters or blogs or chat rooms in those days, so only the very few knew that something interesting had been happening in the windy city. The play ran for 563 performances in its initial run, and eventually Taylor relinquished her role to the gifted Margaret Whycherly, but no one seems to remember that.
It opened, it landed on both feet, and the next morning it was THE play to see in all of New York.  Those who love theatre often saw it several times, knowing it would be the last of  Laurette Taylor's triumphs (she was giving the performance of a lifetime with a body that had been through a lot, and showed it), knowing it would be the first of Williams' poetic dramas to change American playwrighting.
But many of the play's subsequent revivals didn't recapture the magic, and the film version was a complete bust with a miscast Gertrude Lawrence in the Taylor role, with film star Jane Wyman trying without much success to inhabit the role of Laura, with Arthur Kennedy not at all right to be Gertrude Lawrence's son and standing for Williams himself in this thinly disguised portrait of the artist as a young man, with Kirk Douglas trying to beef up the relatively small role of the Gentleman Caller. It flopped and promptly disappeared. It's been tried again several times in New York and in London, as well as elsewhere, but it took until now, in this production which emanated from the Long Wharf in Connecticut under Gordon Edelstein's incisive direction, to remind us what a gem this play is.
Edelstein has ripped all sentimentality out of it, and he sets it in a barely furnished and dimly lit  St. Louis apartment , in which Mother Amanda Wingfield and her two emotionally and physically crippled grown children scratch out a life. Mother's concern for the future of her pathologically shy daughter  Laura and her stifled son Tom, combined with her tiger's tenacious personality which smothers them both totally, is lessened for one night only – and it's the night when all goes tragically wrong. With the right-on Judith Ivey using everything she's ever learned about acting to deliver the most definitive Amanda since Ms.  Taylor first inhabited her, we know from the start the play is in good hands. But the contributions of  Patch Darrah as Tom, Keira Keeley as Laura, and Michael Mosley as the Gentleman Caller Jim O'Connor are so on the mark, the play transcends into magic. It's so sad that Williams could not see this production for it strips away all masks and presents in his own words, "truth in the pleasant disguise of illusion."
Familiar (to some) moment after moment appear and are treated with new perspective by this remarkable cast and director. The Wingfield apartment serves also as Tom's apartment in another town as he shares with us his memories of his last days living with his family. When Laura finally blows out her candles and leaves Tom to cut the cords and move on with his life, I was overwhelmed with emotion. Catharsis, the aim of every play, is totally achieved, and one walks out into the evening air enriched, enlarged, in many ways transformed. I felt it once as a kid leaving the second balcony of the Playhouse in 1943, but I was too young to appreciate the size of Williams' talent. Not this time. This time I am humbled, and grateful to have lived through his formative years as a fan, and in a time when he blossomed, bloomed, then faded.  He is a titan, and this beautiful production is a fitting tribute to his great gift.
The Glass Menagerie runs thru June 13, 2010 in the Laura Pels Theatre of the Harold and Miriam Steinberg Center for Theatre, 111 West 46th St (6th & 7th Aves), NYC.
Related:
Judith Ivey on playing Amanda Wingfield

————-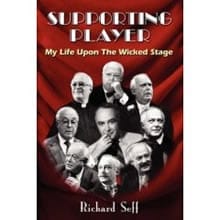 Richard Seff is author of Supporting Player: My Life Upon the Wicked Stage celebrating his lifetime on stage and behind the scenes, available through online booksellers, including Amazon.com.
Richard Seff chats with Joel Markowitz:
Like