This new group of Scene Stealers says a lot about how much talent we have in the DC area and is a tribute to the up-and-coming group of young actors, singers, and dancers who graced our local stages with scene stealing performances, sprinkled with great performances by two of our local theatre veterans.
Whenever I bump into reviewers and local theatre mavens, they always say to me when they read one of my Scene Stealers articles, "This can't be true. How can these young actors be so good at such a young age? You must be exaggerating!" My answer is always, "Did you see them?" Then I say, "Why don't you make some time to see children's theatre and Act Two Performing Arts and Musical Theater Center productions where many of our talented local actors perform?" So let me introduce you to several of these wonderful performances that deserve special "Bravos".
(1) Ellie Borzilleri as Mrs. Lovett, singing "The Worst Pies in London" and Leah Eden Chiaverini as Pirelli, singing "The Contest," in Sweeney Todd, at Act Two Performing Arts.
Every time I see Ellie Borzilleri perform I am amazed – not only by her gorgeous voice, but how she has become such a fine actress. She rocked Fleet Street from the moment she slapped the pie dough in "The Worst Pies in London" and got toasted in the oven at the end of the show. And unlike many other Sweeney productions I have seen in recent years, where this difficult song was slowed down to a crawl, Ellie had to race through the original Broadway (Angela Lansbury) rendition at lightning speed. She came through it unscathed with rolling pin in hand, and the audience applauded wildly.
Ellie: My song "Worst Pies in London" takes place fairly early on in the story. Sweeney Todd gets off the boat he was rescued on and immediately travels to Mrs. Lovett's meat pie shop on Fleet Street. Mrs. Lovett is an old widow who, after many years, has become very frazzled and a bit psychotic. She is brash and bold in her approached to other people, and in "Worst Pies" the audience gets a first glimpse of her character.
After so many years of not having anyone to talk to – Lovett grabs the opportunity as soon as Todd walks in the door. If you listen to the lyrics in the song all of her sentences seem to run together, and the audience can hear her switch subjects about different people and points of view, even though all of the different subjects ultimately end up being about her pie shop and how terrible everyone thinks her pies are.
I know what it's like to not have anyone to talk to for a while and then suddenly have an opportunity to get all of my thoughts out. Although I am not as outgoing as Mrs. Lovett, I still find that some of her viewpoints and characteristics are similar to mine. She tries to find ways to resolve problems but ultimately helps herself; I must admit I have done that a few times in my life, but not as much as her of course.
I have to say unlike all of my other performances, I couldn't draw any true personal experiences for the purpose of this particular song. In other scenes of the show I had experiences I could relate to, but "Worst Pies" is a very hard song to relate to. Instead I simply told myself that I was going to just let all of my inhibitions go and try to be as cartoonish as possible – really throw myself into my character.
My favorite line in "Worst Pies" would have to be Mrs. Lovett's line, "Mrs. Mooney has a pie shop, does her business but I noticed something weird – lately all her neighbor's cats have disappeared! Have to hand it to her – what I calls enterprise, poppin' pussies into pies!" I realize that's a long line, but I just love it! Not only is it a comical line in the song (as if the entire song wasn't comical), but it gives the audience an example of how desperate businesses were to stay afloat in such a hard economic time. At that time in London there was so much poverty, and disease that people would do pretty much anything just to make extra money. When Lovett talks about Mrs. Mooney's tactic of making more money with her pie shop it lends a perfect example of how bad times were.
This song is not only physically taxing but vocally taxing. Throughout the song, I had to rush around the stage, beat dough at the correct rhythmic time, and still find the energy to spit out the words in a decent cockney accent. The song itself has a wide range of notes, from low notes with a lot of words in one measure, to high notes with long sustain that I had to sing with an extreme nasal register if I wanted to be able to hit them at all.
This character really made me step out of my vocal and acting comfort zone. I had never played a character quite as cartoonish as Mrs. Lovett, and it was exciting to be given a chance to stretch my abilities as far as I did in this show. Mrs. Lovett brought a kind of comedic relief in such dark moments of the show; before this show I had only played serious villains and ingénues. Although there are not many other characters quite like her, I hope I will someday be given another chance to play a character as exciting and fun as her.
This summer will be the first time in months that I do not have a performance to rehearse for. I begin classes at The Catholic University of America in the Fall, and look forward to participating in as many performances as I can there, as I also study musical theatre and possibly education.
————
When Leah Eden Chiaverini began hitting those high C's as Pirelli, the obnoxious and arrogant barber, I was stunned by her ability to sing this very difficult song with such total confidence, incredible power and beauty. And she enunciated every Sondheim lyric to perfection. Leah hit all those high notes with such ease, I almost let her give me a shave.
Leah: Sweeney Todd (aka Benjamin Barker) has returned to London to find Mrs. Lovett and his razors waiting right where he left them. He throws himself into the town center to challenge the current reigning barber, Adolfo Pirelli (aka me). I happened to work for him in the old days and after noticing his unique razors, I realize I am overmatched!
Pirelli the character is usually a brilliant tenor. An interesting fact for our audiences, I am in fact a girl and since the part is usually played by a man, I decided to dance the fine line between the genders, something I'd never done before. So in a futile attempt to intimidate Sweeney, Kevin (my oh-so-talented director) and I twisted the part to play Pirelli as a barber who sings opera soprano to distract the audience from the lack of attention to detail while shaving (and hit a few high Cs in the process!).
Of course, this plan goes awry, despite how much fun I was having NOT shaving my castmate and Pirelli loses in the end. "The Contest" continues into a second part with me attempting to pull a tooth from another Scene Stealer, Alex Greenberg's mouth, of course unsuccessfully. Sweeney pulls the tooth from another man's mouth without an issue, watching my performance amusedly. So really, "The Contest" was no contest. It was just an opportunity for Sweeney to upstage and emasculate me, so to speak. Now I'd like to see him sing first soprano!
I have loved the theatre since my mom played "Broadway for Kids" endlessly in the car as an infant. I intend to always have theatre in my life and I am looking forward to performing onstage at the new $60 million GORGEOUS theater at the school I will be attending in the fall, Christopher Newport University. I have also been toying with income-supplementing jobs like a "wench" in colonial Williamsburg, Busch Gardens stage singer or Community Theater in Newport News. I am pursuing a degree in Child Psychology and with a gentle (or actually, not so gentle) push from the directorial staff of Sweeney, I will most likely be double-majoring in musical theater as well. You haven't heard the last from me!
———–
(2) Cyle Durkee as Habib and Mickey D. DaGuiso as Kebab, singing, "Blow Them All Away" in Perez Hilton Saves the Universe! (or at least the greater Los Angeles area) at Landless Theatre Company.
I still laugh when I think about how hilarious Cyle and Mickey were when they were singing the very irreverent and nasty "Blow Them Away" in Landless Theatre Company's outrageous,  "sheikh" and naughty production of Perez Hilton… I don't think I've laughed so hard all year in the theatre, and I am still laughing as I'm writing this. I saw a critic cover his mouth and say, "Holy Shit!" That says it all.
Cyle: The story of the show? Well, Perez Hilton is the hero(ine?) of this piece. He blogs and blogs and convinces the world that the inanities that he writes about are both impressive and important, and the world believes him. So, the terrorists decide that they can use his blog to lure all the celebrities in Hollywood to a central location and blow them up. This will give them the satisfaction of striking at the very heart of the culture that is so obsessed with celebrity that even Paris Hilton is credited with a personality. The show is a satire of twisted hero worship and the way it's used to warp not only the public, but also the people absorbed into its spotlight.
There are times when each of us would like to destroy those things we see as horribly wrong with the world. We sometimes have to work with people who know that we are right, but need a bit of convincing. Both of these themes play heavily in the song "Blow Them All Away". While it is fun and frivolous, at its core you will find that when all else fails, you can always use force. It's a message we have been teaching kids for millennia. Perhaps we should look at that trend and find a new system of discipline?
As for relating to this song, well, I used to be a little pyromaniac… that was a lot of it. I try to be even-handed in my negotiations and diplomatic in my life, so this was a fun departure from both of those. I suppose that what I took was the desire to lash out and not being able to do so in very intense situations. Not maintaining the attitude that I should be the better man and just letting loose with what I wanted to say and do was quite fun!
I loved the lyric, "And just like Aaliyah in her plane: You'll go in and out with a Bang!" It wasn't an easy song to sing. I'm a bass so it's always hitting those high notes! One day they will write for basses again! Come on Russian composers! I love this job! What a wonderful way to live!
I'm currently in Carrie Potter and the New Moon Prom which is being produced by Landless for the Fringe. I'm also in Nights at St Januarius which is another Fringe show being produced by Unmotivated Cross Productions. I can't wait to see what happens this year!!
Mickey: Cyle really said it all, but I'd like to add that I thought it was just really fun and silly – from who my character was – to the circumstances that are revealed in the song.
Playing a gay Muslim who goes along with his brother's terror plot to blow up Hollywood so that I can to become a famous actor like Julianne Moore – only to fall in love with my "target" Perez Hilton who I dump at a photo-op during Britney Spears' wake in order to perform a monologue from Clueless… what more can I say?
Next, I will be playing Angel in The Elden Street Players' production of RENT.
————
(3) Malinda Ellerman as Nancy, singing "As Long As he Needs Me" in Oliver at St. Mark's Players.
I am a big fan of Malinda Ellerman. Like Ellie (See #1), she is a wonderful singer and actress. When she walked into Oliver halfway through the first act, and wrapped her arms around Oliver and his fellow young thieves, she had the audience's hearts in the palm of her hands, and walked away with the show. Malinda's rendition of "As Long As He Needs Me" was as beautiful  as the stained glass windows at St. Mark's Church. I will never forget it.
Malinda: Nancy sings "As Long As He Needs Me" right after she is physically threatened by the man she loves, Bill Sykes. The song is basically Nancy's chance to justify and explain her love for Bill. From everyone else's perspective, there seems to be nothing redeemable about Sykes (the man really is quite horrid), but Nancy just can't leave him. I have been a fan of the show Oliver! for many years, but I have never understood why Nancy stays by his side. It was a fun and exciting challenge for me to explore her reasons. I really had to personalize my rationalization for myself and for the character, and I finally decided to focus on the Bill no one else knows. I like the idea that perhaps Bill was actually kind and sweet at the beginning of their relationship, but at some point his truer, darker side came out. I also think that Nancy is a bit of an adrenaline junkie who is attracted to danger.
Musically, I think "As Long As He Needs Me" is challenging due to the fact that it is so repetitive. I really worked at creating distinct images for every line. The song is also highly recognizable, and has been performed by so many singers/actresses over the years. I never want to be accused of being a copycat performer, so that made it all the more imperative to really make my interpretation of Nancy my very own.
I am currently in rehearsals for the Tennessee Williams play A Lovely Sunday for Creve Coeur with Quotidian Theatre Company. The show runs July 9th – August 8th. I play Miss Sophie Gluck, the German neighbor (most of my lines are in German, or a German-English hybrid that I like to call "Germlish"). It's the first non-musical I've done in a while, and I'm having a blast. I would especially recommend this show to Tennessee Williams buffs. It's a great opportunity to see one of his lesser-known comedies!
—————
(4) James Finley as James, singing "Window to Window" in Naked Boys Singing at Ganymede Arts.
I am a fan of actor James Finley, and I will admit I was taken a little aback when he was cast in a gay musical where he had to expose his manhood in front of the mostly-gay audience. (He has a very supportive wife). And then to be blown away by his rendition of the emotional "Window to Window." Well, I was emotionally drained when he finished the song. It brought back so many memories of not taking that extra step…
James: Well, our show doesn't have a plot per se, but it does examine what it means to be naked, both literally and figuratively. Most of the show is comic, but my song "Window to Window" is the first of a few poignant moments in the show, and I really enjoy the opportunity to shift the tone for a bit.
"Window to Window" is about a person who falls in love with a stranger he sees in an open window across the street. They tease each other back and forth, sharing stolen glances and each stripping for the other, but have never met in person. The song is the one man singing out loud the way he feels about – but doesn't yet have the courage to say to his friend in the other window.
The song reminds me of how scary, but also exhilarating it is to bare your soul to another person, not knowing how they will react. Will they reject you? Will they feel the same way? For me personally, I remember having crushes on people, and running all sorts of scenarios in my head on how I could let them know how I feel. And inevitably no matter how much you rehearse it in your head and try to script what you'll say and do, it turns out totally different.
I have very specific memories of when my wife and I first met (doing theatre – surprise!) but before we began dating, and feeling very similarly to how I imagine my character feels in the song. I felt like there was something between the two of us, and in my head it all made sense and I was poetic and sincere, but it took me a long time to build up the courage to act on it.
My favorite lyrics are: "A moment by itself, that can't be taken lightly/at last, someone to call my own". I feel like life, especially when we first fall in love, is all about the moments that are special to us, and that's what this line reminds me of.
Since the show is more of a cabaret than a piece of narrative theatre, it was a challenge to have to create this person without having anything outside of the song to use to guide me. I guess it's sort of a blessing and a curse, because it gives the actor so much freedom. You can do almost anything with it, but at the same time you cold fixate too much on things that aren't really important in the big picture of the show as a whole. That's where it really helps to have a director you trust and who trusts you. Jeffery Johnson, our director for NBS, was a big help for me in this song. Naked Boys, Singing! runs until June 27th, so people still have a chance to come see it!
Next for me will be a production of Richard III with Washington Shakespeare Company. I'll be playing Sir Robert Brakenbury in WSC's first production in their new space at the Artisphere in Arlington, which will be in rep with a production of Mary Stuart.
————-
(5) Alex Greenberg as Leo Bloom, singing "I Wanna be a Producer" and Matthew Miller singing "Betrayed" in The Producers at Act Two Performing Arts.
Alex Greenberg can do it all. He is a seasoned dancer, tapper, musician, musical director, and actor. He had the right "nebbishy" look as the mousey Leo Bloom, and you could see the joy and exhilaration on his face when he was singing Mel Brooks' very funny lyrics, and while he tapped across the stage with his dancing girls and hat and cane singing "I Wanna Be a Producer".
Alex: I played Leo Bloom, a meek accountant stuck in a dead end job and belittled by his boss. In this song, Leo finds his escape, dreaming that he was a big-shot Broadway producer, and getting all the glory, fame, and girls that came along with it. This scene was always one of my favorites to do in the show, because I just got to have fun and dance around on the stage. I've always been a big tapper – so it was nice to be in a role that let me showcase that.
Next, I'm heading to Stagedoor Manor Theater Camp for a session, then right back to work as Assistant Musical Director on a production of Godspell at the Musical Theater Center in Rockville. Then hopefully during the school year, more shows (both at Quince Orchard High School and other theatre companies) as I start to look at colleges!
————-
"Betrayed" is a long song and it's tough to sing but Matthew Miller nailed it. I've heard and watched veteran actors fumble and bumble through it (frankly, I wouldn't even dare to try to perform it), but when Matthew glided through it with Max Bialystock's arrogance and shamelessness, it was awesome! Nathan Lane would have smiled.
Matthew: "Betrayed" was my really, really long song. It's about how my partner Leo Bloom betrayed me by leaving me to go to Rio with his girlfriend Ulla and left me "holding the bag", whereupon I was arrested for making a flop of the show. The song was a summarization of the whole show. It was the most fun I had singing a song, because I could express my character in a song and really connect to the audience.
I feel that I brought a freshness to Max. He had been done on Broadway by Nathan Lane, but Kevin and I felt that I didn't need to try to be Nathan Lane; I needed to find my own Max. So, my Max had a lot of my own "attitude" in it. My favorite part of the song is the section that recaps all of the great melodies in the show. The most difficult challenge I had was keeping my breath and stamina when moving around the stage. I worked really hard with my voice teacher Timothy Marshall Ballard on that!
Next for me are my college auditions. I am auditioning at Jacksonville State University to study with Richard Rush Armstrong.
————-
(6) Ayanna Hardy as Lena, singing "Believe (Dance with Me)" in The Dancing Princesses at Imagination Stage.
I loved Christopher Youstra's score for The Dancing Princesses, and Ayanna Hardy's rendition of the song "Believe (Dance With Me)" was the highlight for me. You could see and hear the frustration, the sadness, and the elation when her sister (played by Jessica Lauren Ball) finally dances with her. And while they were dancing, you could hear collective sighs of relief from the children in the audience when both sisters were dancing. It was a royal and powerful performance.
Ayanna: In the scene before "Believe (Dance With Me)", Queen Alice, who has recently died in a plane crash, appears to her youngest daughter Lena in a dream. The two discuss the ban the king has placed on dancing and how ridiculous it is. Queen Alice promises that if Lena finds the key that is hidden under her father's pillow and opens the door to the wardrobe, they will dance again. After the queen disappears, Lena commences to grab her robe and make her way to find the key. Before she can leave the room, her older sister Lara wakes up and asks where she's going. When Lena explains the whole situation to Lara, she tells Lena she's crazy and tries to stop her.
"Believe (Dance With Me)" is a reminder that anything is possible. Before Lena begins the song she says, "… I know Mama raised us to believe in crazy possibilities, and he's not acting like it now but Papa did too." Throughout the entire song Lena is trying to convince her sister to stop being so obedient and just believe that Mama appeared to her and if they can just find the key to the wardrobe everyone can dance again. Everyone is hurt and saddened by the death of the queen, but the ban on dancing is not the answer, and it's up to the two girls to take a chance on a crazy possibility and bring everyone together again.
"Believe (Dance With Me)" took me back to a place of innocence. As adults we have so many logical explanations for everything. We can't just have faith and let things be. When I was a little kid, I had this imaginary friend I named Pinky. I would walk around the house all day having entire conversations with Pinky. We played together, and no one could tell me Pinky wasn't real. I believed. I was able to reach back to my days with Pinky and how I didn't need a logical explanation. Pinky existed and that was that.
I have two favorite lines in the song. The first is, "Our father is sleeping, the people are weeping, and no one is letting joy thrive; so dance with me Lara and we'll keep her memory alive." I like this more so because of how Chris Youstra wrote the music. It goes up to the high "E" and has somewhat of a gospel feel. I love the way it rings. The second is, "Stop being sensible and see the invisible. All you need is a new pair of shoes." That's the innocence of a child. Stop trying to think of all the reasons why this can't be happening and just grab your dancing shoes. Live in and enjoy the moment.
I would have to say the most difficult part about singing this song was singing it and doing the choreography at the same time. I would be in rehearsals like, "Sorry guys I can't breathe." The choreography wasn't crazy extensive (thank you Alona), but it is a song that requires a good amount of breath control and support. That's difficult to do when you can't breathe, especially at 10:30 in the morning (lol).
Next I'll be doing Rudolph at Adventure Theatre in the fall.
————-
(7) John Patrick Loughney as Jamie, singing "The Schmuel Song" in The Last Five Years at Limelight Theatre and 1st Stage.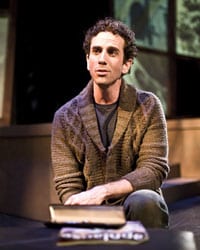 The critics applauded John Loughney's performance of "The Schmuel Song". Like "Betrayed" (see #5), it's a "killer" of a song to sing, and John sang it beautifully and made sure that the audience understood every word of that song. He was the ultimate storyteller, weaving in and out of Jason Robert Brown's intelligent lyrics and beautiful music, with so much emotion, the man made me wipe away some tears.
John: Joel, first off, thanks for the honor and, as always, thanks for the support! I have to admit it was tough stealing a scene from the invisible person in the song with me.
For those who know The Last Five Years, you know "The Schmuel Song" is one (I want to use an expletive or two here!) tough song. Before I even did the show – I skipped this song on the CD as it was just too long. I, admittedly, didn't totally get it or care for it. Now, I know the song comes at a perfect time in the show as it reveals a redeeming and selfless side of Jamie.
What we know of Jamie at this point in the story is that he is rather high on himself (and happy to admit it), signed a book deal, dropped out of Columbia and is now in a relationship with his 'Shiksa Goddess,' Cathy Hiatt. Everything is going his way. As he is now on the top of his game, he writes "The Story of Schmuel, Tailor of Klimovich" as a Christmas gift for Cathy. It's a rather verbose story about an old tailor named Schmuel who encounters a magic clock who offers him unlimited time to follow his dream. In this case, Schmuel's dream is to create the one beautiful dress that he never had the time to create. Jamie uses this story to parallel Cathy and her struggles as an actress. He parallels himself to the clock and offers to support Cathy through her struggles — telling her to go out on to a limb(ovich), follow her dream, and he will give her all the backing (both in time and finances) she needs. Sounds like a pretty sweet deal to this actor!
The song is about 9 minutes long, entailed me playing 3 characters (Jamie, Schmuel, and the clock) and it kept me on my toes from opening night through closing. The song ends with Jamie professing to Cathy the lyrics "Have I mentioned today/ How lucky I am/To be in love with you?" I'm not sure if those lyrics were my favorite because it's such a beautiful moment in the song or because I made it to the "finish line" and could breathe. Oddly, this interview is making me miss that song a little, but not enough to hop up and sing it now. Give me 5 years.
As for my next stint on the stage, I got nothing! L5Y was such a marathon I couldn't focus on anything but. I vowed to take the summer off aaaaaand am learning that may drive me insane. I've had a few auditions around town recently and am anxious to get back on stage soon. I'll keep you posted.
—————
(8) The Manzari Brothers (John and Leo) dancing "Ko-Ko" in Sophisticated Ladies at Arena Stage.
Talk about sending the audience into a frenzy! On opening night of Sophisticated Ladies, John and Leo Manzari stopped the show once, twice … ten times (maybe more) and during their solo tap-extravaganza, "Ko-Ko" they brought back memories of Gregory and Maurice Hines when they were kids and tapping their way into theatre history. Frankly, I have never seen two brothers do this on the stage, and as the audience applauded and applauded and begged for more, I kept thinking to myself that I had just witnessed the beginning of what should be a long and successful theatre and professional dancing career for these two talented brothers. And watching them tap, and twist, and dance with their mentor Maurice Hines – well , as Gershwin wrote, it was "'S Wonderful, 'S Marvelous…"
John: Anthony Morigerato choreographed the first part of the piece. He is very good with rhythms and the visual representation of them. The most complicated part of the piece for me was to understand what he was doing and how it would all fit together before we learned. Leo and I decided we wanted to do an a capella piece but we didn't know exactly what Anthony was going to do until he started teaching us. It really worked! The part that Leo and I choreographed just came from "jamming" (improvising) and trying to find new steps; and eventually we either saw what the other did or was taught – and it went into the piece.
Leo: The scene named "Ko-Ko" is in Act II, and takes place after Maurice Hines' solo performance, "Kinda Dukish". This is an a cappella piece choreographed by Anthony Anthony Morigerato, John, and myself. Anthony set the base of the dance, while my brother and I changed steps, and added the whole second half.
I would describe this piece as a communication, first, between John and I, second, with the audience between the two of us. I feel as if when we do a step, the audience really feels "what we're saying". When we hit a good step, they appreciate that, and show their appreciation through screaming, or sometimes even screaming our names, even when we have no idea who they are; and that is when I feel as if we are having a real "conversation". There isn't really a harder part of the dance than another. Sometimes, I am physically tired, which makes things harder to get through, but I try not to let that affect my performance.
John: "Ko-Ko" can't fully be described to someone who hasn't seen it. If someone were to ask, a close, accurate explanation would be "a jam that finds new rhythms within". The whole piece has a funky groove to it, a jam, followed by other grooves on top and in between, a new rhythm, topped with pockets for improv within the piece. The explanation of the dance creates someone's own personal image of what it would be.
The best part of performing in Sophisticated Ladies was learning so much about my craft by veterans of the business. The cast is filled with people who have been on Broadway, film, and television. Their experience gives us insight to what we can expect in our career. They have taught us how to take care of our bodies, be professional towards our peers, and handle the business aspect of it all. The lessons learned during the past three months can never be replaced.
Leo: You know, I kept trying to pick out a more exciting part of the show throughout the run, but now that the show is closing, I see that the whole experience was great. From first meeting the cast, rehearsals, tech rehearsals, start of the show, working with Maurice Hines, interviews, and the finally the end of the show, I see that the whole thing has just been a great experience, and it is impossible to compare anything within, the whole, Sophisticated Ladies itself.
John: What's next for me? I deferred from Marymount Manhattan because I didn't know about the future of the show. There were so many different possibilities that were/are on the table, I did not want to miss out on anything, so I decided to leave my schedule a little open just in case opportunities come up.
Leo: It is too early in our career to say what concrete show or performance we will be doing, just because there are so many things up in the air. I know that my brother and I will defiantly continue to perform in the theater, and are 100% open to any other opportunities that are available.
Watch the Manzari Brothers dance with Maurice Hines in Sophisticated Ladies here and here.
————-
(9) Buzz Mauro as Alfie Byrne, singing "Man in the Mirror" in A Man of No Importance at Keegan Theatre.
The critics are all raving about Buzz Mauro's loving and emotional performance of Alfie Byrne in Keegan Theatre's heart-warming production of the Lynn Ahrens, Stephen Flaherty, and Terrence McNally musical. I have been through many of the same challenges that Alfie encounters, and when Buzz performed "Man in the Mirror" all those memories of those difficult times flooded back. He put me and the audience through an emotional wringer with his simple delivery making me believe Alfie was traveling that same difficult road as I did.
Buzz: In this number, Alfie Byrne, a bus conductor in 1964 Dublin, confronts himself in a mirror about his timidness, his closetedness, and his love for bus driver Robbie Fay. Although I did it when I was much younger than Alfie, I went through similar scenes of self-reproach growing up as a gay young man in a Catholic family, so the song is easy for me to relate to. And I think it's primarily a song about loneliness, which just about everyone has some experience with. My favorite part of the song is also the most difficult to carry off: Oscar Wilde appears to Alfie and forces him to identify "the love that dare not speak its name," and Alfie comes to the conclusion that the only name that will suffice for it is "Robbie." I think it's a beautiful and subtle take on what it means to speak a name—to define a feeling, or to point to a person and say "That's who I love"—and how scary that can be to do.
I'm not sure when I'll be acting next, but I'm thrilled to be providing the musical direction for Keegan's production of Parade, which will open in February, 2011.
————
(10) Carley Rosefelt as Annie Oakley, singing "I Got Lost in His Arms" in Annie Get Your Gun at Act Two Performing Arts.
Song after song after song in Act Two's production of Annie Get Your Gun, the spunky Carley Rosefelt wowed the audience with her singing of Irving Berlin's great score. I saw Carley play the lead in Thoroughly Modern Millie two years earlier and I was stunned by how mature her voice was for someone her age, but here again, she sang these songs with so much emotion. When Carley sang "I Got Lost in His Arms", it was Irving Berlin heaven. It's just "Doin' What comes Naturally" for Carley – when she's under the lights and she's gotta song to sing – she's like Annie Oakley – she hits the target time after time.
Carley: "I Got Lost In His Arms" is the first song in the second act which opens to Annie and the rest of Buffalo Bill's crew returning to New York after their European tour. Annie mistakes a messenger boy for Frank whom she loves – and has not seen since he abruptly left Buffalo Bill's show after Annie showed him up. She is upset when she realizes the man is not Frank, but he brings a letter inviting them all to a party hosted by Buffalo Bill's rival Pawnee Bill whom Frank now works for. She is hopeful she will soon see him at the celebration and they can patch things up – which leads her singing "I Got Lost In His Arms".
In the song, Annie is reflecting on how she first fell for Frank and debating how she will feel when she sees him again. Although she tries to keep up her confident rough personality, on the inside she misses Frank and truly hopes that they can share the love they had before again.
To me this song is meaningful because it shows how commonly many girls find it hard to admit they love or even have feelings for someone they least expect to fall for. Annie and Frank come from completely opposite worlds which is makes it hard for both of them to accept their love for each other. However, through the song she realizes how lucky she is to have found Frank and that he really did help her find her way when she got lost in show business.
My favorite lyric in the song is, "And I said to my heart as it foolishly kept jumping all around, I got lost but look what I found." It pretty much sums up Annie's feelings by simply expressing how thrilled and yet confused she was by her love for Frank but she realizes how lucky she is to have him. The most difficult challenge about singing the song was trying to capture Annie's emotions and understand her feelings at this point when she became so anxious to see Frank again. Also, singing a romantic song while maintaining a southern accent was harder than I thought – and took a lot of focus before it came naturally. Sometimes backstage I would randomly start talking with a southern accent without even realizing it!
At the moment I am not sure of what is next for me stage-wise, but I definitely plan on doing more performing in the future. Next year I will be participating in one of my high school's choirs and plan to continue dance training, as well as participating other productions. I enjoy spending time and working with other performers and cannot wait to be back on stage!
————
(11) Tony Yazbeck as Andrew, singing "My Mother Is a Singer" in Sycamore Trees at Signature Theatre.
It's was the most emotional moment in the Signature Theatre production for me, and after I left the MAX and walked out to congratulate composer Ricky Ian Gordon, I could still hear Tony singing "My Mother Is a Singer". The theme of regret and "what could have been" was so powerful and sad. I'm at that point in my life where I have begun reflecting on decisions and regrets of my life, and the song hit home. Fortunately, the song opens my podcast I recorded with Ricky, and I am so happy that I have a souvenir of  Tony's simple, emotional and beautiful rendition of it.
Tony: Coming from an American Jewish family after his father comes back from WWII, my character (Andrew) is singing at the dinner table to his mother about what he knows of her truly and what he perceives she really is deep down despite the abuse from his father and the pressure to be the most obeying wife and mother. It is a moment in time that Andrew gets to control and show the audience what she couldn't show in real life. This song is about everyone's yearning to have a dream and for that dream to be fully realized. Specifically it's about Andrew unleashing to the audience what he has observed about his mother for so many years.
I am a very big observer of people and when it came to my family, I was always looking into each one of them to see what they yearned to be – despite the situation that my family was in. My mother was always a very smart, creative, passionate person – and a lot of what she wanted in life became side-lined because of what she decided to become to her family. We owe a lot to our families for sacrificing themselves for us – but also sometimes it can become a negative thing when they feel suppressed to not ever do what they feel compelled to accomplish in life.
When I was singing the song – I was able to really think of my own mother because she gave so much of herself to us growing up and I remember always wanting her to be more selfish and do what she had always dreamed she wanted to do. That would have made me really happy. I love the lyric, "Sing of all your sorrow, dream Mama. Borrow what was pretty when you slept, Mama. Make believe a promise can be kept, Mama, sing".
The biggest challenge for me was that just prior to getting to this point on stage, I was very out of breath from running all over the stage to set up the scene and then just briefly after – I had to get myself in a position to be able to sing this delicate beautiful ballad without looking like I had in fact run a marathon on the stage. I would like to just say that this piece was very much an ensemble piece and I could have never told the story as effectively without everyone on that stage with me. They are all super-hero people to me. hey are courageous and vulnerable and willing to be bold. It all started with our director, Tina Landau, who showed us all the way to a real, truthful, lively theatre experience. Ricky Ian Gordon, our composer, lit up every song with so much of his own personal, beautiful stories. This song that I sang in this show – like all the other moments I shared with everyone up there – remains very sacred to me in my heart.
I have a couple of things in the works and very excited to see what happens!
Listen to Tony sing an excerpt from "My Mother Was a Singer" here.
————
Previous Musical Scene Stealers columns by Joel Markowitz: