We have nothing in our lives as valuable or as vulnerable as our children, and for many parents their children's youth is a nightmare of fragility. Their kids are at any moment potential prey to disease, to accident, to their own bad choices and, increasingly in our sad age, to slimy predators whose very existence is an insult to their Creator.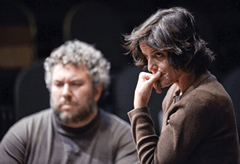 In Emily Schwend's Splinters, we see what has happened to the Scott family, for whom the potential for catastrophe has been fully realized. Watching them nearly a year after the disappearance of their child Kaylee (Sylvie Ashford) is like watching survivors of a nuclear blast: they are still with us, but not glad of it.
On the surface, no one is more affected than Milo (Scott McCormick), a lump of a man who blinks at his life as though he is constantly being woken from a deep sleep. He understands the implication of his daughter's year-long absence, and the gravity of his grief pulls him apart. His refusal to wear glasses has cost him his driver's license, and he is thus at the mercy of his wife and remaining daughter for transportation. A gene mapper, he has given his life away from work over to the construction of what appears to be a giant double helix, made of toothpicks.
Bennie (Lisa Hodsoll), his wife, has given her life over to her work. As brittle as a stick of wood dipped in liquid nitrogen, she natters incessantly about the Loudon County Animal Rescue program, thus bestowing the gift of deafness on herself.  When Milo suggests they get away for a weekend, she snaps "I can't leave for a whole week." and then goes on to more animal rescue stories.
The center of the story, though, is Sam (Annie Greer), Kaylee's tortured older sister. Sam, 17, has become unmoored, chronically skipping school and haunting the bars and the basement bedroom of her friend Conner (Kyle Encinas) at night. Her parents are too riddled with grief to rein her in. But the haunter is haunted herself by the image of Kaylee, who she sees on the swing in the back yard, and on the side of a country road, and in the back of her car, and in her bedroom.
Splinters, one of three full-length plays which the Source Festival is producing this year, offers the discerning audience member a dozen pleasures, chief among them being Schwend's astonishingly deft hand with dialogue. There is not a single line in two hours and ten minutes which sounds or feels inauthentic, and the characters are full, deep and complex. Schwend resolutely resists sentimentality: Kaylee, when she appears to Sam, is sort of a brat, as kids that age tend to be. Schwend doles out information in short scenes and measured ways, so that the mystery unfolds in a dramatically satisfying way, like – well, like the mystery of the double helix. Schwend is twenty-four years old, and it appears that she wrote Splinters during her first year at Julliard, when she could not have been much older than Sam. This work heralds the coming of an important new playwright.
The production does full justice to the text. The actors are at every moment their characters, and in ten minutes you will feel as though you are not in a theater, but in their living room. McCormick and Hodsoll give immense, and opposing, physicality to their characters; you feel the effort it takes Milo even to get out of his chair, and Bennie constantly seems ready to fly off into the audience and dragoon some unfortunate patron into an argument.  Though much of this play can be called harrowing, there is a particular scene in which Bennie screams like a banshee at her husband and Milo, in his broken voice, says "but I don't know what to do" over and over again. It will encase your heart in ice.
When I say "the actors" I mean in particular to include the remarkable Ashford. Confabulation being a learned skill, most child actors are, frankly, terrible. Ashford is superb. She establishes her character immediately; her timing is beautiful, and she gives her scene partners something to react to every time she is on stage. Schwend is not the only tyro in evidence in Splinters.
The remaining actors are even better. Greer must present an incredibly broad range of emotions, some of them contradictory and expressed simultaneously. She is spot-on. Greer's Sam is angry, destructive, antagonistic, and ghost-drunk; she has done a terrible thing – and yet she makes the audience love her, as she must. This is a bravado performance by Greer, an actor whose work I have not seen so far, but from whom I will expect great things.
As for Encinas, he is astounding. Schwend writes naturalistic dialogue, with plenty of half-completed sentences and interruptions, and sometimes it trips the actors. That is never the case with Encinas, who sounds as though he is making the dialogue up as he goes along. Encinas, who in physicality, demeanor, timing and skill suggests a young Daniel Escobar, gives the play the outsider perspective it needs to make its heart beat.
Whenever five actors give five excellent performances, the director is doing good work. Thus all hail Clementine Thomas, who renders the best possible presentation of this play.
While Splinters is wonderful, it is not perfect. A play's first Act shows the playwright's technical proficiency but the second Act shows her wisdom. The dilemma Schwend presents in the first Act – how does a family, ravaged by the disappearance of one of its children, put itself back together again – may in fact admit of no resolution, which could be one of the reasons that the divorce rate in such families is so high. In any event, the resolution Schwend devises, in which none of the characters are fundamentally changed, is too ambiguous, in my view, to satisfy.
There are a few other problems. The story of Milo's difficulties with his eyes, which appears to have been installed to explain his lack of a driver's license, is unconvincing. It is hard to believe that someone would lose his license rather than get glasses, particularly if his job and hobby requires visual acuity. Schwend has a repeated setting in which Bennie reads Kaylee's stories aloud; this eventually leads somewhere but the game is not worth the candle. There are other scenes which underscore points made elsewhere; they are well-written but Faulkner's advice to "kill the darlings" – cut beautiful, but unnecessary, writing – still obtains.
However imperfect, though, Splinters is a fine play, beautifully performed, and will doubtlessly be more satisfying than anything else you are doing on Friday or Saturday, which are its remaining show dates.
Splinters
By Emily Schwend
Directed by Clementine Thomas
Produced at the Source Festival
Reviewed by Tim Treanor
Splinters is part of Source Festival which continues thru July 3, 2010.
View the full schedule here.