The weather was ridiculous. Ten days of blazing sunshine, ten nights of balmy breezes. Not a drop of rain, only puffy white clouds; you'd have thought it was Christmas in  Barbados.  But no, it was Jolly Olde England and I was in London for a feast of theatre.
I visited Brighton, West Hampstead, East Finchley to visit friends, and walked the sidewalks of London from Hyde Park Corner to Trafalgar Square, from the Strand up to Russell Square with stops all over Covent Garden to have a look at the pillars behind which Professor Higgins hid while taking down the lingo of Eliza Doolittle in the first scene of Pygmalion and My Fair Lady.
Opera arias were being sung to people having "elevenses", while jugglers and magicians were plying their trades in the square.  And of course I managed to cover seven shows in nine nights (nothing playing on the Sunday night in Brighton or I'd have seen that too). There won't be room here for detail, but the highlights of all seven are to let you know the variety of the menu, with everything from appetizer to dessert. Here we go.
The big beginning for us was the National Theatre's War Horse, now transferred for a smash run at the New London. With a cast of 20 live actors, 5 life size puppet horses and a goose, plus 9 puppeteers to bring them to vivid life, the whole thing is a hoot and a holler. Strip it of its magnificent production values, and it's "Lassie Come Home" or "My Friend Flicka", the tale of a boy and his pet. But as adapted by Nick Stafford from a book by Michael Morpugo, it's a must-see. They say it's coming our way. Look for it.
Just because it's there, I took a chance on Andrew Lloyd Webber's sequel to PHANTOM, an epic called Love Never Dies. It might well be called Andrew Never Quits. Warned to beware, I tried hard to keep an open mind and lo and behold, I'm able to say "it's not nearly as deadly as we've heard it to be." Faint praise, but I gather work's been done to it since it opened at the Adelphi months ago, and it's a perfectly all right soapy evening that's a pleasure to watch, and not too difficult to listen to. The lyrics by Glenn Slater are penny dreadful, and the melodies by Lloyd-Webber are exotic but familiar and a little tired, the book is simple and the plot is perfectly ok for a romantic fable. Set ten years after Phantom, we are now in Coney Island, USA where the Phantom has morphed into "Doctor Y". He's never forgotten his Christine, and without knowing who he really is, she's accepted an offer from him to cross the pond and do a gala concert for a huge fee. As her husband Raoul (Remember him? He was the Count who stole Christine from the Phantom in Paris ten years earlier)  has squandered all their money gambling, she needs the money. Raoul is still easy on the eyes, and he and Christine have produced a son, Gustave. You don't need to fuss too much with the plot, but there is a surprise ending that showed some courage on the part of the creators, and all in all I felt I'd had my money's worth from this sequel which was designed simply to keep the pounds and dollars rolling in to Lord Webber. No talk of a transfer to America yet, for all concerned seem aware that it's not a first rate show – it just looks like one. For that, full credit goes to Jon Driscoll, Scott Penrose and Bob Crowley, who designed it, and to Jack O'Brien and Jerry Mitchell who staged it.   Let's put it this way: It certainly betters Bring Back Birdie and Annie Warbucks, two sister sequels of yesteryear.
Our third evening took us to a tiny theatre just off Trafalgar Square called Trafalgar Studios to see Holding the Man, an Australian play by Tommy Murphy, based on a book by Timothy Conigrave. Had it not been used at the Adelphi, it could have been named Love Never Dies for it tells the moving story of a gay relationship which ends when one partner succumbs to AIDS, but as Playwright Robert Anderson once wrote: "Death ends a life, but not a relationship." As this playwright notes in the program: "Towards the end of their story, when our star-crossed couple has overcome every challenge to being together forever, it is their own mortality that of course bears the greatest threat. But they do survive. Tim's lessons in love, in activism and in art culminate; Tim writes his memoir, and the young lovers transcend even death."  Given a fine production, two outstanding star turns by Guy Edmonds and Matt Zeremes topping a first rate supporting cast and sturdy direction by David Berthold, Holding the Man was exactly the sort of play the London version of Manhattan Theatre Club or the Atlantic Theatre Company, or the Vineyard or Playwrights' Horizons should be doing. I hope one of these American companies agrees that we should have the opportunity to see it here.
Another small theatre, the famous Donmar, was offering a Simon Gray play, The Late Middle Classes which was staged by David Levaux, a fine director who once had a fistfight with the columnist Michael Riedel here over differing views on  his revival of Fiddler on the Roof. I think all will agree he's been on the right track with the Simon Gray play. The Donmar is famous for brave choices of fine plays, many of which have subsequently come to us. A finely honed look at the dissipation of the British middle class between the wars, it is perceptive, funny, probing and pithy. It offers juicy roles to Eleanor Bron, Helen McCrory, Robert Glenister and Peter Sullivan and a young lad at the center of it all, played the night I was there by a gifted Felix Zadek-Ewing. The role is a rough one for a teenager, so he shares it with two others on alternate nights. Had my visit been longer, I'd have been tempted to see the play again, that's how absorbing I found it first time round.
Moving right along, we walked across the Waterloo Bridge to the National to see Terence Rattigan's After the Dance, one I'd never heard of.  Rattigan wrote it when still very young, immediately after his successful debut French Without Tears. The new play was hailed by the press and started a very successful run when, days after it opened, England declared war on Germany (1939) and the play's audience disappeared. Rattigan was so disappointed, he withdrew it from publication, and it's remained on the shelf virtually ever since. Leave it to the National Theatre to dust if off, and give it life. An intelligent and entertaining drawing room comedy about the contribution England's people made to the war that was on the horizon, by turning to material things and to fun fun fun in the twenties and even in the depressed thirties. Here is an absorbing, well-made play, set in one of  Rattigan's typically magnificent drawing rooms, dealing with Rattigan's people – those who rose from the bottom to the top of their class and who thoroughly enjoyed their profligate ways until the day of reckoning. Honestly, I can't pick any favorites from this astonishingly accomplished cast of some twenty, but Nancy Carroll and Benedict Cumberbatch as the central couple set the standard for all who follow. Three acts, almost three hours, and as enjoyable as August: Osage County which it resembles in that it takes its time and forces us never to say or think "Get on with it!".
I chose the Hal Prince-Susan Stroman staging of a new musical, Paradise Found for our last night, for it was the last night of the London run at the Menier Chocolate Factory, and I expected a gala closing with speeches and hoorays and happy tears from cast and audience. Well, the response was respectful enough, only fair when responding to this sort of company. But alas, the material just doesn't measure up, and it's hard to know what to call this odd assortment of styles. Based on the book "The Tale of the 1002nd Night" by Joseph Roth, Mr. Prince has said it attracted him because he found the book hilarious. As adapted by Richard Nelson, with music by Johan Strauss II and lyrics by Ellen Fitzhugh, and staged by two brilliant theatre titans, expectations were high. Unusual too, was the fact that though the Chocolate Factory is a tiny theatre (under 200 seats)  the entire cast of Broadway favorites was imported to play the kind of foreign types that British actors have been famous for. Mandy Patinkin, Jude Kaye, John McMartin, Nancy Opel, Kate Baldwin, Herndon Lackey, Shuler Hensley, George Lee Andrews – all Americans, all gifted and respected artists from the Broadway scene. Perhaps it was thought if this works, it will be easy to airlift the company to New York on the next plane. Under the skilfull baton of Mr. Prince's son Charles Prince, the Strauss music was beautifully adapted and arranged by Jonathan Tunick, but once again it turned out to be a not so hot idea to write a musical using tunes written for other occasions. I mean, this is classical music, not by Abba (Mamma, Mia!) or a jungle of jukeboxers (Priscilla, Queen of the Desert), and it didn't work.
Perhaps Mr. Prince has plans to re-think this show. He's the best, and he knows how to fix things. However, on the rare occasion when he's missed, he's known to have given the results a proper burial. I think that's what he'll do in this case, but then again I haven't got 16 Tonys (as he does) so I ain't makin' no predictions.  Whatever he does, we as a community owe him our very best wishes no matter which road he chooses to take.
For a curtain call, I reluctantly bought seats on a Sunday afternoon for Priscilla, Queen of the Desert. I say "reluctantly" because I sensed it was another Saturday Night Fever, Dirty Dancing,  Footloose, Wedding Singer, the sort of musical that took a popular film, added some songs in hopes of catching the film audience in a legit theatre. And Priscilla didn't even bother to add new songs, they merely used whatever was around that suited the tale of 3 transvestites who, like their brothers in The Full Monty, put on a show to make a buck or two. What I hadn't known was that this great hit, playing in the cavernous Palace Theatre, proudly announces early on that it's trashy, that it has no class at all, that it's going for the jugular and parts further south. But it does it with such a sense of pride, it's so in your face, that I for one (along with the 2000 other happy people around me) went with it. It's fun the way Mamma, Mia! is fun, and come to think of it, it too is the tale of 3 pals (just like Mamma) who solve most of their problems by singing trios.
The costumes, wigs and sets are crude, so ugly they become beautiful, and they move like greased lightning. I think this show would find a home here, and be welcomed by those looking for a trashy good time. The gentleman in front of me, in suit, tie and cufflinks on a summer Sunday afternoon, leaned over to his wife in the interval and I swear he said, "It's rather good, isn't it", and when I first spotted him, I'd have sworn he be gone by the third number.
Never judge any book by its cover is what I say.
Summer is quiet, but you'll hear from me with whatever news trickles in. I'll be working on preparing SHINE!, a musical for which I wrote the book, for its production at NYMF (Sept 25 – Oct 17. If you want to know more, visit the show at the NYMF site or www.shinethemusical.com. I hope y'all will come see it, so I have to work hard, along with my collaborators Roger Anderson and Lee Goldsmith, to make it worth a trip to New  York for you. For now, until we meet again — have some fun, go see a show.
————–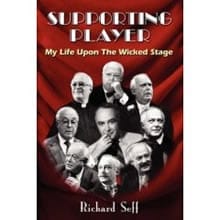 Richard Seff is author of Supporting Player: My Life Upon the Wicked Stage celebrating his lifetime on stage and behind the scenes, available through online booksellers, including Amazon.com.
Richard Seff chats with Joel Markowitz: