"You're boring the audience!" the Sprite (Jessie Dulaney) spits at Joan (Rachel Duda), who is trying to write a play. Sadly, this is one insightful sprite.
Busted is a story about a woman in the process of writing a dreadful play, which she must complete in one month's time. We are treated to bits and pieces of it. Apparently it is a modern version of "Cinderella", utilizing characters named "Bill" and "Melinda" (to give the audience something with which to identify).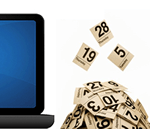 To say that Joan relies on cliché is to say that fish rely on water; her dialogue is one continuing cliché. "I'll be there for you," Bill earnestly, and soporifically, pledges to Melinda, thus officially becoming the one billionth fictional character to use that empty phrase. Dude, everybody has to be somewhere. The remainder of Joan's play is similarly drab. However, in order to drive Joan to conclude her work, the Sprite, who is also a Muse (specifically Thalia, the Muse of Comedy), has appeared in her home to nag her, watch TV and eat her coffee ice cream.
But the writer's life is an Inherently Boring Activity, consisting as it does of staring at a computer screen and trying to think of a story until he can't stand it anymore and turns to CNN.com. Joan does this a lot, although her drug of choice is the various blogs of the World Wide Web, which playwright Betsy Marks Delaney cleverly represents through her ensemble (Joshua Dixon, Sharisse Jackson, Jocelyn Jill Meyer, and Kofi Owusu). Watching a play about a playwright writing is like watching a cement mixer mixing. Watching a play about a playwright writing a bad play is like watching a cement mixer mixing in the wrong gear.
What makes it worse is that Joan is writing for stakes that are almost unimaginably low. She needs to complete her play in a month not to win a prize, not to fulfill a commission, but because some website has declared April to be Finish Your Script Month. Moreover, this is the worst possible time for her to write: Joan, a divorced custodial parent, has just been laid off from work and has only a month's unemployment benefits. Her fierce ex-husband decides to keep the kids until she turns away from her writing and finds a job. He thus commits kidnapping, but Joan's reaction to this, like her reaction to everything else, is curiously passive. (Joan! This is why God invented lawyers! And the best part is, your husband will have to pay for them!)
Ms. Delaney, like her protagonist, has a weakness for the cliché, and she loads the poor Sprite in particular with a boatload of them, all of the "Get to work – your life is ahead of you" variety. But the play's principal problem is not clichéd language but clichéd thinking. "If you stifle your creative impulse, you may end up…cutting off your ear," the Sprite says, invoking Vincent Van Gogh, who famously did just that. But Van Gogh was amazingly prolific, creating more than 900 paintings, sometimes at a rate of two a day.
Madame Sprite Dulaney does an admirable job with the gaseous dialogue given to her, but the rest of the actors seem underrehearsed. You can still see the quote marks around their dialogue. Perhaps later in the fringe it will flow in a more natural, authentic way.
OutoftheBlackBox Theatre Company, which produces this show, is dedicated to producing plays about theater. There are some great ones: Michael Frayn's fabulous Noises Off; or the delightful She Stoops to Comedy, seen in 2007 at Woolly, or David Mamet's A Life in the Theatre. But, I'm sorry to say, this isn't one of them. Delaney, whose day job is as a web mistress, reviews plays for ShowBizRadio.com, a colleague of ours. She has perhaps thus learned something that I've also learned: it's a lot easier to review plays than it is to write them.
Busted
By Betsy Marks Delaney
Produced by OutOftheBlackBox Theatre Company
Directed by Betsy Marks Delaney
Reviewed by Tim Treanor
Read all the reviews and check out the full Capital Fringe schedule here.
Did you see the show?  What did you think?