"My name is Slash Coleman. I'm a Jewish scientist – in my mind." With these opening words, the performer of the one-man show Chaidentity articulates ground rules that, not surprisingly, he quickly defies.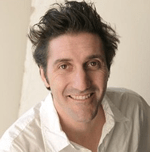 For as Coleman well knows, the quest to establish a coherent Jewish identity in the American melting pot – an effort so ubiquitous in American Jewish life and literature that it has become a cliché of a cliché – cannot succeed by positing a series of evidentiary propositions that lead organically to logical conclusions. Instead, science gives way to the messier whims of historical consciousness, collective memory and subjective human experience, which in Coleman's case encompass primarily – what else? – the Holocaust, intermarriage, assimilation, aging rabbis with Yiddish inflections, and a healthy dose of confusion and agonized introspection.
As it happens, though, Chaidentity – a pun on the Hebrew word "chai," or life – adds little of substance to the pantheon of works exploring the ins and outs of American Jewish identity. While it includes some off-color humor, its sensibility remains decidedly PG (no Roth-like sexual angst here), apolitical (hardly a peep about Israel) and non-denominational (we're all one people, you see). Its insights into American Jewish identity, such as they are, feel hackneyed and well-worn, often relying on platitudes about the eternal spiritual unity of the Jewish nation. In the hands of a less talented performer, such material would bomb, and spectacularly so.
Yet Coleman, who previously starred in the off-Broadway show and PBS special The Neon Man and Me, [seen in the 2007 Capital Fringe], is actually a very talented performer. And against all odds, he succeeds in transcending his own material by infusing it with a sincerity, pathos and humor that make his persona disarmingly likable and his story more interesting than it should be. In his hands, for instance, a vignette about a visit to that great corporate temptress of American Jewish life, the deliciously trayf Kentucky Fried Chicken, manages to exude a drama and suspense that reflect its broader connotation in the context of American Jewish assimilation writ large.
The heart of Chaidentity rests, as you might guess, precisely on these centripetal pulls of tradition and modernity, on Coleman's faltering vacillation between his Jewish heritage and the assimilationist lure of secular Americana. This struggle faces especially complicated wrinkles in the form his parents' mixed marriage. His mother, a Jewish Holocaust survivor, sought to escape her past by marrying a pure-blooded goy. Yet she succeeds in suppressing only her own Jewish identity, not her offspring's. Slash, willy-nilly, spends the better part of his childhood juggling a love-hate relationship with Judaism – or, put differently, navigating the contrasting world-views embodied by his father and his mother. In one of the show's most poignant moments, Coleman rushes in an agonized and confounded frenzy to the alley by his local synagogue and unleashes a heartrending prayer to God, begging for guidance and inspiration. His kindly rabbi unwittingly witnesses the scene and affirms – here Coleman delivers a delightful rendition of said rabbi's Yiddish accent – that Slash's entreaty undoubtedly penetrated the gates of heaven.
At its best, Chaidentity feels more like an intimate conversation than a performance or lecture, and that's a good thing. Coleman's story is boiler plate, but its strength lies precisely in its ability to tell a familiar Jewish tale with a raw emotional immediacy that renders the protagonist's struggles instantly recognizable and at times even endows them with a touch of universality. It's not science, to be sure. But if Coleman won't make you feel intellectually enlightened, he just may succeed in leaving you a little inspired.
Chaidendity
Written, Directed, and Performed by Slash Coleman
Reviewed by Tzvi Kahn
Read all the reviews and check out the full Capital Fringe schedule here.
Did you see the show?  What did you think?