Dizzy Miss Lizzie's Roadside Revue  – Finn McCool is an experience from the moment you enter the tent.  Upon entering I was handed a program, a fan, and a sheet of paper with a message that began "SAVE THIS PAPER!! YOU WILL NEED IT FOR THE SING ALONG". The more than full house was alive with voices discussing the company, the drinks, and the heat. Expectations were high.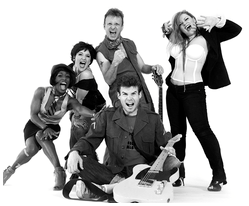 Dizzy Miss Lizzie's Roadside Revue had a lot to live up to with this year's offering- a retelling of the Irish folk tale of Finn McCool. Last year's The Saints was one of the Fringe Festival's stand out performances. While Finn McCool had all the fun and frenzy that one expects from DMLRR, there were places where it was lacking. The rousing, rock and roll show style fanfare was quickly muddled by the introduction of 6 "bands", each fronted by a main character bearing a barely decipherable Irish name. The first song is a melancholy number sung by Finn himself (Matthew Schleigh)- to quote the 2004 Cole Porter bio-pic De-Lovely "Never start off on a ballad".
After wading through some necessary but wearisome exposition, Finn McCool finally starts to pick up.  Maria Egler and Laura Keena sing a gorgeous duet as Finn's adoptive mothers, and Felicia Curry's turn as Finn's deceased birth mother Murna is heartbreaking. However, the stand out performance of this production is Jordan Klein as the crazed, word- associating, tin can toting Druid Finneces . The best part of the show is a funky, full cast number about Finneces and his surprisingly wise cans.
If Finn McCool falls short of last year's The Saints, it is a problem of subject matter, not of performance. The story of Finn McCool is a plot heavy mess not well know to your average audience member and it seemed as if far too many "plot points" were being forced into the between-song vignettes.  But Dizzie Miss Lizzie does not disappoint, and Finn McCool is definitely worth seeing.
See It: If you are in the mood for a rockin' rollin' messy musical good time.
Skip It: You want plot and context and a performance that respects the " fourth wall".
Dizzie Miss Lizzies's Roadside Revue – Finn McCool
Music and Lyrics by Steve McWilliams and Debra Buonaccorsi . Book by Debra Bounaccorsi
Directed by Debra Bounaccorsi
Musical Direction by Steve McWilliams
Additional Direction by Rick Hammerly
Produced by Charlie Fink
Reviewed by Jessica Pearson
Running time:  70 minutes.
Read all the reviews and check out the full Capital Fringe schedule here.
Did you see the show?  What did you think?