The Ed Hamell experience is a unique blend of music, comedy, social and political commentary delivered at a manic pace.   Hamell is a one man punk band with the accompanying attitude and who plays an accoustic guitar with extreme amplification (extreme is an adjective one can use often with Hamell). If the normal concert experience were a drink of water, This Is Your Brain on Rock and Roll would be like drinking out of a fire hose.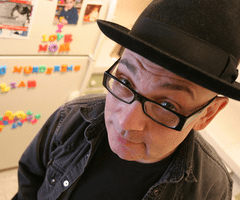 While Hamell may joke that he wrote the show yesterday in his car, he is an experienced full-time performer on the Fringe circuit, acclaimed from Edinburgh, Scotland to Washington, DC (winner of a Capital Fringe Directors' Award in 2009).  He has such absolute command of his stream-of-consciousness performance that he can quickly incorporate any random thought that crosses his mind or the inevitable audible street siren ("That's my ride").
To enjoy Hamell you need to check your inhibitions at the door.  Hamell promises genitalia references early in the concert, and delivers most hilariously in a joke about the Obamas (repeated from last year, but so good it deserves a permanent spot in his act).  Most of Hamell's humor comes from a sharply liberal bent, though, with songs playfully urging the audience to kill Pat Robertson or commenting on Ann Coulter's feminine hygiene (which he suggests would be a fine audition piece for "America's Got Talent" producers who are rumored to be patrolling the Fringe festival).
Yet as entertaining as Hamell's stream of consciousness performance can be, This Is Your Brain on Rock and Roll is a slight come down from last year's act.   The Terrorism Of Everyday Life was a deeply personal piece with more stories focusing on his life and how music helped save him.  It had a message of personal redemption which excused the profanity and questionable taste of his material.
In contrast, This Is Your Brain on Rock and Roll promises the same approach but rarely delivers. Early on Hamell talks about how awful the last year and a half has been because he has split from his wife of 25 years.  As the show progresses, however, he says they are still best friends, he talks with her 5-6 times a day, and they might reconcile if we buy enough of his CDs after the show.  He even sings his upbeat ditty from last year about being together.  Not exactly darkness revealed.
It is still entertaining to hear his stories about friends who are in the rock and roll business, who are criminals, or who are both.  Every insight into this clever and deliciously twisted man is a kick.  Let's hope that next year he returns more to the material that suits him best.
This Is Your Brain on Rock and Roll
Written and Performed by Ed Hamell
Reviewed by Steven McKnight
Running time:  65 minutes
Read all the reviews and check out the full Capital Fringe schedule here.
Did you see the show?  What did you think?