Send in the clowns – Don't bother, they're here.
They are all at the Lunt-Fontanne Theatre on Broadway where they are working overtime to make The Addams Family the laugh riot that it almost is.
Never have I seen a more talented group of crazies working harder to pump up material that isn't worthy of them. Nominated for "The Luckiest Pro of the Year" is Andrew Lippa, who has to stop being one of the 'promising young composers' and finally deliver a great Broadway score. The Wild Party, the dinky additions he wrote for You're a Good Man, Charley Brown and Bat Boy just don't put him in the ring with the best of his colleagues. I call him "lucky" because his cast is delivering over $1,000,000 a week to the box office, and promises to do so as long as they remain alive and well. I'm assuming his royalty is a percentage of that gross, and that's a lot of money for a totally unmemorable score .
Nathan Lane and Bebe Neuwirth are two stellar talents who do a lot to make second rate numbers like "Where Did We Go Wrong" and "Live Before We Die" (you can tell from the titles alone) entertain us. Another great clown, Kevin Chamberlin, literally has to kick a moon balloon around to get some juice into "The Moon and Me" and four of the clowns deliver "Let's Not Talk About Anything But Love" with grace and finesse, but it's just crying out for satirical comment in Forbidden Broadway.
The staging on "Tango de Amor" gives the two stars an eleven o'clock number, but it's their dance, their attitude, their characterizations that save it from oblivion. I can't remember a note or word of the song, but I won't soon forget what genius they brought to performing it. And so it goes all evening, I have no idea which of its three directors (Phelim McDermott, Julian Crouch  and replacement Jerry Zaks) did what, but three directors usually implies no director, so this might well have been a case of talented actors saying to themselves: "I gotta go out there and save my own butt."  They never, none of them, sink to the level of the material; they work hard to pull it up with them, and often succeed.
I must pause for a moment. Because to watch Nathan Lane at full throttle is to be a privileged voyeur sampling the work of one of the masters of his time. And unlike many of his predecessors (Bobby Clark, Bert Lahr, Ray Bolger, Danny Kaye, Victor Moore, Ed Wynn, Eddie Cantor – and his own gifts include all of theirs, and more) he's a good listener, he knows how to retreat to the rear when colleagues like Jackie Hoffman, Carolee Carmello and Terrence Mann are cavorting. During Ms. Hoffman's turn at the long dinner table, when she riffs for minutes with outrageous mugging and wild line deliveries, Mr. Lane, first billed star, is center stage, still and silent, watching without comment without a single upstaging twitch.   When Ms. Carmello stops the show cold  in Act II and ends up flat on her face on the table right in front of  him, the expression on his face only helps her applause get bigger.  But he continues to keep the focus on her. Brilliant.
Bebe Neuworth, who can convey more with a flick of her wrist or a shrug of her shoulder than anyone since Gwen Verdon and Chita Rivera, is equally disciplined, playing Morticia in one black sheath, but managing to extract every ounce of humor from Marshall Brickman's and Rick Elice's thinly plotted book and Andrew Lippa's less than clever lyrics.
Sets, costumes, hair design, lighting, sound design, puppetry, special effects, all top drawer and all contributing mightily to the overall enjoyment of this comic book musical which ultimately, despite the weakness in the writing, delivers a fun evening of theatre. The second act runs out of steam in the story, which sort of collapsed at the first act curtain from lack of nourishment. But everyone connected with the very lavish production, except its authors, deserves the thumbs up of the crowds that seem to be flocking to see it.
To sum up, this is first American comical cousin to melodramatic British Love Never Dies. They're OK, but try to get discount tickets. They just don't deliver full price goods.
————–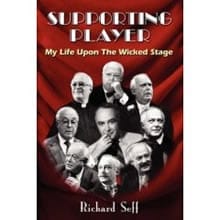 Richard Seff is author of Supporting Player: My Life Upon the Wicked Stage celebrating his lifetime on stage and behind the scenes, available through online booksellers, including Amazon.com.
Richard Seff chats with Joel Markowitz: