Every year I eagerly await the musicals at the Capital Fringe Festival. I know that I will sit through some awful, so-so, and enjoyable ones – but I also know that at these great, good, bad, and "don't go there" musicals – I will hear some wonderful singing and see some performances that will knock my socks off.
Here is the first set of my "Favorite Fringe Musical Performances" from the first week of this busy festival.
Rachel Evangeline Barham singing "Plumtree" in Oblivion.
I was humming this beautiful melody of "Plumtree" as I was leaving Oblivion and I could still hear Rachel's gorgeous rendition in my head when I arrived home. If I had time, I would pop in and hear her sing it at all the remaining Fringe performances of composer/librettist Kyle Gulling's wonderful opera. Please record it, Rachel!
Rachel: When I sing this aria, my character Sonia and her husband Howard (James Rogers, who in real life is my husband) have just found out that they are going to be grandparents. She hasn't had a lot of time to process that news because she was helping Howard get out the door to work (late as usual, with the kind of bickering between two people who have lived with each other for over 30 years).
As she sings about her garden, she shows satisfaction with who she is, older but wiser, and excitement about the grandchild. She is proud of both her family and her work as a gardener and floral designer.
This character is very different from me, not only because she is a couple of decades older. We are both gardeners, but she hosts weddings and design shows, and let's just say that my garden will never be on the tour of homes unless someone is interested in the world's biggest weed collection. She wants everything just so, and sometimes she gets it by nagging her husband. When a character is far from myself, I just try to distill the emotions that will translate to the audience. The character and I may not share a life story, but hopefully the pride, satisfaction, and anticipation still show.
I think of this piece as an affirmation of Sonia's creativity and strength. The music is beautiful and well-composed and there is a lot of contrast even in this one piece, and that keeps it exciting. The unusual operatic orchestration of guitar, flute, and cello is not simply an accompaniment to the singer; it is vital to the mood of the piece.
Two days after our last Fringe performance, on July 27 at noon, I am giving a solo recital at on the lunchtime "Tuesday Concert Series at the Church of the Epiphany" (next to Metro Center). I'm singing all art songs, most of which have some sacred content. Most are in English by American composers, including contemporary DC-area composers Maurice Saylor and Winifred Hyson. Also on the program are Samuel Barber's "Hermit Songs", a famous set that was premiered by Leontyne Price at the Library of Congress. The texts are mostly taken from the margins of religious manuscripts (like Orff's "Carmina Burana"), and some are a little subversive. One is about a cat, and one is the monk's dream of having a great lake of beer with the Holy Family drinking from it. It should be a fun lunch hour!
—————
Anna Marie Bonnet singing "Forget" in DARFUR: The Greatest Show on Earth!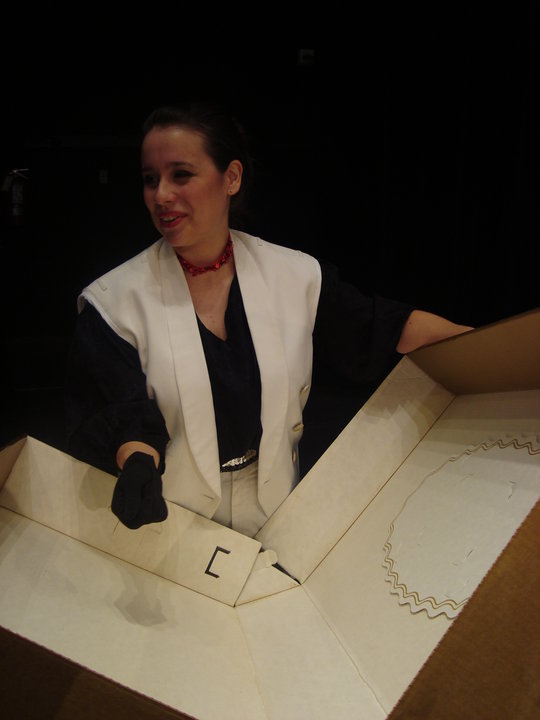 At the end of DARFUR: The Greatest Show on Earth, Anna Marie Bonnet walked out and sang "Forget", and when she looked me in the eye – I couldn't escape from her message. It was a powerful, emotional, and personal from-the-heart rendition. Here she explains why the song means so much to her.
Anna: "Forget" comes at the end of the show. The Esoteric has had a complete change of perspective by this point while the rest of the characters have remained generally apathetic with regard to the situation in Sudan. This song was meant to be sung by the Master of Ceremonies to close the show, but after he disappears the cast decides the show is over. They essentially tell my character that it's not their responsibility to sing the song (and in effect, it's not their responsibility to do anything about what they've just portrayed). She becomes frustrated with them, and with herself, for not doing anything until she realizes that she can — she can continue the work that the Master of Ceremonies began. The Esoteric chooses to address the apathy she sees around her and pleads for the people of Darfur through the song. This song uses sarcasm to expose the general lack of concern of not only the actors– but the audience as well. "Just sit back, relax/ Don't let this song affect you/ Your job is be entertained/ No lasting value/…/ 'Cause you can sit at home and watch the whole world die/ Not my responsibility/Not I, not I!"
I feel her frustration. Most people simply don't think about much outside their own little world, especially here in the States. I'm guilty of that, and to be honest, I think we all are to some extent. While we're absorbed with our comfortable, busy lives it can be so easy to forget that halfway around the globe there are children who are starving to death, who have had their lives ripped apart, who have been given guns and told to shoot. They don't know what peace means. And we couldn't care less.
One experience I had while living in South America illustrates this selfishness to some degree. I was translating for some Americans in Bolivia, and food had been provided for us at a small restaurant. One guy decided that he didn't feel hungry and that he would throw away his entire meal. I suggested that he give it to the beggar sitting at the entrance to the restaurant. He threw the food away. He hadn't even touched it. He didn't care. His apathy appalled me. I pour the anger and disgust from that experience into the song.
Right now I have one more year at CSM to complete my Associate's degree in Spanish, and then I hope to transfer to the University of Maryland to study linguistics with the ultimate goal of becoming an interpreter or translator. Beyond that, we'll see how my life unfolds…
Listen to composer/lyricist Jonathan Fitts sing "Forget" here.
—————
Felicia Curry singing "My Fair Boy" at Dizzy Miss Lizzie's Roadside Revue – Finn McCool.
I have written so much about the beauty and power of Felicia Curry's voice, and it never ceases to amaze me how she continues to steal scenes and shows. Out of nowhere, Felicia slid onto the stage, sang the hell out of "My Fair Boy", grabbed the audience by their heart-strings, and the audience went wild – as usual. The person next to me said, "Oh my God – she's amazing!" I looked at her and said, "Always!"
Felicia: I am playing the birth mother of our hero, Finn McCool. The audience is introduced to Murna through one of Finneces' visions. We've learned earlier in the piece that she was killed by Goll Mac Morna and the Morrigan, who were trying to kill Finn as well. 'My Fair Boy' is about Murna's decision to send Finn away in order to save his life. It is about the last few moments she shares with her son before they are separated forever. It is her one opportunity to tell her son just how much she loves him.
I do not have any children so I can only imagine what it would feel like to have to give up a child in order to ensure a better life for him/her. However, I approached this character and this song in the only way I knew how – forcing myself to imagine how it would feel to have to make the decision to send my child away in order to save his life. With every line of the song, I envision holding young Finn in my arms and explaining to him the ways of the world. I imagine kissing him on his forward and apologizing for what must be done. But the true heart of this song is the lesson Murna teaches Finn that he later uses to become the hero he was destined to be. I am so honored and humbled that Deb and Steve gave me the chance to play this amazing part!
What's next? Well, there are still 5 more performances of 'The Rockumentary of Finn McCool', so I hope folks will come out see just how incredible this group of actors/musicians/storytellers really is! After Fringe, I am dedicating my time and energy to traveling the country as Sarah Palin! Seriously, I am back to doing shows here in DC and all over the US with the infamous Capitol Steps. If you've never had the chance to see us (or if you have and you just can't get enough), we perform at the Reagan Building every Friday and Saturday night – come say hi!
————-
Jeffrey Johnson singing "Blackbird" in Galactica in Irrelevant Acts of Entertainment.
'Astounding' is the only word I can use to describe Jeffrey Johnson's performance. Not only was his amazing lip synching to Rachelle Ferrell's vocally roller-coaster rendition of "Blackbird" dead-on, but he also put his whole body, energy, and heart and soul into it. You have to see it to believe it!
Don't believe me?  Ganymede is running a video preview of the opening night act.  Watch it here.
Jeffrey: Rachelle Ferell definitely takes herself and all those who come along with her on a complete journey with her rendition of "Blackbird". I totally clear my mind right before the song. I'm familiar enough with her performance of the song, and that in effect is the technique that supports me and allows me the ability to let go and follow her efforts and vocal dexterity. In that way I relate to her passion and energy in performing it. It's a roller coaster ride and once the song starts and I'm strapped in all I can do is commit to the ride and see it to the end. It's quite therapeutic!
In the scatting section it really relies on breath control and making sure I have relaxed my mouth and lips. She just doesn't use your basic "ba da dee doop" but uses her voice more as an instrument relying on the inspiration of the moment to take her. Going from traditional scat to grunts and squeaks and back again makes for a true workout and if I don't breath correctly or remain relaxed then I will never keep the illusion alive, plus running the risk of becoming light headed and loosing balance. But ultimately it's about connecting into the vocalists' passions and energies, understanding them and then bringing those things that we can't see to life for the audience.
I'll be directing a production of Falsettos in the fall for Ganymede Arts and I'm also in the final stages of booking our Edie Beale LIVE at Reno Sweeney piece into a few prime nightclubs in San Fran and LA. As for Galactica, she'll pick back up on her cabaret performances at ACKC (the Chocolate store on 14th where I do my Galactica and the Chocolate Factory cabaret shows) in the fall as well. Plus I have a few ideas up my sleeve concerning the pink-headed one so you'll just have to keep an eye out!
—————–
Josh Meredith, Liz Pollack, and Ethan Treutle singing "Unnoticed" at [best imitation].
For me, this was the best singing and harmonizing trio of the first week of the Fringe Festival. These performers may have sung "Unnoticed", but I quickly noticed how talented they were when their voices blended into harmonious beauty.
(See Liz Pollack's comments below.)
Josh: Since [best imitation] focuses on the creative process and is centered around the "Me" character's telling of this story, Landon gets himself into an uncomfortable situation when he decides Me hasn't given him enough stage time and thrusts himself back into the action. Me teaches him a lesson however, and gives him the action he seeks, though it's not exactly what Landon had in mind.
After Landon, the clearly-Gay-and-everyone-knows-it-but-thinks-he's-in-the-closet-anyway young man returns to the bar, the bisexual stranger Aaron "outs" him mere moments after they meet. This sparks Landon to begin the song "Unnoticed". During the song, which also features Kari and Jared, the characters lament their current situations. In Landon's case, he regrets fighting so hard for attention and now that he has it, he admits he'd rather just be at home and not be noticed at all. I can definitely relate to the feelings expressed in this song.
My portrayal of Landon is essentially a melting pot of personality, an homage to myself and my two best friends, with the little quirks and nuances I put into the character. In my life there have been more than a few times where I've tried so hard to attract attention to myself, often opening my big mouth and saying something I regret, and ultimately ending up with more than I'd bargained for and wanting to run and hide. So I try to pull from those experiences and bring them to life on stage. It's such a common theme to want to be noticed and I think most everybody can relate to it, and that's what "Unnoticed" is all about.
So, what's next in the ever unpredictable saga that is Josh Meredith's life? You tell me! In the fall I put this wonderful experience of [b.i.] under my belt and onto my resume and head back to Marshall University in Huntington, WV where I will be a sophomore in the BFA Theatre Performance program. During the year I'll be singing my little heart out and dancing my little legs off all over the country, auditioning for regional theatre work – gotta just keep putting myself out there!
The only thing that is a constant in my life, in my future, is performing. The life, the passion that it is. No matter what happens I'll do whatever it takes to keep doing it because that's what you have to do with passion, when you love doing something as much as I love performing. And I love every minute of it. So who knows what's next, as long as I can belt my brains out and prance across a stage somewhere, I'll be happy.
You can hear Josh perform here.
Ethan: In singing "Unnoticed" I always go into that song with the emotions that encompass frustration, and I really enjoy singing this particular song because it allows me to express some of the pent up frustration that Jared is having with the events already befallen him at this point in the show. I particularly find the journey in this song emotionally very exciting. Jared goes from being pissed off and annoyed with Kari and her infidelity, to revealing a bit of his guarded self in expressing how there isn't any place he'd rather be than with her, and then concluding with some pointed sarcastic jabs at her character meanwhile showing how exasperated he is with the whole situation. I have found it a pretty relatable in the song to go through those mood changes one can go through and be on one hand completely livid with someone – and want to be with them at the same time.
Next for me is returning to Marshall University to finish my Bachelor's degree in Theatre Performance, and seeing where [best imitation] goes from here.
—————
Liz Pollack singing "Sad Like Me" at [best imitation].
It's not a happy song, but boy did Liz sing it beautifully. And since I had to trudge through a group of bad singers – pretending to be singers – through the first week, I just laid back in my seat in the Baldacchinno Gypsy Tent and enjoyed hearing a gifted singer with a beautiful tone and perfect diction sing this song with so much heart and emotion.
Liz: The Song "Sad Like Me" occurs after all of Kari's attempts to get Jared (her fiancé who called her while she was still in the bedroom of another man) on the phone have failed. Frustrated and upset, Kari leaves multiple messages for Jared, all of which go unanswered. During "Unnoticed", we get a hint of "Sad Like Me" when we see Kari leaving a distraught message for Jared, "Answer the phone please, Pick Up" while Jared and René discuss whether or not he will answer. At this point, the audience gets to see Jared's angry response to Kari. However, his fiancée will not have the opportunity to talk to him until later in the show. At a loss of what to do, Kari enters "ME" (the mute writer's) apartment and sings "Sad Like Me" in a last attempt to connect with Jared. At first, Kari attempts to word things in such a way that doesn't pass all the blame to one side or the other, but as the song continues, her anger and pent up emotions reveal she truly blames Jared and is fed up with the lack of attention.
Kari and Jared's relationship has little backstory, but one is not necessary since they are character's in ME's mind and part of the creation process the audience witnesses throughout the show. It is evident their engagement is not going well, given the fact they are not spending New Years together and Kari has been unfaithful before. As an actress portraying Kari, I can't say I fully relate on a personal level to that, but the lyrics and lines Kari is given are concise and more than allow me to communicate Kari's distress to the audience. In a way, I myself am just a vessel to project one writer's vision to an audience full of people, and my own personal experiences aren't as important as what Kari actually says and does.
Listen to Liz sing "Sad Like Me" here.
————
Read all the reviews and check out the full Capital Fringe schedule here.
Did you see any of these performers?  What did you think?